Animal Crossing New Horizons September Items & Changes - ACNH Fall Update Tips
8/28/2020 10:01:45 AM
Today we are taking a look at some of the changes and new September coming to Animal Crossing New Horizons as we move from Summer to Autumn in the Northern Hemisphere, and Winter to Spring in the Southern Hemisphere.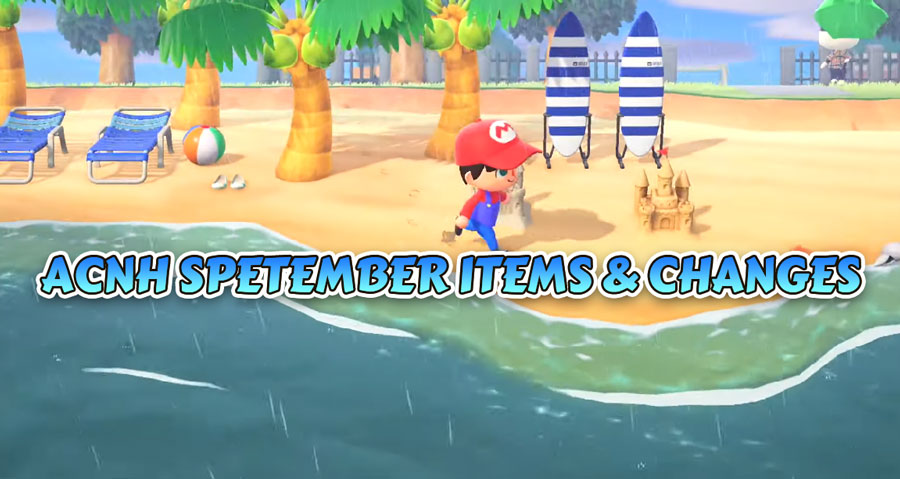 Animal Crossing New Horizons September Items & Changes - Fall Update Tips
We are only a few days away from September in New Horizons and a brand new month that brings quite a lot of changes to our islands. Some of these changes are the monthly updates we see quite regularly whilst others are seasonal differences that we're going to be seeing for the first time in the coming weeks. There's even some new items you need to know about. Now here are 6 changes & new items coming to New Horizons in September.
1. Acorns & Pine Cones
The first and probably one of the most exciting changes coming in September is a new seasonal crafting material that can be found in trees all around our islands. Starting from September the 1st if you take some time to shake a few trees you'll be able to collect new acorns as well as pine cones from hardwood or cedar trees. These are the latest seasonal materials and can be used to craft a bunch of new seasonal DIY recipes like the summer seashells that are currently spawning on our beaches and crafting materials. There's a whole bunch of seasonal items to craft using them including the acorn, ponchetti bag, the balancing toy, the leaf campfire, the pile of leaves, the yellow leaf pile, the pine bonsai tree, bounty little tree, the vanity big tree the bounty lamp tree and the trees bounty mobile. In order to craft these items you'll need to find the DIY recipes which primarily will be found in the balloon presents that float across our skies. These do replace the blue summer seashells and their corresponding recipes, so if you need to put some time aside over the next few days to collect a few extra shells.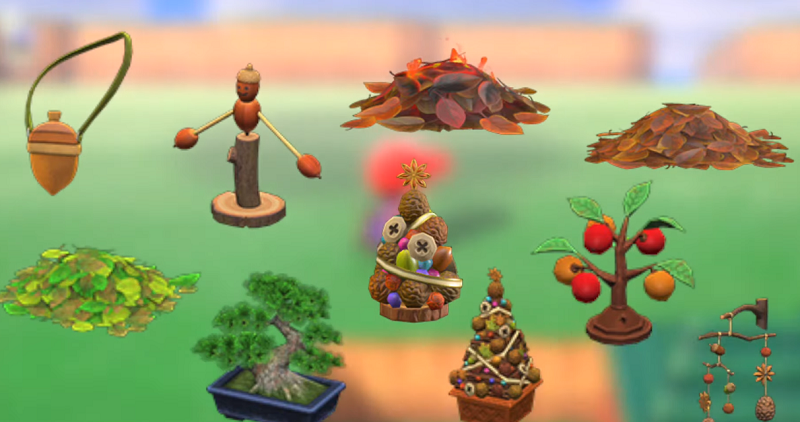 2. Bushes
September marks the start of our third season in ACNH as we transition from summer to autumn in the Northern Hemisphere, and winter to spring in the Southern Hemisphere. As the season changes we're going to start seeing a lot of visual changes to things like the trees and the grass as they begin to change to warmer and more cozy autumn and fall colors. However one of the most significant changes you'll probably see around your island in September are to the bushes which for any new players out there can be bought from Leaf. At the plaza, every bush in Animal Crossing New Horizons flower and blooms at different times of the year and in September the red and yellow hibiscus bushes stop flowering. So towards the end of September, any hibiscus bushes you currently have planted around your island will remain plain green until the middle of next year. The good news is tea olives are the ones blooming instead. So if you have a bunch of bushes you may want to swap out a few for orange or yellow tea olives.
3. Seasonal Items
Every season in New Horizons and every month actually sees some seasonal or holiday celebration which adds new limited time items to the game and September is no different. Beginning from September the 1st "the grape harvest basket" which is a very adorable and wearable backpack will be available to buy from the Nook Stop or shopping app on the Nook Phone. This item celebrates the harvesting of grapes and all the food and drinks that they use to make. It's a European inspired item but will be available worldwide. A second seasonal item called "the moon rug" to help celebrate moon viewing day in October. Becomes available from September the 7th, this is an Asian inspired annual celebration, the item will be available worldwide. Currently these items can't be obtained legitimately even by time traveling. If you do see these or you have them already please be careful using them in dream islands before they're officially released as they are currently hacked items and Nintendo have been deleting people's dreams.
4. New Critters
As you'd expect with any new month in Animal Crossing, we will see a huge shift in the type of critters that we can encounter around our ACNH island including bugs, fish and deep sea creatures. This isn't a typical month as these seasons are changing too, so a lot of these creatures will be spawning around our islands for the first time. September marks the start of the rare river fish season, in the Northern Hemisphere where we'll be able to find things like pikes, cherry salmons and golden trouts. Are you excited to see some new creatures or are you bored of hunting them down already?
5. Weeds
The weeds on our Animal Crossing New Horizons island look and grow differently depending on the time of year which is really awesome for only the second time since the launch of New Horizons. The weeds will look completely different than they do now starting in September and remaining this way throughout the autumn season weeds will be less weedy, more flowery and sprout long blades of fluffy grass, they just look more autumn-like and will look amazing blowing in the wind. If you have a fully developed island or you're a super weeder it may be worth planting a few weeds around over the next few days, just so you get to see what they look like on your island.
6. Nooks Cranny
The updated Nooks Cranny store often redecorates throughout the year to match the current season, showing off different decals and decorations inside and outside of their store. From September, Timmy and Tommy will change up their store with some autumn and Halloween vibes ready for the seasonal holiday later in October. Some of the new decorations inside and out include a pumpkins display as well as autumn and mushroom inspired silhouettes on the windows and doors. Furthermore, the seasonal items that are for sale every day on the display mat inside Nook's Cranny including the surfboard, fan in the Northern Hemisphere, the space heater and celebration candles in the Southern Hemisphere will no longer be available to buy from September. If these will be replaced with any other furniture items for the autumn season or if it will simply disappear until winter. When the items from each hemisphere will swap over, we'll have to wait and see.
That's all the six changes we will see in New Horizons in September. What do you think? Are you excited about these September changes? Do you think an update will add even more holidays and events?