10 ACNH Halloween Pumpkin Patch Design Ideas & Codes - How To Design A Halloween Inspired Pumpkin Patch On Your Island
10/29/2020 2:32:44 PM
Have you decorated your island for welcoming Jack's big Halloween visit tomorrow from 5 PM to midnight? Still have no inspirations for Halloween spooky island? Here we share some best ACNH Halloween pumpkin patch ideas you might want to use on your island.
Animal Crossing New Horizons Pumpkin Patch Design Ideas & Codes
Halloween events have officially come to Animal Crossing New Horizons and it's pretty much the best update ever. Many people have started creating and sharing the most incredible pumpkin patch ideas. So how's your Halloween decorating coming along? Here we collected some of the best Halloween inspired pumpkin patch designs as well as pumpkin patch design codes. Make sure to check out these adorable ideas you can use to inspire yourself to create your own Halloween spooky pumpkin patch in Animal Crossing New Horizons!
Note: All the pumpkin patch designs for Halloween are shared by players from Youtube, Instagram and Pinterest.
1. Halloween Pumpkin Patch
Created by Hillvalley.island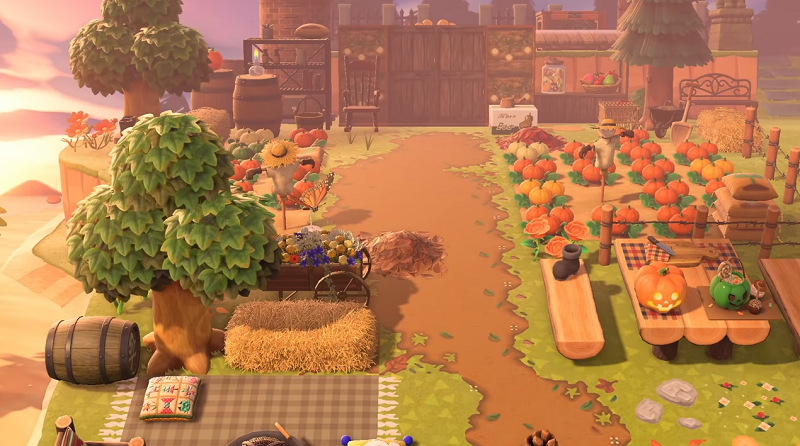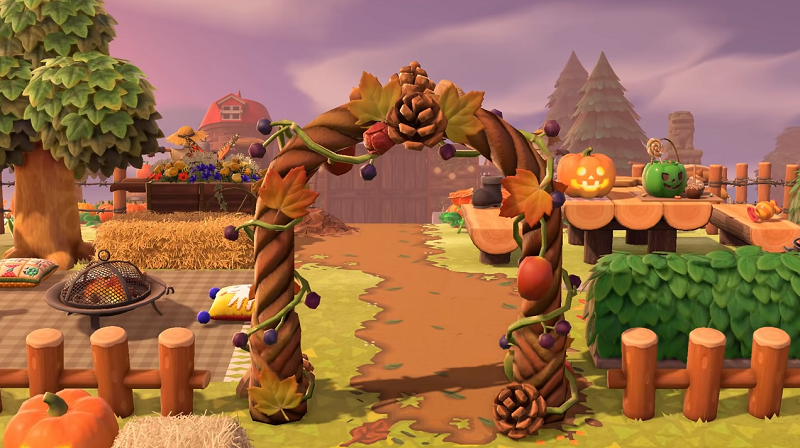 This pumpkin patch is gorgeous. The trees bounty arch right at the entrance is really beautiful, they also adds a pumpkin carving table on the right side which is so cute. The little boot sitting on the bench is such a cute touch, they even have a barbecue pit right next to the table so you can have a cookout and carve some pumpkins with your friends. The pathway that they use in this build looks so nice with all the pumpkin colors and fall colors. They even have the little red leaf pile and in the back of their pumpkin patch they have a barn type optical illusion type build, they use the log garden lounge chairs on top to imitate a roof which is so spectacular. There is also a rocking chair and a fire pit at the front of the pumpkin patch so you could sit down and enjoy the fire.
2. Halloween Pumpkin Patch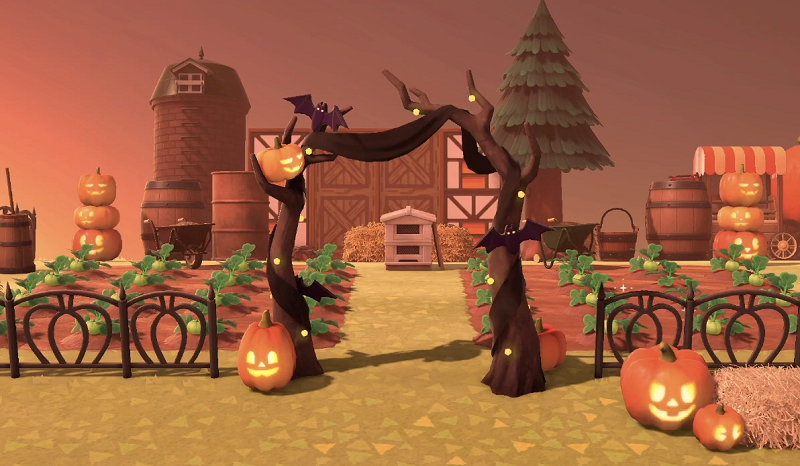 This pumpkin patch slash Halloween area is really attractive. The custom designs on the back can make you feel you are walking into a farm or seeing like an old rustic shed which looks really warming and really intriguing.

3. Halloween Pumpkin Patch
Created by Emchiicrossing on Instagram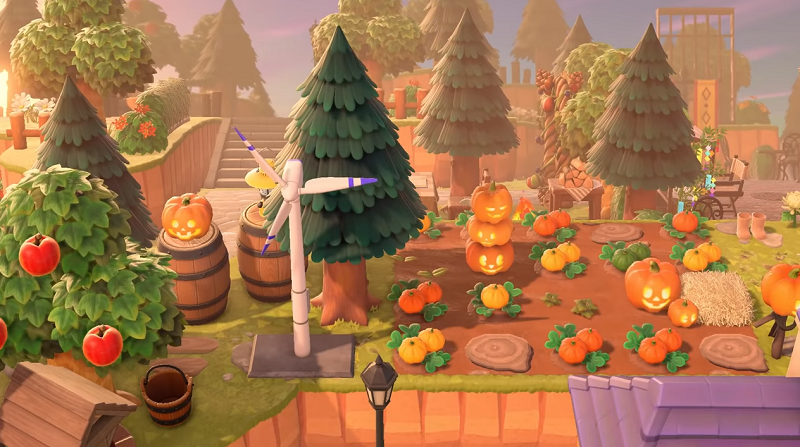 This one is so cool because it is upon this cliff right behind their residential services building which is really unique. There is also a windmill that is slowly rotating because there isn't much wind which added like a creepy vibe to the area. They also have weeds growing around the pumpkin patch and little wooden logs placed on the ground. This pumpkin patch just looks really nice, you could see the overview of their island behind.
4. Halloween Pumpkin Patch
Created by Tom_nook_i_am_indebt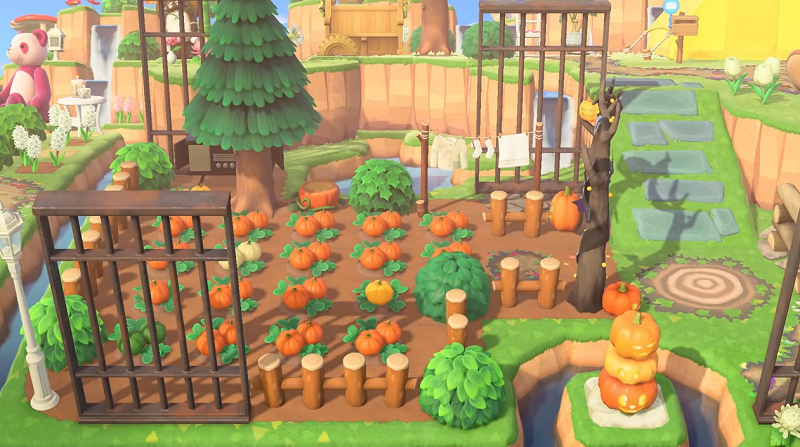 They add water features kind of surrounding their pumpkin patch, it looks amazing, the pumpkins are like so symmetrical and beautiful, it is just such an aesthetically pleasing build. Those little pumpkin leaves blowing in the wind is so adorable. They use the jail bars in this area, it complements the pumpkin patch concept. The stack of jack-o'-lanterns sitting on the stepping stone in the river and there is a pond in the background and so many water features. There is a little stereo hidden back behind that cedar tree, so there will be some really nice music playing.
5. Halloween Pumpkin Patch
Created by Olyvialoveanimalcrossing on Instagram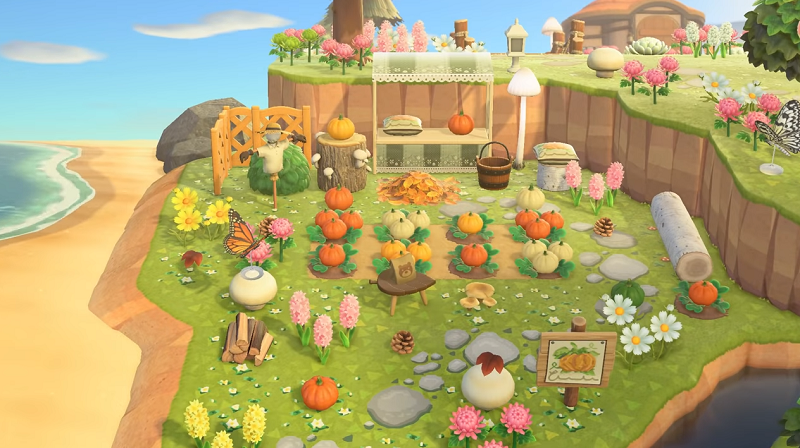 This one has just an overall relaxing and peaceful vibe to it, it is so lovely and just calming, the environment is very bright and colorful but it also screams fall and Halloween. It looks really nice against the beach sand. All the detail on the grass like the custom designs and the mushrooms, acorns and maple leaves look so nice, it's very symmetrical but also scattered.
6. Halloween Pumpkin Patch
Created by Kaylacrossingg on Instagram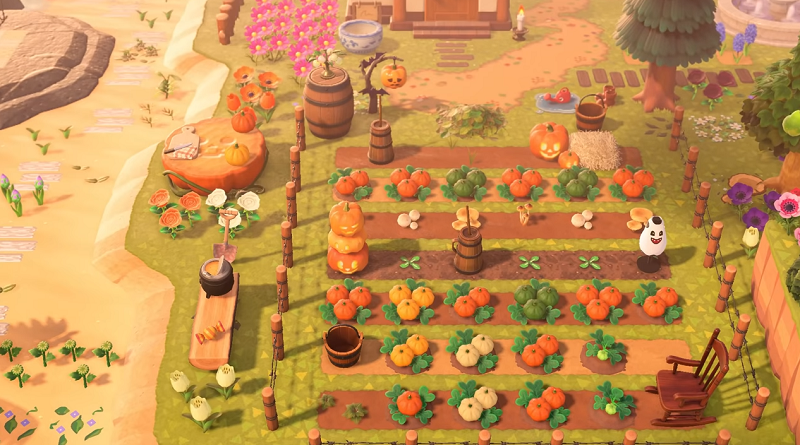 She uses the butter churns in the middle of the pumpkin patch, the little hanging pumpkin on the little twig with the bats on it are so cute. There are so many different pumpkins and color variations of each item so you can really go crazy with these items. She also has a little ghost friend on the right. There is a pumpkin carving table over on the left and they also use this like fondue pot as decor which is so genius. The way that the pathways look is so appealing. She uses the in-game dirt pathways as well as a custom-designed dirt pathway and one row of the pumpkin patch was purely dedicated to mushrooms, that looks so amazing, it just kind of broke up that pattern and kind of added some more interest to the area.
7. Halloween Pumpkin Patch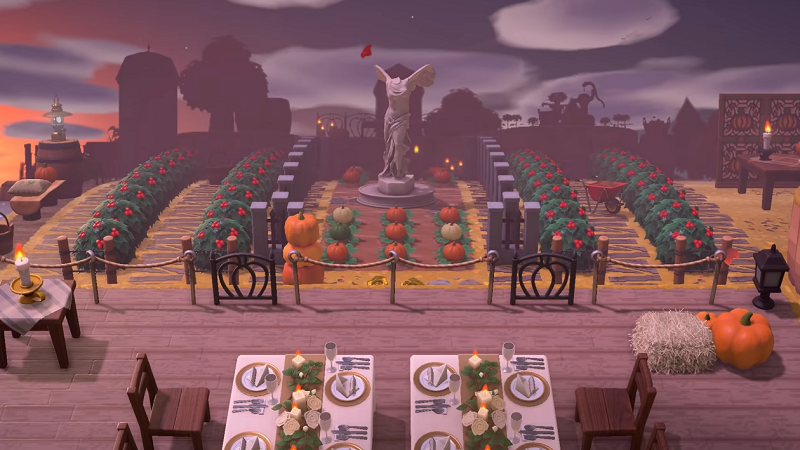 This one is so stunning. There is a giant statue as the centerpiece and there is a bunch of silos in the background with the fall trees. There are maple leaves falling and you could see there's a butterfly fluttering around the area which all just add into this great scenery. The bushes that she used to line the edges of the pumpkin patch look amazing. She also has wooden planks going down in between the bushes. There is a stall that has a bunch of candles and a knife set. Everything about this one is just so beautifully executed, definitely go check out her instagram because she posts some beautiful photos of her island and you would definitely get some inspiration from this creator for creating your spooky island Halloween pumpkin patch.
8. Halloween Pumpkin Patch
Created by Caledonia.crossing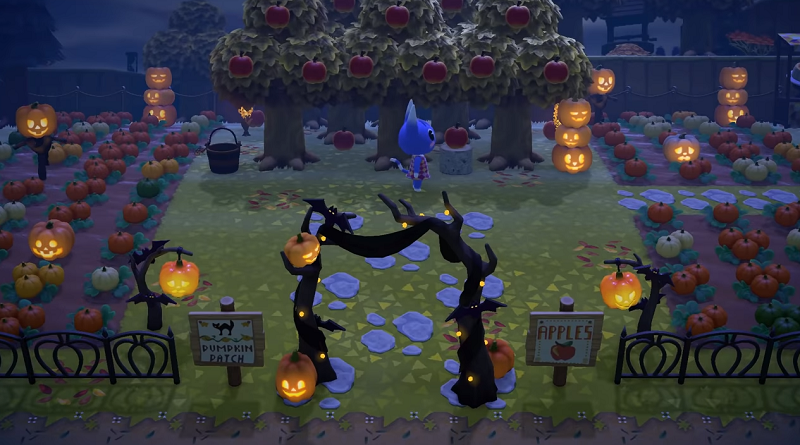 This spooky nighttime pumpkin patch created by caledonia.crossing on instagram. This one is so awesome because not only is it a pumpkin patch but it it also an apple orchard which is so cool. They even have apples hanging around on the ground which is so nice. You could really enjoy visiting this one at night time. The jack-o'-lanterns are just glowing in the night sky, there is even a cricket which looks so cute. This one has an eerie Halloween vibe to it. They also had some stalls with some candy and pumpkins and behind that there is more stalls that had apple pies and maybe some apple cobbler. She used the new Halloween fence, it has the shape of a pumpkin in the middle. They also had a pumpkin carving station in front of the pumpkin patch with the little pumpkin carriage.
9. Foggy Halloween Pumpkin Patch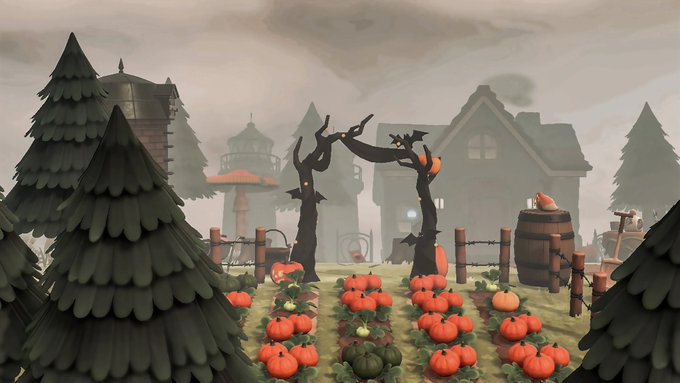 10. Halloween Pumpkin Patch Spooky Island
Created by Ndaerys.crossing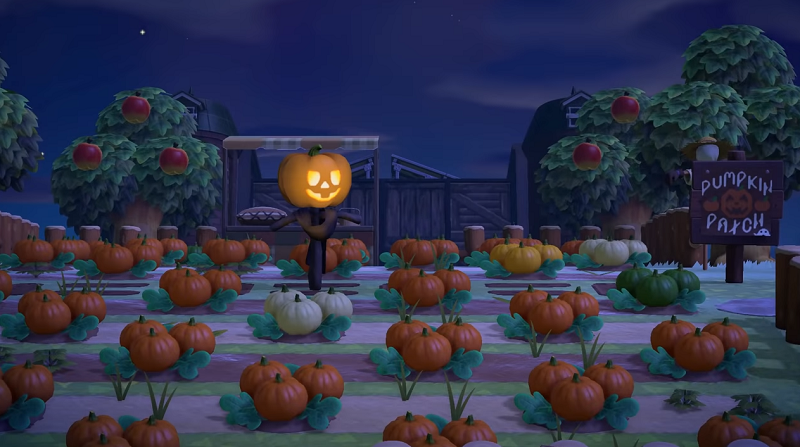 The little pumpkin patch sign is so cute at night time. All of the jack-o'-lanterns are glowing, they also had a barn kind of set up in the back of their pumpkin patch as well they used the simple panels and silos jail bars and the solar panels. The jack-o'-lantern scarecrow kind of in the middle of their patch with these little wooden planks on the ground. They also had weeds in between each pumpkin in the patch which added so much nice detail. They also had a pumpkin carving table at the front of their pumpkin patch and they also had some other little jack-o'-lantern decorations and a shovel which was nice. They used the country fences around it, they also had hay bales around which was very fitting for a pumpkin patch. It looked very realistic.
ACNH Pumpkin Patch Design Codes - Spooky Island Dream Address
MA-4551-8574-3369
MA-9848-5137-2121
DA-4504-5245-5281
DA-6012-7480-2940
DA-9184-7436-2844
DA-1615-8575-7962
DA-1238-1015-5919
DA-9050-6456-0241
DA-7585-0368-0771
DA-6063-5929-5718
DA-3524-5098-3702
DA-6908-1717-9140
4000-2721-8696
Hope you enjoy these amazing pumpkin patch design ideas! If you want to make your island even more spooktacular, take a look at AKRPG's best Animal Crossing New Horizons designs for patch, beach, entrance & cottagecore and more.