ACNH New Years Items 2021 - 7 Limited January Items In Animal Crossing New Horizons | 2021 Countdown Event Details
12/29/2020 11:09:38 AM
The 2021 New Year's Eve Countdown event is just on the corner and 7 New Year items will become available via Nook Shopping. These items are to celebrate the New Year and 2021 and there's only a certain amount of time you can actually get them. Here in this guide, we'll go over all of ACNH limited January items and when you can get them, we also reveal 5 things you need to know about the upcoming New Years' Eve celebration in Animal Crossing.
ACNH New Years Limited Items, Details Revealed - 2021 Countdown Event
With Toy Day out of the way, we are now only a couple of days away from the next in-game event in Animal Crossing New Horizons starting on the 31st of December - the New Year's countdown which is the final event of the year will begin. The countdown event is something that appears in all Animal Crossing games although does differ slightly in New Horizons. Furthermore, the event occurs in both the northern and southern hemispheres. And 7 new limited January items will be coming on January 1st to celebrate the beginning of 2021 & New Year and can be ordered until January 15th. Read on this article and learn about every New Year's themed celebration item as well as all the details you need to know about the 2021 countdown event!
2021 January ACNH New Year's Items List
Here are all of the different New Year's themed celebration items 2021 that you can get upon visiting your nook shopping app in January 2021, starting January 1st to January the 15th you only have until then to get these items, so make sure you purchase them before that date.
View the list of limited 2021 items their respective prices.
2021 Celebratory Arch (2021 Bells)
Kadomatsu (2580 ACNH Bells)
Kagamimochi (1800 Bells)
New Year's Shimekazari (2000 Bells)
Olivier Salad (1000 Bells)
Yut Nori (1300 Bells)
Zodiac Ox Figurine (1600 Bells)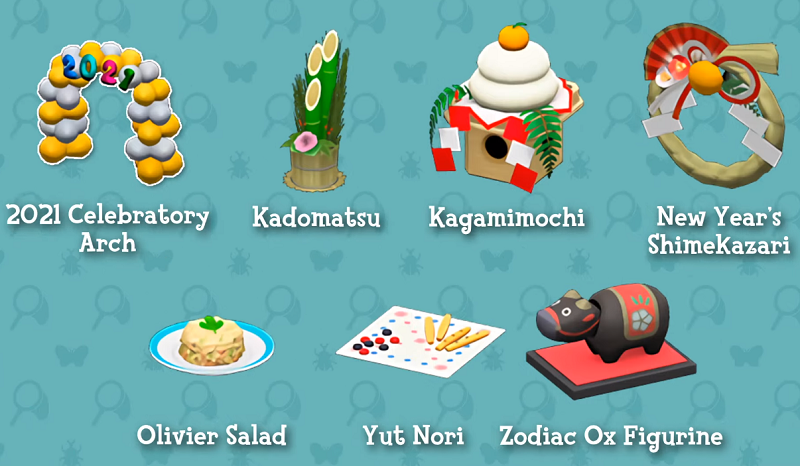 Which of these new items is your favorite? Which are you most excited to get your hands on? All the January limited ACNH items will be available on AKRPG, keep an eye on our website and you can enjoy the best price in the first time.
How To Get New Year's Nook Shopping Items ACNH
If you don't know how to actually access these you need to go to your nook shopping app or the nook shopping in your nook stop machine in resident services. And then you can go over to seasonal items. You can already see all of the ones for sale. These are available until the 31st of December this year but upon January 1st, these items will actually disappear and they'll be replaced with these seven new items which you can only get for that limited amount of time. so make sure you get those items before it is too late.
For the January next year, we do know that the free update is coming in late January and that will have Pave in it and Festival. So we'll see even more limited time seasonal items for January. So if you're looking for more 2021 items to enjoy this will be another way for you to get even more items.
5 ACNH 2021 New Year's Event Details Revealed
1. Countdown
As you'd expect, the countdown for the New Year's celebration starts with Isabelle's morning announcement where she can be seen wearing a New Year's hat and announcing the start of the event. The event begins at 5:00 am which sees both Isabelle and Tom Nook out of the resident service center and at the plaza to host these celebrations. During the day, a huge countdown time along with some other decorations including balloons can be found in front of the resident services with the timer counting down in real time to midnight. With the giant countdown timer in front of the doors and no one inside to run any services, the resident services will be closed for the entire day. So don't leave it until the 31st to order any of the new seasonal New Year's items.
2. Party Gifts
Similar to events throughout the summer that saw Isabel outside of the resident services center, both Isabel and Tom Nook will offer up some special gifts to help players gear up for the countdown celebrations. If you speak to Isabel during the event at any point throughout the day, she'll hand over a light stick which looks like her mini lightsaber to use. During New Year's Eve, this can be equipped like a tool or any other handheld item and can be waved around. Furthermore, if you speak to Tom Nook during the event at any point throughout the day, he'll hand over 5 party poppers which are an item you can use during the countdown celebrations. Unlike the light stick, the party poppers are a usable item and can only be used once, both of these items are free.
3. Nook Stall
The event starts at 5:00 am although nothing notable happens until later in the evening. Fortunately, both Isabelle and Tom Nook are both at the plaza to chat during the day. Once you've spoken to Tom Nook and claimed your free party poppers, he opens up his pop-up stall where not only you can buy more party poppers for the cheaper price of 300 Bells, but you can buy New Year's hats for 500 Bells each. There are two types of New Year's hats including the ordinary New Year's hat and the New Year's silk hat. Both of which come in 8 different colors including red, blue, yellow, green, orange, purple, pink and light blue. Anyway, it seems that each year Tom Nook only provides 4 variations of a particular hat. So not all of them can be obtained during the event without trading with friends. The good news is the random selection changes each year, so other versions should be available at future events.
4. Celebrations
With everyone geared up with hats, light sticks and party poppers, the countdown event celebrations can begin from 11 p.m that evening. With only 1 hour remaining, the island's residents start to converge towards the resident services and begin to gather at the plaza. During this final hour, the music changes, getting slightly more intense at midnight approaches and the plaza starts looking like an actual party with pretty much everyone on the island ready to see the New Year's Eve whilst you're waiting for the countdown timer to count down. You can talk with villagers who will often reflect about the event and the New Year. The celebrations carry on well into the night and you can speak to your villagers at any point during this time.
5. Fireworks
The final minute of the New Year's Eve countdown event is by far the most exciting as the countdown timer begins to beep every second in the build up to the New Year. During this time, the villagers start to celebrate and wave their livesticks around just in time for an awesome fireworks show to start at midnight to celebrate the New Year. Players can also use their livesticks and party pops to celebrate too. The fireworks show continues for 2 hours from midnight until 2am in the morning of the 1st of January where the entire island continues to celebrate the New Year which is really awesome and gives you plenty of time for photo opportunities. After 2 a.m the music starts to change and the New Year's eve celebrations come to a close as island life starts to get ready for the New Year's day.
That's all about New Year's Eve Countdown event in Animal Crossing New Horizons and the limited-time ACNH January 2021 items you can obtain during the celebrations. What do you think about this event? Are you happy to see a fireworks show to celebrate the New Year and will you be attending the event?