ACNH Cherry Blossom & Sakura Season 2021 - How To Get Cherry Blossom Recipes, Crafting Materials And Items In Animal Crossing
4/6/2021 10:53:00 AM
We have just experienced the bunny day holiday events along with egg themed items and crafting materials in Animal Crossing New Horizons. The next seasonal event that steps in is ACNH cherry blossom season or sakura season event on the Island and all cherry blossom themed seasonal items & crafting material now available. So without further ado, check out Animal Crossing cherry blossom season 2021 guide, detailed tips on how to get cherry blossom petals, and DIY recipes for cherry blossom items.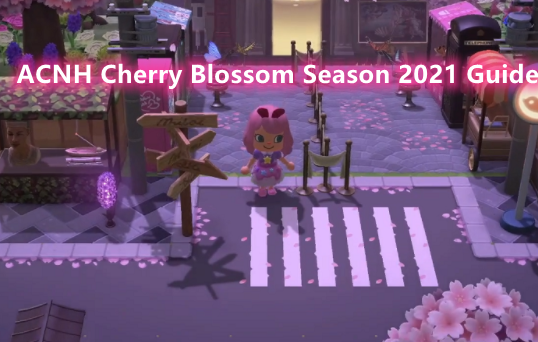 ACNH Cherry Blossom Season 2021 - How To Get Sakura Recipes, Crafting Materials & Items In Animal Crossing New Horizons
The cherry blossom season 2021 in Animal Crossing New Horizons is exactly the same as last year. As you may have noticed, many hardwood trees around the island have since flowered into gorgeous cherry blossom trees and completely changed the atmosphere. The cherry blossom season dates start from April 1 to April 10 in the northern hemisphere, October 1 to October 10 in the southern hemisphere. During this 10 day event, you will be able to get beautiful cherry blossom themed DIY recipes. Isabelle hands out the DIY recipe for outdoor picnic set when she announces the ACNH cherry blossom festival within the first few days of April. The greatest thing about the ACNH sakura season 2021 is that the pedals are not doing competition with Bunny Day in games, 6 days of no bunny day balloons! In order to help you get in the mood for the aesthetic spring.
Animal Crossing Cherry Blossom Petals
During April 1st to April 10th in the Northern Hemisphere or October 1st to October 10th in the Southern Hemisphere is the ACNH Cherry blossom season, petals have begun falling and floating around. As a matter of fact, these petals are the latest Animal Crossing sakura seasonal crafting materials and can be used to craft their corresponding seasonal recipes. Cherry blossom petals spawn quite sparsely around the island in the first few days of April and are easily missed especially with all the bunny day activities going on. Until now, cherry blossom petals are spawning more frequently, and are much easier to find. If you see one floating around you can easily catch it with your net the same other seasonal materials.
Tips for getting ACNH cherry blossom petals

If you are struggling to find cherry blossom petals, or you have hardly any cherry blossom trees, you can plant extra hardwood trees to increase blooming. Unfortunately, they won't spawn on fruit trees or cedar trees.
Animal Crossing Cherry Blossom DIYs
These cherry blossom petals are used to craft the latest Animal Crossing cherry blossom seasonal DIY recipes. These ACNH cherry blossom recipes can be found inside the balloon presents that float across our skies. There doesn't seem to be an exact science for the drop rates of these recipes but is rumored to be around 15% to 20% chance of filing a seasonal DIY recipe. The best thing to do is farm balloon presents and spend a little while running up and down your beaches, shooting down as many balloons as you can until you find all the recipes for cherry blossom season festival in Animal Crossing. To be able to craft at least cherry blossom recipes for each one of cherry blossom recipes, you need to catch 89 cherry blossom petals. Be sure to collect as many as you can, either store some in case you need or to sell for some ACNH bells.
Animal Crossing Cherry Blossom Items
For those who've been playing since launch, you probably already have all the recipes, although this may be a good opportunity to double check you've collected all the items from the cherry blossom season series. There are 14 cherry blossom items in total that you can find in Animal Crossing New Horizons. What's more important is that some ACNH items have specific customization. Cherry blossom clock and blossom viewing lantern are going to have different colorations.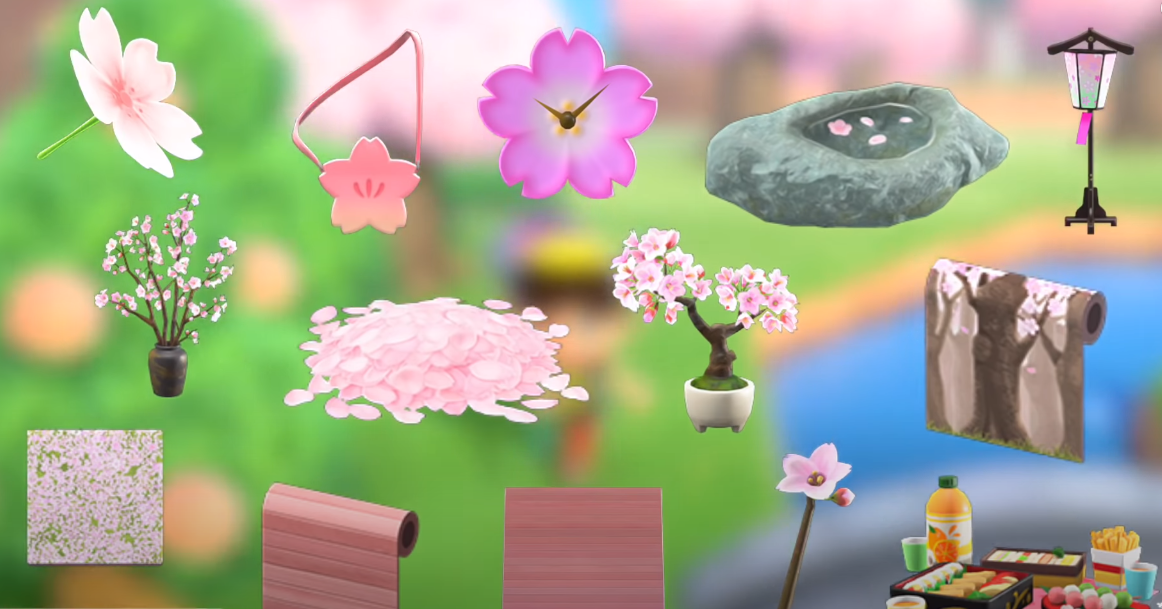 ACNH Cherry blossom items & Diy recipes
Cherry-blossom umbrella
Sakura-wood flooring
5 Cherry-blossom Petals

10 Wood
Cherry-blossom flooring
10 Cherry-blossom Petals

20 Weeds
Sakura-wood wall
5 Cherry-blossom Petals

10 Wood
Cherry-blossom-trees wall
10 Cherry-blossom Petals

5 Hardwood
Cherry-blossom clock
5 Cherry-blossom Petals

1 Iron Nugget
Blossom-viewing lantern
8 Cherry-blossom Petals

4 Tree Branches

5 Clay
Cherry-blossom branches
8 Cherry-blossom Petals

4 Tree Branches

5 Clay
Cherry-blossom bonsai
6 Cherry-blossom Petals

2 Hardwood

3 Weeds

3 Clay
Cherry-blossom-petal pile
Cherry-blossom pond stone
10 Stone

6 Cherry-blossom Petals
Cherry-blossom pochette
Cherry-blossom wand
3 Star Fragments

3 Cherry-blossom Petals
Outdoor picnic Set