Best ACNH Villager Yards Design Ideas & Codes - How To Decorate Villager Yards In Animal Crossing
7/20/2021 3:42:16 PM
In Animal Crossing: New Horizons, villager yards can be transformed into distinctive and fashionable works of art, and there are many things that can be done to a yard to fit the island or home theme. If you don't know what to do with your yards, here are some ideas & tips for designing a yard that will leave a lasting impression on visitors. Read on and check these different ways to decorate villager yards in ACNH.
Top 8 Best ACNH Villager Yards Design Ideas & Codes
1. Small & Natural Villager Yard Code - DA-3740-8734-2735
This yard for villgaer very natural with some complex terraforming, the colors, all of the earthy tones are really great and this house has like a moat around it with just little wood planks area where you can get through to the house. It borders the beach, we have the additional opportunity to create more space for the villager more themed areas. And the pathway to the left was really nice as well, we've got framing with the cliffs and it just looks amazing, everything looks just gorgeous.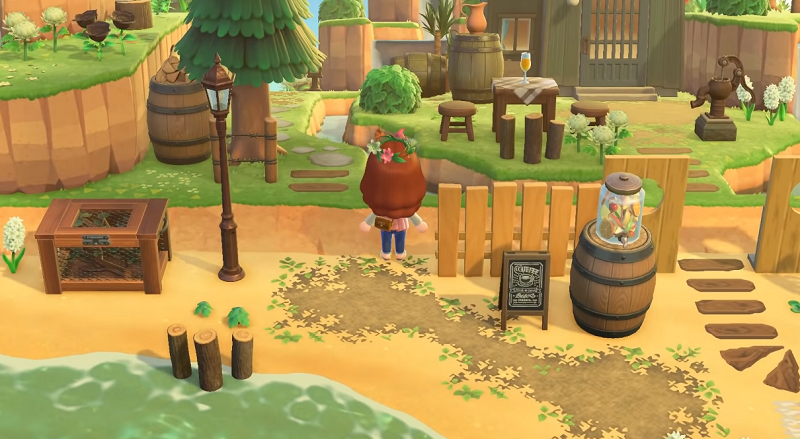 2. Overgrown & Cozy Front Yard Design Ideas - DA-5391-7644-2135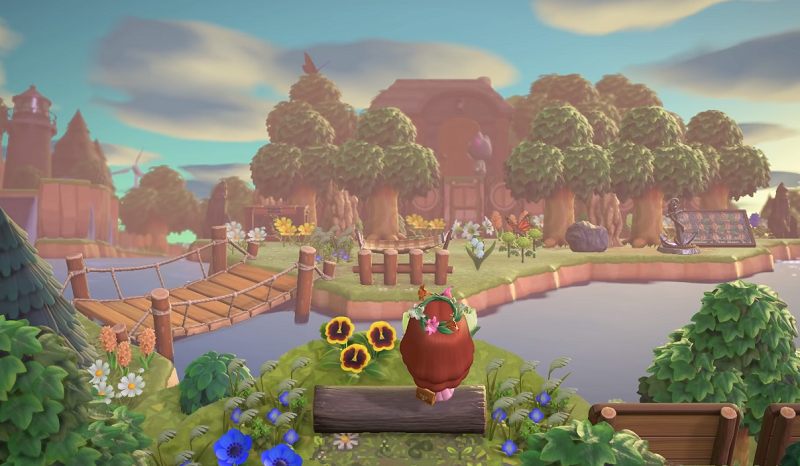 The space for punchy is great, these colors work so well. This island was actually an all-cat island and it just did punchy so much justice. The blue pansies, the blue details on the pillows, everything is just perfect. I also like how the area was boxed in with hedges that's one way that you can kind of separate your villager homes.
3. Best Villager Yard Design Code - DA-4953-1132-3734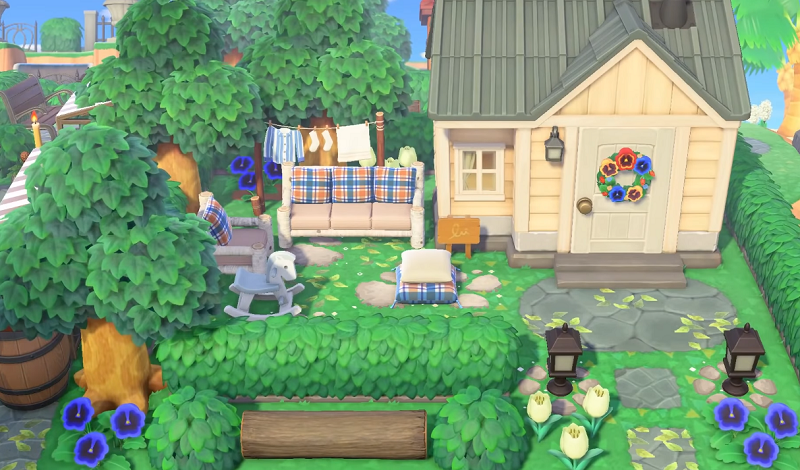 This was such a creative use of the standees that we've been given the new designs. Look at how cool this is, gonzo has his own tree house very fitting since he's a koala and it's a floating block is used to elevate the butterfly, so it looks like it's on top of the tree. that's so cool. The root custom designs used here at the base of the trees are amazing.
4. Beautiful Yard Created For Villager - DA-6606-8197-2084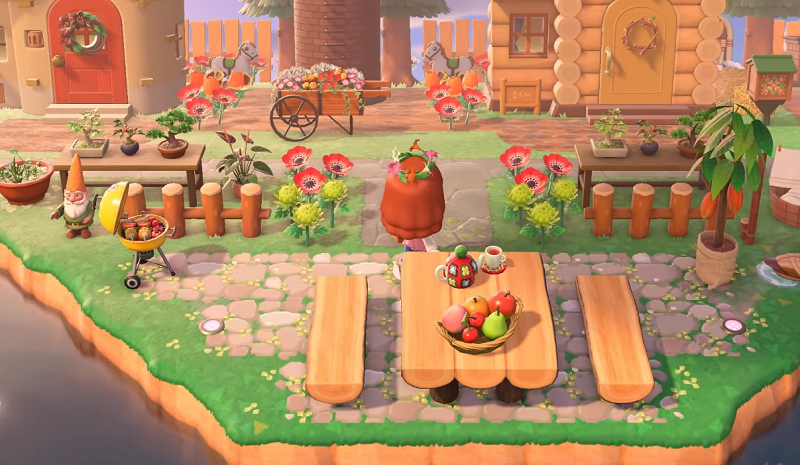 If you are stuck on how to decorate yard around a villager house, picking a neighbor for them that offers you unique opportunity for symmetry between the two. We see that here kind of in two separate areas, it's like offset symmetry, first between the houses and then at the table as well that little area in front. This area was so cute and it avoids having a full-fledged neighborhood. You can have little units beside each other without making a whole neighborhood.
5. Lazy Villager Yard Design Code - DA-2060-7415-0876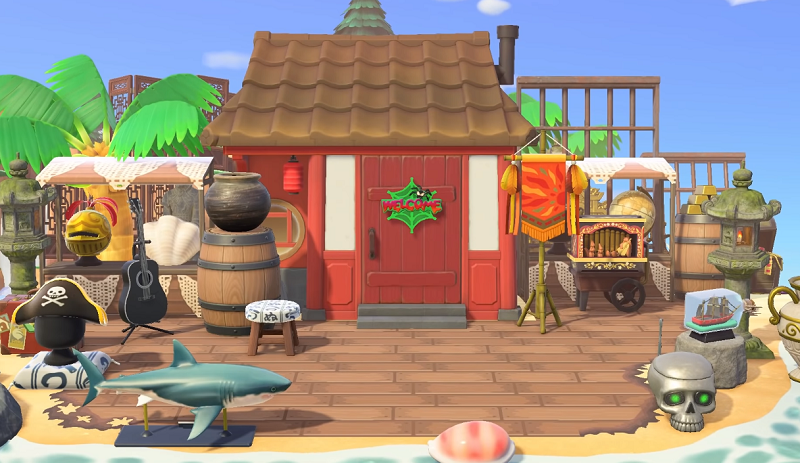 This house belongs to Octavian and it was super fitting that it was placed here at the very southernmost edge of the island right, on the edge of the beach, it's right beside the river outlet as well and it kind of makes Octavian seem like a pirate. But the idea here that was important is you can decide how to decorate based on where on the island you place the home. So if you want it to be near an orchard, so your villager can be a farmer, go for it if you want it to be beachy, put it on the beach. You are not limited, that was really good to point out because it can make it easier based on where you place the house, how you decorate.
6. ACNH Best Front Yard Code - DA-1629-0862-6600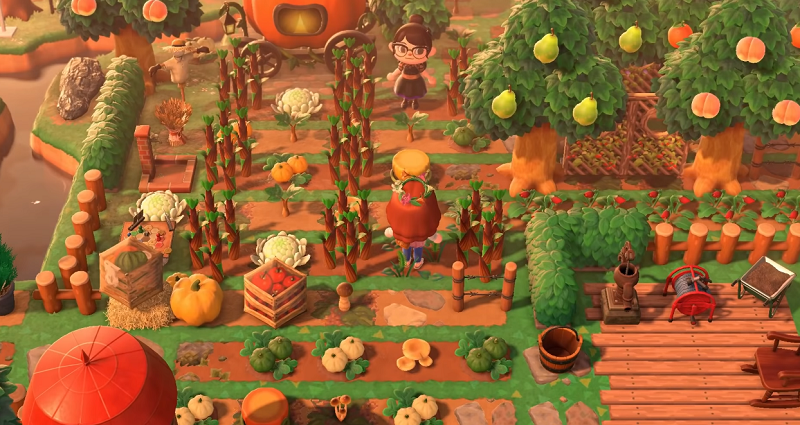 This next island truly enchanted many players. We have an orchard bordering, this little veggie garden is guarded by lucky whose house. All of the veggies are so cute, the little umbrella crate the bamboo shoots that have been halted from growing, all of it just works together so well. All of the furniture was perfect, everything was placed in a way that was so impressive and cohesive. This space doesn't really rely on terraforming at all, you've got just a bunch of flat land and it's been used so effectively. So if you don't like terraforming reference, this area looks amazing.
7. Beach Paradise Villager Yard Design - DA-6690-5930-4732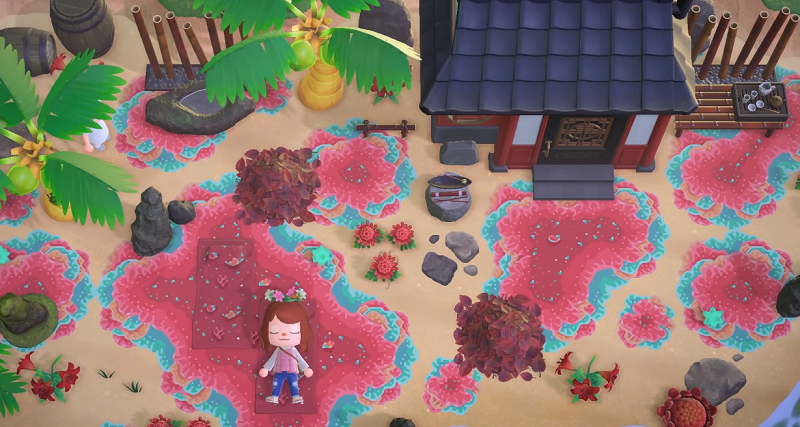 This villager house area was so unique. This coral custom design is absolutely stunning. Look how amazing it is, look at the layers in it, it was just so beautiful, you can lay down on the little blankets and look like you're resting on the coral. How beautiful are all the colors here! The little dropped star fragments that match the kind of tealish blue color in the coral, all of this just amazing. We have a beach house but the custom designs really take it to another level and all of the reddish brown touches around her house looked so wonderful.
8. Dreamy Starry Villager Yard Design Code - DA-8023-2612-1837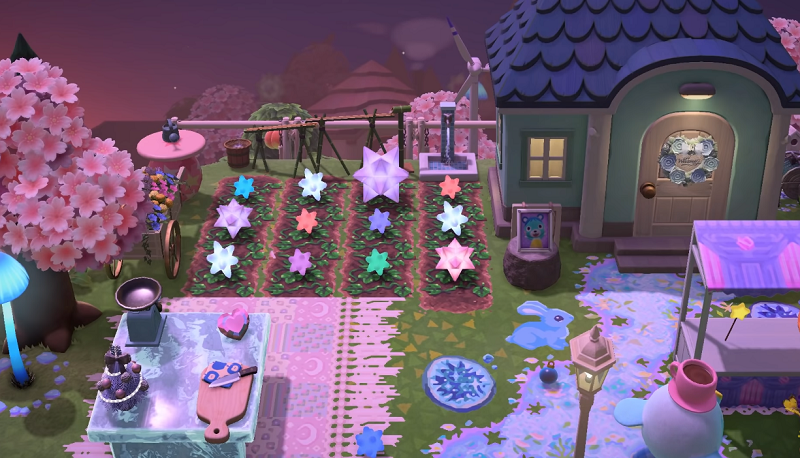 This villager yard coincidentally also used star fragments very creatively although in a completely different way. The color palette here on this island is so beautiful, we have so many bright blues and pinks, it had such a fairy tale vibe. They'd managed to use the bunny day lamp, all of the illuminations is so lovely at this time of day, but they use the star fragments to make a sort of star fragment garden. It's like we're growing stars here on this island and that is so fantastical. It's so ethereal, everything just felt so magical and pretty and this island is such a nice place to be here at sunset.