Best ACNH Campsite Design Ideas 2021 – 10 Ways To Decorate Your Campsite In Animal Crossing New Horizons
10/13/2021 11:40:37 AM
The leaves are changing color in the mountains of ACNH, have you found the perfect spot for that campsite you want to build? It's time to make the dream pitch for your island with a brilliant campsite design! And these top 10 best ACNH campsite design ideas are here to help, with a guide revealed that covering how to build a campsite, how to decorate your campsite in Animal Crossing New Horizons. Dive in and see what you think!
Best ACNH Campsite Designs 2021 – Campsite Decorating Ideas In Animal Crossing
Here are some steps on building your campsite in ACNH and a list of some of best campsite designs codes for Animal Crossing. Hope you're feeling inspired to work on your own campsite or even restart your island.
How To Build The Campsite
There are a few things you'll need before you can start building your campsite. As a result, the player should first upgrade Resident Services before chatting with Nook and asking him what they should do next. He'll give you the DIY recipe for a campsite construction kit, and you'll be the one who has to put it together yourself. Then choose a plot of land on the island for the campsite, and once you have all of the materials and ACNH bells necessary, you can begin construction on the campsite, which will take the entire day. Once the campsite has been constructed, new potential neighbors will occasionally arrive and stay for a short period of time. The option to bring KK slider onto the island for a concert is available at this time, if you wish.
10 Ways To Decorate Your Campsite In Animal Crossing New Horizons
1. Best Campsite Design - DA-8573-5001-3250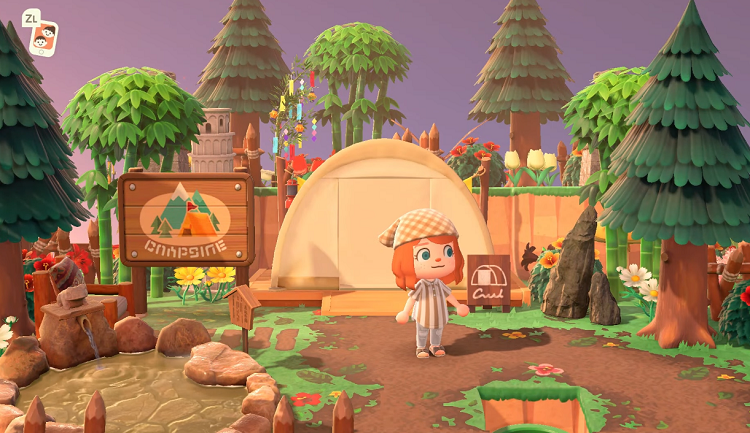 This one is so cool because the only way to access the campsite is to use this little pipe r by able sisters, and then it puts you out at this adorable campsite area. The terraforming is amazing all of the decor looks so good. There's just a little campsite surrounded by trees, cliffs, so much color, it was just a very vivid and beautiful space to place the campsite, definitely somewhere that you'd convince a villager to move in.
2. Tropical Campsite - DA-3861-9767-1029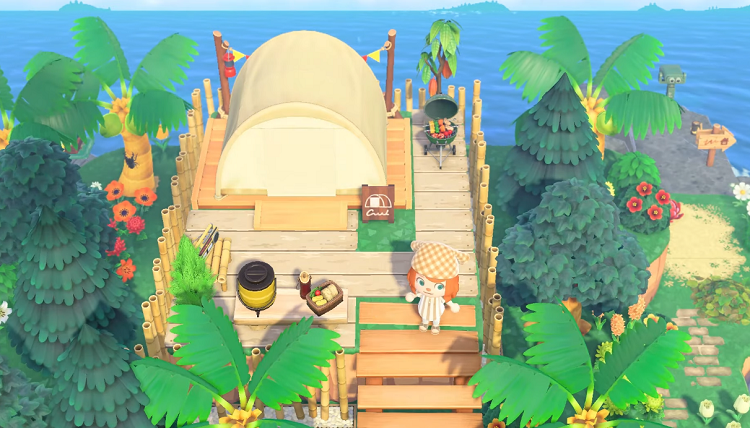 It is like one big tropical meadow. How little outcropping of land is, the campsite is like almost on top of a mountain of cliff because this is just such a small space, it can barely fit the campsite but it looks amazing, it was just so cute, very tiny. So that's helpful. If you don't have much space on your island you could do something like this, by lifting the campsite up doesn't take that much area at all and the lead up was just astonishing .

3. Animal Crossing Campsite Ideas - DA-0295-1006-5483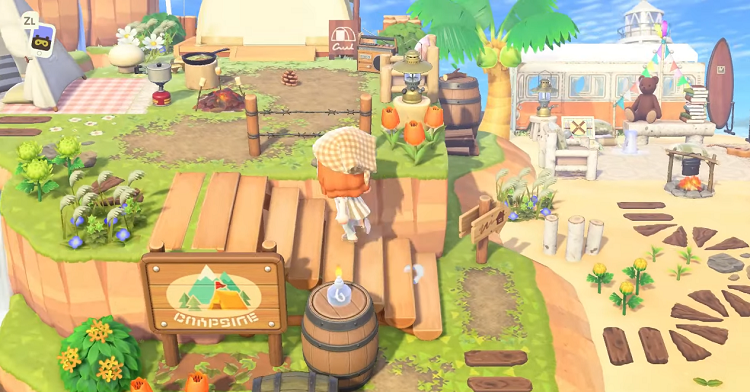 This is a space that doesn't really take up that much land area for the campsite but represents the versatility of this island. The campsite is like this beach area, very small and very gorgeous. This island had an eastern river mouth and so that is where the campsite is placed in the top right corner, it was a clever way to take up this land space.
4. Calming Campsite Design - DA-6439-5533-3467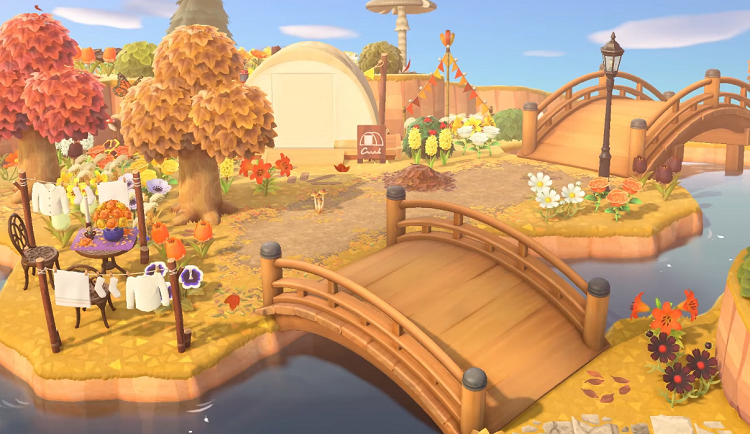 This island did such a brilliant job with the bridges, the terraforming is so calm, it feels very natural, the cliffs don't have any crazy terraforming but the waterscaping is especially so precise and it does feel just so natural like you would literally go camping. It's like a nature trail, the lead up with this little courtyard and then the bridges are so great, how pretty is that view the way you just have all of the flowers around even on the other side of this bridge there were flowers everywhere and incredible terraforming.
5. Unique Campsite - DA-7661-1592-5113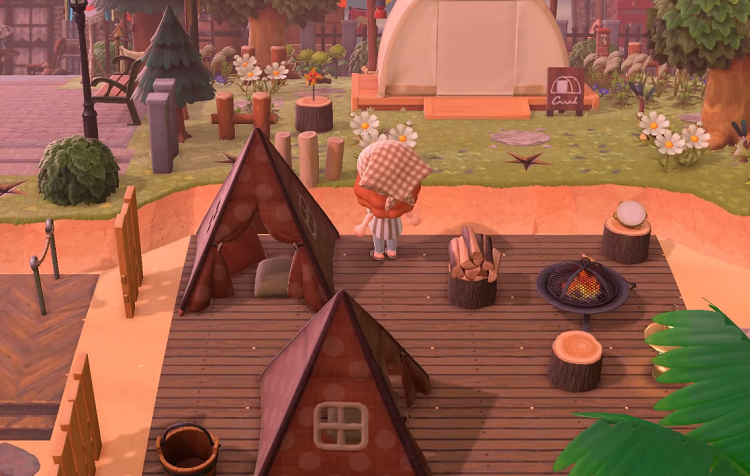 Another very unique campsite placement is this one on the very edge of the beach. There is mostly city on this island so this campsite represented the rare corner, that was a reprieve from the hustle and bustle of the city aesthetic that's going on everywhere else. It was so well done, the way it's just like fenced off.
6. Beach Campsite - DA-5599-4047-6345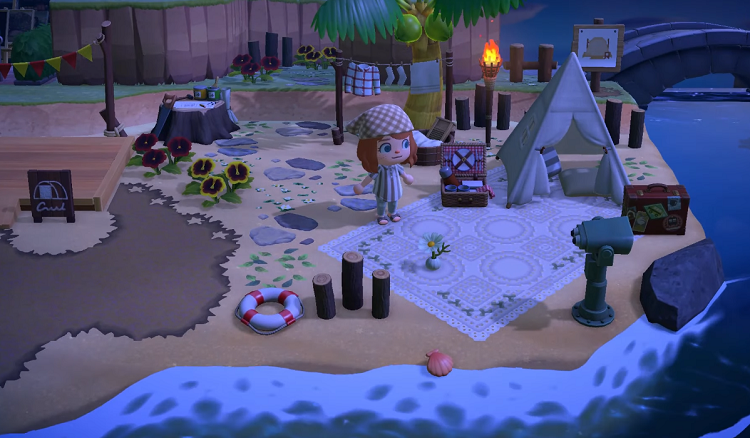 Creators place the campsite directly on the beach, it really matches the vibe, the scenery is so beautiful, the campsite cookware here is so precious and people will love how restful it felt like that there's a bonfire as well, and then just to the right over here we have a mini campsite too love how many of these areas that use the kids tint.
7. Campsite & Dream Peninsula - DA-5864-1100-8103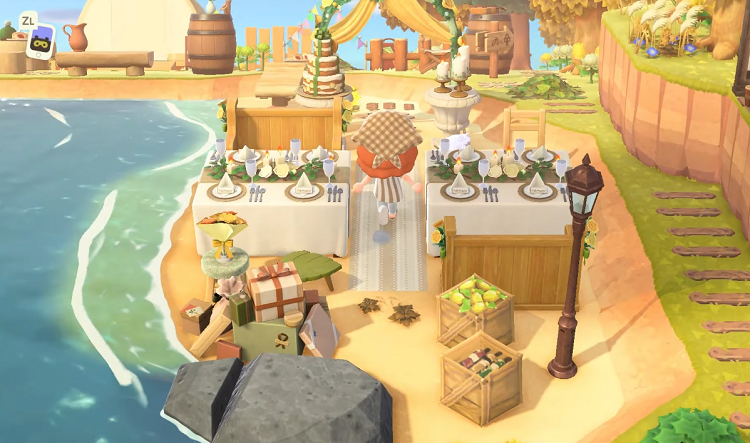 This island mostly makes people jealous, because this is the dream peninsula. Look at all this space that the campsite was incorporated here, what a brilliant use of the space, there's also a banquet, so it kind of felt like a wedding getaway almost like maybe this campsite is where the two married individuals are honeymooning. Also just behind, some kids tents, but the way that these kind of contrasted each other, brown flooring with white tent white flooring with brown tent, that was really clever. Placing the campsite on or near the beach is a very popular decision.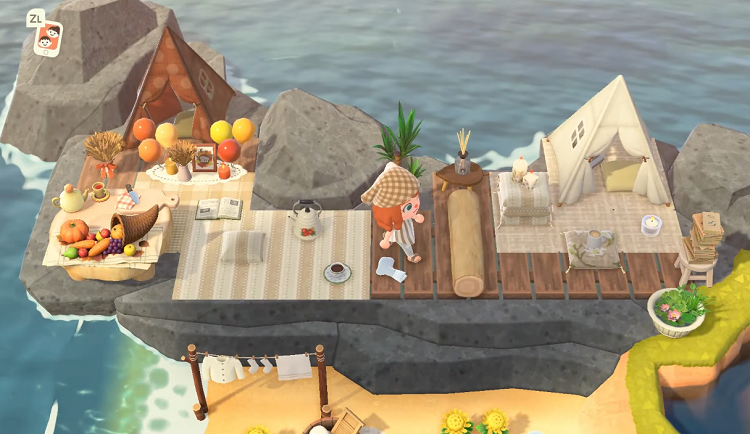 8. Greenery Campsite - DA-5020-8939-1539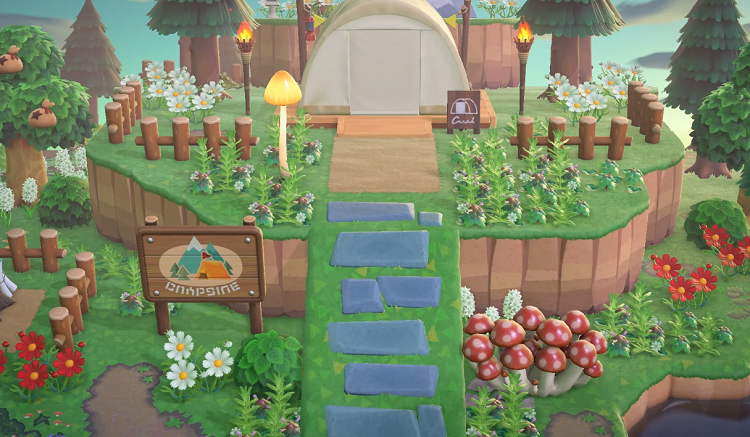 This little outcropping is for the campsite, this is such a simple build with the use of weeds and some flowers and trees, it's all so natural and it is so elegantly beautiful. The creator used the yellow mushroom lamps around and it literally made me want to make a build just based off of those.
9. Best Way To Decorate Your Campsite ACNH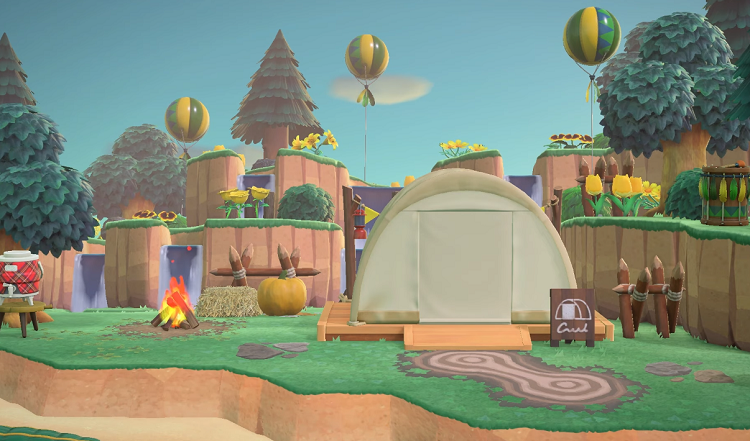 The pier was really cute and it was near the campsite, the terraforming felt so natural to the land, around it and those balloons genius. The movement we get from the campfire being just beside the tent. The simplicity of the ground designs doesn't feel cluttered, it's very open and the color coordination is lovely.
10. Hawaiian Campsite Ideas 2021 - DA-5819-7911-6587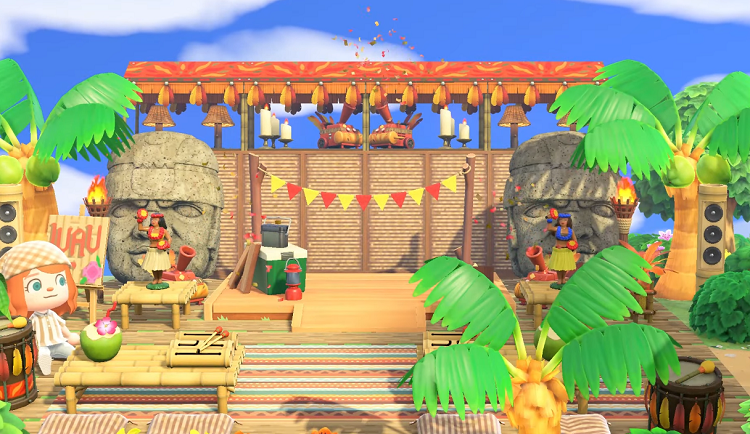 This is such an innovative way to use the campsite, it's not really a campsite here but a stage for dancing and look at the framing for this, we're at a luau on this tropical themed island, very Hawaiian themed and this was so stunning, so gorgeous and so unique. All of this is the custom designs and everything were so perfectly placed and the use of the float look so cool.