ACNH Spring Update 2022 (March, April, May) - Events, Seasonal Items, DIYs, Critters in Animal Crossing New Horizons
2/25/2022 6:25:37 PM
In this ACNH Spring 2022 Update guide, let's dive into the events, holidays, seasonal items, DIY materials, and critters (bugs, fish, sea creatures) that will be available in March, April, May month.
Animal Crossing New Horizons Spring Update 2022 - ACNH March, April, May Events, Seasonal Items, DIYs, Critters
2022 shows no sign of slowing down and we are now fast approaching a brand new season on the Animal Crossing New Horizons island here. In the northern hemisphere, we are of course coming to the end of winter and will begin transitioning into spring from February 25th. New seasons add a bunch of new content to look forward to and typically include three months' worth of changes compared to the previous season including new events, new seasonal materials, new seasonal items, tourneys, weather patterns, and much more. In fact, Spring is probably the second busiest season throughout the entire year, naturally, we've got quite a lot to get through but will be as quick as possible without missing out any details, but just a heads up if you're new to New Horizons or started in the Winter, you're in for a treat in this guide. Let's take a look at 10 changes and updates coming to the Animal Crossing New Horizons island during Spring!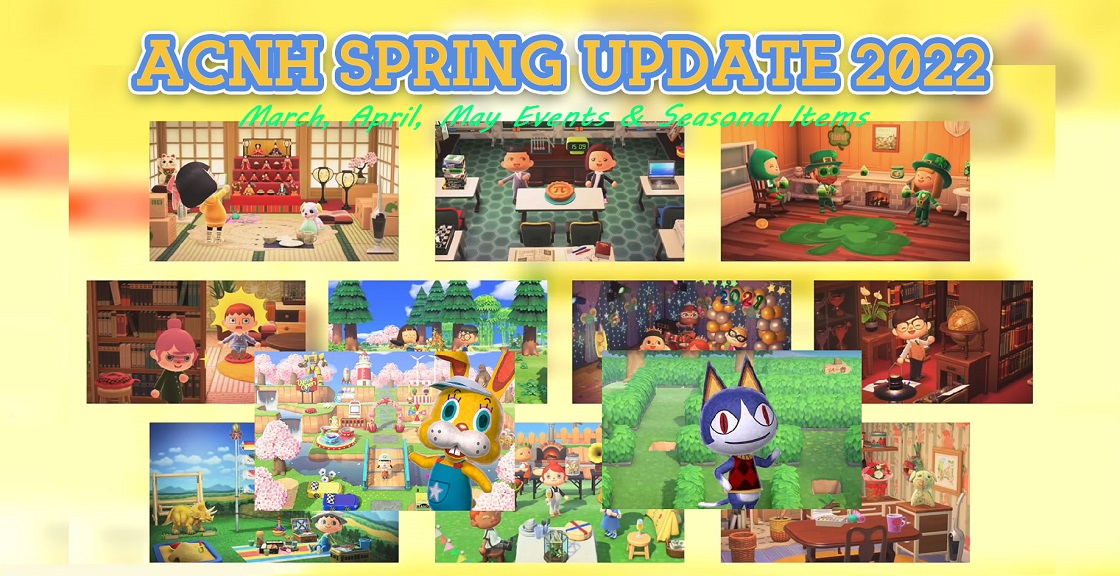 ACNH Spring (March, April, May) Seasonal Holiday Events & Items
Moving on, Spring introduces a bunch of new seasonal events on top of the larger holiday events. There seem to be around 10 unique seasonal celebrations available over the next couple of months.
Related Read:
ACNH Summer Update (June, July, August) - Events, Seasonal Items, DIYs, Critters
ACNH Rare Island Trick: Easiest Way To Find Specific Rare Island in Animal Crossing New Horizons
Bunny Day (April 17th, Both Hemisphere)
The first obvious change that a new season brings to the game is of course the next batch of holidays and events, usually, festivale falls at the start of Spring however is celebrated much earlier this year, therefore making Bunny Day the first event of Spring towards the end of March and running through to April Zipper T Bunny will stop by the plaza to kick start the egg hunting season and a nice bunny day is taking place. During this time, countless bunny day eggs spawn around the island which can be used to craft furniture items from the bunny day series in total there are six eggs to collect including earth, leaf, sky, stone, water, and wood, as well as using these two craft items collecting these eggs contribute to unlocking several bunny day clothing items. Bunny day is probably the largest event throughout the year as there are approximately 23 items and 22 clothing items to obtain or craft.
May Day (April 29 - May 7, Both Hemisphere)
The next event is a holiday that was introduced to the franchise for the first time in Animal Crossing New Horizons, mayday runs from the end of April and into May and is technically hosted by Tom Nook in order to trigger the event players must speak with nook and resident services who will announce that May Day is a celebration for those who work hard around the island and in celebration of this hard work a special May Day tour is being held. The May Day tour ticket can be redeemed from dodo airlines and see the player land on a special island tour. The island is a maze made up of hedges trees and holes and players must navigate through the maze in order to meet rover and earn a prize. The maze was updated for the first two years of Animal Crossing New Horizons, sadly it seems the most recent maze is the last and this year's maze won't differ from last year's, the good news is Rover's Briefcase and Rover's Photo are available depending on when you started the game.
International Museum Day (May 8th - May 31st, Both Hemisphere)
Moving on towards the end of Spring, we have the final event of this season called International Museum Day. Now international museum day is by far the most underrated event in Animal Crossing New Horizons, it takes the concept of a mini seasonal event and turns it into a charming activity for island residents. Anyway international museum's day runs for two weeks at the end of May and is hosted by Blathers at our islands museum, the event sees us navigating each exhibit of the museum in search of various stamps that can be obtained from stamp stations. The stamp rally itself differs slightly for everyone as these stations are placed randomly, so if you do enjoy the event you can repeat it on other days and get a slightly different experience, prizes include the art, bug, fish, and fossil plaques which are earned every time the player takes part.
Fishing Tourney (April 9th, Both Hemisphere)
Next up we have the Spring fishing tourney or for those of you in the southern hemisphere the autumn fishing tourney. Anyway, as always CJ will stop by the plaza to host a fishing tourney that sees players catching as many fish as they can against the clock points are awarded per fish and they can then be redeemed for fishing tony prizes including the anchor statue, the fish drying rack, and the fresh cooler amongst others. There is no real difference between fishing tourney events other than the fish you can catch during this event will of course be fish that spawn during the spring. The good news is the Fishing Tourney offers up fishing trophies, so great for new players but also beneficial to long-term players who may want to try and score a different type of trophy.
Other Spring 2022 Seasonal Events & Items
Hinamatsuri (February 25 - March 3) - Blossom Lantern, Hhinaningyo
Shamrock Day (March 10th - March 17th) - Shamrock Doorplate, Shamrock Rug, Shamrock Soda, Shamrock Wand, Shamrock Hat, Shamrock Sunglasses, Shamrock Shoes, Shamrock Suit
Pi Day (March 14th, Both Hemisphere) - π Pie
ACNH 2nd Anniversary Event (March 20th) - Anniversary Theme Items
April Fool's Day (April 1st) - Whoopee Cushion
Prom Season (April 1 - 30) - Prom-themed clothes, Prom Flooring, Prom Wall, Prom Sash
Forsythia (April 1 - 10) - Forsythia
Nature Day (April 23rd - May 4th) - Hedge
Children's Day (May 5th) - Carp Banner, Newsprint Helmet
Mother's Day (May 8th) - Carnations, Thank-You Mom Mug
Cheese Rolling Day (May 22nd - May 30th) - Double Gloucester Cheese
All of these events run sometime between early March and the end of May. Each introduces exclusive limited-time items that can be purchased from the Nook Stop. Some of these seasonal items have been in the game since launch whereas others have been added in updates since currently there doesn't appear to be any new seasonal events occurring in Spring that didn't happen last year.
ACNH Spring (March, April, May) DIY Recipes & Items
With the arrival of spring, new seasonal items will appear on the island for players to collect and craft seasonal items, such as the arrival of cherry blossom season, which brings cherry blossoms flying all over the sky.
Cherry Blossom Season (April 1st - 10th, North Hemisphere)
The Spring season doesn't only see the snow melt and the grass turn green, but during the month of April, many non-fruit-bearing trees begin to bloom Cherry blossom. For a couple of weeks in April, the cherry blossom will also float around the ACNH island with more and more spawning as the days and weeks go by, not only does this look awesome, but the cherry blossom petals can be caught and used to craft limited time cherry blossom themed items. Recipes for these can be found like any other seasonal recipes most commonly in the balloon presents. Most years in the northern hemisphere, the cherry blossom season overlaps with bunny day, so it can be quite challenging to find the corresponding recipes during each event.
Young Spring Bamboo
Speaking of seasonal craft materials, Cherry blossom petals aren't the only new crafting materials to begin spawning during the spring. Over the next couple of months, bamboo trees will also spawn young spring bamboo alongside ordinary bamboo materials. Like normal bamboo, you can obtain young spring bamboo by hitting any bamboo tree with an axe, the drop rate is about 50:50 give or take, so it's not difficult to come by. If you don't have any bamboo trees of your own though, simply head to an island tour or a boat tour until you stumble across a bamboo island, from there you can collect both kinds of bamboo or eat some fruit and dig up the bamboo trees and take them home. These young spring bamboo materials can also be used to craft a new set of young spring bamboo items including the basket pack, the bamboo doll, and the bamboo wand, amongst others.
ACNH Spring (March, April, May) Critters
The most obvious change during any given month is of course to the critters that can be encountered around the New Horizons island. Naturally with a seasonal change, even more bugs, fish, and deep sea creatures arrive, this is especially true as we transition from winter that sees hardly any creatures around the island to spring that sees a whole bunch. There are way too many to look at in detail right now, but these lists give you a rough idea of just how many arrive in Animal Crossing during the Spring.
ACNH Spring Weather & Scenery Changes
Weather Phenomena
Animal Crossing is known for its detailed weather patterns and a variety of weather phenomena that have evolved and become more immersive with every iteration of the game. Now Spring is almost upon us we will start to see new weather phenomena such as thunderstorms and rainbows, sadly the winter auroras can no longer be spotted. Although rare rainbows can now be seen in their place though have only spawned directly after several hours of rainfall, which typically leads them to be missed more often than not. It's worth noting both single and double rainbows can be seen too. Anyway the new weather phenomena doesn't stop there as the Spring air brings with it thin clouds which is a cloud type that's only visible during this season, it's also worth mentioning heavy fog can no longer be encountered either.
Bushes
Going from Winter to Spring, the aesthetic changes around the island are pretty apparent, however this excellent example courtesy of Animal Crossing world shows just how much the scenery changes the further into Spring we get, the water looks clearer, trees look greener and of course, the grass looks brighter and more vibrant. Anyway as you'd expect a new season also sees changes to the bushes that bloom too, the first half of Spring sees pink and red camellia bushes continue to bloom from the Winter for about a month until they lose their flowers at the end of March. Shortly after, pink and white azalea bushes begin blooming in their place all the way up to the end of Spring.
There we have it that's 10 changes and updates we can expect to see during the upcoming Spring season and there is certainly plenty to keep us occupied over the next couple of months.