ACNH August Update 2022 - New Events, Seasonal Items, DIYs, Villager Birthdays, Critters in Animal Crossing New Horizons
7/1/2022 10:50:58 AM
August of 2022 is here, let's check the new events, seasonal items, DIYs, critters will be included in the ACNH August Update 2022!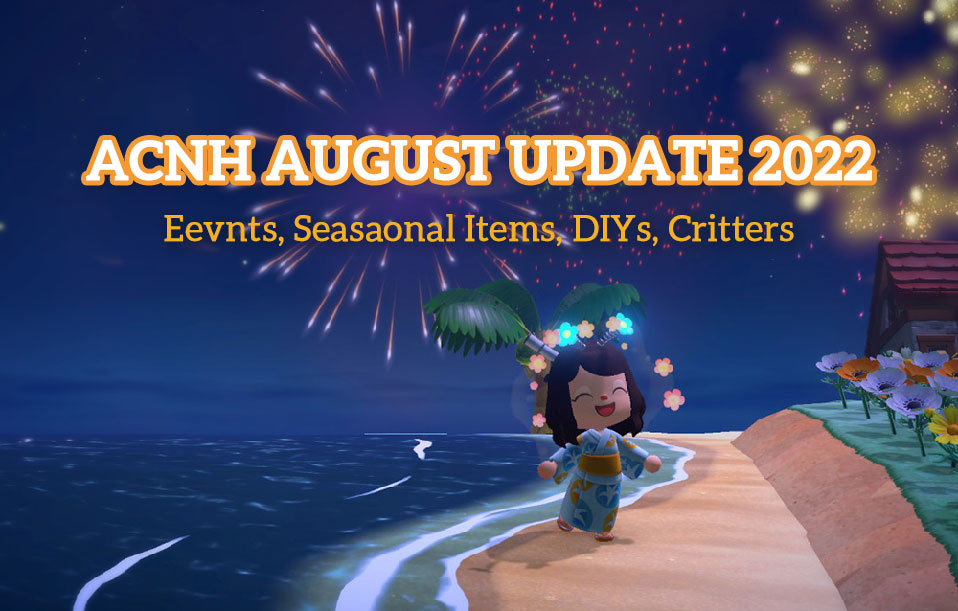 Animal Crossing New Horizons August Update 2022 - ACNH August Events, Items, DIY Recipes, Critters & More
Considering content and playable events, July may be the least active month of the year for Animal Crossing New Horizons. Fortunately, August ushers in the busiest season, which includes changes to the island of ACNH and more things to do. In addition to alterations and updates to events and holidays, August also brings us new limited-edition items and updated events to keep us occupied. Some of these things are, of course, seasonal tweaks to weather phenomena and DIY recipes. As always, we'll emphasize the majority of the information so that both seasoned players and brand-new ones may have a clear understanding of what to anticipate in August.
August Weather & Aesthetic Changes
There aren't many changes that will affect the island's aesthetics in the last month of the Summer season:
Shrubs in both hemispheres continue to bloom until September, with red and yellow hibiscus flowering in the northern hemisphere and red and pink camellia bushes blossoming in the southern hemisphere.


The summer season really lasts through the full month of August, and rainbows have already started to spawn, so the weather is largely the same for players in the northern hemisphere.

However, players in the southern hemisphere may notice a shift in their weather phenomena from August 24. Instead of auroras, players may now observe rainbows in the hours after heavy rain on fine days.

Additionally, gamers in the Southern Hemisphere have one last opportunity to experience severe fog during the first few weeks of August.
ACNH August Events & Seasonal Items
Firework Show Festival
Every Sunday during the month of August will be a fireworks show. Talk to Isabel before the show starts to submit custom designs for the fireworks later that night, finally you're useful. Jolly Redd will be there as well raffling off some fireworks merch including sparklers, balloons and more. The newest 1.11 release also adds some more prizes like bubble tea, popsicles and cotton candy. The show starts at 7 p.m and will last until midnight.
Bug-Off
On the fourth Saturday of the month, flick makes his return for the third bug off of the year, nothing different about this one versus all the other bug offs, but if you haven't finished collecting the full set of furniture and accessories then now is the time to do so. You only have one more bug off this year and after that they won't be back until June.
Cowboy Festival
A cowboy festival is a Brazilian-based event where the finest cowboys gather for one of the biggest Rodeos in the world. In celebration, the rodeo-style springy ride-on will be available from Nook Shopping from the 15th of July to the 15th of August.
Cowherd and Weaver Girl Day
In Chinese mythology, a bunch of magpies makes a bridge across the milky way to reunite the lovers Jinu, the weaver and Niulang the cowherd, this naturally means that you can pick up a Hikaboshi outfit and an Orihime outfit from Nook shopping starting from August 5th to the 14th.
Obon Festival
From August 10th to the 16th, the cucumber horse and eggplant cow will rotate stock in Nook Shopping as part of the Obon Festival, pick them up, and try not to make too many phallic-related jokes.
ACNH August DIY Recipes
Whether you are in the Northern Hemisphere or Southern Hemisphere, we're all about to enter the final month of the season, with Northern players entering the last month of Summer and Southern players entering the last month of winter. So we don't see too many changes to the seasonal materials and DIY recipes that are available.
Summer Shell DIYs
In Northern Hemisphere, players can continue to collect Summer shells and their corresponding DIY recipes which can be found in blooms throughout the entire August.
Snowflake DIYs
In Southern Hemisphere, players can continue to collect snowflakes through to August 24th, with the final week of August seeing young spring bamboo begin to spawn, naturally young spring bamboo DIY recipes can also be found in blooms too.
Leo DIYs
From July 23rd to August 22nd, you can earn the DIY recipe for the Leo sculpture. Wish upon shooting stars to earn Leo fragments needed to make it.
Virgo
From August 23rd to September 22nd, you can earn the Virgo Harp recipe from Celeste and make it with Virgo fragments if you can find any shooting stars during this period.
August Villager Birthdays
The following villagers all celebrate their birthday in the month of August in order from the first to the 31st:
Kid Cat
Vladimir
Benjamin & Tad
Bones
Poppy
Chester
Rory & Boots
Bud
Soleil
Cole
Gigi
Gloria
Tabby
ACNH August Cirtters (Bugs, Fish, Sea Creatures)
For players who like capturing, August is the best season, especially in the Northern Hemisphere, there is a bulk of new critters returning to our island:
Fishes
It's another busy month of fishing with 60 total fish available in August, there are three arriving this month and five that are leaving making for a total of eight noteworthy catches. Let's start with the five that are leaving, first, take some bait to your pond to catch a killifish, it's a fairly rare fish that can be hard to catch if you don't check your ponds regularly and if you don't get it now it'll be gone until April.
Fish Leaving in August
Killifish
Frog
Giant Snakehead
Napoleonfish
Squid
Fish Arriving in August
Soft-Shelled Turtle
Moray Eel
Ray
Bugs
It's another decently priced fine that you can catch at most times of the day, if you haven't done much bug-catching during July then you have a lot of work to do this August, because there are 63 bugs that can be caught with a total of 21 leaving this month, add to that there are three bugs arriving this month and it can get pretty overwhelming, don't worry though here's a list of all the important bugs this month starting with the 21 that are leaving.
Bugs Leaving in August
Common Bluebottle
Great Purple Emperor
Brown Cicada
Robust Cicada
Giant Cicada
Evening Cicada
Cicada Shell
Jewel Beetle
Blue Weevil Beetle
Scarab Beetle
Drone Beetle
Saw Stag
Miyama Stag
Giant Stag
Cyclommatus Stag
Golden Stag
Giraffe Stag
Horned Dynastid
Horned Atlas
Horned Elephant
Horned Hercules
Bugs Arriving in August
Migratory Locust
Rice Grasshopper
Walker Cicada
Sea Creatures
There are 24 benthic creatures available this month with one new one arriving and two that are leaving, so here are the three that you need to worry about.
Sea Creature Leaving In August
Vampire Squid
Sea Pineapple
Sea Creature Arriving In August
Flatworm