Splatoon Crossover Is Coming To Animal Crossing New Horizons - Splatoon Villagers & Themed Items Return
8/25/2022 5:41:16 PM
The Splatoon Crossover is coming to Animal Crossing New Horizons! How much do you know about it and what can we expect for it? In this guide, we're discussing all about the Splatoon in Animal Crossing, splatoon villagers return, splatoon items, and why there's a chance we'll see something Splatoon related come to Animal Crossing New Horizons in the near future.
Animal Crossing New Horizons Splatoon Crossover
Splatoon is a third-person shooter game developed and published by Nintendo, splatoon 3 is scheduled to lauch in the coming weeks, and Splatoon 2 still receives small updates. Once Splatoon 3 launches, we'll probably have splatoon characters coming back into ACNH crossover update, as well as the splatoon theme items and amiibo. Animal Crossing New Horizons and Splatoon share a large target audience, it's likely that Nintendo would take the opportunity to promote these games at the same time. Now, here's everything you should know about the Splatoon Crossover coming to Animal Crossing New Horizons in 2022 (shared by Youtuber Mayor Mori).
Splatoon Crossover Release Time - When Will Splatoon Crossover Come To ACNH?
As you probably know, Splatoon 3 is scheduled to release on September 9th, with the world premiere Splatfest taking place this weekend. So there's already a lot of hype surrounding the latest Splatoon instalment.
ACNH Splatoon Villagers Return & Splatoon Themed Items
Animal Crossing Splatoon villagers:
Animal Crossing Splatoon items:
Splatoon Spawn Point

Splatoon Tower

Splattershot

Squid Bumper

Inkopolis Wallpaper

Splatfest Signs

Now back to Animal Crossing, the Animal Crossing series has seen several Splatoon Crossovers in the past. The most notable being the 3 Splatoon Villagers including Inkwell, Cece and Viche, who were all added to Animal Crossing New Leaf in the welcome amiibo update. These 3 Splatoon-inspired crossover villagers could be invited using the Splatoon amiibo and would visit your Campground in their RVs. Now, for those hearing about this for the first time, it was pretty awesome.
They also brought with them a whole bunch of Splatoon-themed Furniture and Clothing items, including Splatoon Spawn Points, the Inkopolis Wallpaper, the Splattershot and even the Splatfest Signs, some awesome Wigs and Headgear. Just like the Sanrio Villagers in both New Leaf and New Horizons now, these Spaltoon Villagers could then be invited to move in, just like any other Villager.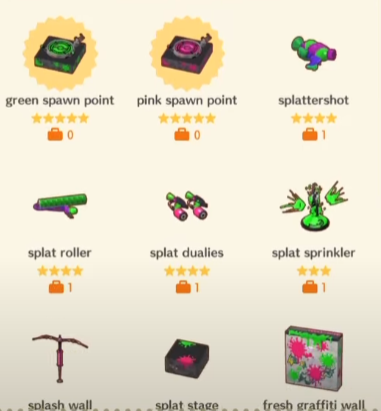 So, to hear rumours that New Horizons could see something similar leading up-to the launch of Splatoon 3 isn't that far-fetched. Now to add a little weight to this, Animal Crossing Pocket Camp which is still going strong on App Stores and Smart Devices is already celebrating the upcoming launch of Splatoon 3. Earlier this week, Pocket Camp received an update that adds back some of the Splatoon 2 Items s seen in the past. So for the next 30 days, in honour of the launch of Splatoon 3, not only is it now possible to craft over 20 Splatoon-themed items, including the Squid Dummy's and Inkling-Wigs, but it's also possible to order Splatoon-themed Fortune Cookies and win up-to 10, more Splatoon-themed items including Spawn Points, Rollers and Walls. This Splatoon Crossover has been reissued at the perfect time, in honour of Splatoon 3 and it's just one of hundreds of examples of Nintendo promoting their IP's within other popular Nintendo games. So it's completely reasonable to think Animal Crossing New Horizons could see a similar update.
We've already seen a Super Mario Crossover, when they introduced a bunch of Super Mario-themed Items and we've seen the Sanrio Villagers return to the franchise alongside hundreds of their items. So adding Splatoon amiibo functionality to New Horizons, and bringing back the Splatoon Villagers and maybe their items would be a great way to promote Splatoon to the Animal Crossing audience. After all, it's the second best selling Switch game of all time, the best selling Switch game in Japan, and developed by the same team as Splatoon.
Although clearly speculation at this point, this acts as more of an update guide for Pocket Camp, but also gives these New Horizons update rumours a tiny little bit of credibility. But what do you think about ACNH Splatoon Crossover? Would you like to see Splatoon Villagers come back to Animal Crossing and are you happy to see Splatoon-themed items make a return? Is it too late?