ACNH Festivale Event Guide 2023 - Festivale Items, Feathers, DIYs & Tips In Animal Crossing New Horizons
1/1/2023 11:13:19 AM
Festivale is a limited-time event in Animal Crossing New Horizons that works much the same as other holidays, in order to exchange materials for rewards. Today we'll be going over everything you need to know about ACNH Festivale update 2023. There's a lot to unpack with this event, so let's get right into the Animal Crossing New Horizons Festivale guide.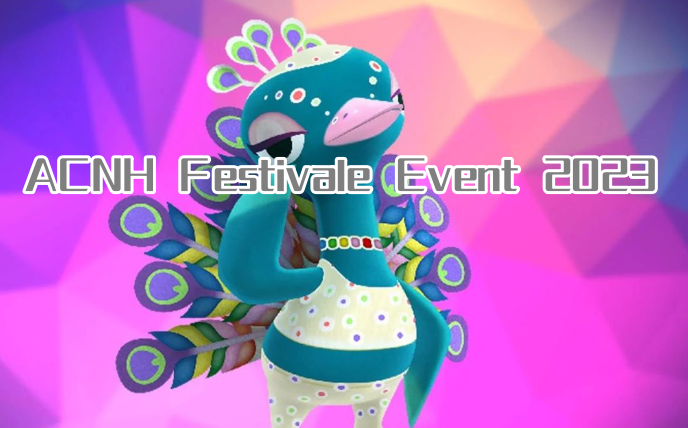 ACNH Festivale Update 2023 - Items, Clothes, Furniture, Feathers, DIYs & Tips In Animal Crossing New Horizons
First, when you load into the Animal Crossing New Horizons on Festivale, you will immediately notice confetti falling from the sky and Pavé the extravagant peacock dancing in the plaza. Last year, Pavé will be on your island starting at 5 am on February 28 for both hemispheres and will not leave until 5 am the next day. If you are not wearing Festivale clothes when you talk to Pavé, he will yell at you and demand you change.
ACNH Festivale Clothes 2023
The Festivale headdress, costume, and dress can be purchased in Able Sister's shop between February 1 and February 15. On February 15, your Able Sisters will be selling at least one type of Festivale clothing including Festivale Accessory, Festivale Costume, and Festivale Tank Dress.
ACNH Festivale Furniture 2023
By handing over 3 matching features or a single rainbow feather, not only will Pavé celebrate by offering a dance but will reward you with 9 Festivale theme furniture items. Some of these ACNH items include the Festival Balloon Lamp, Festivale Confetti Machine, Festivale Drum, Festivale Flag, Festivale Garland, Festivale Lamp, Festivale Parasol, Festivale Stage, and Festivale Stall. They will be available to purchase as seasonal items in Nook's Cranny.
ACNH Festivale Feathers 2023
Once you are in your Festivale clothes and talk to Pavé, he will give you the rainbow feather diy, this will be important for later, so hang on to it, Pavé will also ask for feathers.
-If you give Pavé 3 feathers of the same color, he will give you a random Festivale item of the same color.
-If you give 1 rainbow feather, Pavé will give you a random Festivale item that is rainbow. The rainbow variation of Pavé's rewards is exclusive to Festivale.
Feathers Spawn Time
Blue, red, green, purple, and rainbow feathers will be floating around your island in the air throughout the day.
How To Get Feathers?
-To catch Animal Crossing Festivale feathers, all you need is a net. Unlike cherry blossoms, snowflakes, and maple leaves, the floating feathers do not despawn. If you walk or run into them or if you attempt to catch them and miss, the feather will simply blow in the wind leaving you with infinite chances to catch it. This is great since you only have one day to catch all the feathers you want.
-When you talk to your villagers the second time during the ANCNH Festivale update, they will offer to trade some of their feathers for your feathers the color they offer up seems to be random. But they always trade you the same amount of feathers that you offer. For example, if you give them 2 feathers, they will trade 2 of their own feathers. If you want to trade 1, 2, or 3 feathers, you will need to group them accordingly in your pockets before entering a trade with a villager.
ACNH Festivale Items 2023
Once you have your feathers, return back to Pavé in the plaza to collect your prizes.
-If you give Pavé 3 feathers of the same color excluding the rainbow feathers, you'll get a random Festivale item that matches the color of the feathers.
-If you give Pavé 1 rainbow feather, he will give you a random Festivale item in the rainbow variation.
-After you give Pavé 9 rainbow feathers, he will then ask for 3 rainbow feathers. Once you give those to him, he will give you the exclusive Festivale float. Unlike the rest of the Festivale items, you can only get the float on Festivale, so be sure to snag this item.
ACNH Festivale Rainbow Feathers 2023
If you don't like the colors of the Animal Crossing New Horizons Festivale items you have or you want more rainbow items, you can customize them in order. To customize, you will need rainbow feathers. The rainbow feather DIY from earlier allows you to make additional rainbow feathers since they are the rarest feather to find floating around your island.
ACNH Festivale DIY Recipes 2023
Pavé will hand over the DIY recipes to encourage you to take part in the Festivale event in Animal Crossing New Horizons. The rainbow feather requires one of each feather color in order to craft, so be sure to collect lots of blue, red, purple, and green feathers if you plan on crafting lots of rainbow feathers for customizing Festivale items.
Rainbow Feather DIYs
Red Feather x 1
Blue Feather x 1
Green Feather x 1
Purple Feather x 1
How To Customize Festivale Items
If you are ever in need of a certain color of feather and can't seem to find any floating around your island, you always have the option to trade with your villagers for the color you need. Once you have your rainbow feathers you can customize any of the Festivale items like any other customizable item. All you have to do is go to a DIY table and select the customize option. From there you can select the color of the item you want even a rainbow color. Some items only need one rainbow feather in order to customize while some require 2, we recommend catching as many feathers in all colors so you are able to craft as many rainbow feathers as you need.
There is a secret trick you can use to see if you have enough rainbow feathers in your pockets for customizing. When you go to customize and you are about to select an item from your pockets, a small gray feather will appear on items that require more rainbow feathers to customize than you have in your pockets. Items without the gray feather signify you do have enough rainbow feathers to customize it. Now you can have any color of the Festivale items that you want.