ACNH Bug-Off Event 2023 Guide: Dates, Flick Prizes, Items, How to Play & Get More Points
5/17/2023 4:55:04 PM
In Animal Crossing New Horizons, there are some events available multiple times each year, allowing players to earn the rewards that they missed. The Bug-Off is coming again, let's get into all ACNH Bug-Off 2023 dates, along with detailed Flick prizes, other reward items, and tips for how to play the event to get more points.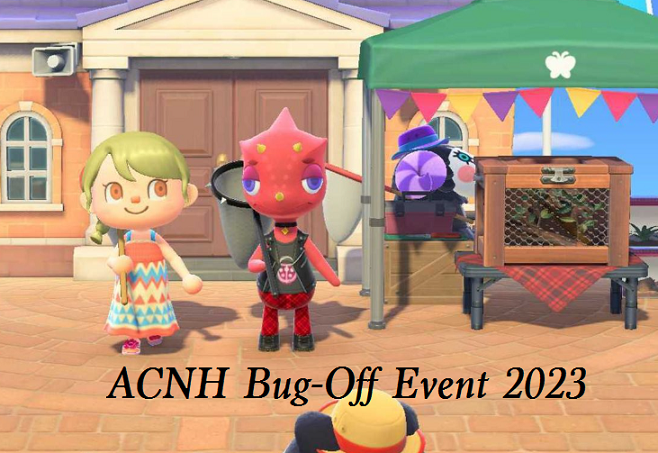 ACNH Bug-Off 2023 Dates & Times - When Is Bug Off Event in ACNH 2023
The Bug-Off is a yearly event in Animal Crossing New Horizons, it is held each summer for the Northern Hemisphere and on the fourth Saturday of each month, if you missed previous years, then the chance is coming again next month. Below is the list of all Bug-Off 2023 dates for both north and south. When it comes to the exact time of the day, the event will start at 9 AM and end at 6 PM.
Bug-Off Dates 2023 (Northern Hemisphere)
- June 24, 2023
- July 22, 2023
- August 26, 2023
- September 23, 2023
Bug-Off Dates 2023 Southern Hemisphere
- January 21, 2023
- February 18, 2023
- November 18, 2023
- December 16, 2023
How to Play Bug-Off Event & Get More Points in Animal Crossing?
When does Flick come during Bug-Off in ACNH? On one of these event dates, Flick will show up on your island with a tent outside of the Resident Services, and you can find him as early as 5M in the morning.
1)Start the challenge: once the character Flick appears on your island, speak with him and ask him to start your challenge, the first time is free and you can take part multiple times with no limits, but each trial requires 500 bells from the second one.
2)Try to catch as many bugs as you can: each challenge gives you three minutes to catch bugs, there will be a timer and bugs caught counter displayed at the top of the screen.
3)Check your points: when the time ends, you need to talk to Flick again to get the points you earned, the rule is one point per bug and extra two points earned for at least three bugs caught.
4)Exchange your points for special rewards: if you do not want to start a new bug catching, you can redeem your earned points for Bug-Off items. Speak with Flick and choose "Redeem Points", he will tell you how many points you get and allow you to exchange one prize. You can do that many times to get each of these 13 times.
5)Sell your Bug Cage: after each challenge, to avoid it being cleared before a new one starts, if you speak to Flick and sell the bugs inside or outside the Bug Cage, you can earn 150% of the regular sell price for bugs.
To max out your Bug-Off points, playing with friends online will help you get more points, there is a bonus of up to 10 points rewarded for the bugs caught for a group. In addition, choose a lot of different areas in close proximity to Resident Services to spawn more bugs.
ACNH Bug-Off Flick Prizes & Rewards - List of Bug-Off Items in Animal Crossing
Participating in the Bug Off event will earn you some points for exchanging exclusive Animal Crossing New Horizons items, including furniture, clothing, accessories, and more. Each item needs 10 points, meaning that you'll need at least 130 points for the whole set.
Artisanal Bug Cage
Bug Aloha Shirt
Bug Cage
Bug Wand
Butterflies Wall
Butterfly Backpack
Ladybug Rug
Ladybug Umbrella
Spider Doorplate
Spider Web
Termite Mound
Toy Centipede
Toy Cockroach
Except for the above Bug-Off themed items, you will also have the chance to receive trophies once you collect a certain number of points. The points used for exchanging Flick's prizes will not affect your points for earning a trophy.
Gold Bug Trophy: 300 points
Sliver Bug Trophy: 200 points
Bronze Bug Trophy: 100 points