ACNH Critter Crossover Event 2023 - X Seattle Aquarium Event in Animal Crossing New Horizons
10/7/2023 3:33:14 PM
Today we have some rather random news surrounding the Animal Crossing New Horizons franchise, in the form of a "Critter Crossover" Event that was announced. This is very similar to something that also happened around the launch of New Horizons too, but more on that later.
ACNH Critter Crossover Event 2023 - Unexpected Seattle Aquarium Event in Animal Crossing New Horizons
Now, just last month, Nintendo of America and Seattle Aquarium announced an official Crossover, that sees the Aquarium and Nintendo team up, to bring Animal Crossing New Horizons to life. We'll talk about the unexpected and weird timing shortly, but let's get through the details you need to know first!
The announcement was made on Twitter, that reads The Crossover you didn't know you needed. The Seattle Aquarium and Nintendo of America are teaming up to bring the Animal Crossing New Horizon game to life. From October 7th to Dec 3st, guests can enjoy an Animal Crossing New Horizons themed Aquarium experience." Now, it's pretty much what you'd expect. It's a Nintendo endorsed event that promotes both the Aquarium and New Horizons. Running from October 7th and all the way through to the end of the year, Seattle Aquarium will be hosting the exhibit which includes Photo Opportunities with Characters, probably similar to those we've seen in the past, but with Aquarium-themed backgrounds. There will also be Themed creature descriptions presented by Blathers throughout the Aquarium, with matching information pulled directly from New Horizons, so lots of Critters that appear in the game can be seen at the Aquarium too. And not forgetting there will also be a Smartphone Bingo Scavenger Hunt activity to take part in. And according to the official publication, that's just the beginning, as additional themed activities will be announced very soon!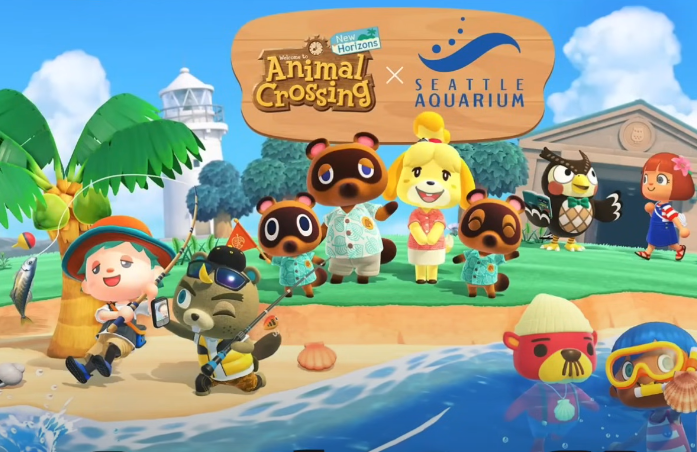 Now, Nintendo have hosted something very similar to this in the past, around 2021 in Japan, with Sea Paradise, which is another Sea Life Aquarium in Japan. Here the Aquarium hosted activities, displayed commentary cards from Blathers, hosted a Fishing contest following the rules of the Fishing Tourney in New Horizons, offered a Scallop Scavenger Hunt with prizes up for grabs and even held an official Stamp Rally! Which was of course inspired by the International Museum Day Stamp Rally from New Horizons. So, with all this in mind, the upcoming activities yet to be announced at the Seattle Aquarium, will probably be very much inline with what was available during this event in Japan.
Anyway, the Nintendo of America and Seattle Aquarium "Critter Crossover" is pretty exciting news, especially for anyone who's able to attend the event. However, the timing is extremely weird and unexpected on Nintendo's part. Of course hosting one in Japan in 2021 made sense, as it was right in the middle of the hype of New Horizons, and just before the DLC launched! But to host one now, in 2023 seems a little strange. With that said, it's awesome Nintendo are actively pushing Animal Crossing New Horizons even now, and as we always say, shows us Nintendo hasn't forgotten about the franchise yet. Anyway, there's a deeper meaning here, and that Nintendo are bringing Animal Crossing New Horizons back into the news as they have some new updates planned for around the holidays, but the reality is, it's likely just part of the marketing for New Horizons leading up to the holidays, and to help promote these new Animal Crossing-themed Switch Lites that release in October too. With that said, Nintendo are the most unpredictable video game publisher on Earth, so who knows what they are planning. But no matter what Nintendo's plans are for Animal Crossing right now, it's awesome to see these kinds of activities announced for regions outside of Japan.
So what do you think about this Critter Crossover? Will you be attending this event in person? Do you think this means we can expect some new content anytime soon?