Best Nook's Cranny Guide: How To Upgrade Nook's Cranny in ACNH 2023
10/13/2023 11:35:40 AM
In the enchanting world of ACNH, one of the central elements to crafting your unique island life revolves around the tailoring and expansion of your local shop, Nook's Cranny. Operated by the diligent raccoon characters, Timmy and Tommy, this humble store can be upgraded to a larger establishment, offering a broader assortment of ACNH items. This article provides an in-depth guide on how to upgrade and expand Nook's Cranny, enriching your island experience and providing more shopping options.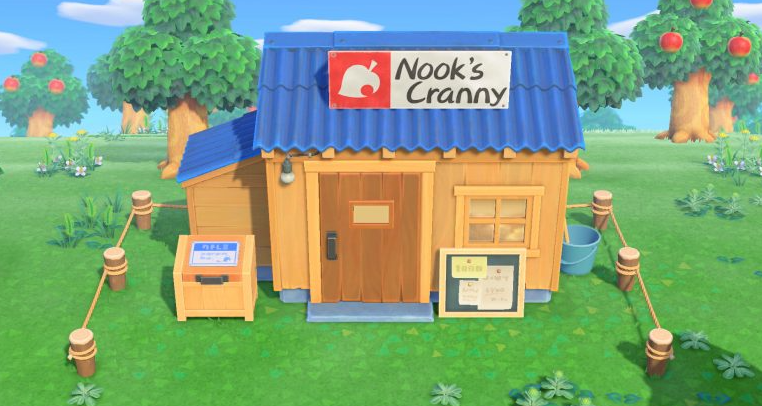 How To Build The First Nook's Cranny in ACNH?
Building Nook's Cranny in ACNH is a process that involves a series of tasks and steps. Here's a step-by-step guide:
1. Upgrade your Tent to a House: To start the process of building Nook's Cranny, you need to have upgraded from a tent to a house. This will cost you 5,000 Nook Miles. You can earn Nook Miles by completing various activities on the island such as catching bugs, fishing, and finding fossils.

2. Help Timmy and Tommy: Once you've upgraded to a house, speak to Timmy inside Resident Services. He'll express a desire for a shop of his own. He will then give you a list of the resources you need to gather to help him build the shop.

3. Gather Resources: Here's the list of resources you need to collect:
- 30 pieces of regular wood
- 30 pieces of hardwood
- 30 pieces of softwood
- 30 iron nuggets
4. Return to Timmy: Once you have all the materials, return to Timmy in Resident Services. Hand over the required materials and he'll be ready to start construction.

5. Pick a Location: You'll now be given the shop construction kit. You can use this to choose the location for Nook's Cranny. Find a suitable spot on the island and set it up.

6. Wait for Construction: After setting up the location, you'll have to wait until the next day for the shop to be fully constructed. Animal Crossing operates in real-time, so you'll have to wait until the next real-world day.

7. Nook's Cranny Ready: The next day, Nook's Cranny will be ready and open for business! You can buy a variety of ACNH items from the shop and even sell your own items here.
Remember, the shop will close at 10 PM every day and will open again at 8 AM. So make sure to do your shopping and selling within these hours.
What Are the Benefits of Upgrading Nook's Cranny in ACNH?
Upgrading Nook's Cranny in ACNH offers a range of benefits that can enhance your gameplay experience. Here are some of the key benefits:
1. Larger Inventory:

2. Additional Hot Item

3. More Expensive Items

4. Improved Tools

5. Seasonal Items

6. Enhanced Aesthetics
Are There Any Benefits to Sell Items at Nook's Cranny Instead of The Drop-Off Box?
There are benefits to selling items directly at Nook's Cranny instead of using the drop-off box, and they primarily revolve around the amount of Bells you receive for your items. Here's how it works:
1. Higher Selling Price: When you sell items directly to Timmy and Tommy inside Nook's Cranny, you receive the full value for your items. However, if you use the drop-off box, there's a 20% commission fee. This means you'll only receive 80% of the item's value.

2. Immediate Payment: When you sell items directly at Nook's Cranny, you receive your Bells immediately. On the other hand, if you use the drop-off box, you won't receive your Bells until the next day.
What Kind of Items Can I Buy from Nook's Cranny?
Nook's Cranny in ACNH is a small shop run by Timmy and Tommy, and it sells a variety of items. The inventory changes every day, and the shop upgrades over time, increasing the variety of products you can purchase. Here are some of the items you can expect to find:
-Furniture: Each day, two pieces of furniture are available for purchase.

-Tools: You can buy basic tools like the net, fishing rod, watering can, slingshot, and shovel.

-DIY Recipes: Basic DIY recipes for tools and other items are available for purchase.

-Wallpapers and Flooring: A random selection of wallpapers and flooring is available each day.

-K.K. Slider Songs: Once a week, a new song by K.K. Slider is available.

-Seasonal Items: During certain times of the year, you can buy seasonal items. These are limited-time items that coincide with various holidays and events throughout the year.

-Seeds and Saplings: You can purchase flower seeds and saplings to plant trees.

-Wrapping Paper: Used to wrap furniture or other items to give as gifts.

-Umbrella: A random selection of one umbrella design per day.

-Miscellaneous: Occasionally, you'll find random items.
How Do I Upgrade Nook's Cranny?
Upgrading Nook's Cranny in ACNH allows you to access a larger selection of items to purchase. However, there are several requirements that must be met before you can upgrade the shop:
-Play for 30 Days: You must have played the game for at least 30 active days. This doesn't have to be 30 consecutive days, but you do need to have logged in and played on 30 different days.

-Spend or Sell 200,000 Bells: You need to have made transactions totaling 200,000 Bells at Nook's Cranny. This can be through buying items from the shop, selling items to the shop, or a combination of both.

-Mabel Must Visit Your Island: Mabel, one of the Able Sisters who sells clothing, must have visited your island at least once.