Animal Crossing New Horizons Amiibo Guide: How to Make, Use and Amiibo Cards List
2020/5/22 17:47:03
Amiibo and amiibo cards are real-world tools can be used in New Horizons for inviting your favorite villagers to your island and unlock new in-game rewards. In this article, we'll cover how to use Animal Crossing amiibo cards, how to make your own amiibo cards, the list of amiibo you can use in ACNH and more.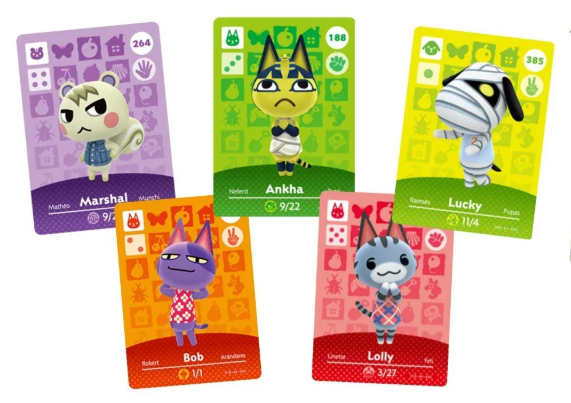 What are Animal Crossing Amiibo Cards
There have been five series of Animal Crossing Amiibo Cards released, each of the main four series have 100 ACNH amiibo cards, with 17 special characters and 83 regular villagers, and are available worldwide. These Amiibo cards are compatible with Animal Crossing: New Horizons, Animal Crossing: New Leaf's Welcome amiibo update, Animal Crossing: Happy Home Designer, and Animal Crossing: amiibo Festival.
How to Make Animal Crossing Amiibo Cards in New Horizons?
Amiibo and Amiibo cards can be used to invite different villagers to an island in the newest series - New Horizons. Instead of purchasing Amiibo cards for Animal Crossing New Horizons with expensive prices, you can choose to make you own Amiibo cards to save the money. How to make the ACNH Amiibo cards?
There are a few things need to prepare, including NFC Ntag215 stickers, NFC writing capability and the TagMo app for Android and .bin files of the amiibo you want to put on your sticker. You can find a way to get the character file from your phone or Nintendo 3DS to a NTAG215 card to make the Amiibo. Imprint the character files from the 3DS or Android to a card and use it in Animal Crossing. Check out an easy guide to make your own Animal Crossing Amiibo cards with detailed steps from reddit.
How to Use Animal Crossing Amiibo Cards in New Horizons?
Using the amiibo cards in the game to invite new villagers to visit your island, you will want to first unlock the campsite, once it's unlocked, you should approach the Nook Stop machine like an ATM in your Resident Services building (the Resident Services should be upgraded). Then the Tom Nook will talk to you, you just unlocked the amiibo feature. Go over to the Nook Stop and select invite amiibo camper, please prepare the amiibo for the animal you want to invite to the campsite. If your switch read the amiibo card successfully, it will bring your wanted villager on the screen and basically do a little introduction. Simple steps to use Animal Crossing New Horizons amiibo cards:
1. Prepare the amiibo for the animal you want to invite
2. Go to the Resident Services, find the Nook Stop machine at Town Hall
3. Go over the machine and choose invite amiibo camper
4. Put an amiibo or amiibo card on the NFC touchpoint and hold it
5. Wait until the game indicates the amiibo is recognized successfully and confirm the invitation
Note: for Joy-Con controller or Nintendo Switch Lite, the NFC touchpoint is on the right controller stick, for Pro Controller, the NFC touchpoint is Nintendo Switch logo in the top-center of the controller.
Animal Crossing New Horizons Amiibo Cards List - What Amiibo Can I Use
A large number of amiibo and amiibo cards that can be used with New Horizons, they are associated with Animal Crossing characters. The list of available Animal Crossing New Horizons Amiibo cards are as below.
Animal Crossing Amiibo Cards (Series 1 to 4)
Animal Crossing amiibo figures
Super Smash Bros. Isabelle amiibo figure
Super Smash Bros. Villager amiibo figure
Animal Crossing New Leaf Welcome amiibos
Animal Crossing Sanrio Collaboration Pack amiibo cards
You can check the complete list of amiibo cards and card photo from Animal Crossing on the the wiki website of the AC game, such as: https://animal-crossing.com/amiibo/collections/series-1-4-amiibo-cards/
Hot cheap Animal Crossing items for sale at AKRPG.COM now, buy Animal Crossing bells and Nook Miles Ticket in pack to get a 10% off discount!