Animal Crossing New Horizons Database, Item Prices, Island Designer, Design ID Codes Live On Akrpg.com
6/17/2020 3:36:23 PM
Greetings every ACNH island owners! To help you save more time and energy on making your Animal Crossing: New Horizons home meet your mental expectations, AKPRG.COM creates and launches the Animal Crossing database and incredibly simple web-app tools such as ACNH Design ID codes, Island Design Ideas, and Layout Planner, ACNH Custom Design IDs and more.
Animal Crossing New Horizons Database
An incredible amount of different furniture, clothing, and other items to collect in Animal Crossing: New Horizons makes players pretty difficult to keep track of everything. That's why we create a brand new ACNH database covering all of Animal Crossing: New Horizons items and villagers comes into the picture. By browsing our Animal Crossing database, you can find and discover essentially any item that's currently available in the game!
Animal Crossing New Horizons Item Prices
In Animal Crossing: New Horizons, the fast way to make bells is selling items to little Tommy inside the Resident Services tent. With the ACNH Item Trading booming, more and more players try to buy or sell items to others for bells or nook miles tickets. To help players get know ACNH buy & sell prices, drop out off box price in ACNH Bells, and the selling price in real money on AKRPG.COM better, we've rounded up the Animal Crossing Items Prices List. A range of handy filters and search features are present helping you narrow down the types of items you're looking for, and high-quality icon imagery is available for almost every item.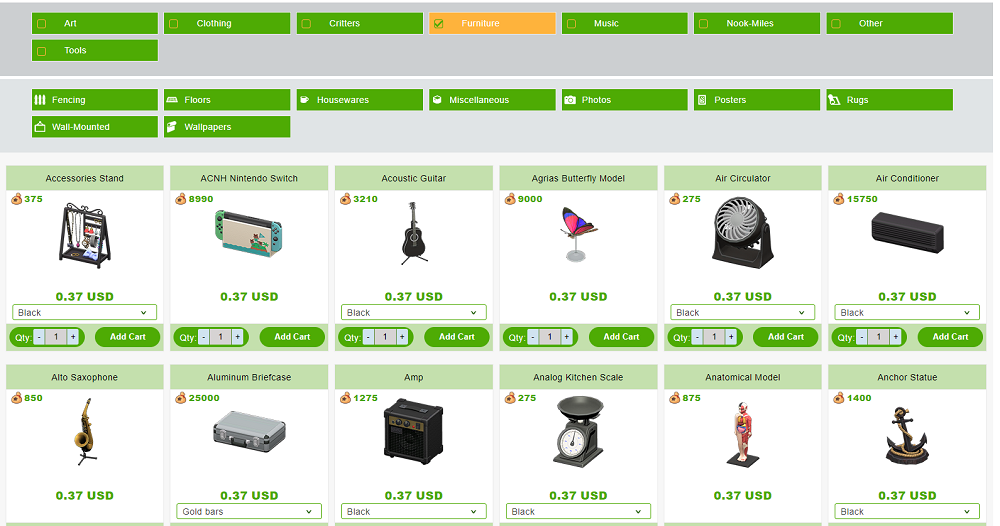 Animal Crossing New Horizons Island Designer (Planer)
Are you already planning your island in Animal Crossing New Horizons? With the amazing web-app from AKRPG.COM you can already start thinking about a perfect island! Our ACNH Island Designer is an incredibly simple tool to help players plan out the look and layout of your Animal Crossing: New Horizons island at their leisure. This particular Animal Crossing: New Horizons Map Planner is s ideal for players looking to create a blueprint of their upcoming island project. While the geography of the island is simply made up of colors, it's easy to tell which relate to sand, grass, trees, rocks, or water. If you wanted to, you could just leave it there with very simplistic island design. Of course, for those looking to go deeper with their island plans, there are a few more options.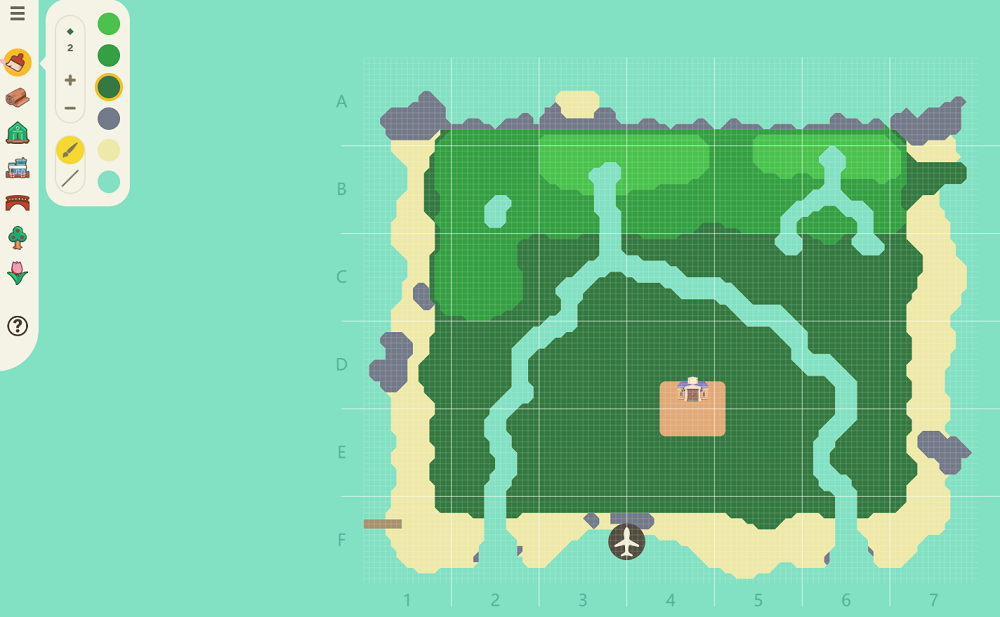 Animal Crossing New Horizons Design ID Code Database
Our ACNH Custom Designs ID Databasehighlights some of the best creator IDs and individual design IDs we've seen from cute and cool original art to recreations of outfits from famous franchises. We've collected all the Best Animal Crossing: New Horizons Design Codes are shared here for you to peruse. Inspired ACNH Design ID Codes will help you make your own unique outfit and highlight your wardrobe! So our Animal Crossing Custom Design IDs Database lets you get and share designs originally made in Animal Crossing: New Horizons via a Creator ID or individual Design ID. This even includes pro designs! These can be garments such as tops (tank top, short sleeve, long-sleeve dress shirt, sweater, hoodie, coat) dresses (sleeveless, short-sleeve, long sleeve, round, balloon-hem, robe), and hats (brimmed cap, knit cap, and brimmed hat). You can search by text or browse based on clothing type, from dresses to coats, hats, and robes.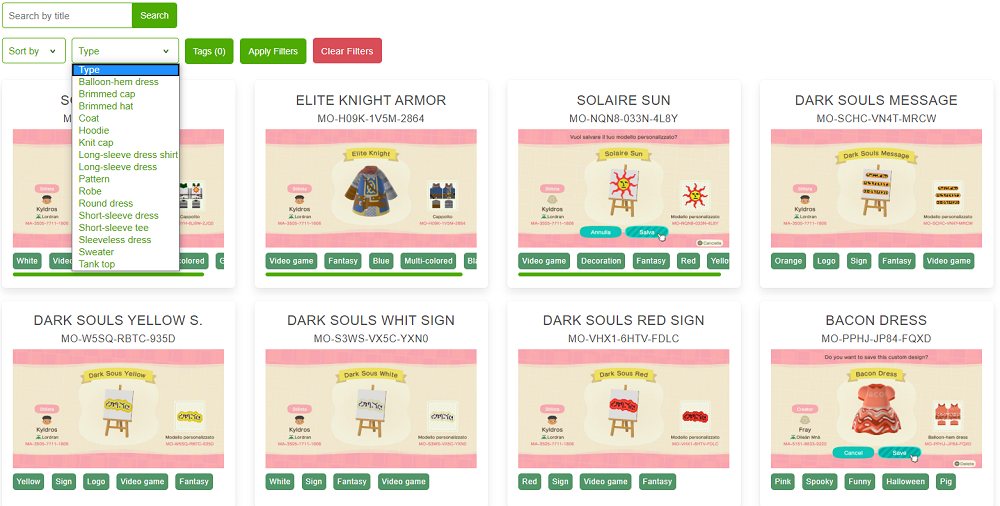 Animal Crossing New Horizons Island Ideas
If you have no good ideas in customizing a New Horizons island, no worries, our Animal Crossing Island Designs have already summed up cool and unique town layouts to help inspire players. Check out our ACNH Island Ideas to view the best designs, here we collected fun and interesting town and island layouts that players can take inspiration from, covering the most popular ideas for Home, Maze, Arcade, Temple, Trading Port, Zen Garden, Mushroom Forest, Secret Trade Beach, Fancy Entryway, Hidden Paths, Campsite, Various Shops, Bus Stop, Island Park, Create Building Interiors, Excavation Site, Parking Spots, Coffee House / Cafe, Seaside Restaurant, Villager Yards and more.
Animal Crossing: New Horizons looks so cute and simple, but there is much more in the game than you might think at first glance. With our Animal Crossing New Horizons Database and Tools (including ACHN Wiki, Item Buy & Sell Price Index, Island Design Ideas & Layout Tools, Animal Crossing Design ID Codes For Custom Clothing, Designs And Patterns), you will make your game easier and enjoy better gaming time!