Animal Crossing New Horizons Bug Off Guide: Release Date, Prizes, Bug-Themed Items, Tips & Ticks To Win Maximize Points
6/23/2020 4:11:53 PM
We are taking a look at the upcoming Animal Crossing New Horizons Bug Off Event, going over all the bug off prizes available and everything we know, and wrapping up with some tips and tricks in earn the most points thrown in.
Animal Crossing New Horizons Bug Off Event
During the Summer, when bugs are most active, the special seasonal event - Animal Crossing New Horizons Bug Off is held, which allows players to catch as many bugs as they can in a limited time to earn points - that can then be exchanged for limited-time bug theme swag.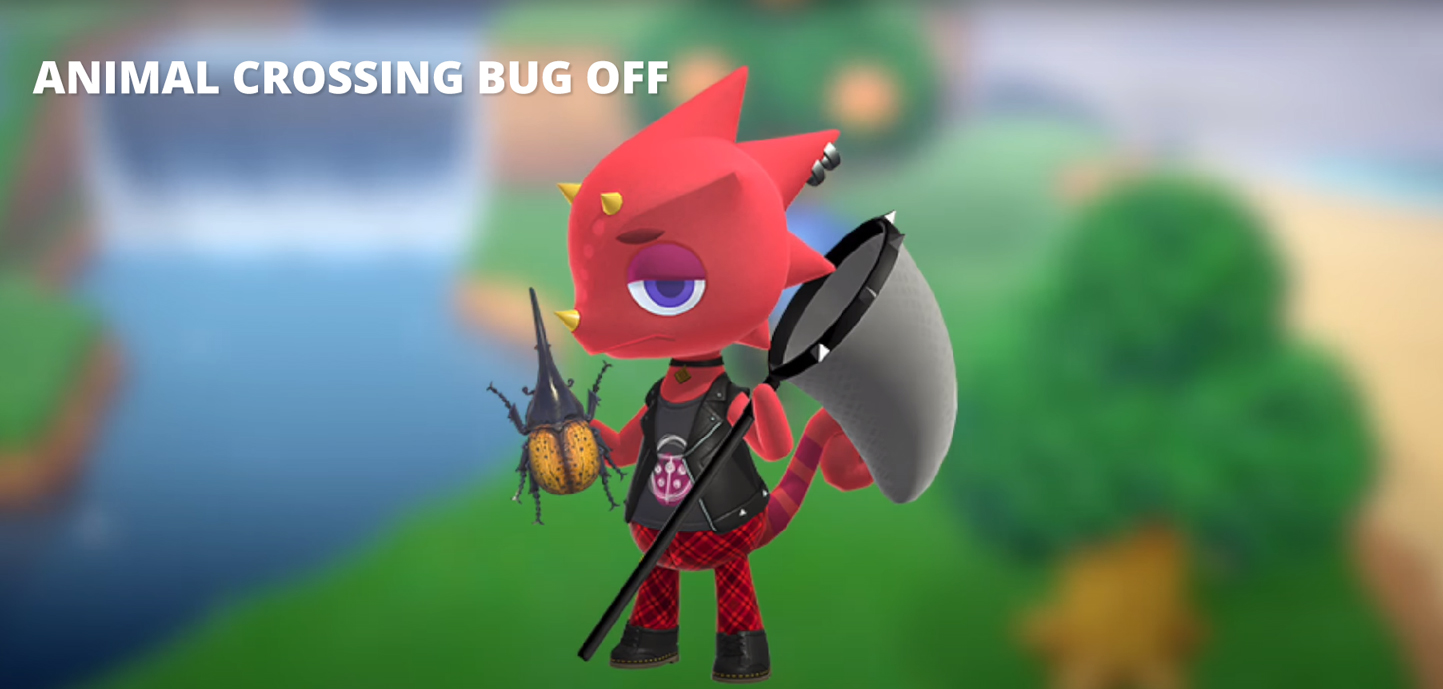 What is Flick and Bug-Offs Events in Animal Crossing New Horizons?
By now we are sure everyone playing New Horizons knows who flick is - he is of course the fierce-looking chameleon who hosts the bug off contests. Just like many other special characters, you may have already stumble across him, randomly wandering around your island taking art Commission's and buying bugs. Currently, this is the only way to encounter him as both the northern hemisphere and southern hemispheres are yet to host a bug off unless of course, you've time traveled. Now flick has of course replaced Matt, the original bug off host seen in all previous iterations of Animal Crossing, so even if you're yet to meet him, you will see him when he stops by to host the first animal cross in New Horizons bug off later Jane.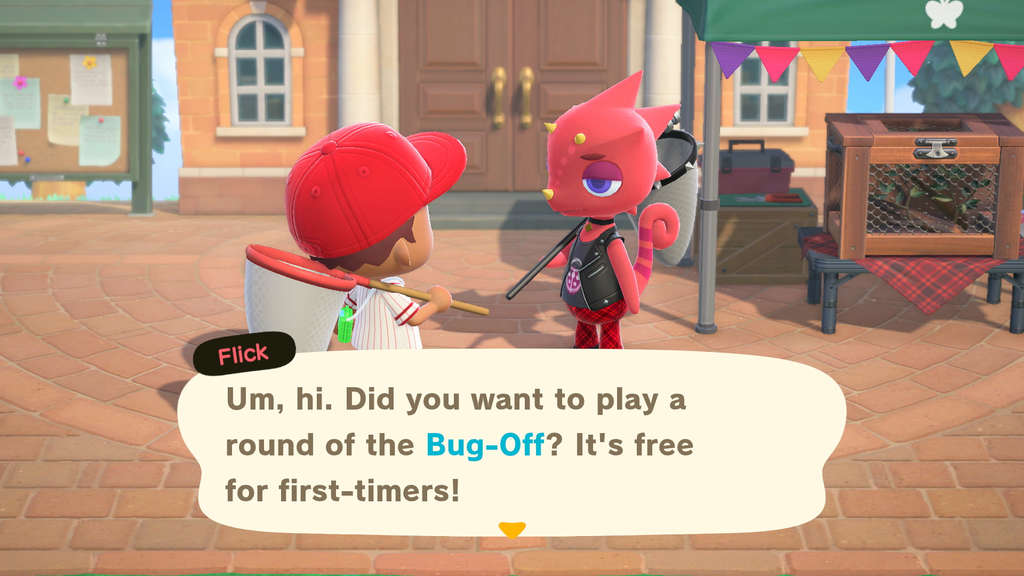 When will Animal Crossing New Horizons Bug-Offs start?
In new leaf, bug offs were generally held on the third Saturday of the month, however, they take place on the fourth Saturday in New Horizons making the first ever bug off Saturday the 27th in just a few days time. Unfortunately, just like the fish and Tony's, the bug offs are seasonal and this date is for players in the northern hemisphere, those of you in the southern hemisphere will have to wait until November before flick visits.
ACNH Bug Off Release Date
Northern Hemisphere:
June 27th (Sat.)

July 25th (Sat.)

Aug. 22nd (Sat.)

Sept. 26th (Sat.)
Southern Hemisphere:
Nov. 21st (Sat.)

Dec. 19th (Sat.)

Jan. 16th (Sat.)

Feb. 20th (Sat.)
Time: Morning until 6pm
Entry Fee: 500 Bells (First time is free)
How Does The ACNH Bug Off Event Work?
Now much like the changes seen between the old-style fish and Tony's, and CJ's fishing Tony in New Horizons, instead of longer more relaxed bug off seen in the past, flicks bug contest is now a fast-paced time trial challenge. In short, flick gives us three minutes to catch as many bugs as possible before returning to him to find out how well we did. The good news is flick is around all day (from 9 a.m. to 6 p.m.) and despite the challenge only lasting three minutes, we can take part multiple times throughout the day. The first time we take part is free but does cost a further 500 Animal Crossing bells every time we enter after that, so it's not really as stressful as it sounds but you can do bug offs all day if you really wanted to. So the aim of the bug off is to catch as many bugs as possible and basically yield the highest score you can. Each bug is worth one point but we get two bonus points for every bug caught after the first two bugs: so one bug earns one point, two bugs earn two points, but then three bugs earn five points, four bugs earn six points and so on. How much points you get means how well you do in the Bug-Off, which decides what rewards you can receive from the bug off event.
Animal Crossing New Horizons Bug Off Points System
So the more bugs we catch the better our score will be. The scores are important because they act like a currency and can be exchanged with Flik for limited-time bug-themed ACNH items. What's more, as bug off is a contest after all, Flik will reward player trophies according to the collective points they've earned throughout the day.
Animal Crossing Bug Off Event Rewards
ACNH Bug-themed Items
There are about bug-themed 13 prizes you can exchange with the points which you earned by collecting bugs in the 3-minutes bug catch match. Once you have at least 10 points, you can ask Flick to swap your points for prizes. What you get is given to you at random But you will receive everything once upon spending 130 points. After that, prizes start to duplicate themselves.
Here is the list of the bug off items that you can redeem with points as well as the prices you can sell them for at Nook's Cranny: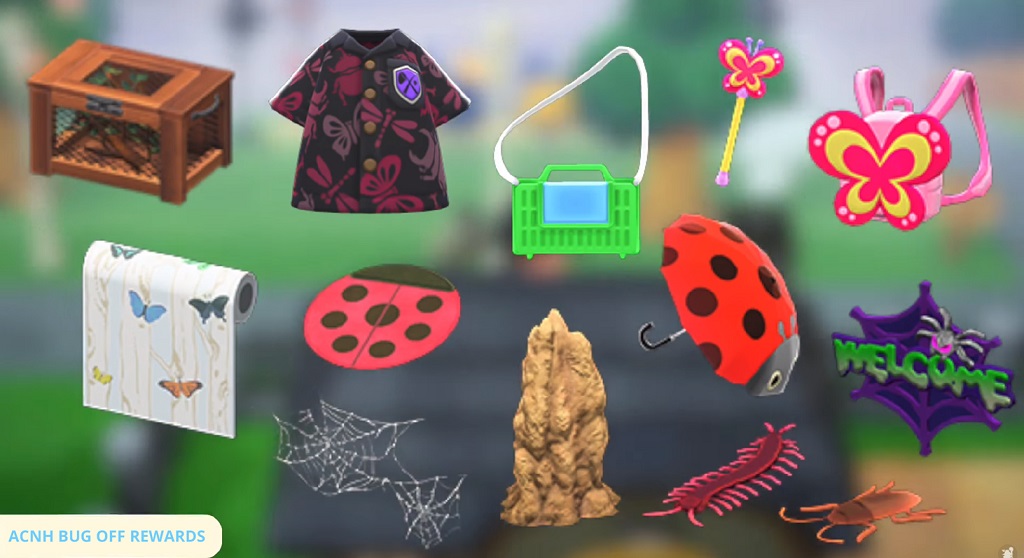 Artisanal Bug Cage – 450 Bells

Bug Aloha Shirt – 240 Bells

Bug Cage – 122 Bells

Bug Wand – 1,500 Bells

Butterflies Wall – 840 Bells

Butterfly Backpack – 210 Bells

Ladybug Rug – 375 Bells

Ladybug Umbrella – 80 Bells

Spider Doorplate – 90 Bells

Spiderweb – 25 Bells

Termite Mound – 550 Bells

Toy Centipede – 50 Bells

Toy Cockroach – 70 Bells
ACNH Bug Off Trophies
Flik will reward players with a trophy based on the collective points they've earned throughout the day, and we'll send the corresponding trophy out in the mail the next day. If you earn 100 points you will receive the bronze trophy, 200 points will get the silver trophy and 300 or more will earn us the gold trophy.
100 Points – Bronze Trophy

200 Points – Silver Trophy

300 Points – Gold Trophy
How To Catch The Most Bugs & Earn The Maximize Points During ACNH Bug Off Event?
Again unlike previous versions of the bug offs contests, only bugs caught during the time limit count towards our scores, so any bugs you have saved up can't be submitted. Anyway to start the bug off, we simply have to speak for Flik as the resident services, where he will be located with his pop-up tent. He will explain everything and then you can jump straight into the first contest, after speaking with him you have a few seconds to pull out your trusty net and start running to look for bugs before the timer begins. Now it doesn't sound difficult but if you want to earn the gold trophy for example, we need to earn over 300 points and if we catch at least 5 bugs per round which I think is going to be tough seems we have no bug bait that will earn our 7 points per round which means we'll need to participate in over 42 bugs offs catching over 200 bugs. It's going to be a bit of a grind if you hate catching bugs and you're playing alone. Don't worry, though there are a few more tips that may help you get the most points:
1. Prepare Nets - It's recommended to either craft or buy a bunch of nets before the contest starts on Saturday, as we are sure you know nets have a set durability and break after so many uses, and you really don't want to keep being interrupted by having to repeatedly get a new net on the day. Furthermore, you don't want to be without a net during the contest so carrying a bunch of them means you'll avoid beginning a contest without one. Just buy loads and either carry them or drop them by the Plaza.

2. Use Tool Ring - It's a pretty obvious one but you may want to assign all your nets to your tool ring, so they're easily accessible during the bug off. Using the tool ring to select a net at the very start of the timer is much quicker than opening your menu, and those few seconds could be vital in catching the last bug and could be the difference between scoring in double figures.

3. Landscaping - Generally speaking is recommended to plant a bunch of trees and patches of flowers near the resident services, so you don't have too far to travel before encountering bugs, after all we only have three minutes. However, now that most players have fully developed Islands, everyone's bug off experiences are going to be totally different and I can't imagine many people wanting to do this. Just bear in mind if you don't have many trees or flowers or even ponds nearby, it may be more difficult to catch bugs during the challenge and achieve a high score.

4. Play With Friends - There is a multiplayer bonus though if you play with friends which will speed things up. Should you decide to play with friends and earn points quicker, and you all cash between 5 & 9 bugs, you'll earn five bonus points between 10 to 14 bugs, you'll earn seven bonus points, and anything over 15 you'll earn a bonus of 10 points, so playing with friends is highly recommended if you can.