ACNH Fireworks Festival Time, Prizes, Items - Animal Crossing New Horizons Fireworks Show Event Guide
7/22/2020 9:15:04 AM
This is a detailed guide on Fireworks Show Event in Animal Crossing: New Horizons (ACNH). If you want to learn about ACNH Fireworks Festival - when will it roll out in the game and what you can get from the firework event such as fireworks rewards and new series of firework-related items, please read on.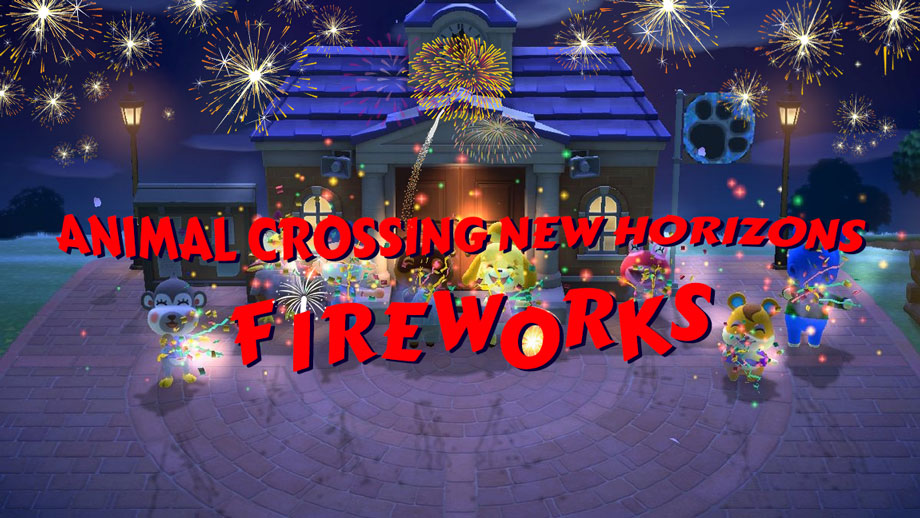 What Is Animal Crossing Fireworks Show (Firework Festival)?
In Animal Crossing series, Fireworks Show event is a special Fireworks Festival that takes place every Sunday night in August. During the festival you can purchase fireworks and obtain rare Animal Crossing Items, Villagers will wander through town, watching fireworks explode in the night sky while Isabelle hosts the event from the plaza near Town Hall.
Since the very beginning, Fireworks have been a staple of the Animal Crossing. In the original Animal Crossing game for GameCube, the Fireworks Show appeared on July 4 (America's Independence Day) to celebrate the opening of the town's train station and New Year's Eve to celebrate the holiday. Except for the firework show on the lake, there is no other special offer. Started from Animal Crossing: Wild World to City Folk, fireworks still took place on New Year's, and a new event called Fireworks Show happened throughout August replaced on July 4. In Animal Crossing New Leaf, Fireworks Show also held on every Sunday in August, but more interactive things were added. Surely we do think Fireworks Show could feature some new content in Animal Crossing New Horizons since ANCH continuously puts new spins on classic events.
Related Read: Best Animal Crossing New Horizons Dream Address Codes
When Firework Festival Release In Animal Crossing New Horizons?
The Fireworks Show event is held at 7PM every Sunday night during the month of August! For 2020, the Fireworks event release dates and time are the following:
7 p.m. to 11:59 p.m, August 2nd, 2020

7 p.m. to 11:59 p.m, August 9th, 2020

7 p.m. to 11:59 p.m, August 16th, 2020

7 p.m. to 11:59 p.m, August 23rd, 2020

7 p.m. to 11:59 p.m, August 30th, 2020
Will it be held at different times for each hemisphere? Given Hemispheres' new introduction to the AC franchise, it is likely that the schedule for the fireworks festival will also vary depending on local seasons. However, since this upcoming patch was billed as a "summer" update, it's also possible that the festival will run evenly throughout August for everyone.
How Long Does Fireworks Show Last in Animal Crossing New Horizons?
5 hours start starting at 7 p.m to 12p.m on every Sunday of August
There are 5 fireworks show that happens in Animal Crossing New Horizons, only lasts during the month of August. Every fireworks show starts from 7:00PM at your local time, and wrapping up at 11:59pm on Sundays, so it means every fireworks last 5 hours and you have a plenty of time to view the fireworks with your friends, family, and villagers.
How Long Do Custom Fireworks Show In ACNH? If you set your custom fireworks with Isabelle between 5 am and 6:59 pm on the day of the Fireworks Festival, your custom fireworks will be shown later that night consecutively and repeatedly in the order you set them. So just take a seat and keep your eye on the sky.
Where To Watch Fireworks Show In Animal Crossing?
You can watch the fireworks set off into the sky either from the main Town Tree plaza where you'll find Isabelle and Crazy Redd's Tent, or from anywhere else in your town for a view by yourself.
What We Can Expect In ACNH Firework Festival?
As there are no confirmed news about the Firework event revealed officially, the following contains information from Animal Crossing New Leaf. This page will be updated when the Fireworks event goes live in AC New Horizons.
How Does Fireworks Event Work In Animal Crossing?
Fireworks are annual events in Animal Crossing: New Leaf. They take place every Sunday evening during the month of August (4 or 5 depending on the year). When a fireworks display will be fired soon, a message will be posted on the notice board located to the left of the station.
Get Free Fireworks Show Bopper Gifts from Isabelle
During the Fireworks Show event, you can find Isabelle in the plaza, who distributes 4 possible random accessories:
Bulb Bopper (Sell Price: 40 bells)

Flower Bopper (Sell Price: 40 bells)

Heart Bopper (Sell Price: 40 bells)

Star Bopper (Sell Price: 40 bells)
When you first speak to Isabelle, she'll randomly give you one of these Bopper items for free, but no more. To get the other three, you'll need to visit her in the next shows throughout the month of August. If you missed some of the events in the month, you can create another character to get one from Isabelle.
Win Rewards By Buying Redd's Raffle Tickets
During the event, Redd sells Raffle Ticket for 500 Animal Crossing Bells at Town Tree plaza. By spending Bells to purchase Raffle Tickets, you can enter Redd's Raffle and win exclusive party prizes like fireworks, balloons, bubble wands, fans, and more!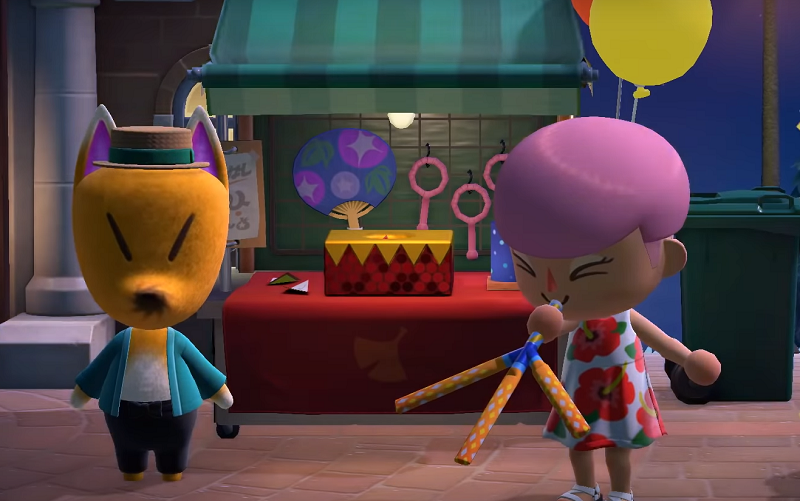 Exclusive Fireworks Show Prizes from Redd's Cookies

Raffle Ticket Number
Firework Prizes
Sell Price
1


Red Sparkler

1-Time Use

150 bells
2

Blue Sparkler

1-Time Use

150 bells

3

Fountain Firework

1-Time Use

150 bells

4

Bubble Blower

1-Time Use, Stack of 5

150 bells

5
Uchiwa Fan

150 bells

6
Pinwheel

150 bells

7
Tweeter

150 bells

8

Blue Balloon

Disappears on Tripping

150 bells

9
Red Balloon

Disappears on Tripping

150 bells

10

Yellow Balloon

Disappears on Tripping

150 bells

11

Green Balloon

Disappears on Tripping

150 bells

12

Pink Balloon

Disappears on Tripping

150 bells
If the player purchases Redd's Raffle Ticket, they have the chance to win randomly selected firework festive prize items out of 12 corresponding to a raffle ticket number. Unfortunately, Redd's Raffle tickets are random and you have no control over which one you will receive.
How To Get Fireworks Show Rewards and Gifts From Redd?
Buy Raffle Ticket for 500 Bells each from Redd Prize stand

Redd or one of your villager will give you the prize according to the ticket number


Repeatedly purchase more offering a handy dialogue option to buy another
Light Up The Sky With Animal Crossing Firework Custom Designs
In addition to free gifts from Isabelle and the prizes from Crazy Redd, there are custom design pattern fireworks available on your NookPhone, which can be turned into fireworks showcased in the sky during the event.
How To Get Firework Custom Designs In Animal Crossing: New Horizons?
1. Speaking to Isabelle outside of Resident Services at any time before or during the firework show event

2. Select the "I've got a firework idea!" option

3. Using the Custom Designs app on your Nook Phone to create custom designs yourself

4. Or importing other players' custom designs

5. The max 10 different designs (including the order) will be taken by Isabelle, and rotated into the show
Best ACNH Firework Custom Design Codes
Here you can see the list of best Firework Custom Designs you can use to light up the sky on your island on every August Sunday evening:
Skull: MO-4JGY-YV47-09PT

Heart: MO-9tJ8-DHKP-6710

Four Hearts: MO-0G2X-VJQ8-BH7J

Shooting Star: MO-PH7P-HVQK-5628

Stars: MO-6SMQ-NFB8-JB0V

Bunny: MO-J28S-KC9H-8N5C

Progress Pride Flag:MO-5SMP-688M-HFYP

Red Panda: MO-D2V3-FRG8-8V7X

Mushroom Explosion: MO-BT70-DFTJ-6HF3

Western Hemisphere: MO-5XBK-YGWN-745V

Froggy Chair: MO-NK0R-QVKC-CHHX

Sanrio Hello Kitty: MO-GV35-T28K-NT19
Check out more ACNH Custom Firework Design Codes
That's all about the upcoming ACNH Firework update, more confirmed details will be updated here once it drops into the game. Stay Tuned! If you want to stock some cheap ACNH Nook Miles Ticket, Bells and Items, welcome to check out the best offers on AKRPG.COM!