Best ACNH Dream Address Code - 5-Star Animal Crossing New Horizons Dream Island Address
7/30/2020 5:16:46 PM
Want to visit the 5-star island when you are dreaming in Animal Crossing New Horizons? Use ACNH Dream Address Codes would be the fastest way! To help you explore 5 stars island design ideas for using on your own island easier and faster, here we share the Best Animal Crossing New Horizons Dream Address Codes for you, which are collected from social platforms. What's more, you also can find the latest fan-made ACNH Random Dream Address Code Tools that allows players to find random Dream Addresses to visit whenever they need them.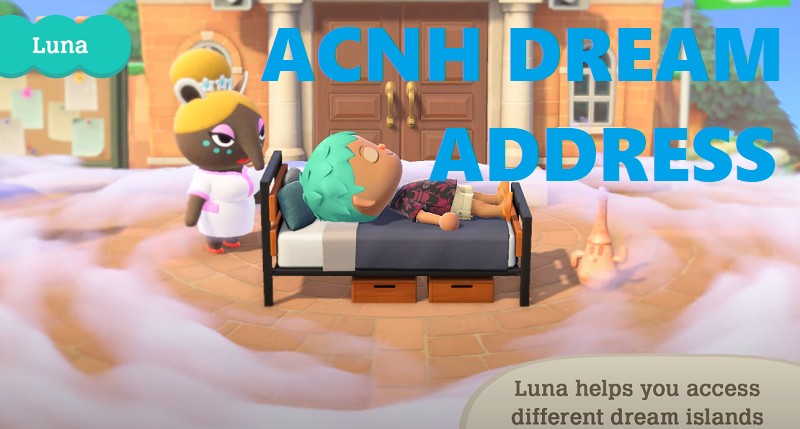 Animal Crossing New Horizons Dream Address Codes
ACNH Dream Address Codes are basically the codes that are used to travel to a specific deserted island when a player is dreaming in Animal Crossing New Horizons. To get the dream address for your island, you need to upload your island first. If you know the 5-star Island Dream Codes, you can fast to visit these islands and explore ACNH design ideas to use on your own island. It is generally make player enjoy what the community has created easier!
Related Read:
ACNH Halloween Spooky & Creepy Island Dream Address Codes
ACNH Halloween Island Dream Codes (Spooky & Cottagecore Island)

How To Upload Your Island & Get Dream Address in Animal Crossing New Horizons?
1. Go to sleep on the bed in your house and unlock dreaming

2. Meet Luna and she will offer assistance in four options

3. Select "I'd like to share a dream." to connect internet and upload your island

4. Go to unload your island and get the ANCH dream address code to share that'll represent your island
Note:
Your Dream Address will appear on your passport and on your map

You can only upload your island once a day
How To Use ACNH Dream Address Codes To Visit Other Islands?
1. Go to sleep at your house in any bed, after uploading your island

2. Select "YES" when you are asked "if you want to dream"

3. Envelop in a purple fog and meet Luna again

4. Talk with Luna and select "want to dream"

5. Input an Island Dream Address to enter the island you chose to visit

6. You awake from your bed in front of the Resident Services
Best ACNH Dream Address Codes 2020 - 5-Star Island Dream Address Codes
In order to help you visit the best-designed 5-star islands faster and easier, we collected these Animal Crossing New Horizons Dream Address Codes from social platforms such as Reddit, Twitter, Forums here. We list the main theme and features of each island, so you can feel free to choose the one you want to explore freely.
Best Animal Crossing New Horizons Dream Address Codes
DA-1025-5119-3484 - Pota Island (This is the island with designs of zorori and crash bandicoot)

DA-9309-8606-9938 - kakariko (It's a natural, cottagecore, chill vibe with lots of hidden areas)

DA-6383-2812-5326 - Furusato (It's is a rural, forest town with a cosy vibe. Points of interest include the farm, a cat-shaped pond and the many nature trails around the island.)

DA-9850-9049-0876 - Harry Potter themed island (5 Star Island includes: Diagon Alley, Knockturn Alley, Platform 9 3/4, Hogsmeade, Great Hall, Gryffindor Common Room, Library Restricted section, Potions Classroom, Divination Classroom, Forbidden Forest, Hagrid's pumpkin patch, Tri-Wizard Maze, Deathly Hallows campsite, Shell Cottage and more)

DA-6716-6406-8041 - Konoha (A 5 star cottage/natural island that was built around my natural river)

DA-0006-9073-4992 - cherry blossom bliss (Everything is pink and relaxing. Very zen lots of cool flowers its summer and you can get the cool pond and other pattern ideas)

DA-4145-7629-7235 - Gongaga (5 star natural themed island; three houses: Home, School, Villager Hall of Fame; Island area: Activity center, Marketplace, Cafe, Diner, Playground, Tea house, Rock garden, Picnic, Stargazing spot, Fruit forest, Bamboo forest, Camp, Lighthouse viewing spot, Arcade, Playground, Flower garden, Golden garden, Villager yards)

DA-0724-9768-0359 - Lsle of <3 (It's essentially big mall and marketplace)

DA-5289-6805-1749 - Daydream (Come and enjoy a sleepwalk in Daydream. 5 stars and nicely dressed, but not too cluttered. No sourceless waterfalls here)

DA-6594-8831-8707 - Elsewhere (1,000+ hour 5 star island: Steven Universe boardwalk, Coco bridge/skull graveyard, Harry Potter, Futurama, Wilfred, and more)

DA-7814-7577-0885 ( It's got lots of flowers, butterfly rock garden, outdoor post office, beachside In-N-Out, and a UFO sighting area)

DA-8025-6628-1357 - Astera (There is a diner, a beachhouse, a tiki lounge, a rainbow garden, a campground and more)

DA-1975-3674-2756 - Belladonna (Very minimal terraforming)

DA-7147-3695-1859 - Ygrok (5-star island with most of the original topography intact and only minimal terraforming)

DA-7235-8302-5904 - Lemuria (5 Star Alien/Cryptid themed island)

DA-4345-6717-5283 - Fyre Fest (Multiple infinity pool style spa-inspired/lounge areas, and a woodsy hot springs)

DA-5275-6944-8955 - Pottsfield (5 star Northern Hemisphere island with nature/ forest aesthetic)

DA-0319-3178-1527 - Askavi (Sleepy farming town with a Bizarro Mart, pool area, beautiful gardens as well as lovely Woodlands, and a camp site that is alien friendly)

DA-9114-1462-2579 - New Hyrule (Zelda themed island, there are currently 7 Zelda themed houses on the island and a fair bit to see)

DA-0232-5943-1331 - Eden (Cute, floral, garden theme. There are an orchard, cafe, study, tiki bar/pool area, mermaid beach, garden, and playground)

DA-5060-0056-7124 - Hollywoo (Kind of a mix between Hollywood from Bojack Horseman, and Hollywood, L.A. )

DA-2474-7399-4797 - Moon (5-star, chic, home townish, natural 400+ hr island. Each of its fun animal inhabitants has done a fabulous job decorating around their abode)

DA-5210-7220-4778 - Hibernia (5-star island that has Raymond, outdoor orchestra, an art garden, space land and a rose-filled campsite)

DA-1790-5385-6731 - Nowhere (Sleepy, overgrown onsen town best explored at twilight. Wander the bamboo forests and wildflower meadows, relax at one of the many hot springs)

DA-6925-2444-7290 - Ameliorate (A long-held 5-star island with villager businesses/sites, lots of areas inspired by this page, pretty well developed)

DA-1332-0537-7151 - Waddle (5-star island filled with penguins, there's a whole wedding venue surrounded by gardens and beach karaoke)

DA-0732-1647-2668 - Odyssey (A modern, gothic-themed s-star island. It's all ready for the Halloween season, decorated with black and purple roses and spooky areas)

DA-5407-8782-9241 - Dillavilla (Tropical themed island paradise. Utilizing cliffs and valleys for the perspective it offers Tropical vibes with amazing views.)

DA-299-5423-3990 - Neverland (Vacation Island. Reviews from the Fabulous and Famous K.K. Slider, featured on Seaside Sports with CJ and Frequent stay of Highly respected Label)

DA-5669-4185-8036 - Baffin (5-star island paradise, Local attractions include: Tea shop - The White Lotus, Orchard and campsite, Children's Park and Picnic area, Wedding venue)

DA-7835-0839-4811 - Aeaea (Come explore a canal, a Pinot noir vineyard, Ancient Greek ruins, geology mine, and a maze)

DA-8947-9074-6319 - Wonderland (Built with almost no time travel and is a mixture of a very woodsy mountain town and a beach resort community)

DA-6934-0240-1802 - Masillia (Hiking Trail leading to campsite and dive spot, Bamboo Garden and spa, Community center and gym, Museum, with public library and science center)

DA-8545-7904-6003 - Eagle Nest (Town square, bamboo gardens, many cozy beaches, Raymond's casting couch, ice bar and dance club, orchard/flower garden, mushroom forest, Redd's meth lab and trash heap, sweat shop, wedding reception hall, and many nature walks.)

DA-6733-9181-9838 - Eventide (5 star island featuring several parks & town squares, a summer beach bar, bamboo forest and decorative gardens)

DA-1705-5062-6277 - Jelly Cube (Pun themed, with 18 (so far) labeled jokes including 2 themed rooms in the house)

DA-6187-4090-9589 - Beetroot ( Consist of a few gardens with little touches of villager friendly areas, there is a Chronical Society which studies aliens, historical mysteries and conspiracy)

DA-4504-5245-5281 - skullisle (skull and horror theme island)

DA-4454-7170-4108 - Ballonlea (horror movie haunted house)




DA-5544-3661-4440 - Cereja (natural / fantasy themed 5-star island)

DA-5174-9475-1726 - Midori

DA-1982-9133-4075 - Honeydew

DA- 0099-4420-9367 - Ethene

DA-6139-1116-7778 - Sinnamon

DA-9499-6880-1248 - Ookpik

DA-0008-9331-3293 - Tealeaf

DA-7221-9153-4169 - Wigo

0317-6026-5727 - Magical fairy island

DA-1631-9846-6021 - Mulberry

DA-2430-6965-1202 - Blue Moon

DA-8148-2957-1285 - Kiwi

DA-4881-5205-9744 - Moondrops
Keep Updating, welcome to check back ......
ACNH Dream Address Code Generator - Animal Crossing New Horizons Dream Code Tools
If you have tried all above Dream Address codes and want to explore more islands, there are new fan-made ACNH Random Dream Code Tools that can help you to get more random Dream Addresses to visit whenever they need them.
Here we listed two Animal Crossing New Horizons Dream Address Code Generators for you:
https://www.acislands.com

http://perchance.org/acnh-random-dream-address
Very easy to use, you only need to open one of these links on a browser, then you will find a bulk of new random dream addresses.

Beste ACNH Traumadresscodes - 5-Sterne Animal Crossing New Horizons Trauminsel Addresse