Top ACNH Halloween (Spooky & Cottagecore) Island Dream Codes | Animal Crossing New Horizons Fall Island Dream Address
10/20/2020 3:01:49 PM
The cozy autumn has come on your island, and the joyous festival is ready to begin to celebrate. Many of Animal Crossing New Horizons players have turned their island into a cozy autumn vibe and Halloween or Thanksgiving holiday accents. Want to take an amazing tour to some fabulous Halloween spooky or pumpkin theme islands? Here we share with you the best ACNH Halloween Island Dream Codes, which definitely worth your time to visit!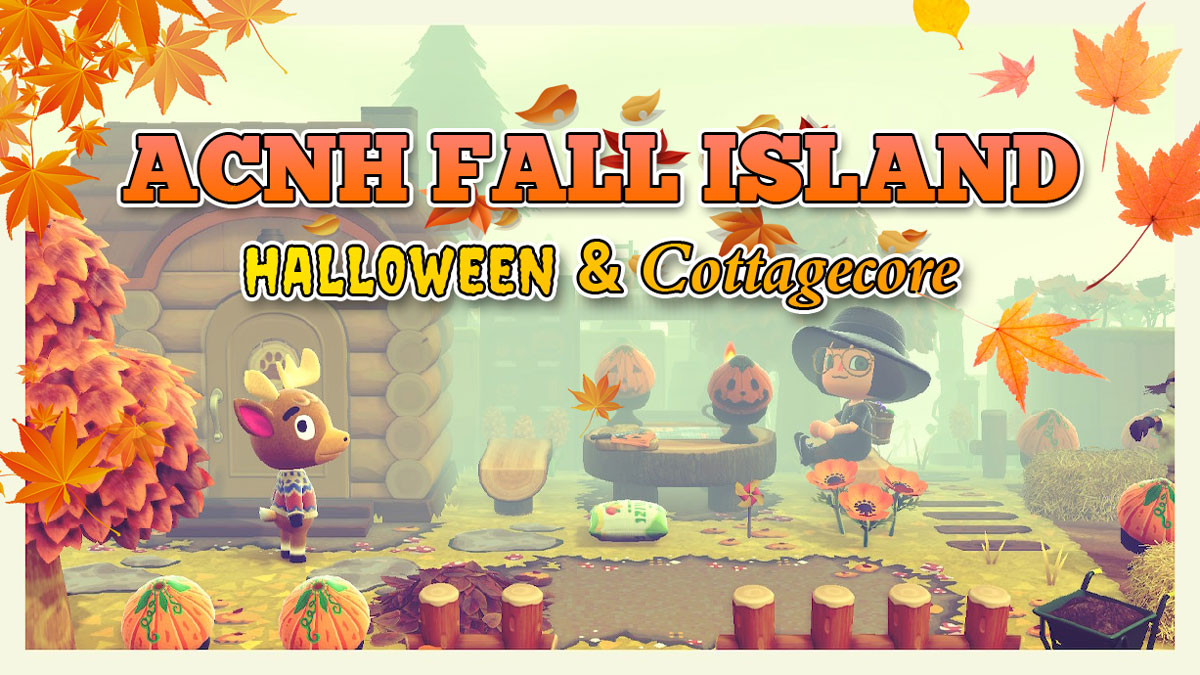 Best Animal Crossing New Horizons Halloween Island Dream Address
Halloween certainly needs some spooky and creepy decorations. If you want to pursue a unique excitement, then please find some ACNH Halloween Horror Island Dream Codes in our previous article, with which you can go to visit the scariest island with creative horror design ideas. And if the dark theme is not your dish, you can definitely feel the joy and bright festive atmosphere by taking a tour to some cute Halloween islands with the below dream addresses.
Autumn is not only a season to enjoy harvests and holidays, but of course, it is also the best life for cottagecore. So we also recommend the best autumn theme islands - Top 10 5-star cottagecore island dream address for you.
Related Read:
ACNH Christmas Update - Toy Day Guide
Best ACNH Christmas Island Design Ideas & Address Codes
5-Star Best ACNH Halloween Island Dream Codes
Here is the list of the best Halloween Island Dream Address Codes in Animal Crossing New Horizons:
1. DA-1438-1370-5654 (Koriko) - Incredible Halloween theme island, along with the Halloween theme includes a pumpkin patch, apple orchards, a haunted house, witch-themed library and so much more
2. DA-9050-6456-0241 (Taco Bell) - There are four houses - A spooky castle, haunted house, beach hotel, and fashion museum; also tons of fall areas such as a pumpkin patch, a spooky forest, pumpkin carving, etc!
3. DA-6984-5523-9028 (Moonscar) - The Cottagecore Halloween town features spooky witchy themed farmer's markets, a poison apple orchard, pirate ships and treasure islands, a tattoo shop hidden away in a treehouse, dramatically decorated themed rooms in the house.
4. DA-1615-8575-7962 (Bangtan) - Spirit Halloween for all of your costume/mask needs, a picturesque Jack-o-lantern garden, Trunk r' Treat with a candy stall nearby, the best life (but not REALLY live) Skeleton band fronted by the extremely talented Scarecrow lead singer and much more.
5. DA-0146-1496-5677 (PawpadCove) - Enter the island through the hay maze and pick your perfect pumpkin from the pumpkin patch.
6. DA-4350-7703-8686 (Kalawa) - Black magic themed island, perfect to kick off the spooky festivities of Halloween.
7. DA-5874-0396-0118 (floof town) - 5-star island includes a Taco Bell, Lush Cosmetics, Spooky entrance area, Gas station, Cute Able Sisters area, and more.
8. DA-3006-5127-6665 (Mosswood) - The spooky nature trail makes a full loop around the town, taking you to all the sights, cover a graveyard, an ancient ruin, pumpkin themed dining, and more.
9. DA-5250-6526-5950 (Big Meaty) - Explore a vibrant downtown complete with a bistro, arcade, and soccer field. Head to the East beach to enjoy the spa, carnival, and some beach volleyball. Enter the enchanted orchard, if you dare. It's haunted by vampires, scarecrows, and the souls of fallen crankies.
10. DA-7585-0368-0771 (Croissant) - Pumpkin Patch (mini hay maze, pumpkin postcard photo-taking area, pumpkin carving station, apple picking), Pumpkin Canyon / Waterfall
Best ACNH Halloween Cottagecore Island Dream Address Codes
Here are the Top 10 Best Halloween Cottagecore Island Dream Address:
1. DA-2979-5068-5816 (Charmaine Dulak) - This is a 5-star fall cottagecore theme island that features a waiting area inspired by Totoro, a movie theater, an amazing outdoor office area near the secret beach, a little Christmas cozy spot. 2.
2. DA-4437-1107-3844 (Danafall) - A forestcore & cottagecore themed island overgrown with flowers and trees and preserve its pristine waterfalls and hills to highlight nature.
3. DA-6047-7834-7653 (Erytheia) - It's a very natural island with a simple cottage core theme and not too cluttered. It has some secret spots, a small lake, a pumpkin patch, a stargazing area, a tiny lavender field, and the cutest islanders.
4. DA-3287-8393-4458 (Moonbeam) - Moonbeam is a colorful yet natural island featuring a café, shopping area, flower park, garden, Japanese festival area, natural campsite, orchard, enchanted butterfly garden, outdoor library, and a neighborhood.
5. DA-2563-3062-6748 (Yggdra) - 5 stars island with castle house, community building, and rep. House that reach HHA 290k+.
6. DA-9747-2907-5916 (Helotian) - A Disney-inspired island, features a Critter Country where you can check out Roslin's Bakery, indulge in her outdoor patio cafe, and have a few dole whips in her basement bar. Athena's Castle, Redwood Trail, Tomorrowland Beach are all worth to check out, main Street also provides hayrides, numerous pumpkin patches, and fun for the whole family.
7. DA-9947-0504-5781 (Ōame) - This island is full of amazing stories and mysteries: a small and rustic village that lives peacefully in the middle of the forest, they live from the fishing and farming; a small Japanese neighborhood founded by Kabuki.
8. DA-0453-9939-9832 (Wanderland) - This wonderland island is inspired by well-known fables, where you can find Alice in wonderland's celebration feast, spirited away's bathhouse, the little mermaid's beach, pirates vs. zombies war zone, and many more.
9. DA-2695-2441 -0450 (Kyoshi) - You can unwind in the café, Walk on the abandoned train tracks or take a stroll on the smuggler's beaches, study by the museum library, and research under the stars.
10. DA-6939-7489-4010 (Autumnwood) - A 5-star cozy island in the season with leaf piles, more foresty-forests, a house second story inspired by US National Parks, and even a new pick-your-own pumpkin patch.
Enjoy your tour and hope you find some great design ideas for building up your own island and house. If you do need any Animal Crossing New Horizons bells, items, or Nook Miles Tickets, welcome to use coupon "AAA" to save the most on AKRPG.COM!