Animal Crossing New Horizons Summer Update Wave 2 Release Date, Fireworks, Dream Islands & More Leaks
7/29/2020 10:47:06 AM
The free update for August is finally here! The trailer of Animal Crossing New Horizons Summer Update Wave 2 brings lots of cool summer activities to us. Custom fireworks! Dream Islands! Bubble blowing! And more you can experience in the coming version. Start from the ACNH Summer Update 2 release date, we'll introduce the Animal Crossing Fireworks Shows, Luna and Dream Islands, Island Backup Restoration Service as well as the hidden information about the ACNH fall update.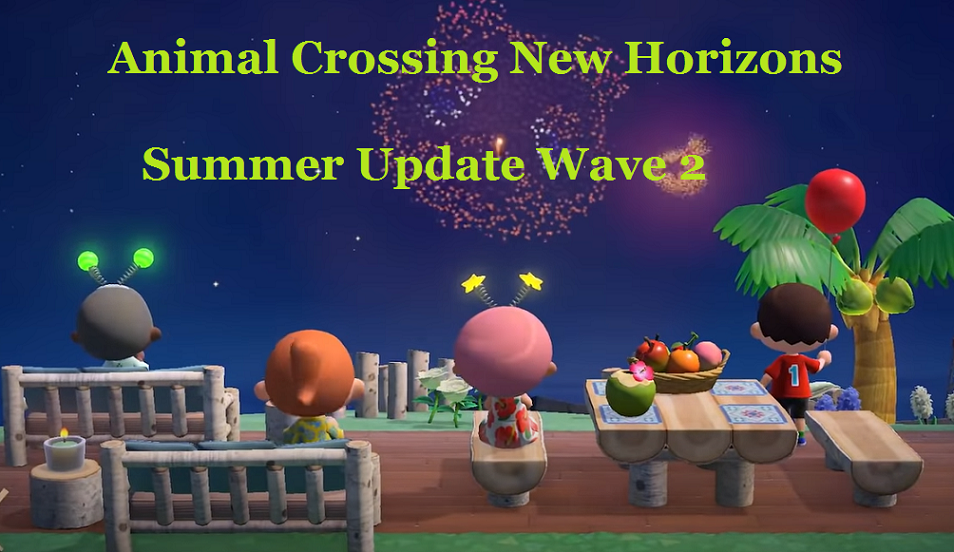 Animal Crossing New Horizons Summer Update Wave 2 - ACNH Summer Update 2 Release Date
The Animal Crossing New Horizons free update 2 for summer is on the way, the official release time is July 30, 2020.
Animal Crossing New Horizons Fireworks Shows
Fireworks Show is a hot event in previous Animal Crossing series, maybe you've learned about it from many places. It is worth mentioning that some new features for the Fireworks Festival have been added to New Horizons. Please note the ACNH Fireworks Show will be available at 7 PM on every Sunday in August.
1. Redd's Raffle
During the firework show, the art dealer Redd will set up a new stall on the island, players who paid a sum of Animal Crossing bells can take part in the raffle, pull a slip out of a box, you will be given an opportunity to win one of the collection of prizes, including the following Animal Crossing New Horizons items.
List of Redd's Raffle Prizes
Red Sparkler (1 Charge)
Blue Sparkler (1 Charge)
Fountain Firework (1 Charge)
Bubble Blower (1 Charge)
Uchiwa Fan
Pinwheel
Tweeter
Blue Balloon
Red Balloon
Yellow Balloon
Green Balloon
Pink Balloon
2. Custom Fireworks
The second exciting news is that you can launch your own custom-design fireworks on the night sky, multiple villagers can do the thing at the same time, which creates a spectacular, unusual firework show.
Animal Crossing New Horizons Dream Islands
Dreaming is another returning feature to Animal Crossing, the Dream Suite is a building run and operated by Luna in New Leaf. Starting from July 30, you'll have a chance to meet Luna when you are sleeping on your bed in ACNH. Luna is a character who can facilitate travel to dream islands, when you are in the dream, you may find yourself in a strange realm where you'll be greeted by Luna, and be able to explore islands all over the world or show off your own. Luna will grant players who share their islands a Dream Address that can be exchanged and used to visit each other's island in a dream. If you want to show a stunning and distinct island, there is a variety of Animal Crossing islands design ideas on AKRPG you can check.
Animal Crossing New Horizons Summer Update 2 Island Backup
Near the end of the video, there are striking words tell the Island Backup Restoration Service will be available on July 30 as well, it will automatically upload island and user save data to the internet at certain times, which offers a safer way for data storage.
Animal Crossing New Horizons Fall Update Information Leaked
Of course, this update also suggests the next ACNH free update, which is set to launch in this autumn. What will be featured in Animal Crossing New Horizons Fall Update? Halloween event is possible to be celebrated in the game because there is a pumpkin image in the lower right corner of the screenshot, and Halloween happens in many past Animal Crossing series.