Animal Crossing New Horizons August Events, Villager Birthdays, New Bugs, Sea Creatures and Fish
7/24/2020 5:54:34 PM
What events will be held in August in Animal Crossing New Horizons? In this guide, we will present all ACNH August Events, covering the calendar of Morning Aerobics, Obon, Fireworks Show and Founder's Day; also features the details on the new bugs, fishes & diving items (sea creatures) you can catch throughout the month.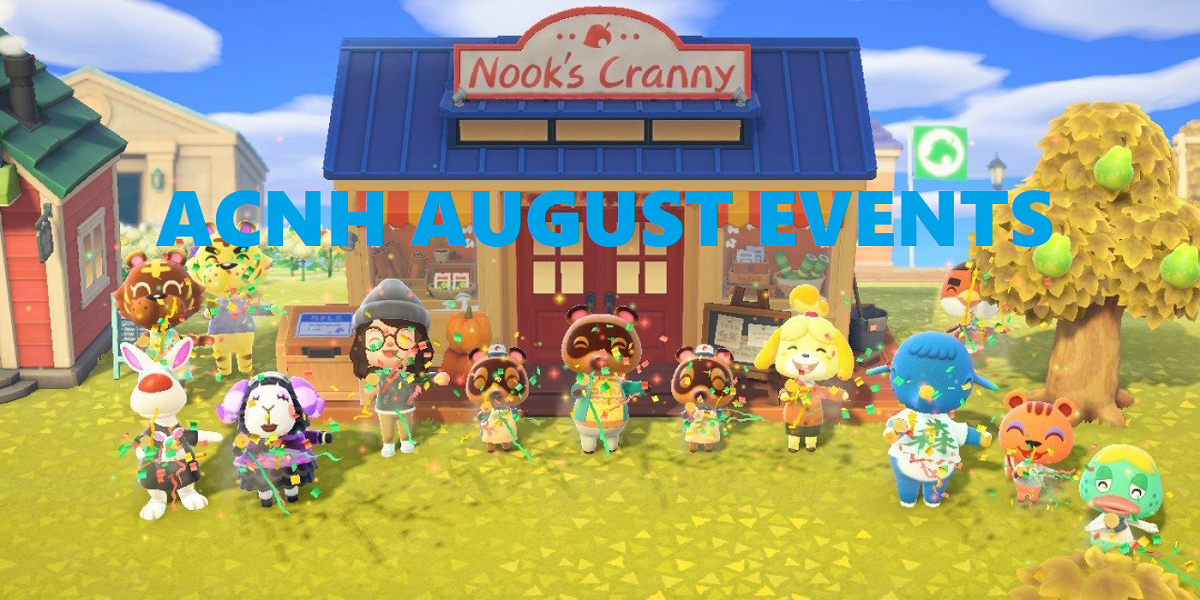 Animal Crossing New Horizons August Events
In August, players will not only get regular content such as Bug-Off and new creatures in the water, but also usher in summer update wave 2 which could contain new seasonal events providing limited-time recipes, ingredients, items, and new special characters. Get to know when these new events happen in the game will help you collect limited-time ACNH Items and Bells on time. Now follow us to check out the calendar of Animal Crossing New Horizons August Events:
July 25th - August 31st: Morning Aerobics

August Every Sunday: Fireworks Festival

August 15th: Obon (Japan only)

August 15th (Third Saturday): Bug-Off

August 21st: Founder's Day
Morning Aerobics (To Be Confirmed)
Release Time: From July 25th to August 31st.
Morning Aerobics is a daily event. If it come back to Animal Crossing New Horizons, it could run every day during the event time except raining day. Copper (It is a dog wearing Aerobics clothes) conducts Morning Aerobics at the Wishing Well with four other villagers on every morning from 6am to 7am (only on sunny days). Most of the time, villagers follow the moves that Copper do. If a villager misses a move, they will start to sweat and wobble. Players can get 14 cards stamped at morning aerobics sessions for getting a reward - Aerobics Stereo, which enables the player to perform the exercises in their house. So it is really a very funny event and most of the regular players of Animal Crossing want it to come back to New Horizons.
Fireworks Festival
Release Time: Every August Sunday Evening From 7pm to 12pm
August 2nd, 2020

August 9th, 2020

August 16th, 2020

August 23rd, 2020

August 30th, 2020
With the trailer poster revealed, Fireworks Festival is set to come back alongside the release of Summer Update Wave 2 in early August. Every Sunday starting at 7pm, beautiful fireworks will shoot high into the sky over your town. What's more, firework-related items will be available to collect in the game. You can get more detailed information on our ACNH Firework Show Guide.
Obon (Japan only)
Release Time: August 15th
Obon is a Japanese holiday to honor departed relatives, also a big day for family reunions. On this feast day, Japanese families come together to commemorate deceased family members. The "coming and leaving" of the dead in and out of the real world is symbolized by eggplant and cucumber. At this special festival, all shops in the village are closed. By the way, Isabelle has one of the two items. So visit the village of a Japanese friend on the day to get the items. By the way, they are ideal as decoration for your kitchens!
ACNH August Bug-Off
Release Time: 9am until 6pm on August 15th (3rd Saturday) for Northern Hemisphere / No for Southern Hemisphere
As usual, for Northern Hemisphere players, the Bug-off event of August will take place on the third Saturday. Grab your best net and see if you can catch the maximized amount of bugs in a limited time to earn enough points for exchanging the limited-time bug theme swag. While, as Southern Hemisphere is in summer, no bug-off event in August.
Founder's Day (To Be Confirmed)
Release Time: August 21st
In honor of the establishment of the player's town and its founders, Founder's Day would be held on August 21st. If the tradition is inherited, on that day, a weed model would be given to you by talking with the Mayor.
Animal Crossing New Horizons August Bugs, Fish, Sea Creatures
In addition to the above special events, with the seasons changing, we still can catch some new insects, fish, and sea creatures in August, and there are some living creatures leaving us. With the below list you will get know what to capture in August for selling the most of Animal Crossing Bells.
ACNH August Bugs
New Bugs To Catch:
Northern Hemisphere - Migratory Locust, Rice Grasshopper, Walker Cicada

Southern Hemisphere - Tiger Beetle
Bugs Leaving In August:
Northern Hemisphere - Common Bluebottle, Great Purple Emperor, Brown Cicada, Robust Cicada, Giant Cicada, Evening Cicada, Cicada Shell, Jewel Beetle, Blue Weevil Beetle, Scarab Beetle, Drone Beetle, Saw Stag, Miyama Stag, Giant Stag, Cyclommatus Stag, Golden Stag, Giraffe Stag, Horned Dynastid, Horned Atlas, Horned Elephant

Southern Hemipshere - Damselfly, Dung Beetle
ACNH August Fishes
New Fishes To Catch:
Northern Hemisphere - Soft Shelled Turtle, Moray Eel, Ray

Southern Hemisphere - NONE (No new arrivals)
Fish Leaving in August
Northern Hemisphere - Killifish, Giant Snakehead, Napoleonfish, Squid

Southern Hemisphere - Pond Smelt, Blowfish
ACNH August Sea Creatures
New Sea Creatures To Catch:
Northern Hemisphere - Flatworm

Southern Hemisphere - NONE (No new arrivals)
Sea Creatures Leaving in August:
Northern Hemisphere - Vampire Squid

Southern Hemisphere - Sea Pig, Oyster, Sweet Shrimp, Venus Flower Basket
Animal Crossing New Horizons August Villagers Birthday
Of course we also need to remember the birthdays of our lovely villagers. Then you could send your gifts to them on time and receive closer friendship.
August 1: Kid Cat's Birthday "Psst"

August 2: Vladimir's Birthday "Nyet"

August 3: Benjamin's Birthday "Alrighty"

August 4: Bones's Birthday "Yip yip"

August 5: Poppy's Birthday "Nutty"

August 6: Chester's Birthday "Rookie"

August 7: Rory's Birthday "Capital"

August 8: Bud's Birthday "Maaan"

August 9: Soleil's Birthday "Tarnation"

August 10: Cole's Birthday "Duuude"

August 11: Gigi's Birthday "Ribbette"

August 12: Gloria's Birthday "Quacker"

August 13: Tabby's Birthday "Meow"

August 14: Rod's Birthday "Ace"

August 15: Wendy's Birthday "Lambkins"

August 16: Dozer's Birthday "Zzzzzz"

August 17: Stinky's Birthday "GAAHHH"

August 18: Rocco's Birthday "Hippie"

August 19: Alice's Birthday "Guvnor"

August 20: Lopez's Birthday "Buckaroo"

August 21: Wart Jr.'s Birthday "Grr-ribbit"

August 22: Rolf's Birthday "Grrrolf"

August 23: Nana's Birthday "Po po"

August 24: Nan's Birthday "Kid"

August 25: Tipper's Birthday "Pushy"

August 26: Rowan's Birthday "Mango"

August 27: Bangle's Birthday "Growf"

August 28: Chrissy's Birthday "Sparkles"

August 29: Gruff's Birthday "Bleh eh eh"

August 30: Hazel's Birthday "Uni-wow"