Animal Crossing New Horizons All New Autumn DIYs - How To Get ACNH Fall Items, Acorns & Pine Cones
9/3/2020 10:48:56 AM
In this Animal Crossing New Horizons tips and tricks tutorial, I will present everything you need to know about the fall autumn season dates and new ACNH fall items acorns & pine cones and I'm going to detail you exactly how to farm those crafting items, how to get acorns & pine cones.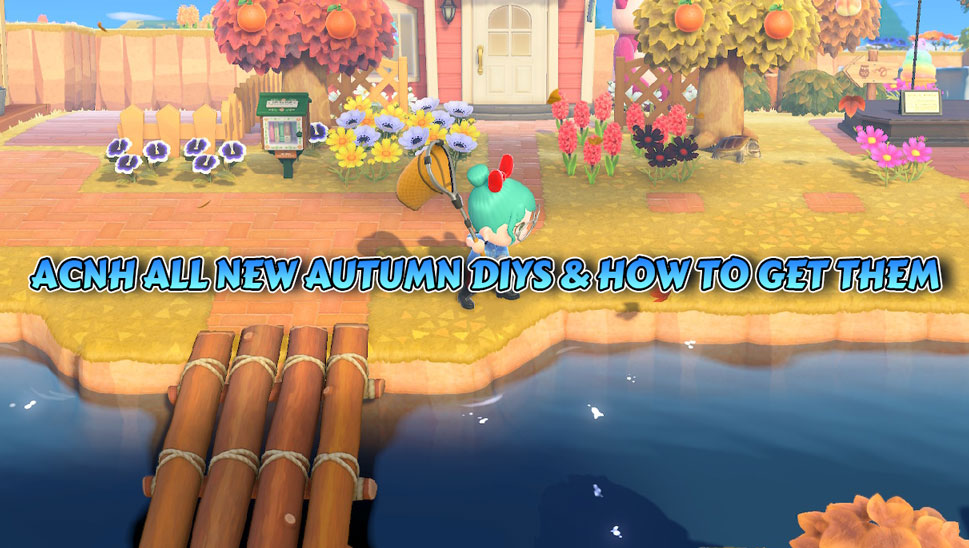 All New Autumn DIYs & How To Get Them In Animal Crossing New Horizons
Animal Crossing New Horizons finally ushered in a new month - September which represents the arrival of autumn and it's also the start of fall season for the Northern Hemisphere in the game. During the fall season, you'll be able to pick up a variety of materials off the ground includes acorns, pinecones, maple leaves and more! Check out this Animal Crossing: New Horizons guide on limited-time fall (autumn) seasonal DIY recipes! Find out how to collect these September new seasonal crafting materials & all new autumn DIY items, acorns, pinecones!
Related read: Animal Crossing New Horizons September Items & Changes - ACNH Fall Update Tips
ACNH Fall & Autumn Season Dates
If you are in the Northern Hemisphere by all means you'll be able to find all of these items and DIY recipes within September 1st all the way through December 10th. Now that's a long time so there's really no rush to get all this stuff. Those of you in the Southern Hemisphere have already experienced this which congratulations if you have everything by that time. But anyway the autumn season for the Southern Hemisphere is from the March 1st date all the way over to June 10th, so keep that in mind get all your stuff at your convenience.
Northern Hemisphere: September 1st - December 10th

Southern Hemisphere: March 1st - June 10th
How To Get The New Autumn DIYs & Seasonal DIY Recipes In ACNH
Tree's bounty little tree is an example of one of the eleven. All you have to do is make sure that you have a slingshot equipped well whether it be inside your pockets or somewhere on the ground in your area, and then press the camera upwards so that you can see all the different balloons that pass by. They pass by in intervals of time and it's really all about patience. So go out there do your thing and then press the A button and you'll be able to fire off a little shot from your slingshot and maybe the DIY recipe will come out. If you take a look at your beaches you'll be able to find a message bottle on the ground, and then once you have your message bottle out, there's a DIY recipe inside. If you're lucky it'll be one of the exclusive ones. If you are traditional players and they seldomly wash up maybe once a day, but if you're a custom player, then transport to the next day and then keep on trying to get even more of those different Autumn DIY recipes. Another fast way for getting them is that you can buy cheap DIY recipe on AKRPG.
How To Get The New Crafting Materials September
Now that you know exactly how to get every single one of these different recipes through balloons and or messages in bottles, you should know the crafting materials needed for them.
Some materials are relatively exclusive towards the autumn season and they are none other than the acorns and the pine cones available. Acorns and pine cones are going to be able to be shaken off of various trees within your town. If you don't know exactly how to get trees in the game you can either throw a piece of fruit under the ground or you can buy cedar saplings where the cedar saplings are exclusively giving you the pine cones and then you can also grab the hardwood trees which are the regular saplings which will give you regular acorns. So all you have to do is shake those trees and you'll be able to get all those.
All New Autumn DIY Items Available In Animal Crossing
Use this checklist of ACNH new Autumn DIYs covering crafting materials needed to ensure you collect all the new Autumn items for September in Northern Hemisphere and March in Southern Hemisphere:
Tree's Bounty Arch
Pine cone × 4

Acorn × 5

Maple leaf × 5

Tree branch × 15
Tree's Bounty Big Tree
Pine cone × 5

Acorn × 4

Maple leaf × 4

Tree branch × 8

Clay × 4
Tree's Bounty Little Tree
Pine cone × 6

Acorn × 4

Hardwood × 1
Leaf Campfire
Pine cone × 3

Clump of weeds × 5

Tree branch × 3
Yellow-Leaf Pile
Acorn × 3

Clump of weeds × 5
Pile Of Leaves
Pine cone × 3

Clump of weeds × 5
Pine Bonsai Tree
Tree's Bounty Lamp
Traditional Balancing Toy
Acorn Pochette
Tree's Bounty Mobile
Pine cone × 2

Acorn × 3

Tree branch × 3
New Customization Options & In-House Showcase
Take a look at the new customization options and in-house showcase shared by the famous Youtuber Abdallah and you can feel free to use the design ideas whenever you come across them.