12 ACNH Mushroom Items - How To Get All Mushroom DIYs Easy In Animal Crossing | Mushroom Season Guide
11/2/2020 11:57:34 AM
In this Animal Crossing New Horizons mushroom season guide, we detail everything you need to know about the mushrooms that are available now in the mushroom season. We show the complete list of mushroom furniture items you can get during the mushroom season in fall in ACNH, how to get mushroom DIYs easily, and how to use new mushroom items to design mushroom forest, mushroom garden and mushroom beach.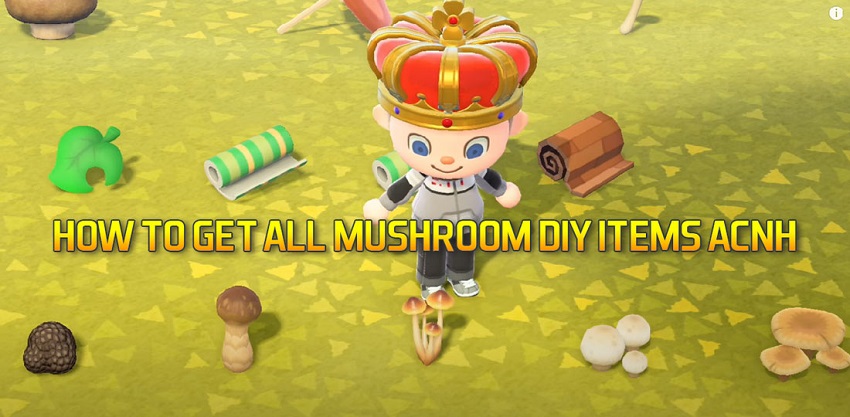 All Mushroom Items ACNH & How To Get Them Easily In Mushroom Season
Animal Crossing New Horizons ushered in a new month - November, which represents the arrival of some new items. For the Northern Hemisphere November 1st marks the mushroom season and there are a total of 12 mushroom-themed items that are going to be very fun to craft. We're going to start off by giving you the details of the mushroom season, teaching you all about the different mushrooms. We'll also show you how to get every seasonal mushroom DIYs easy in Animal Crossing New Horizons and present the required materials for the mushroom DIYs as well as the design ideas for the new mushroom items. Read on the Animal Crossing mushroom season guide and find out everything about the mushrooms!
Mushroom Season Dates
If you're in the Northern Hemisphere that's going to be from November 1st through November 30th. If you are in the Southern Hemisphere that will be may 1st through may 31st. That single one month window for both hemispheres are only going to be able to give you these spawns for the mushrooms, the day after that the mushrooms will absolutely be gone. So now you have a good month in order to start getting these things.
Northern Hemisphere Nov 1st - Nov 30th

Southern Hemisphere May 1st - May 30th
Mushroom Types, Prices And Spawn Rates
There are five different types of mushrooms:
Rare mushroom: sells for 16,000 ACNH Bells
Elegant mushroom: sells for about 10,000 Bells
Skinny mushroom: sells for 300 Bells
Round mushroom: sells for 200 Bells
Flat mushroom: sells for about 300 Bells
Mushrooms spawn rates
This really depends on what star rating your island is according to Isabel. So those of you that have been working towards a five-star rating throughout the month of November for Northern Hemisphere and throughout the month of May for Southern Hemisphere, you are going to be set because your rates for getting the rare ones are way better than someone who has a lower star rating. Now take a look at the table chart made by famous Youtuber AbdallahSmash026.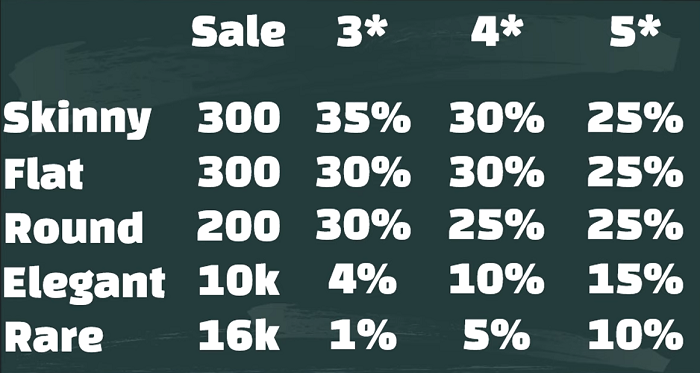 How To Get Mushroom DIYs In ACNH?
How to get the DIY recipes for all of the mushroom items within the season? There are three main ways of doing it:
1. Take a look at your average DIY that's in a message bottle. If you pop it, open and there's a chance that you can get a seasonal recipe.
2. The main way that you're going to get all of your recipes is literally by finding your crafting villager at multiple times throughout the day and asking them what they are building. so if you are lucky enough he'll be able to give you the DIY recipe that is for the season.
3. The last way of getting mushroom DIY recipes is shooting down any kinds of balloons that are in the sky, grab your control stick, look upwards, you can actually turn your volume way up and you can listen for the balloon to come over and then use your slingshot, drop it down and then there's may be a chance that it'll be the mushroom DIY.
All 12 Mushroom DIY Items Available In Animal Crossing
Use this checklist of ACNH mushroom DIYs covering crafting materials needed to ensure you collect all the mushroom items for the mushroom season in the Northern Hemisphere and in the Southern Hemisphere.
Mushroom lamp
Skinny mushroom × 1

Clay × 5
Mushroom table
Flat mushroom × 2

Wood × 6
Mush partition
Mush parasol
Mush log
Skinny mushroom × 2

Log stool × 1
Mush low stool
Mush umbrella
Mushroom wand
Skinny mushroom × 3

Star fragment × 3
Mushroom wreath
Tree branch × 10

Round mushroom × 1

Skinny mushroom × 1

Flat mushroom × 1
Mush wall
Elegant mushroom × 1

Round mushroom × 1

Skinny mushroom × 1

Flat mushroom × 1
Forest wall
Elegant mushroom × 2

Round mushroom × 2

Skinny mushroom × 2

Flat mushroom × 2

Wood × 10
Forest flooring
Rare mushroom × 1

Round mushroom × 2

Skinny mushroom × 2

Flat mushroom × 2

Clump of weeds × 10
Design Ideas For New Mushroom Items & Mushroom Design Ideas
Here's how to use the new mushroom items to create three different areas on your island (shared by consolecaito on Youtube). Take a look at the mushroom garden, mushroom forest and mushroom beach! Custom pattern codes and other information listed below.
1. Mushroom Garden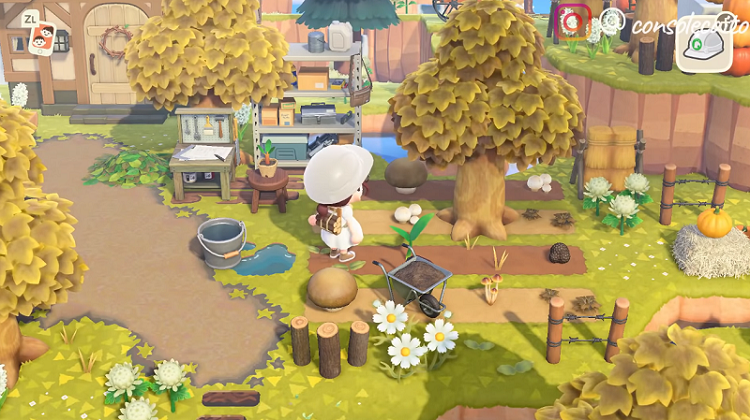 2. Mushroom Forest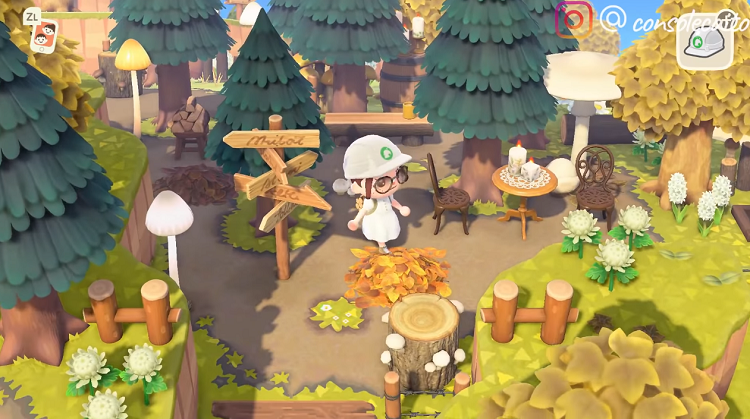 3. Mushroom Beach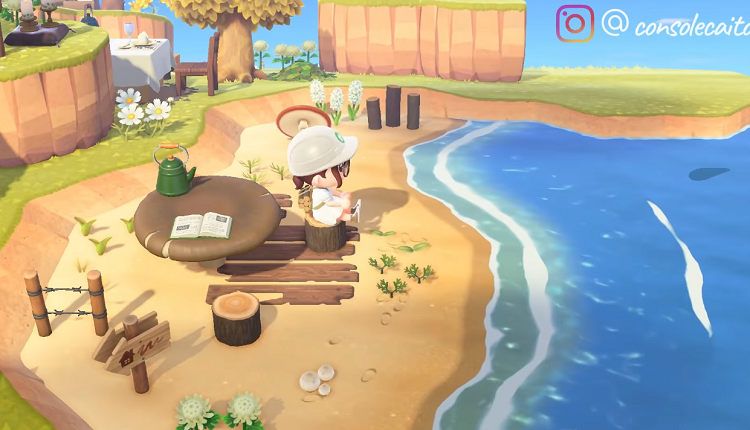 Custom Patterns Codes:
Wooden Planks: MA-8511-9497-6748
Weeds: MA-1325-1356-2221
Sparse Daisies: MA-8690-0073-5326
Brown stone: MA-6900-8539-5882
Red brick: MA-3041-9570-8519
Stone circle: MA-3995-5109-8233
Dirt "The Path": MA-6647-9230-4716
"The Path" Middle Holes: MA-0064-5480-7415
Large Wooden Double Planks: MA-9858-1845-6582
Water puddle: MA-1168-4552-0723
Hope this guide useful for you to get all the ACNH mushroom DIYs. If you are looking for more inspirations for mushroom designs on your island or room, take a look at AKRPG's ACNH designs, you may find what you need.