ACNH Thanksgiving Design Ideas & Codes - Best Animal Crossing Harvest Festival Path & Costume Custom Patterns
11/2/2020 3:27:03 PM
Now it is time to prepare for Thanksgiving Day, as the Harvest Festival Turkey Day is going to be updated in November! In this guide, we will go through the best ACNH Thanksgiving Designs, which features some exquisite patterns and custom design codes for tables, paths, walls, floor tiles, furniture, and clothes. Certainly, we will still present some unequaled Animal Crossing New Horizons Thanksgiving Island and Houses Design Ideas to inspire you.
Best Animal Crossing New Horizons Thanksgiving Design Ideas
Entering November, we ushered in the holiday season of 2020 when several holidays occur. After Halloween, the first big event we will meet in the Animal Crossing New Horizons is the Thanksgiving update, so it's time to turn your island and yourself into harvest festival appearance with some great Thanksgiving designs!
During the Thanksgiving season, it's fun to put together a series of fall designs to help liven up your festival atmosphere in your Animal Crossing New Horizons island. Such decorations can include anything from thanksgiving table design to wall art to thanksgiving themed pillows or furniture, also you could create a holiday feast with camping and farming theme items. Since there are so many ACNH Thanksgiving designs, we figured we'd give you a hand by listing a few options at your disposal and some considerations to keep in mind as you look to decorate your island in Animal Crossing New Horizons.
Related Read:
ACNH Thanksgiving Update - Turkey Day Event
ACNH Christmas Design Ideas - Best Xmas Path & Cloth Custom Design Codes
1. Setting Up Your Thanksgiving Table or Dining Area For Thanksmas Feast
Thanksgiving is a time to enjoy food with family and friends. There is no better time to have an outdoor or indoor holiday feast than other times around the year. To enhance the harvest festive atmosphere, the first thing you should do is build up a Thanksgiving table or special area for a dinner party. Add custom patterns and festival theme items to a wooden table to recreate a Thanksgiving holiday feast now!
ACNH Thanksgiving Table Design Ideas
Here we collected you some great Thanksgiving table setting ideas in Animal Crossing New Horizons:
ACNH Thanksgiving Table Design 1 (By @obstkhanisar)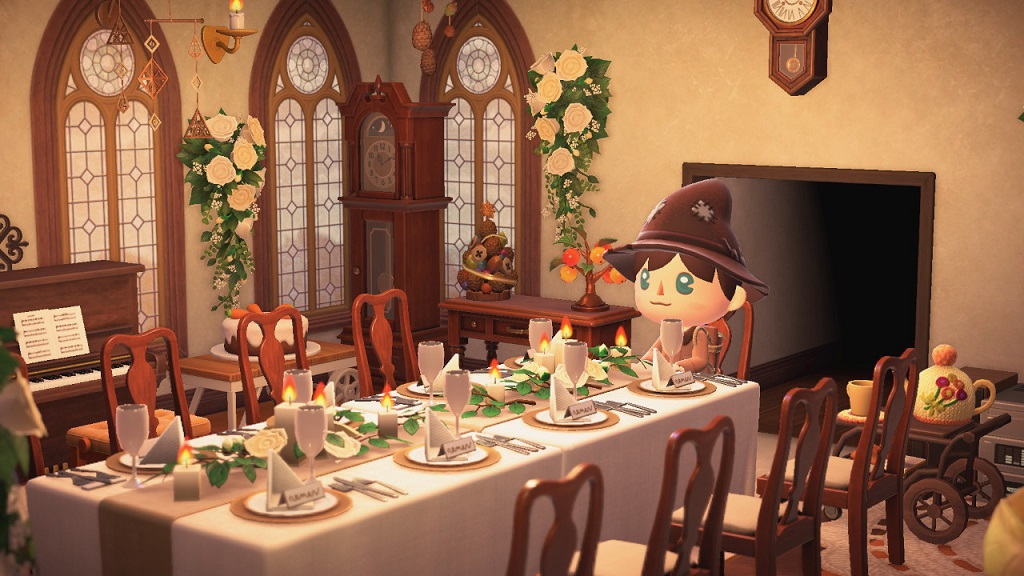 ACNH Thanksgiving Table Design 2 (By @GinaOfPearl1)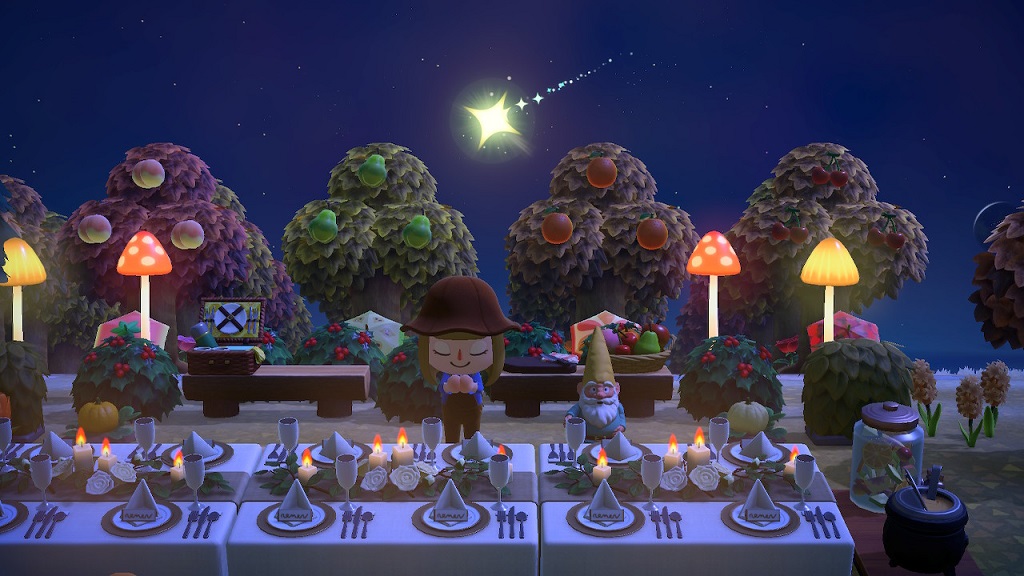 ACNH Thanksgiving Table Design 3 (By @jordan_polte)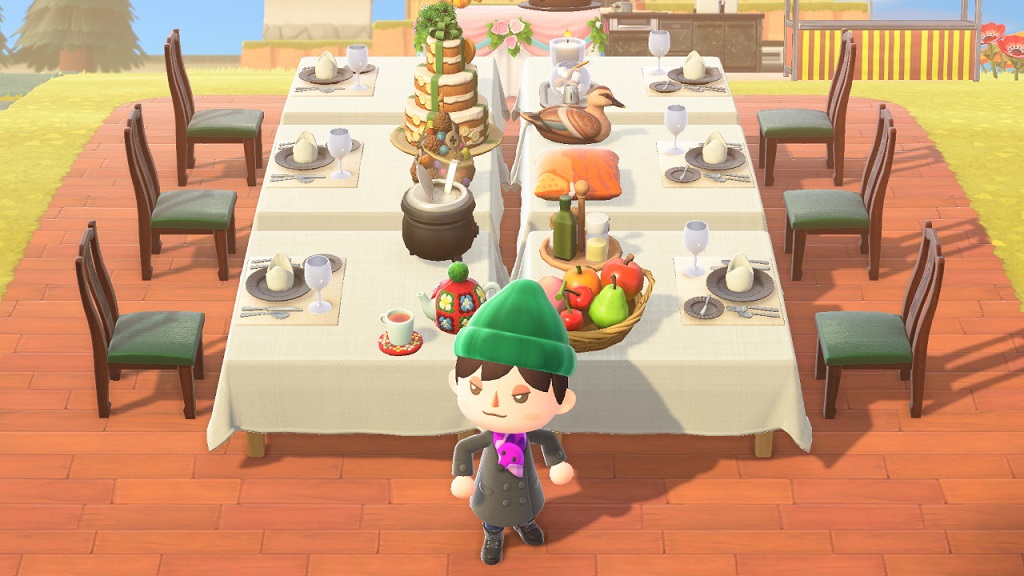 ACNH Thanksgiving Table Design 4 (By @lexdesmar)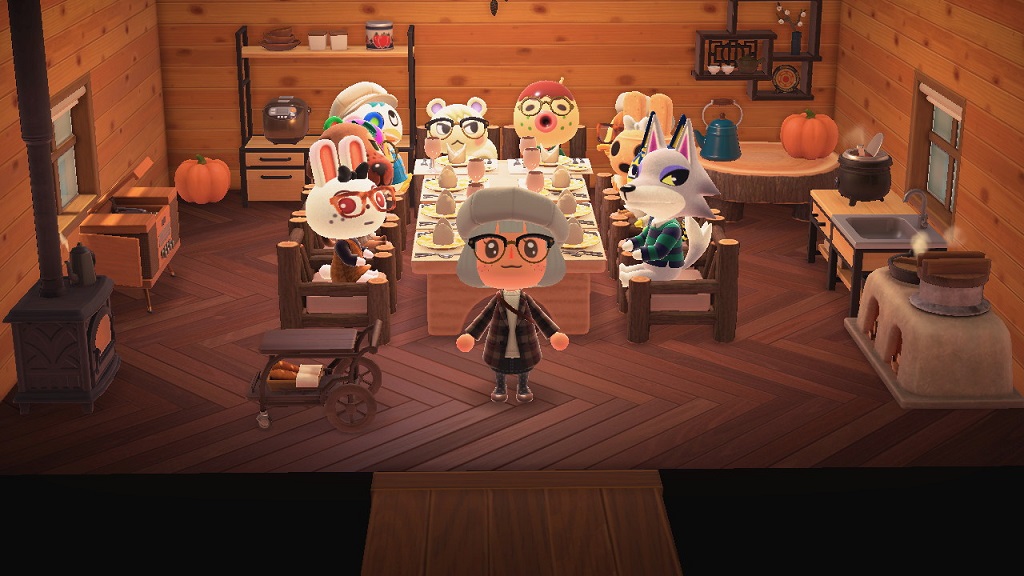 ACNH Thanksgiving Table Design 5 (By @PrettyPinkDuck)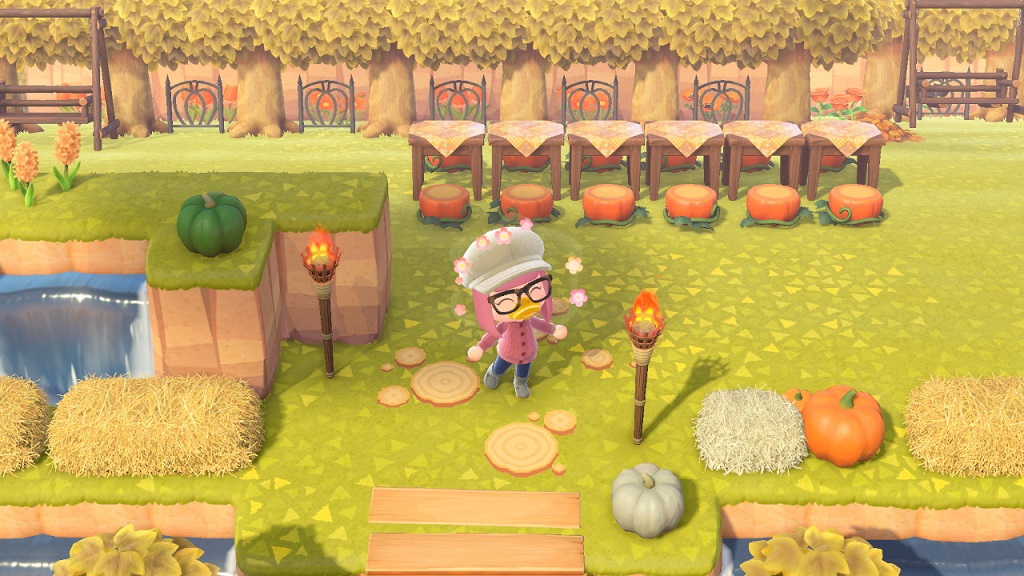 ACNH Thanksgiving Table Design 6 (By @MilaBearYT)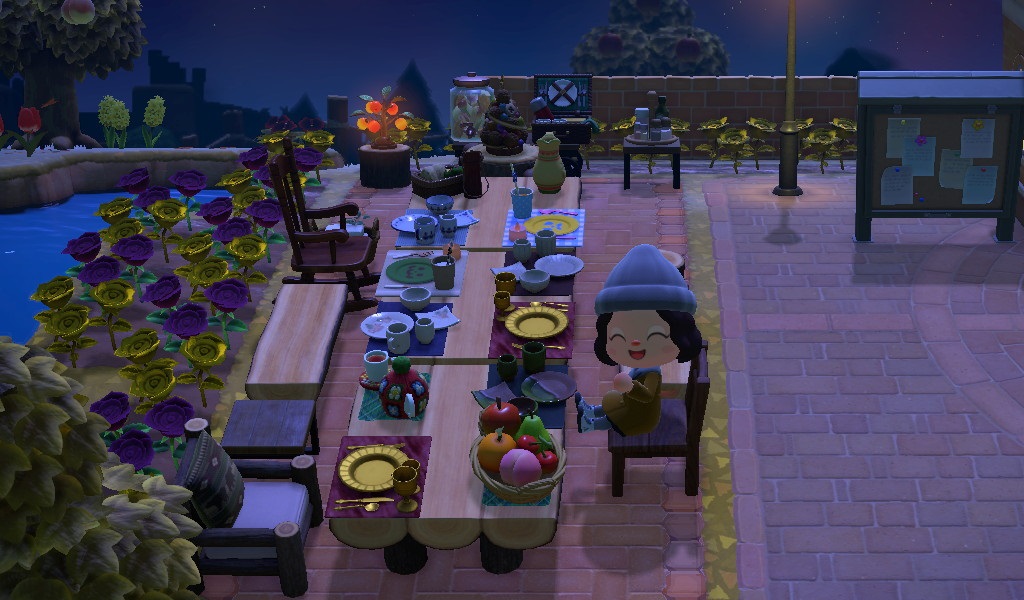 ACNH Thanksgiving Table Design 7 (By @CherryCoveAmy)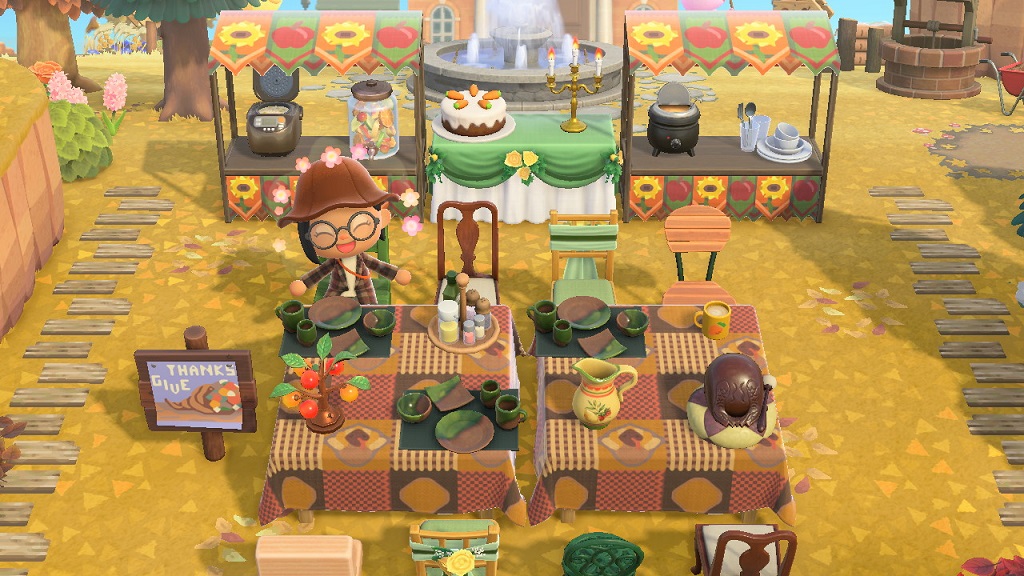 ACNH Thanksgiving Table Design 8 (By @magnolia.crossings on Ins)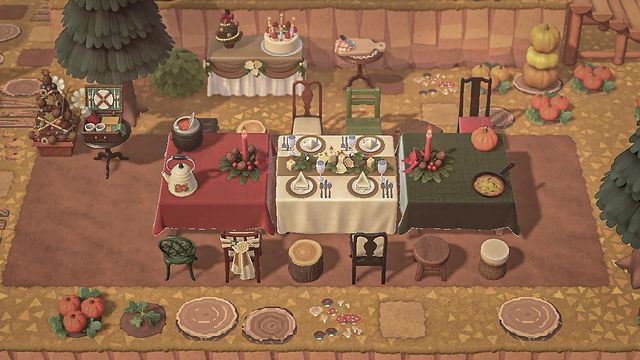 2. Use New ACNH Mush & Maple Leaves DIY Items To Decorate
Starting in November, mushrooms and maple leaves will available be collected on Animal Crossing New Horizons to be used for making some autumn special DIY items. And these ACNH items are also very suitable for ACNH Thanksgiving decorations. Don't forget to add these to the existing furniture and decorations to enhance the look and feel of their island.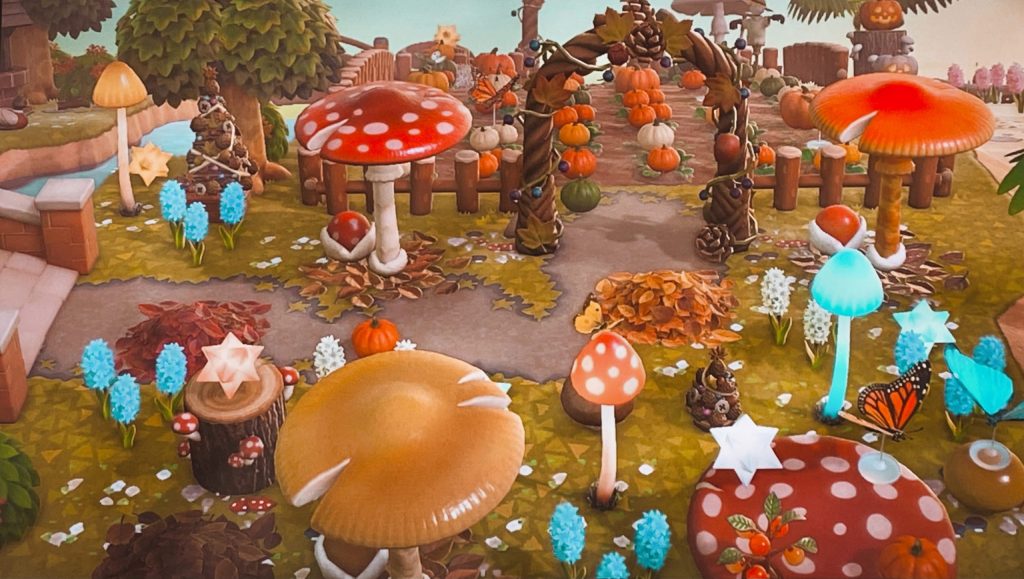 3. Use Warm Colors for Thanksgiving Decoration
When decorating for Thanksgiving, the first aspect you want to consider is autumn colors-usually warm colors. So, if you can find Thanksgiving decorations in colors like red, brown, orange, brown, black, or yellow then you're on the right track to a Thanksgiving themed home.
4. Use Retro, Traditional or Wooden Furniture and Decorations
Since Thanksgiving celebrates the pilgrims, most of the designs come in a traditional style. Therefore, the use of some traditional furniture is very suitable for the atmosphere of the harvest festival, such as the kitchen created with retro furniture. Of course, the log floor and the wall covered with vines can add a unique beauty to your house. What's more, don't forget to add some Thanksgiving wreaths & garlands, and other bedding.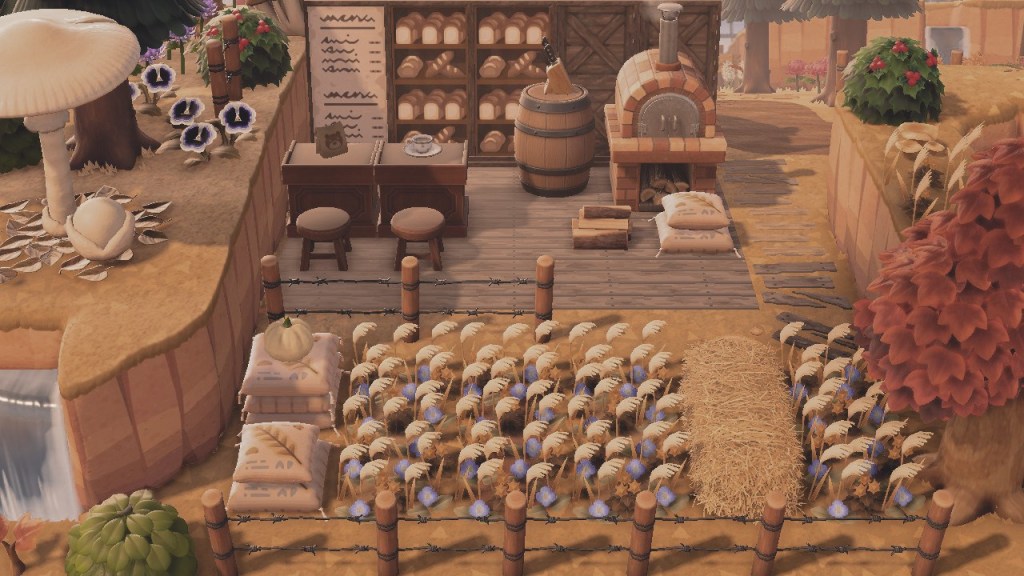 6. Create Campground For Bonfire Party Or Barbecue
Comfortable autumn, harvest season, take an autumn trip. This is the best season for camping. Place a cauldron near a campfire to build up an outdoor picnic area. Invite your villages or friends/family in real life to enjoy the autumn scenery and food together.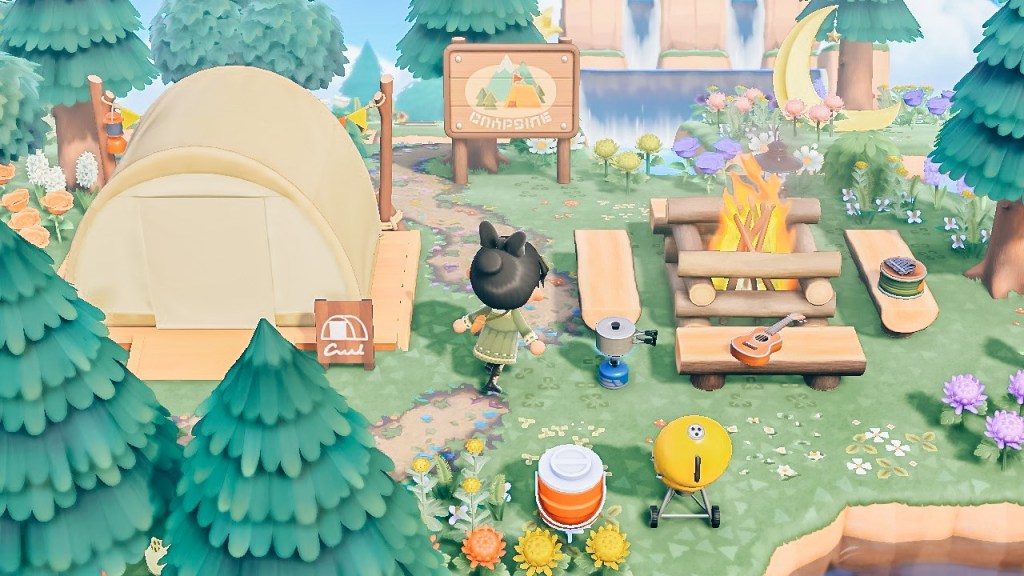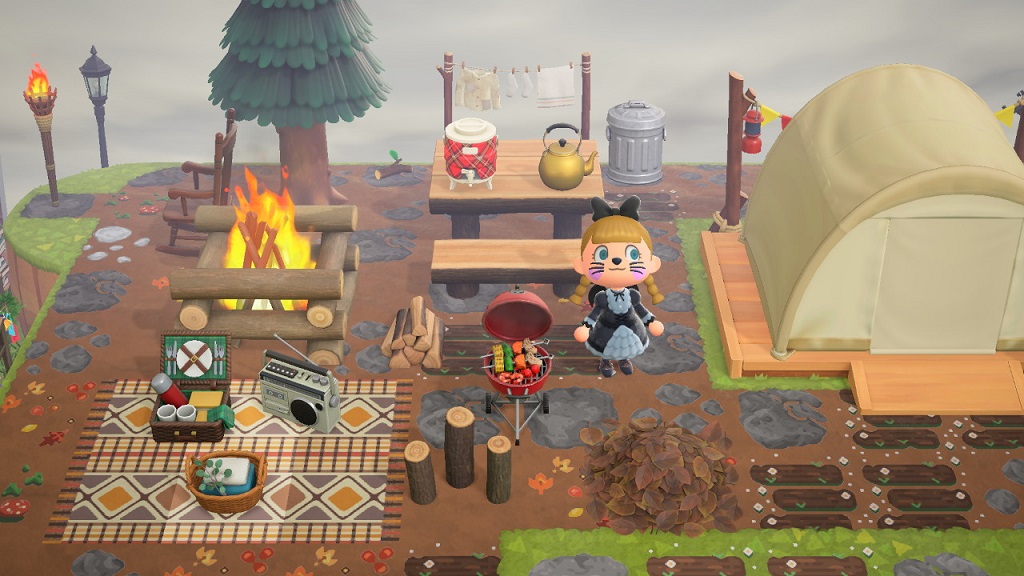 5. Build Up A Rustic Farm or Add Thanksgiving Theme
Of course, Thanksgiving needs to celebrate the harvest. Players can already find trucks and hay bales in the game to set up hay and apple picking. Fruitful orchards, farms full of plants and vegetables, and farmer's markets selling agricultural and sideline products may help to incorporate these holiday elements into the overall island design. Find wagons and bales of hay in the game to set up hayrides and apple picking, reserve a space on the island to rebuild a outdoor cozy area with fruit-themed furniture are both good ideas.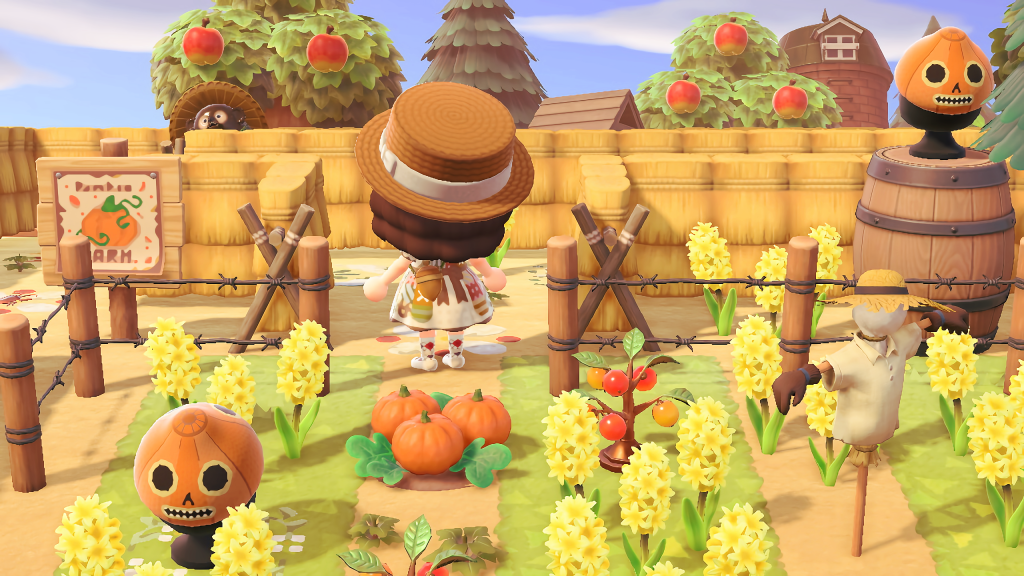 6. Use Thanksgiving Theme Custom Designs & Patterns
Using custom designs, players can find and use or create patterns that mimic the appearance of turkey, fallen leaves, and other textures. These can be applied to the ground, wall, path, furniture, costume, anywhere on the island and add to a Thanksgiving festival aesthetic.
ACNH Thanksgiving Patterns & Custom Design Codes For Floor, Path, Ground, Clothes
We will list some fabulous Animal Crossing New Horizons Thanksgiving Custom Design Patterns with Qr Codes for your reference, covering the best custom designs for paths, floor tiles, costume, and furniture. By using the below custom designs, you will easily achieve some impressive Thanksgiving harvest festival designs on your island.
1. Clear Path Fall Mush - Design Code: MO-H778-RY0S-930L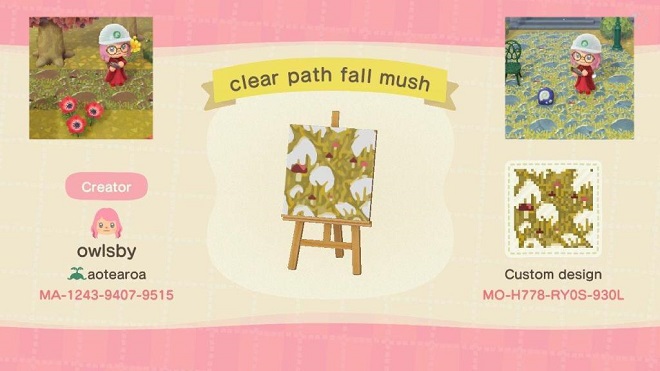 2. ACNH Custom Pattern For Food (Blinkie pie) - Design Code: MO-9QT5-QT3P-2MWW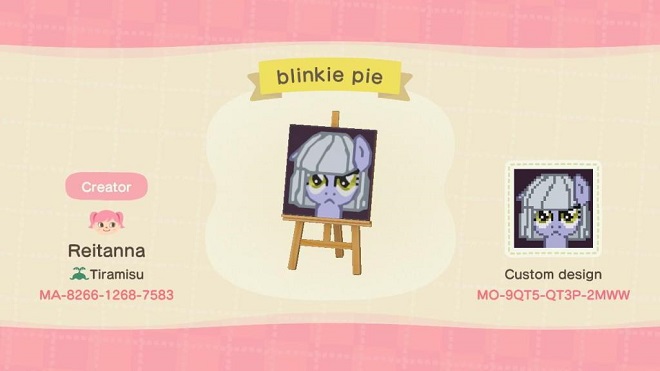 3. ACNH Thanksgiving Cake Design (stuffed pumpkin) - Design Code: MO-10HM-PT11-LNCG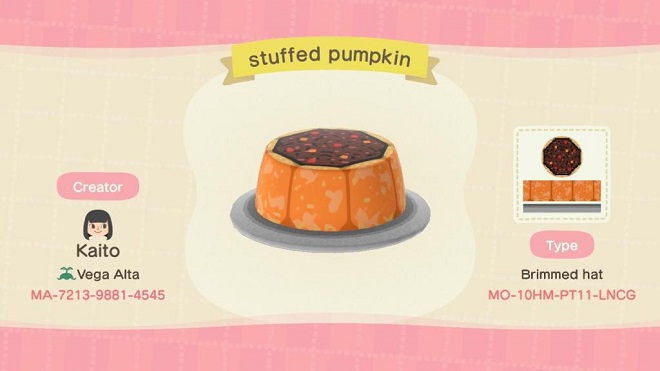 4. ACNH Thanksgiving Cake Design (Cherry Pie) - Design Code: MO-TG0M-H40B-FB98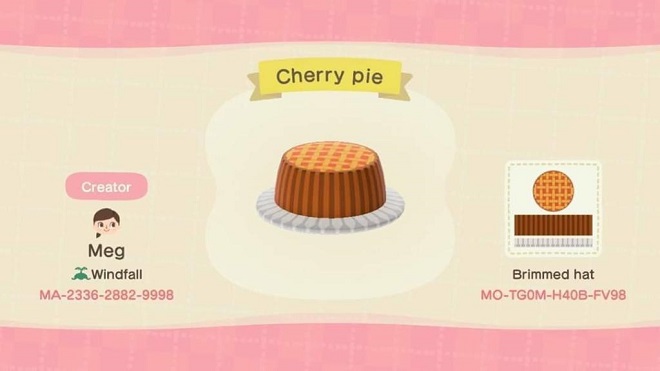 5. ACNH Thanksgiving Dress Design (Elizabeth Bioshock C) - Design Code: MO-8JKF-N0NK-BML5
6. ACNH Sunflower Pattern - Design Code: MO-K3LF-T1YW-XBM7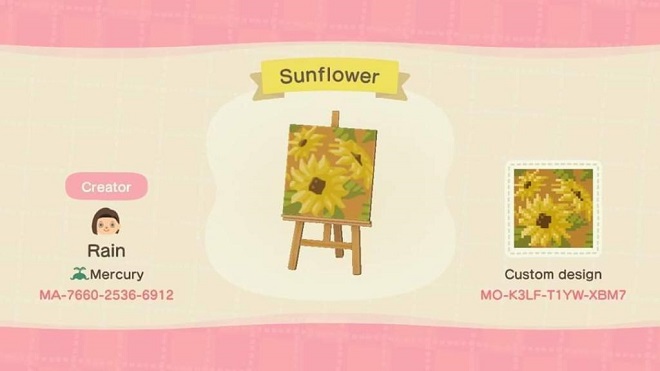 7. ACNH Thanksgiving Decoration Design - Design Code: MO-7Y0B-V7W8-S5NQ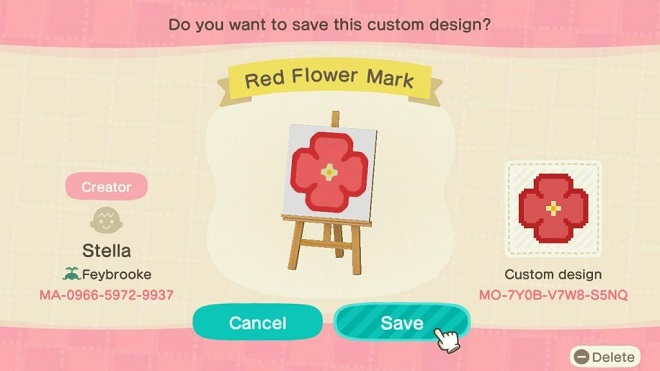 8. ACNH Thanksgiving Récolte (Harvest) Dress - Design Code: MO-4D6K-RB6Y-G90T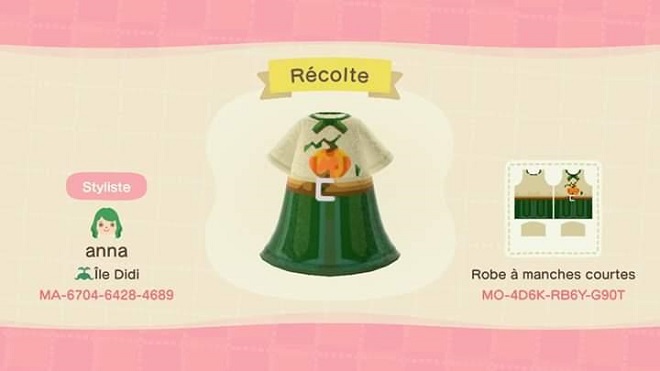 9. ACNH Thanksmas Feast Sign - Design Code: MO-7JX4-CD7D-MHL3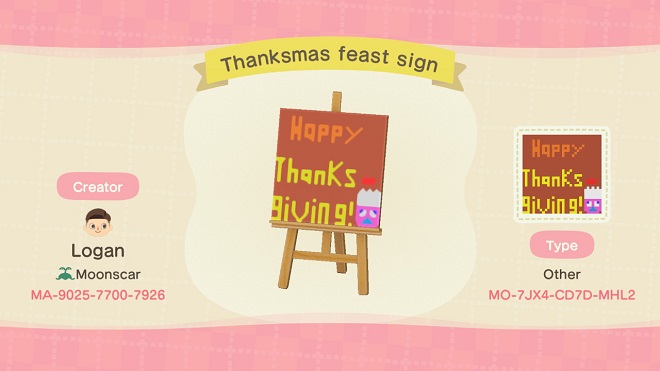 10. ACNH Thanksgiving Doormat Base - Design Code: MO-3QK6-N9H0-SM67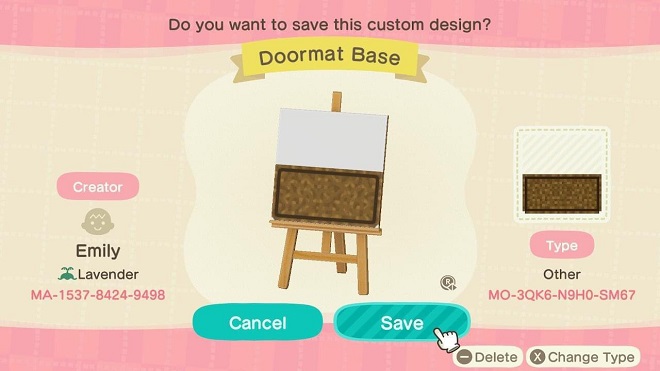 11. ACNH Thanksgiving Hand-Turkey Jumper - Design Code: MO-47P7-G2JQ-2HCD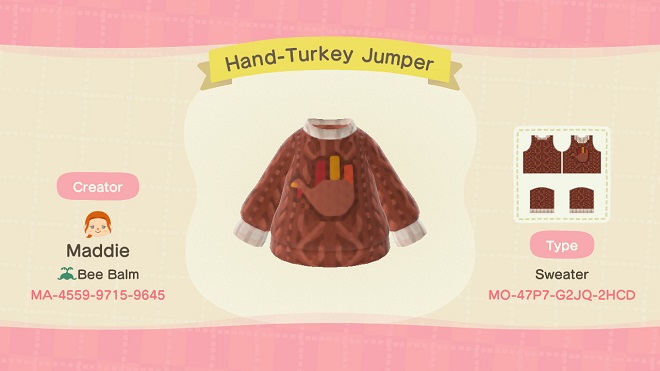 12. ACNH Turkey Sweater - Design Code: MO-49SW-CXRG-QPXX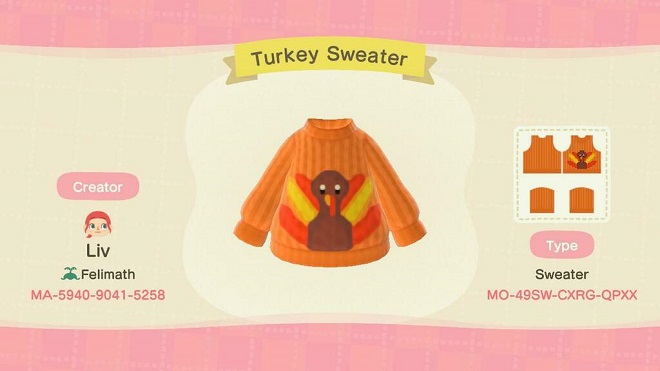 More will be updated here.