November Top 10 Most Popular Villagers In Animal Crossing New Horizons - Best ACNH Villagers November 2020
11/20/2020 3:36:04 PM
Time to share the list of November's top 10 most popular villagers in ACNH!
New result of voting your favorite ACNH villagers has been updated, who do you think is the most loved villager by players for November in Animal Crossing? Here we list the top 10 most popular villagers for November 2020, including Marshal, Raymond, Sherb and more!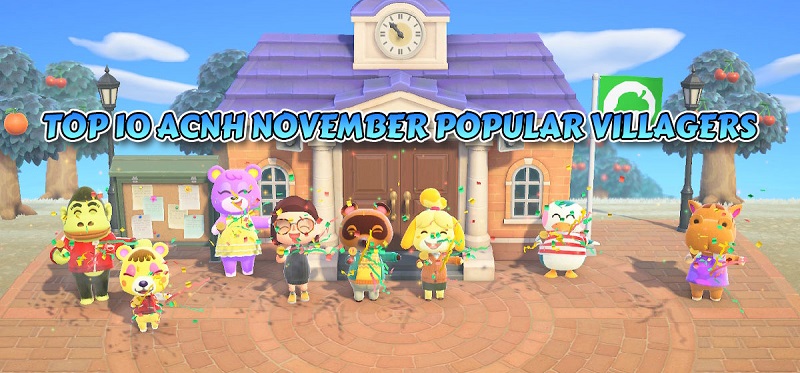 Animal Crossing Best Villagers Tier List November 2020

As you know, the list of the most popular ACNH villagers is changing every month due to their tastes are changing alongside with the seasons moving up. This month is no different, and the Animal Crossing community has already voted on who the most popular villager is.
There are six tiers of popularity, with Villagers in the top tier being the most valuable/sought and worth between 15-20 million ACNH Bells, or a few thousand Nook Miles Tickets. While the list shows which villagers are the most popular. The list will update twice a month, every 15th, and the end of the month (30th or 31st), so you can check the popularity list at the right time and make the best villager trade.
ACNH Tier List and Values (Updated 11/20)
Click here to check the full list of Animal Crossing villager popularity list and vote for November's poll.
Tier 1 (highest popularity) - Max worth 15-20M Animal Crossing Bells/1000 NMT
Tier 2 (very popular) - Max worth 8M Bells/100 NMT
Tier 3 (middle ground) - Max worth 5M Bells/50 NMT
Tier 4 (fairly popular) - Max worth 1 M Bells/25 NMT
Tier 5 (less popular) - Max worth 250K Bells/10 NMT
Tier 6 - Often giveaways
November Top 10 Most Popular Villagers In Animal Crossing New Horizons
Thanks to the lovely lists of animalcrossingportal.com and all who voted for them, we will be able to find out which wonderful critters have put you under their spell this month and which one is tiering up to the leaderboard of the most popular villagers for November. Below is the list of top 10 Animal Crossing popular villagers in November. We also explain what makes these critters so popular.
Top 10 - Stitches
This month, Stitches has stuck around exactly where he was in October. This Villager is a scary amalgamation of multiple teddy bears, all sewn together into one. It's thought that his personality is a mixture of all of those bears. As a lazy personality type it's pretty safe to say that Stitch's cheerful disposition makes him pretty popular with players, but combine that with his colorful coat and unique house interior which is full to the brim with toys and you've got one lush plush for your collection. Overall, Stitches is one of the more extravagant villages in the game in terms of character design and colouring at least, so it really should come as no surprise that people can't bear to not have him on their islands.
Top 9 - Bob
Bob becomes one of the most popular villagers for November 2020 in AC. He has risen up from tier 2 to tier 1. He is the type of purple cat you can go out with. He can go out to eat party in the club, he can crash on your couch and then when you wake up in the morning he's already gone with a cup of coffee in his hand. He's respectable, he's chill and of course a lazy villager.
Top 8 - Beau
Beau was one of the most hated villagers in Animal Crossing. Unfortunately, this is just part of his personality. Luckily he doesn't hold on to grudges for long when you call him out on being so nasty, because he has a terrible short term memory. As long as you're polite and move along quickly, you should be able to cope with him being on your island. But for this month, he's a big hit among deer lovers, and that's the most likely reason for him to be risen up from number 12 to top 8.
Top 7 - Marina
This month Marina has finally beached at number 7 in the charts. This lovable octopus is the embodiment of cuteness, her soft pink colour scheme is super sweet and it's accentuated by her big light yellow cheeks, the wisp of pink hair atop her forehead and the small pink bow on the back of her head which ties the whole look together. It's not just her outward appearance that's cute though Marina takes her strawberry pink persona and themes, her whole existence around it and if you go inside her custom house you'll find it decorated with water wall with soft baby pink furniture that perfectly suits her pure personality. Marina is by far one of the cutest villagers in the game, so as soon as you get the chance hop on a November bus to a mystery island tour and hunter down as quick as you can.
Top 6 - Judy
Judy's position has risen up from number 7 to 6. She might be another new villager to the series but she's certainly not new to this top 10 chart and you'll often find this fabulous villager shining away like a pair of demon earrings in the middle of the list. Judy's highest point on this popularity list was back in May when she charted at number 2. She's been consistently popular since the game's launch. The reason for that is her eyes. No other Villager has eyes like hers. They make her a bit of a unicorn, though she's actually a bear, to be clear. Most players want to collect her so that they can gaze at those beautiful eyes whenever they want. Part of me thinks that some players would put them in a jar and keep them on a shelf if they could.
Top 5 - Erik
The lovable moose villager is sticking around in the top 10 and this time he's up from number 6. Eric is your classic cute villager with a character design that sticks closely to the animal that inspired him. His likeness to a moose really is uncanny, but for those of you who are resting your pumpkin pies on him for the first time it's bound to be love at first bite, the natural brown coloring of Eric's fur matches that of a real elk and it gives way to an orange-brown streak that leads from between his big cute eyes right down to his snout, while the sandy coloured tuft of hair on his forehead perfectly matches the coloring of his antlers. Now, normally you'll find Eric lounging around keeping toasty warm in a comfy sweater.
Top 4 - Zucker
The super octopus chef is still stuck in fourth position this month. When it comes to imaginatively designed villages, Zucker has to be one of the very best in the game and he is of course based on the famous Japanese seafood snack. He's one of the three octopus Villagers in the game. Some players like to collect all three octopus Villagers, which is likely why Zucker has seen a small surge in popularity. Having a lazy personality type means that Zucker will rarely lose his tempura with your other villagers, so if you sushi Zucker on a mystery island tour make sure you invite him to stay with you asap otherwise you'll miss out on a which is brutiful friend.
Top 3 - Sherb
The goat's position in the Villager popularity list hasn't changed this month. He's still the third most loved villager for November. Just like Raymond, Sherb is one of the 8 brand new villagers in the game so that means sure better believe you're going to need to track him down or trade for him if you want him because you won't be able to use amiibo cards to summon him to your island. This blue boy is by far one of the purest and cutest characters in the game and the interior of his house which is furnished with numerous items from the cubesat completely complements his adorable personality. Sherb is a lazy villager, his favorite pastimes are relaxing and eating and you'll often find him either snuggled up at home in his signature winter sweater or out. You'll never find this Villager getting stressed out, which is something I suppose most players aspire to.
Top 2 - Marshal
The tailed Squirrel Marshal has been hovering in the first and second place in the Villager popularity list over the course of the year. Now in the most popular Villagers for November 2020 list, we find him at the top 2. He's made a real road decent in your savings if you decide to buy him from the AC black market. Marshall is a returning character from New Leaf and thanks to his incredibly cute looks, he's always been a tough nut to crack when it comes to being knocked out of the top 10. Despite his constantly frowning facial expressions, this smug squirrel is a sweetheart, he's always leave a smile on your face when you talk to him, not only that but his soft fluffy tail mimics the look and feel of a squishy Marshmallow too. And thanks to his personality type, he should get on with pretty much all of the animal pals on your island.
Top 1 - Raymond
Raymond back at the number one spot after being rudely interrupted by Marshal and Erik for a short while. Since Animal Crossing: New Horizons launched, Raymond has been a favourite character among players. He is a one-of-a-kind kitty and that means collectors aren't able to use old amiibo cards to import him into the game, more than that though are his unique traits including his complete heterochromia - a condition where the iris of one eye is a different colour to the iris of the other eye and his personality type which is one of a kind as he's the only cat character in the Animal Crossing series to have the smug personality type with individual contributes.
We now know exactly which villages are the current 10 most popular for the month of November in Animal Crossing New Horizons, do you agree or is your most adored Animal absent?