ACNH December Update - New Items & Changes in Animal Crossing New Horizons December & Winter
11/18/2020 11:46:57 AM
With the release of the ACNH Winter Update trailer, we have a more clear understanding of the upcoming events and features in the following days. The first big event after you download version 1.6.0 is Turkey Day on November 26, what we'll focus on in this article is the ACNH December update, featuring Toy Day event, new seasonal & festive items, and changes.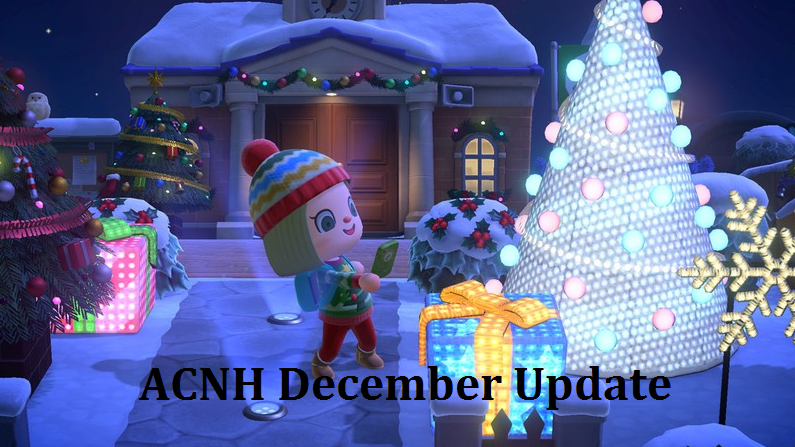 Related Read: How to Get Snowflakes & Ornaments Fast in ACNH
ACNH December Update - Animal Crossing New Horizons Toy Day Update
The Toy Day is confirmed to arrive on December 24, 2020, with the arrival of black-nosed reindeer, Jingle. This holiday is based on Christmas and the villagers will talk about it for weeks beforehand. During Toy Day in New Horizons, Jingle will visit your island, if you are wearing a set of Santa clothes, he will ask you to deliver presents to villagers. So you should buy the Santa costumes in Able Sisters with ACNH bells before the festive, and talk more with your villagers to know about what they want as a gift. If you give the presents correctly, not only can you get a satisfying reply from villagers, but also Jingle will reward you with a piece of furniture from the Christmas (Jingle) set.
ACNH December Items - New Nook Shopping Seasonal Items & Festive Items in December
Each season, there are different seasonal Animal Crossing New Horizons items available in ACNH Nook Stop for a limited time. From December 1st, players in the Northern Hemisphere can buy the "Mafuyu Sweater" and "Aurora Kabe" through Nook Shopping service with your nook miles, and the players in the Southern Hemisphere have the "Sunflower Hanakanmuri" and "Sunflower Rug" to choose. It seems that the seasonal items for the New Year holidays are also lined up, so keep an eye on the Nook Stop and the latest news.
In addition, the Toy Day series items will come out in December for celebrating Christmas Day, players can get the Christmas furniture at Nook's Cranny or buy them at akrpg.com once it's available.
ACNH December DIY Recipes - Seasonal Materials and Recipes Available in December
Pinecone: September 1 to December 11 (North)
Acorn: September 1 to December 11 (North)
Snowflake, Large Snowflake: December 11 to February 24 (North)
Blue Ornament, Gold Ornament, Red Ornament: December 15 to January 6 in North and South
Tree's Bounty Little Tree DIY Recipe: September 1 - December 10 (North)
Snowflake Recipe: December 11 to February 24 (North)
Ornament DIY Recipe: December 15 - January 6 (North and South)
ACNH December Changes - Animal Crossing New Horizons New Features in December & Winter
After the free update, what we can get in this winter?
- Storage Expansion. Players who have completed the extension of their own home to the maximum and have paid off the loan can increase your storage capacity to 2400, which allows you to store more beautiful furniture and Animal Crossing items.
- New reactions. A total of 9 new reactions will be added into the ACNH version 1.6.0, including Sit Down, Wave Goodbye, Take a Picture, Sniff Sniff, Workout, Yoga, Here You Go, Excited and Ta-da, you can get new reactions by purchasing Hip Reaction Collection with your Nook Miles.
- New Hairstyles. You can add 6 new hairstyles with Nook Miles.
- Save Data Transfer. You can transfer your whole island or the data of one player on your island to a different device.
- Dream Address update. Luna will show you one of the dream islands that you have gathered, you can feel free to dream even if you don't know the dream address.
For more details, please head over to our individual event guide.