New ACNH Toy Day Items - How to Get Christmas Toy Day Set Items in Animal Crossing New Horizons?
12/3/2020 11:43:40 AM
The exciting Toy Day is really coming! At the end of December, every player in Animal Crossing New Horizons can enjoy the Christmas Day festivities and has the chance to receive the new ACNH items and gift from Jingle. Today, akrpg.com is going to present all the revealed ACNH Toy Day items (toys) and how to get the Christmas set furniture in the game.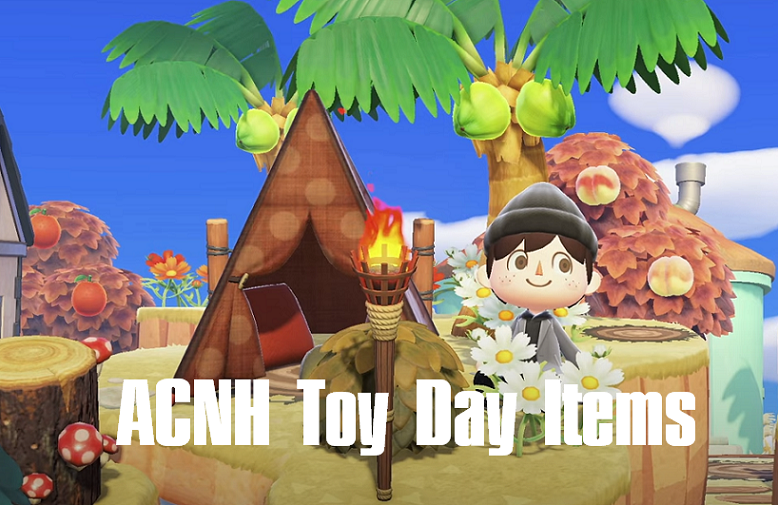 Animal Crossing New Horizons Christmas Toy Day Set Items
When you load up your game in early December, Isabelle will notify you that Santa is on his way to your island for the toy day event, this is the first sign for the upcoming festival. However, the most exciting thing should be the new ACNH Toy Day items that are sold in Nook's Cranny. Prepare enough Animal Crossing New Horizons bells to get the limited toys available for a limited time. What cute toys and furniture items can you get?
List of ACNH Toy Day Items and Toys
Check out the list of ACNH Toy Day furniture set with the prices, each item has multiple colors or variations.
Dinosaur Toy (Gray/Orange/Green/Blue/Red) - 2400 ACNH Bells





Dollhouse (Red/Brown/Blue/Orange/Green/Pink/Purple) - 4000 ACNH Bells







Kids' Tent (White/Pink/Black/Sky Blue/Yellow/Blue/Brown/Red) - 4500 ACNH Bells








Mini Circuit (Red/Green/Yellow/Blue) - 3800 ACNH Bells




Pop-Up Book (Red/Purple/Grey/Blue) - 2000 ACNH Bells




Puppy Plushie (Tricolored/Spotted/Red/Pink/Lemon & White/Gray & White/Black/Beige) - 2400 ACNH Bells








RC Helicopter (Blue/Red/Yellow/Green/Pink/Sky Blue/Purple) - 3600 ACNH Bells







Tin Robot (Grey/Blue/Red/Orange/Yellow/Green/Purple/Black)- 3500 ACNH Bells








Set of Stockings (Red/Pink/Sky Blue/Blue/Brown/Grey) - 2000 ACNH Bells






List of ACNH Christmas Santa Costumes/Items
You don't have to make essential preparations for Toy Day, it works in simple way this year, but you can choose to buy and wear a set of Santa outfits for increasing the feeling of the festival.
reindeer costume (Brown)
reindeer hat (Brown)
Santa beard (White)
Santa coat (Red)
Santa hat (Red)
Santa pants (Red)
How to Get ACNH Toy Day Items?
1. From December 1 to December 25, 2020, you can buy any Animal Crossing New Horizons Toy Day items for sale at the upgraded Nook's Cranny with your bells.
2. There will only be one variation of each Toy Day item sold at the store of your island, so if you don't like the one sold at your shop, you need to visit other islands with ACNH nook miles tickets and trade with other players online.
3. All Toy Day items in ACNH can be re-ordered from Nook Shopping, so you can ask for your friends to order the item and send you as a gift.
4. From December 1 to December 23, you can buy the Santa costumes and wear the whole set during Toy Day.
5. At any time, you can purchase ACNH Toy Day set furniture and Christmas items in all variations with cheap prices at akrpg.com, you can find these items in our ACNH New Items category. You can enjoy 8% off discount to buy ACNH items with AKRPG Christmas promo coupon "XMAS".