ACNH How To Farm Balloons For DIY Recipes - Best Balloon Tricks In Animal Crossing New Horizons
1/11/2021 3:27:08 PM
Are you struggling with trapping balloons in Animal Crossing New Horizons? Most of the seasonal DIY recipes spawn from balloons, therefore, it's not as simple to track balloons as you think. Today, we will share amazing tricks and tips about how to farm balloons for rare DIY recipes in Animal Crossing New Horizons.
ACNH Best Balloon Tricks - How To Get Balloon Spawns In Animal Crossing New Horizons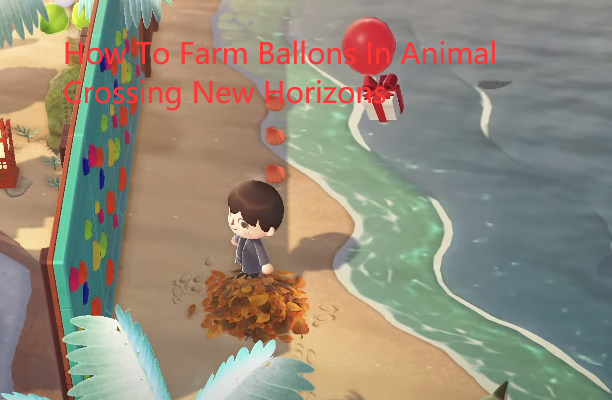 Creating Giant And Long Wall On Your Beach
For the Animal Crossing balloon spawn, the first thing you need to do is creating a giant vertical wall along one stretch of your island. Either you going to craft a bunch of gel bars or purchasing many climbing walls. As a matter of fact, ACNH balloon farming trick is when balloons get too close to a tall object like Nook Cranny, they will divert their path to avoid them. Take advantage of these tips to trap balloons, create a long wall without gaps along the beach where balloons appear from and effectively force them to travel all the way down this wall, ending up at the bottom where our character can wait. The balloon that you hunted will make their way down to the bottom, at last, you can shoot down the balloons in order to farm DIY recipes.
If you spend a lot of time there farming balloons, the balloons seem to spawn every five minutes. The first most important thing is to determine the direction of the wind, as this is where the balloons will fly in from.
Tips for getting balloons in Animal Crossing New Horizons
An easy way to do this is to check which direction the smoke from a village's chimney is blowing.

Once you've figured out the direction, this is the beach you'll set your wall upon.

What's more, the direction of the wind will change sometime around 6 to 7 pm.

It can be particularly difficult to set the wall up on a beach that's already decorated or is surrounded by many cliffs.

Furthermore, the balloons won't avoid cliffs instead fly over them. So don't waste your time thinking they can stop the balloons in tracks.

ACNH good balloon track tip is to turn up the volume of your game so you can hear the sound of the balloons flying in order to get ready.
What Do You Need For Farming Balloons In Animal Crossing New Horizons
You will need at least 30 of each gel bars and the climbing wall item. On the one hand, Gel Bars using the DIY Recipe for 5 iron nuggets to get. On the other hand, Climbing Wall costs 4 300 ACNH bells to get. Make sure the wall you build is solid enough, don't leave any gap in case the tricky balloons sneak through.
Is It worth To Trap Balloons In Animal Crossing New Horizons?
Honestly, it depends on what type of player you are. If you're cool with getting the limited seasonal DIY recipes at your own pace then it's probably not worth it. It will take a lot of effort to craft gel bars and many Animal Crossing bells to buy many climbing walls.
However, if you are looking to hunt rare balloon exclusive DIY recipes down, this easy ACNH balloon spawn trick seems perfect for you. The truth is not every balloon contains seasonal recipes. Fortunately, you should be finding quite a few due to the sheer amount of balloons that you will be able to shoot down. This is especially good if you don't time travel and you're running out of real-time in order to collect recipes. Mostly, it will take a long time to get hold of these recipes. Once they've stopped, it will take a year to get again as usual. The only method to get rare DIY recipe is to farm balloons in Animal Crossing New Horizons. Unless you get lucky and manage to trade with someone else.
What Can You Get Via Shooting ACNH Balloon
There are a lot of fantastic seasonal recipes to collect in-game currently, you can collect them fast after the easy Animal Crossing balloon trap. For example:
Blossom-viewing Lantern: Cherry-blossom petal 6, hard wood 4

Cherry-blossom-petal Pile: Cherry-blossom petal 5

Cherry-blossom-branches: Cherry-blossom petal 8, tree branch 4, clay 5

Outdoor Picnic Set: Cherry-blossom petal 10
Even if you don't care about the DIY recipes, balloons can contain a bunch of different fun ACNH items that you might enjoy. At sometimes even a whole bunch of bells you can get from balloons. After complete nook mile tasks for shooting down lots of balloons, you can get the recipe for the golden slingshot.
After reading how to farm balloons tricks in Animal Crossing New Horizons. It will allow you to efficiently trap balloons and make it easier to farm balloons for the rare DIY recipes and make your life in Animal Crossing more interesting.