ACNH Festivale Event Guide & Update 2021 - Festivale Dates, Items, Rewards and More in Animal Crossing
1/13/2021 9:25:39 AM
The next update coming to Animal Crossing New Horizons is ACNH 1.7, which is set in late January. One of the confirmed events included in the ACNH January update is Festivale, it is teased by the appearance of Pave in the trailer of the winter update. What can we expect in ACNH Festivale 2021? In the ACNH Festivale event guide & update, we'll bring the dates, items, Pave series rewards, feathers, mini-games, and new features for Festivale in New Horizons.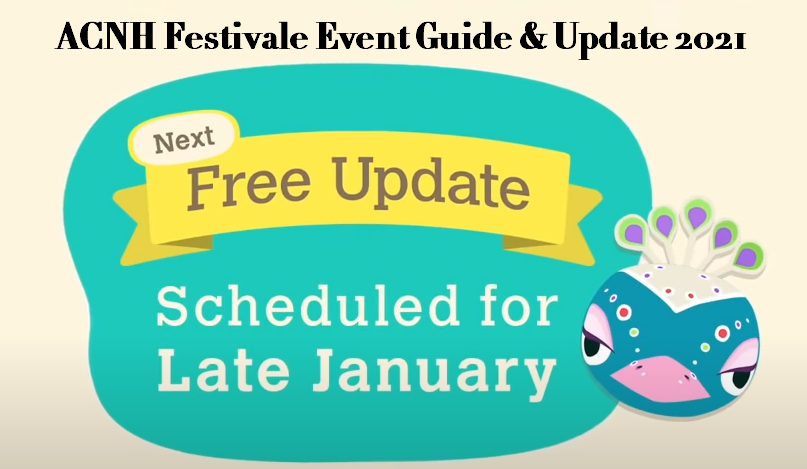 Animal Crossing New Horizons Festivale Dates
Festivale is a Spring event first introduced in Animal Crossing City Folk and also available in New Leaf and New Horizons. It occurs in February or March and the actual date is varying in different years. In previous games, Animal Crossing Festivale often took place on the day before Mardi Gras in the real world, so we expect the ACNH Festivale update to come on February 15, 2021, or February 16.
What we need to note is that the Festivale is probably time-locked in New Horizons, which acts similarly to Turkey Day and Toy Day, this means you can't try to access the event through time travel, you can only get started until the real-world time arrives.
Animal Crossing New Horizons Festivale Pave & Activities (Mechanics)
Pave is a peacock of green, yellow, purple, and turquoise coloration. He is the character who hosts Festivale, during the event, Pave shows off his colorful and bright feathers and dances through the entire celebration while rewarding players with limited time Animal Crossing items in exchange for feathers found around the town.
Festivale confetti - During the Festivale celebrations in previous AC games, the entire town is filled with colorful confetti that falls from the sky, there is a good chance this will return to New Horizons.

Festivale feathers - One of the mechanics of Festivale event in New Leaf is the colorful feathers that will be falling from the sky amongst the confetti, there are eight different colored feathers the players can get: red, pink, blue, green, yellow, white, purple, and rainbow. If you collect the correct number of the specific color of feathers requested by Pave, or catch rainbow feathers, Pave will reward you with a piece of furniture from the Pave series and a dance.
How to get feathers? Players have to catch feathers with a net, so you can stock up on some nets for catching more. Playing mini-games will make you win or lose feathers. Trading is a good idea if want to get right feathers.
Festivale Mini games - Mini games were applied in both City Folk and New Leaf, rather than just hanging around the plaza or just referencing the holiday when chatting to them on your daily rounds, villagers often want to play one of the several mini-games with players. The past mini-games including Imaginary Soccer, Rock, Paper, Scissors, Coin Toss, Charades, Made Ya Look, and more. Playing mini-games makes the event feel more fun and immersive.
Animal Crossing Pave Series - ACNH Festivale Items
Here we can see the Pave series from previous Animal Crossing, it's most likely that a new furniture set will replace them in New Horizons, the list of ACNH Festivale furniture items will be updated here once it's released.
Pavé Bed
Pavé Bookshelf
Pavé Bureau
Pavé Chair
Pavé Chest
Pavé Closet
Pavé End Table
Pavé Floor
Pavé Lamp
Pavé Sofa
Pavé Table
Pavé Wall
Pavé Clock
ACNH Festivale Predictions - New Reactions, Costumes & DIY Recipes
1. Pave loves to show off his dance moves and feathers at any chance, Mayor Mori thinks what to be expected from a peacock maybe the dance reactions. The game has expanded its default emotions and reactions inventory by adding some new scary reactions from Halloween, and more reactions were added in the last winter update. So this is a possible new feature in the ACNH Festivale event, even though there is no evidence to support it.
2. Another new feature that may be added to ACNH Festivale is carnival costumes because Festivale is based on real-world carnival celebrations and Pave always dresses up as bright and colorful as possible in a variety of amazing clothes. It's likely that we can see some new carnival-themed ACNH clothing items added for the event, and it could go either way, unlocking by taking part in the event or buying with ACNH bells.

3. Even though Nintendo has not leaked any information about the Festivale DIY Recipes, the crafting DIYs are a big feature in New Horizons and almost every festival throughout the year.