Animal Crossing Crafting Guide - How To Craft In New Horizons
1/12/2021 4:56:41 PM
Crafting isn't completely new to the Animal Crossing series, but hopefully, New Horizons does it right. we've known for a while that we'll be able to craft furniture, but we haven't seen too much about it. the direct gave us a small peek into what we hope is going to be a well thought out perfectly implemented mechanic in New Horizons. and not the poorly executed mechanic that we experienced in Pocket Camp. when you arrive on the island, one of the first objectives you have is finding resources. so you can craft tools to find more resources, so you can craft better tools to find better resources, so you can then craft more tools to find more resources. it's a vicious cycle but rewarding. we don't know too much about how we get new crafting recipes, we have been told sometimes animal villagers will give you the ability to craft new items.

In New Leaf, when you talk to the villagers occasionally they will ask you to build a certain public works project. so it seems this similar idea was implemented into New Horizons as well. we can purchase a couple of DIY cards from Timmy, this specific card gives us a recipe for the simple DIY workbench. maybe some cars are for specific big crafting items like the workbench or other tools and other cars are for furniture series. well, we need multiple cards to be able to craft an entire series of furniture. And there is also a lot of Animal Crossing DIY recipes online you can refer to. pass games have always made collecting the entire furniture series a long process. certain furniture items were only available at special times like when red came to town or the crazy expensive furniture series at Gracie Grace.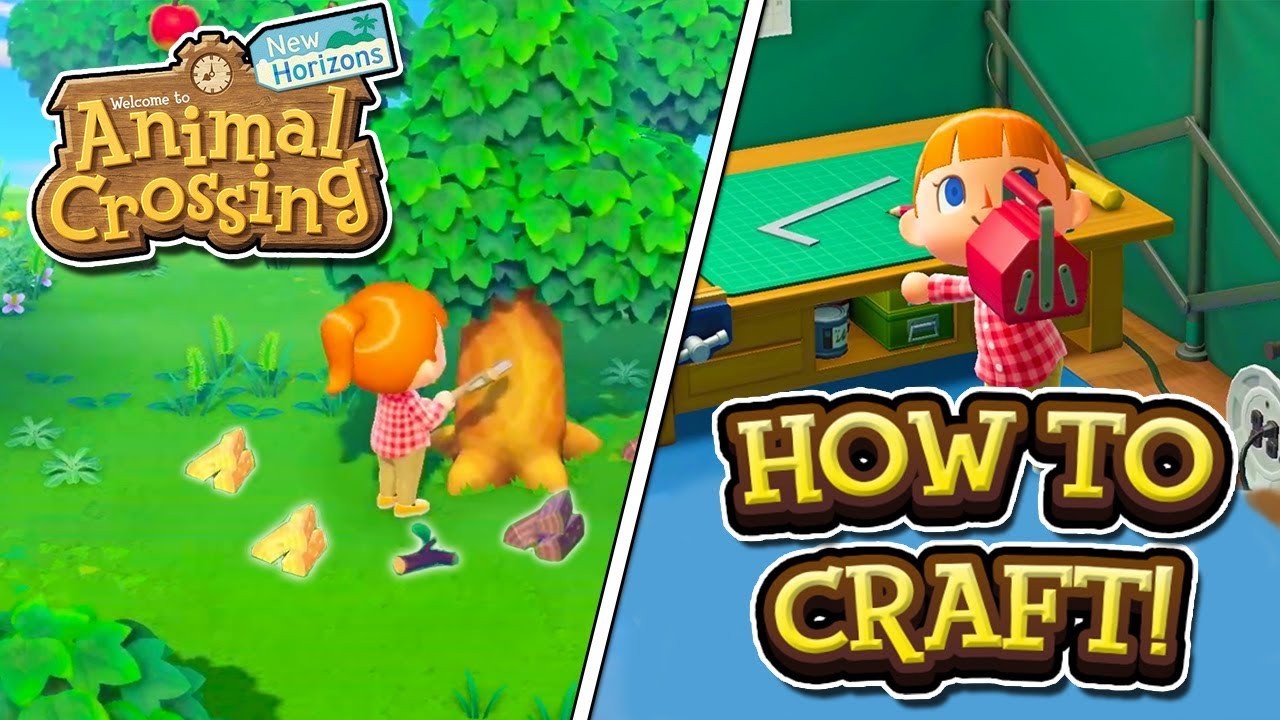 ACNH Crafting Guide - How To Collect Furniture
Collecting furniture was always something to work towards after you finished the museum and paid off your house. looking at the crafting menu, there are a few things to point out at the top of the screen, we see a way to sort through each category of crafting item. if you look below each item has a specifically colored background. maybe each shade or color is a different category. the two pairs of furniture items are part of the fruit furniture series. both have a green background with lighter green acorns, the hearth right next to it has a similar green background but with darker green acorns. the ice furniture has a blue background with blue acorns. it's a good way to let us see the different categories of items easily. we can see tools wardrobes or maybe larger furniture items. mugs maybe referring to items that can be placed on tables.
ACNH Crafting Guide - How Does Crafting Cards Work
On crafting cards, we see the yellow craft-able banner, most likely telling us that we have enough materials to craft this item. A basket that could state the crafted item is already in your inventory. and a checkmark most likely stating that you have already crafted this item. And the paintbrush in the upper right corner this paintbrush symbol is the same symbol we see later in the direct, which are resources needed to customize the furniture to your liking.
On a side note, what are these crafting resources? are they dyes that you get from resources around the island like flowers? we've yet to have confirmed what these dye packs are from but they are essential for customizing furniture. And you can craft a wooden ocarina. we see it being used in the trailer released by Nintendo after the direct. You can play it, but does it do anything specific. maybe it's just a cool item, it does make people curious "what other crossover items will be available for us to craft?" this is a hint from the developers that we could see more.
ACNH Crafting Guide - How To Select Which Items To Craft
When selecting a specific item to craft, a screen pops up with a lot of information. first, we see which crafting category it pertains to, the name of the item, and next to that is a star. this is most likely the way you mark specific items as favorites, so you can craft them again easily. if you look at the previous screen, you can see a very faint outline of the star in the upper right corner. we also see a grid that shows us exactly how big this item will be on the map. there's also an indicator that tells us how many of the specific items we currently have in our inventory, and finally the resources we have and need to craft the item.
#1 Fruits
The fruit is indeed a crafting resource besides fruit-related furniture items. this brings us back to the possible colored dye box. not sure if they come in different colors, is yellow the only option? or other different dye colors? we can see that the player does have 48 of them, so they aren't super rare to come by. if they are dyes, they could derive from the fruit or maybe even the flowers. we have seen footage of a flower wreath being crafted with flowers as resources. in previous games, if you picked up a flower you took the entire plant with you. but in New Horizons when you pick up a flower the rest of the plant stays on the ground to bloom more flowers. this mechanic makes sense now that we know flowers are indeed a crafting item.
#2 Ornaments
The ornament that falls on the pine tree could be used to craft. maybe toy day furniture items as well. we do see mushroom furniture in past Animal Crossing games. the mushroom furniture was found by collecting mushrooms, there's a chance that each mushroom you pick up was a piece of furniture in disguise. that could be the case this time around, or we may have to collect mushrooms and Crafts furniture series. on top of being able to craft the flimsy tool and shovel net etc, we can also be able to purchase certain tools. we also can see or "pretty good tools" listed in the nook miles rewards. so we do know that we won't have to craft all the tools that we use in the game.
Crafting being such a new mechanic in the Animal Crossing series makes people excited about the possibilities of how it will evolve. from what we've seen, it seems like the developers worked hard to implement the crafting correctly and change it from the tedious pointless crafting mechanic we had in Pocket Camp. So that's all for today's content, if you want to see more breakdown and tutorials, check out our news section!