Sanrio Collaboration Update Is Coming To ACNH - 5 Sanrio Update Details You Should Know In Animal Crossing
2/28/2021 4:22:46 PM
Nintendo has announced that the Sanrio Collaboration update is coming to Animal Crossing New Horizons! This update introduces a whole bunch of new collaboration furniture and also 6 new Sanrio villages which you can invite to come and live on your island. In this guide, we'll be giving you 5 details about the Sanrio update that you need to know about. Let's take a deeper look at this upcoming update Sanrio for ACNH!
5 ACNH Sanrio Update Details You Should Know
1. Sanrio-Themed Villagers
Quite a lot of people online not actually knowing who these new Sanrio villagers were yet. These villagers were actually introduced in Animal Crossing New Leaf as a collaboration back then and they also came to Animal Crossing Pocket Camp.
We have Rila who is a gorilla nice little rhyme there and Rila is a pepe type villager. Next we have Marty a Lazy personality Cub villager in Animal Crossing: New Horizons inspired by Pompompurin from Sanrio. Then we have Etoile who is Normal personality Sheep villager in Animal Crossing: New Horizons inspired by Kiki & Lala from Sanrio. Then we have Chai who is a Peppy personality Elephant villager in Animal Crossing New Horizons inspired by Cinnamoroll from Sanrio. We also have Chelsea who is a Normal personality Deer villager in Animal Crossing: New Horizons inspired by My Melody from Sanrio. And finally we have Marty who is a Lazy personality Cub villager in Animal Crossing: New Horizons inspired by Pompompurin from Sanrio.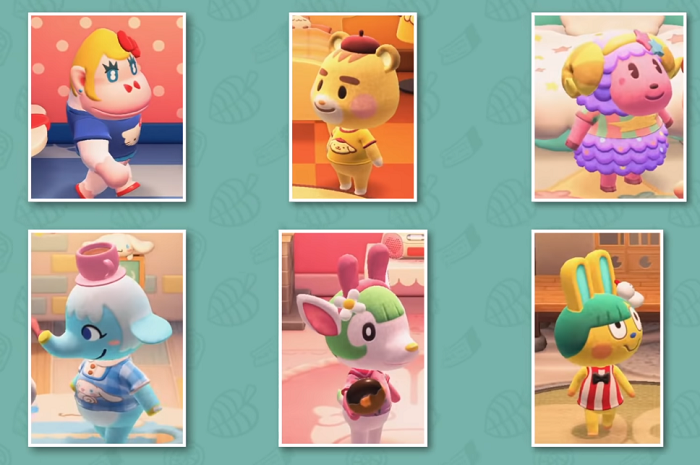 So unless ACNH decides to change their personalities which is extremely unlikely especially given the dialogue that we've seen them speak, it seems like these will be their personalities as that's what they were for all of the previous Animal Crossing games. There's a kind of a nice mix of personalities here so if you want these guys living on your island you could definitely stand to have them.
2. Sanrio Furniture Items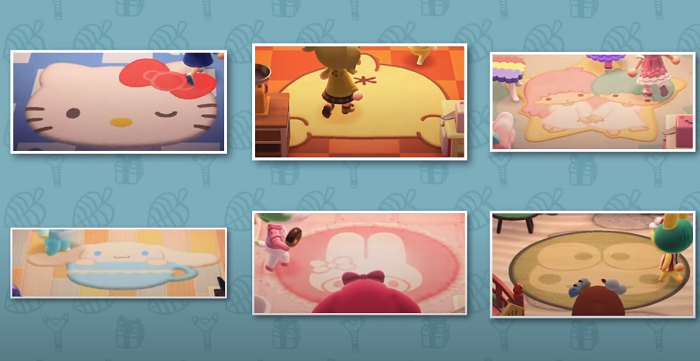 There are also 6 brand new furniture items never seen before in any Animal Crossing game introduced here in Animal Crossing New Horizons, and these are rugs for the different characters now. In Animal Crossing New Leaf where these characters were introduced, rugs were not a thing so they have been added here to ACNH to incorporate that feature and give a proper full furniture theme. Now all of this furniture that is being added for the Sanrio collaboration update is brand new to ACNH, you can't get any of this stuff until the update comes out.
3. Clothing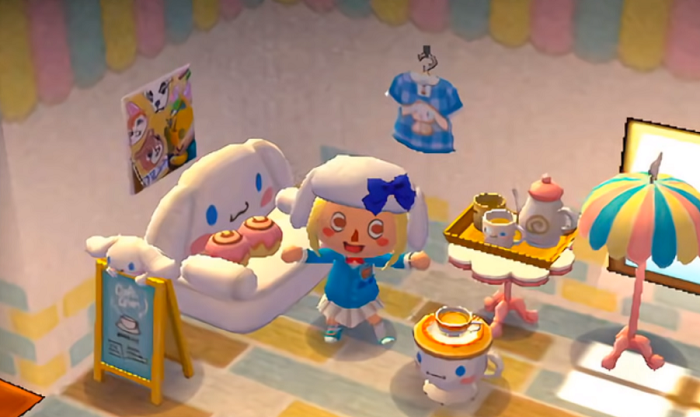 There is actually a piece of clothing that wasn't shown off anywhere in the trailer for the Sanrio update. It's likely they forgot to show it off which is kind of interesting because they showed off pretty much everything. Nintendo is usually pretty meticulous about showing off everything that's going to be of an update and they did show off basically every Sanrio furniture item that you can get. Then there's so many and they're all really cool but one that they missed was actually the cinnamon roll jacket. This was not anywhere within the trailer.
4. Kiki and Lala Wand Item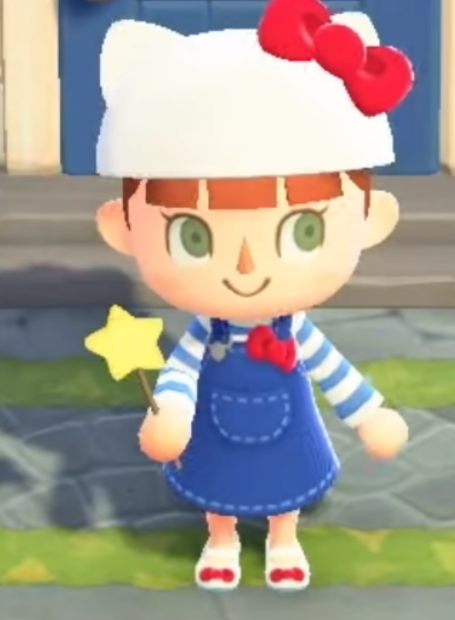 There is also another new item which wasn't really mentioned very much within the update. They didn't specifically point out anything aside from just showing us off all of the new villages and the furniture. There's a new type of wand which is the Kiki and Lala wand which actually was an item in Animal Crossing New Leaf. It just didn't work the same, the wand functionality where you can use it to change your outfits wasn't a thing in ACNL. So here it actually will be now. This one looks incredibly similar to the star one that we already have in ACNH. That might have been a bit of an oversight on their part, perhaps when they were designing that star one they didn't think to themselves, they were going to be bringing back the Sanrio wand. Those ones look very similar except that the one that we have already in the game has sort of a different kind of pole design whereas this one is more like a wood knee, kind of stick. So if you do want to get this new wand item you will be able to do that, you'll be able to get that by scanning in the kiki and lala character and amiibo card.
5. Get Sanrio-Themed Villagers & Items
We don't really know how to get the furniture items for these characters. We do know that if you scan these characters in like you usually would with amiibo cards, they will come and visit your campsite. So if you want to get these characters most likely you will have to scan in their amiibo in Animal Crossing New Horizons. In this Sanrio update, you could actually not trade these villages online, they would not accept invitations to other towns that might be the case here in ACNH forcing you to buy the amiibo cards if you want these characters. And AKRPG always provides cheap Animal Crossing items with fast delivery and best service. You can buy amiibo cards here without any worries.
What do you think about this Sanrio update and what you're most excited about? Are you looking forward to the Sanrio furniture items? Are you excited for the Sanrio-themed villagers and which of the villages do you want to have lived on your island?