Animal Crossing Modern Japanese Design Ideas & Codes - ACNH Japanese Market, Zen Garden, Room, And Street Island Designs
3/6/2021 3:28:09 PM
Japanese themed island has been always one of the most favorable decoration styles pursued by most players in games. ACNH Japanese style island is all about integrating nature, convenience, art and humanity. Only by using simple items reflect the high-end atmosphere. If you want to build a modern Japanese city in Animal Crossing New Horizons, keep reading the best ACNH Japanese island ideas, and design codes for market, street, garden and room that worthy of attention and reference.
Best ACNH Japanese Island Design Ideas - Tips For Building Modern Japanese Style Island In Animal Crossing New Horizons
ACNH Japanese Street Market Ideas
Japanese Street Market is an open space full of artistic atmosphere and fashion richness. If you want to build a street market on an ACNH Japanese island, neon plays an important role. As we all seen in a Japanese movie, place as much neon as possible, by doing this can bring life to the street at night time. The street market can not exist without food and snack. On the one hand, placing sushi, ramen or sashimi on the stall to selling them that is one most representative symbol of Japanese culture. You can custom ACNH Japanese street patterns which make your town path aesthetic. On the other hand, you can try to decorate Japenese themed ACNH items fully on both streets, in order to bustling with noise and excitement.
ACNH Japanese Style Street Market - created by deleted on reddit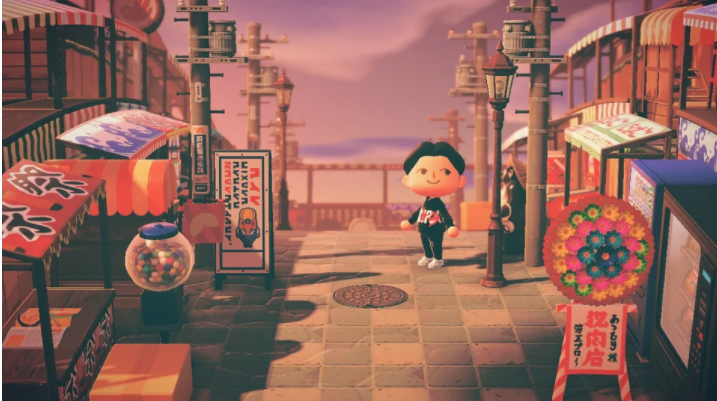 ACNH Japanese Zen Garden Ideas
More and more people prefer the Japanese island decoration style in Animal Crossing New Horizons. It has a quiet home space, experiences unique comfort. Japanese style advocates nature, harmonious natural environment, without the hustle and bustle of the city, showing the pursuit of the simple life. There's no denying that building a zen garden it's one of the best Japanese ACNH island design ideas. For Japanese style zen items, you will need such as Zen Fence, Zen Cushion, Zen-style Stone or Deer Scare, Bamboo Bench, Bamboo Partition, Tall Lantern, Blossom viewing lantern, paper lantern and more.
ACNH Japanese Style Zen Garden - created by acnh-inspo on Tumbler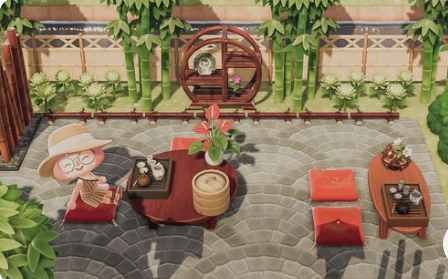 ACNH Japanese Hachi Statue Ideas
Hachi: A Dog's Tale is an American-made film in 2009. The story is based on a real incident of a dog named Hachiko in Japan. A professor adopted Hachiko and brought it to live together in Shibuya, Tokyo. Professor takes the train to work every day, and Hachiko waited for him outside at the station every day Sadly, one day professor passed away because of a cerebral hemorrhage. For the next nine years, Hachiko waited for him at the train station every day and did not see the professor until the day Hachiko died. This decorative ACNH Japanese Island Design is in commemoration of this loyal Hachiko. Remind people that goodness still remains, even in modern and indifferent society.
ACNH Japanese Decorative Statue - created by IggyCreates On Youtube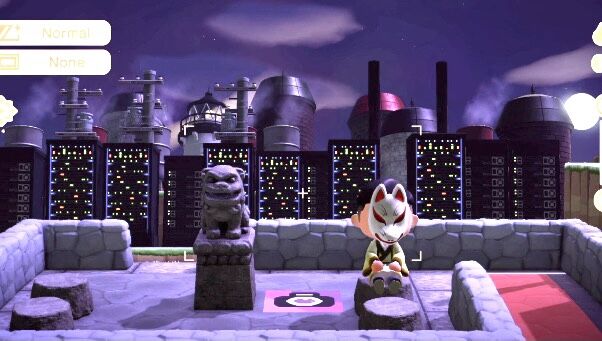 ACNH Japanese Tsukiji Market Ideas
Tsukiji Market is located in Tokyo and is also the largest fish market in Japan. The Tsukiji Market, which has been in business since 1935, it's divided into an on-site market and an off-site market. The on-site market is mainly responsible for the wholesale, bidding and trading of fresh seafood; the off-site market is mainly for the retail of seafood, fruits and vegetables, dried goods, kitchen utensils, as well as sushi, paella, ramen, and tamagoyaki. The off-site market is completely a paradise for tourists and foodies. To build the best modernized Japanese island Animal Crossing, the local market is the first choice to let players experienced delicious cuisine and real prosperity of Japan.
ACNH Japanese Style Tsukiji Market - created by IggyCreates On Youtube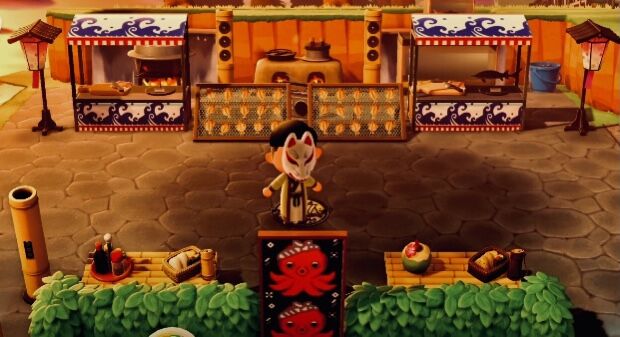 ACNH Japanese Spa Room Ideas
You can not miss a spa room in Animal Crossing New Horizon when it comes to Japanese-style room design. The best and easiest tip to decorate an ACNH Japanese spa room is using walls and floors wisely which can build a traditional interior. Add beautiful cultural items, for example, Tatami, bamboo-themed, Screens, lanterns, Elaborate Kimono Stand, and more items can simply build a cozy Animal Crossing Japanese style massage and spa room. Check more fantastic ACNH Japanese modern Town design QR codes.
ACNH Japanese Style Spa & Message Room - created by I_hadno_ideas on Reddit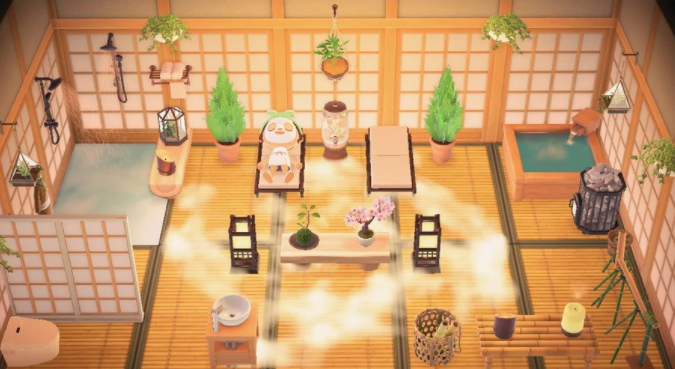 Animal Crossing New Horizons Japanese Market, Street, Room & Garden Design Codes
Ramen Lanterns - MA-0381-3252-5386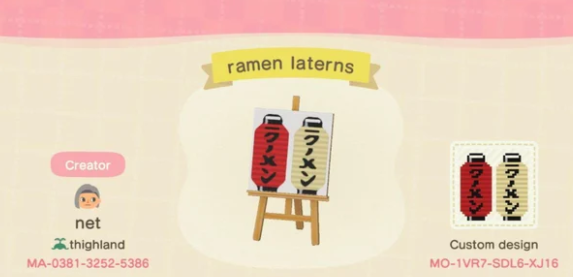 Ramen Bowl Hat - MO-GD1H-2T4T-XX5F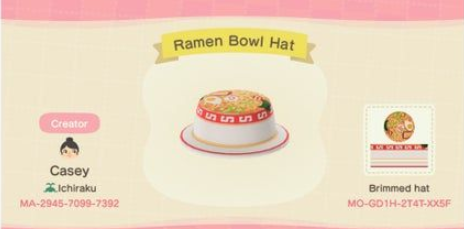 Ichiran - MA-4605-8108-9909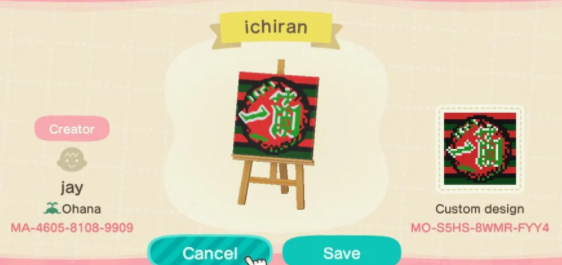 Ramen - MA-6555-3445-7586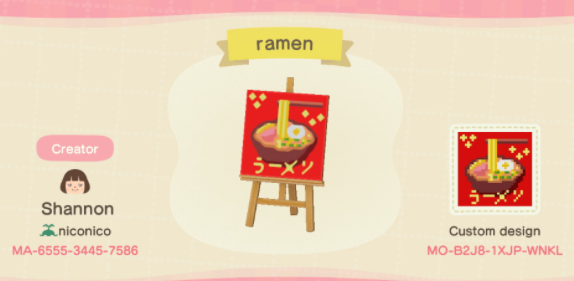 Sushi Menu - MA-7005-0257-4851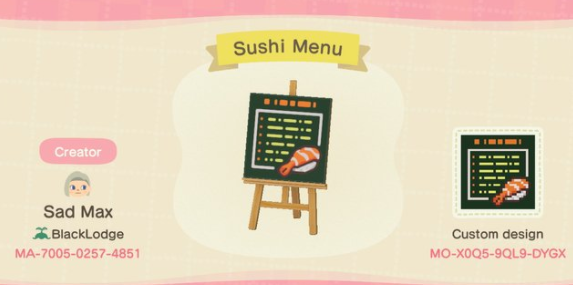 Sushi Menu - MA-4089-0327-9717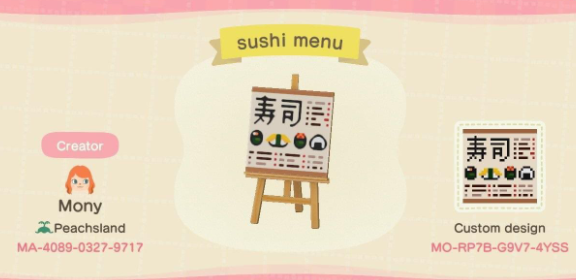 Tatami Path - MA-9304-3608-2367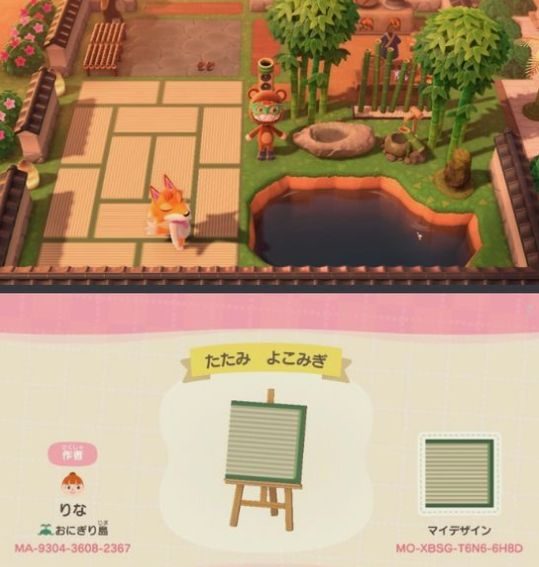 Road Design - MA-8436-9087-2945