ACNH 1.11 Update - Date, New Events & Items of Animal Crossing New Horizons Summer Update 2021
7/19/2021 4:26:32 PM
Animal Crossing New Horizons 1.11 update is cleared to happen soon, what we can expect to see in the next big summer update 2021? Let's discover in this guide including Brewster, Kapp'n, Firework Festival, Quality of Life, DIY, Seasonal Items and more predictions.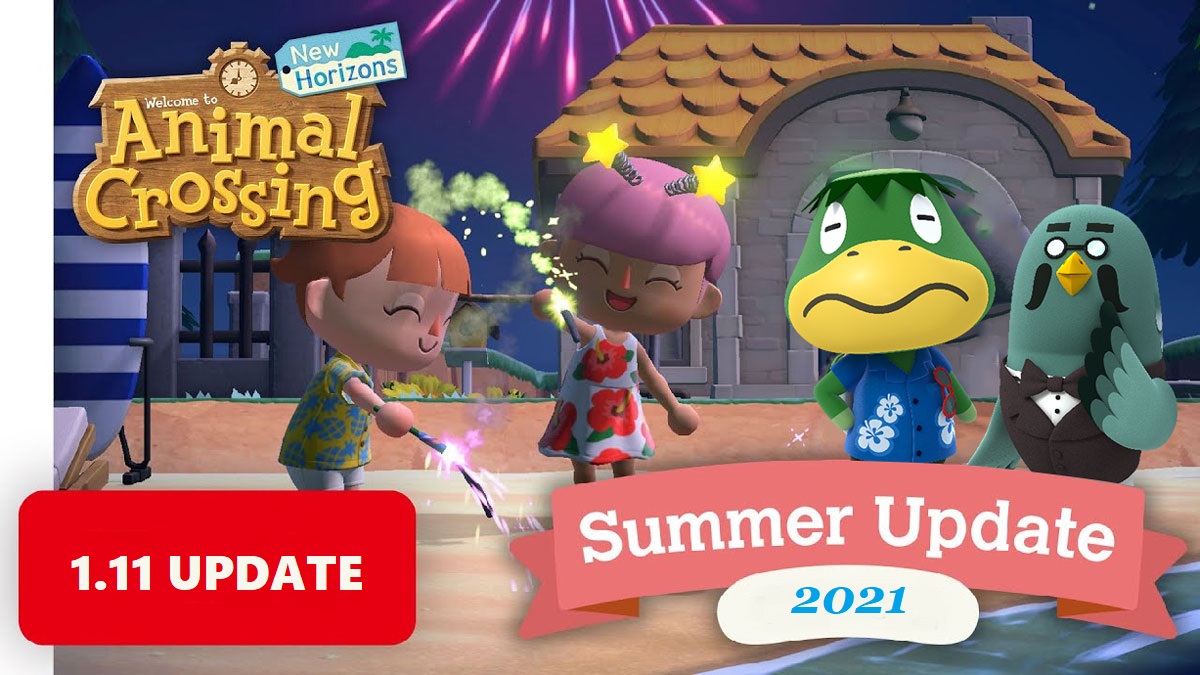 Animal Crossing New Horizons 1.11.0 Summer Update
We have been looking forward to a big ACNH 1.11 Update for too long, and there is no doubt that only more unexpected new content is worth the long wait for players. So in the coming August and the second half of 2021, will the return of Brewster or the addition of new events keep Animal Crossing New Horizons fresh? Here let us discuss the content that will be determined to appear and may be added to the 1.11 Update.
When Will ACNH 1.11 Update Release?
According to Nintendo's past rules for releasing new content and update (the last seasonal event available for this summer period is the Cowboy Festival Cowboy Festival, arriving on July 15, after which all the events of the game are blocked for the Current year), for this reason we believe that it is possible to expect, we can expect that ACNH 1.11 Summer Update will be announced in the later July - maybe between 20 and 31 July, and drop into the game on August 1st when the month throughout event Firework Work start!
Update - ACNH 1.11.0 Update release date is set on July 19th!
What We Can Expect In ACNH 1.11 Summer Update?
Let's take a look at what we can expect to see in the next big update:
1. Firework Festival Event
After the Wedding Season, which ended at the end of June, the next scheduled event is the fireworks season which takes place every Sunday throughout the month of August. It is currently not yet available in Animal Crossing: New Horizons for 2021, so this means that Nintendo will have to release an update soon to fill this omission.
In the last year's firework festival, Redd used to offer a selection of toy-like items during the fireworks show, something that has not been repeated in New Horizons, where he instead offers some tools such as the Red Balloon. For this year's version of the event, we would like, for example, to see them return!
Related Read: ACNH August Update 2021 - New Events, Seasonal Items, DIYs, Bugs & Fishes in August
2. New Nook Shopping Seasonal Items & Clothing
In recent updates, Nintendo has established a recursive pattern to introduce new seasonal items, available either at the Nook's Cranny of Timmy and Tommy, or at the Resident Services, which are then slowly unlocked in the following months.
Here are the confirmed upcoming seasonal events possibly with additional items & clothes this year will be re-introduced in the 1.11 Summer 2021 Update:
- Cowherd & Weaver Girl Day (August 5th - August 14th)
- Bon Festival (August 10th - August 16th)
- Grape Harvest Festival (September 1st - Spetember 30th)
- Moon-Viewing Day (September 12th- Spetember 21st)
- Chuseok (September 12th- Spetember 21st)
So there we have it that's all of these seasonal events that we can expect to see in Animal Crossing New Horizons once the version 1.11.0 update has been distributed, in total that's 8 new items if you include the additional handheld items from the fireworks shows, of course most if not all of these items will be time locked for a while though and will probably be unlocked the day before the actual real world dates with many server side updates. This has become Nintendo's way to stop time travelers obtaining all of the event and seasonal items on the day of release.
3. Seasonal & Special DIY Recipes
In Animal Crossing New Horizons, August is the last month of summer in the northern hemisphere and winter in the southern hemisphere is about to end, so we can expect the new update to cover all the new DIY recipes and craftable items that will appear during this season. Seasonal items, including the summer shell series you need to collect before the end of summer, and the only snowflakes and ice frozen sets in winter. With the arrival of the new season, new DIY items are about to wait for players to conduct a new round of collection. Of course, in addition to seasonal items, we are even more looking forward to Nintendo's use of some new DIY options to surprise players, such as the King Tut Mask that was added in last summer's update.
4. Brewster Back In a New Way (TBC)
We have been talking about it for a long time, more specifically from the first months of the game, and we are all anxiously waiting to see it finally arrive: we are talking about Brewster! The reserved pigeon of few words who has always (or rather, from Wild World) manages his small bar where you can drink a nice coffee. In Wild World, his bar was located inside the Museum run by his longtime friend Brewster, while in Animal Crossing: New Leaf we can find the Roost, an independent place that we could erect as a public work. In Animal Crossing: New Horizons he is still absent, but he was found in the game code by some dataminers, so we are almost certain of his return.
How will Brewster back? There are two theories seem probable to us: either that Brewster is introduced as a character underpinning the weekly cycle, or that he is added as an extension to the Museum.
5. Kapp'n's Destined Return For Reasons (TBC)
Among the many innovations to be introduced, the return of Kapp'n, and the related island of Tortimer, is among the most advocated by fans. Below we will bring you three reasons why we believe that the kappa will not take long to become part of our island life!
For those unfamiliar with him, Kapp'n is a turtle (more precisely a kappa) currently absent in Animal Crossing: New Horizons, but still present in the game code from software version 1.0.0.
As the name suggests in Italian, Kapp'n is a sailor, and in the previous series he has held several roles: the most interesting is certainly the one on Animal Crossing: New Leaf, where for the sum of 1,000 bells he transported the player to the island of Tortimer, on which it was possible to carry out various activities, even in multiplayer, rather profitable. And there are still few reasons to make Kapp'n return in the Summer 1.11 update.
6. Quality of Life Improve With Expansions (TBC)
Possible expansion or sandbox islands? But what if Nintendo decided to surprise us with something truly unexpected? There have been many speculations in recent months and rumors have gradually followed one another, creating in millions of players the expectation of new content that will amaze them. There could be two solutions adopted by Nintendo to revive interest in the video game that for months has kept us glued to our Nintendo Switch. In the case of the first, we are talking about the possible introduction of an expansion of the main structure of our island, which can be explored, decorated and where you can meet new characters or find inhabitants or buildings not yet present in New Horizons.
What if Nintendo instead decided to increase the playability of multiplayer with sandbox islands?
This is the second possible solution, and as already mentioned Nintendo could program a new feature that would allow players to share hours and hours of gameplay, landing on empty islands that can be freely decorated, with unlimited resources and the ability to interact with new characters. This would ensure that Animal Crossing: New Horizons can evolve with a form of multiplayer more suited to the needs of the numerous fans.
Here we've sorted out all details about the Animal Crossing: New Horzions 1.11 update, including 他the confirmed events and predited content. More official details will be updated here once the summer update available! AKRPG.COM is always here to offer you the cheap ACNH bells and items.