ACNH August Summer Update 2021 - New Events, Seasonal Items, DIY Recipes, Critters | Animal Crossing New Horizons
7/2/2021 3:16:40 PM
August is here, which means there's another batch of fresh events, items, critters, features to meet in Animal Crossing: New Horizons, as well as the new island aesthetics. With fireworks season returning, the ACNH August update 2021 will be more exciting than the cowboy festival in Jul, there's some excellent stuff coming our way, let's get into it now!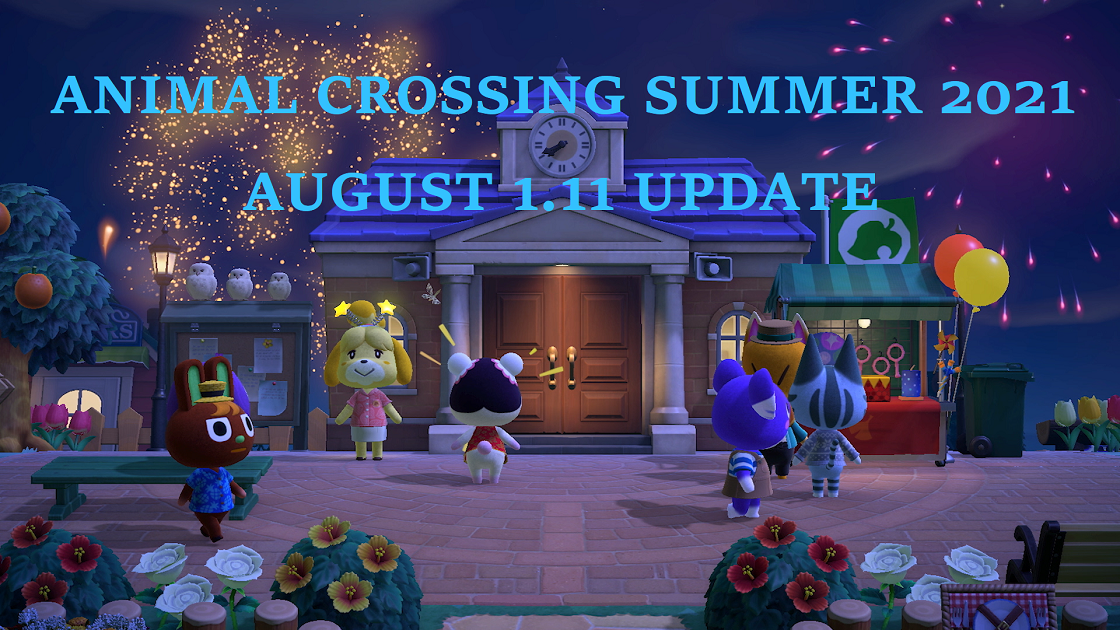 ACNH August Update 2021 - Animal Crossing New Horizons 1.11 Update 2021
In August, summer continues sizzle on in Animal Crossing: New Horizons on Northern Hemisphere, although it is near the end, with flower fully blooming, cumulonimbus clouds on sky, sharks in the water, beetles on the trees and all manner of crabs and such out in the ocean. While on Southern Hemisphere, August is pretty significant month too as it's the final few weeks of winter, which means the end of snow showers and any settled snow on the ground melting away. s and iconic green grass will return.
In addition to romantic fireworks, what else will accompany us to end the summer in Animal Crossing New Horizons? Undoubtedly, the Animal Crossing New Horizons August Update featuring all of the new fish, bugs, deep sea creatures, new ACNH Items, new features, and more! Here we break it all down all details of the ACNH August update 2021 for both the Northern and Southern Hemisphere!
ACNH August Seasonal Events and Items (2021)
Again, in August, new holiday events and seasonal items will be updated in Animal Crossing New Horizons, along with some new added content and features.
Fireworks Show
Available Date: August 2, 9, 16, 23, 30
Available Items: Bopper Hats, Custom Fireworks, Red Sparkler, Blue Sparkler, Fountain Firework, Bubble Blower, Uchiwa Fan, Pinwheel, Tweeter, Blue Balloon, Red Balloon, Yellow Balloon, Green Balloon, Pink Balloon, Fireworks Wall
In August, Redd will be back to your island and host the Fireworks Festival to every Sunday night, again during the event time, you will be able to get cute cute bopper hats from Isabelle, set and watch custom fireworks, and win prizes from Redd's Raffle. And maybe Nintendo will bring some extra items and collections for refresh the event like adding new firework themed items on Nook Stopping during the month.
Cowboy Festival
Available Date: July 15 - August 15
Available Items: Rodeo-Style Springy Ride-on
In the first half of August, the Cowboy Festival will continue. If you want to get the lovely Rodeo-Style Springy Ride-on, don't miss this last chance to purchace it from the Special Goods of Nook Shopping with cheap Animal Crossing bells.
Cowherd & Weaver Girl Day (Chinese Qixi Festival)
Available Date: August 5th to 14th
Available Items: Hikkoboshi Outfit, Orihime Outfit
To celebrate the Chinese Qixi Festival holiday, a new pair of Ancient Robe clothing items: Hikkoboshi Outfit and Orihime Outfit. The Cowherd & Weaver Girl Day, also known as the Qiqiao Festival or Double Seventh Festival or Chinese Valentine's Day, is a Chinese traditional festival celebrating the annual meeting of the cowherd and weaver girl in mythology. It falls on the 7th day of the 7th Chinese lunar month. In 2020 that's August 25 (Tuesday).
Bon Festival
Available Date: August 10th to 16th
Available Items: Cucumber Horse and Eggplant Cow
A new celebration to be added into Animal Crossing New Horizons is Obon or Bon Festival, this is based around ancestors and is ofen used as the basis for family reunions. The festival introduces the cucumber horse and and eggplant cow items in honour of the real world event. These items will appear randomly in the Nook Stop with only only one appearing on a given day. The cucumber horse and eggplant cow will be available alongside with other exclusive items from August 10th through to August 16th.
Flick's Bug-Off Event (Northern Hemisphere)
Available Date: August 29
Available Items: fishing-themed items and trophies
At the end of August, on Northern Hemisphere's islands, Flick will back with his Bug-Off tournament. Still, to get fishing-themed items and bug off trophies from Flick, you have to catch enough bugs for accumulating points.
ACNH August DIY Recipes & Crafting Items (2021)
With us coming to the end of an entire season this month, some of these changes are because of that seasonal transition with things like craft materials, whilst others are events and typical environmental changes across both hemispheres.
Summer Shell Series (Northern Hemisphere)
Available Date: June 1 to August 31
In July, in the northern hemisphere, you can still continue to collect Summer Shell Materials and Recipes, because the shell season will last until the end of 8th.
Full List of Summer Shell Items:
South Seas Wall

Water Floor

Underwater Flooring

Shell Wand

Shell Pochette

Starry Sand Floor

Shell Wreath

Underwater Wall
Snowflake Series (Southern Hemisphere)
Available Date: June 11 to August 24
Ice (Frozen) Series (Southern Hemisphere)
Available Date: June 11 to August 24
In the southern hemisphere, during the season of winter, the snow is getting heavier. It is a good time to collect snowflakes to make ice theme and frozen series furniture. To craft the Ice (Frozen) items, don't forget to collect DIY recipes by building up perfect snowboys.

List of Ice Themed Items:
Snowflake Wreath

Ski Slope Flooring

Frozen Arch

Frozen Bed

Frozen Chair

Frozen Counter

Frozen Partition

Frozen Pillar

Frozen Sculpture

Frozen Table

Frozen Tree

Frozen-Treat Set

Ice Flooring

Ice Wall

Ice Wand

Snowperson Head

Three-Tiered Snowperson
Young Spring Bamboo (Southern Hemisphere)
Available Date: August 25 to November 30
ACNH August Bugs, Fishes & Sea Creatures (2021)
August is here, thanks to the seasonal nature of Animal Crossing New Horizons, new critter joining your island this month in both the Northern & Southern Hemispheres. Here is a comprehensive list of all the Bugs, Fish, and Deep-Sea creatures that you'll encounter starting August 1 in Animal Crossing: New Horizons.
New Bugs In August
Northern Hemisphere
Migratory Locust - 600 Bells / 8am - 7pm
Rice Grasshopper - 160 Bells / 8am - 7pm
Walker Cicada - 400 Bells / 8am - 4pm
Southern Hemisphere
No
New Fishes In August
Northern Hemisphere
Soft-shelled Turtle - 3,750 Bells / 4pm - 9am
Moray Eel - 2,000 Bells / All Day
Ray - 3,000 Bells / 4am - 9pm
Southern Hemisphere
Dab - 300 Bells / 4 PM - 9 AM
New Sea Creatures In August
Northern Hemisphere
Flatworm - 700 Bells / All Day
Southern Hemisphere
No