ACNH Fireworks Show Event 2021 - Fireworks Time, Items & Prizes in Animal Crossing New Horizons
7/6/2021 2:39:21 PM
It has been a long time that Animal Crossing New Horizons did not reveal a new update for the game, the next free ACNH update which is expected for Summer, is confirmed to launch on July 29. After the Wedding Season coming to an end in June, the next big event that will return to New Horizons is the Fireworks Show event. In this guide, we'll go through all the information about ACNH Fireworks 2021, including the show time, schedule, items, prizes, changes, and more.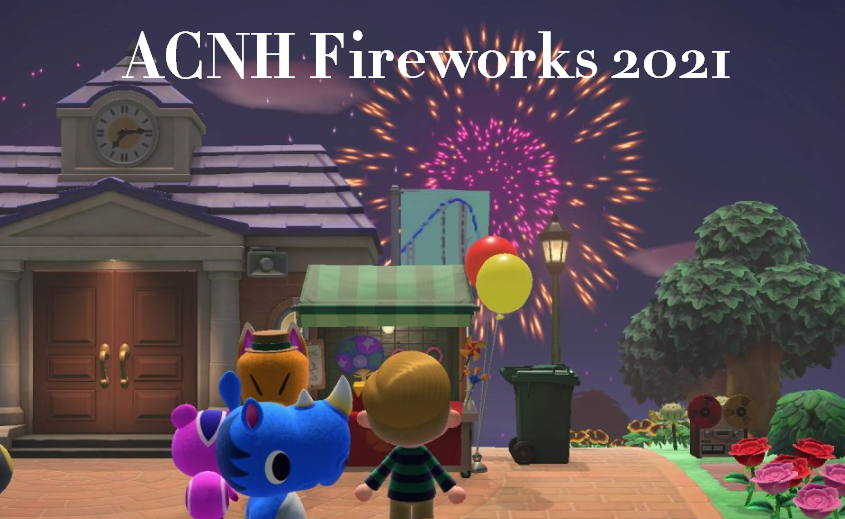 Related Read: ACNH September Fall Update 2021
Updated:
ACNH Fireworks Show Event 2021 - What to Expect
The latest ACNH 1.11 update has finally arrived and confirmed the return of the Animal Crossing Fireworks Show event, which will be held on each Sunday in August. During the Fireworks festival, players can enjoy the fantastic fireworks at the Resident Services plaza and meet Jolly Redd hosts a raffle where you can win various prizes, but enough bells are required to get those festive ACNH items at Redd's raffle. New prize items are revealed this year. You'll also be able to get your custom firework patterns to light up the sky by submitting the pattern to Isabelle.
ACNH Fireworks 2021 Show Time & Schedule
According to the ACNH 1.11 version which is going to launch on July 29, the first Animal Crossing New Horizons Fireworks Show will take place on August 1, and it's set on every Sunday during August, check out the Fireworks schedule here. The Fireworks show is gorgeous in the night sky, players are also allowed to design custom Fireworks patterns, which makes the event more interesting. Don't miss the event this year.
August 1, 2021

August 8, 2021
August 15, 2021
August 22, 2021
August 29, 2021
Animal Crossing New Horizons Fireworks Items - ACNH Redd's Raffle Prizes 2021
In addition to the beautiful Fireworks show, the event also gives you the chance to earn prizes from Redd and items from Isabelle.
How to get Redd's raffle prizes during Fireworks? Spend 500 Animal Crossing bells to buy a Raffle ticket, Redd will let you draw a number from his raffle and you are sure to get a prize, no matter which number you pick. You will receive one randomly selected item out of 12 prizes correpsonding to a raffle ticket number. There is no limit to how many times for the purchase of Raffle tickets. The possible prizes including:
List of ACNH Fireworks Prizes
Red Sparkler
Blue Sparkler
Fountain Firework
Bubble Blower
Uchiwa Fan
Pinwheel
Tweeter
Blue Balloon
Red Balloon
Yellow Balloon
Green Balloon
Pink Balloon
New ACNH Redd's Raffle Prizes 2021:
Boba coffee
Boba green tea
Boba mango tea
Boba milk tea
Boba strawberry tea
Melon cotton candy
Plain cotton candy
Ramune-soda cotton candy
Strawberry cotton candy
Chocolate frozen treat
Orange frozen treat
Ramune-soda frozen treat



What other Fireworks items can you get?
1. There are four different boppers available from the Fireworks Show, you can only earn one per Fireworks Show by talking to Isabelle.
Bulb Bopper
Flower Bopper
Heart Bopper
Star Bopper
2. Fireworks Show Clothing
During the Fireworks event, players can purchase the following clothing items from Able Sisters.
Casual Kimono (Green, Dark Blue, Aqua & Mustard)
Kabuki-Actor Yukata (Gray, Dark Blue & Fuchsia)
Morning-Glory Yukata (White, Aqua, Pale Green & Dark Blue)
Zori (Aqua, White, Black, Pink, Light Pink, Red, Gold & Green)
What you need to know is that some of these items are disposable, such as the Red Sparkler, Blue Sparkler, Fountain Firework, and Bubble Blower, you can only use them for once. In addition, the balloons in five colors will remain in your hand when standing, but may fly away if you trip and fall on your face when running.