ACNH September (Fall) Update 2021: New Events & Items in Animal Crossing New Horizons
8/2/2021 11:46:11 AM
After a long wait, Nintendo finally revealed the latest ACNH 1.11 update at the end of July 2021, bringing a ton of new items and events for August, September, October and even November. In this ACNH September (Fall) update 2021, we'll go through all the events, seasonal items, DIY recipes and critters available in September for New Horizons players.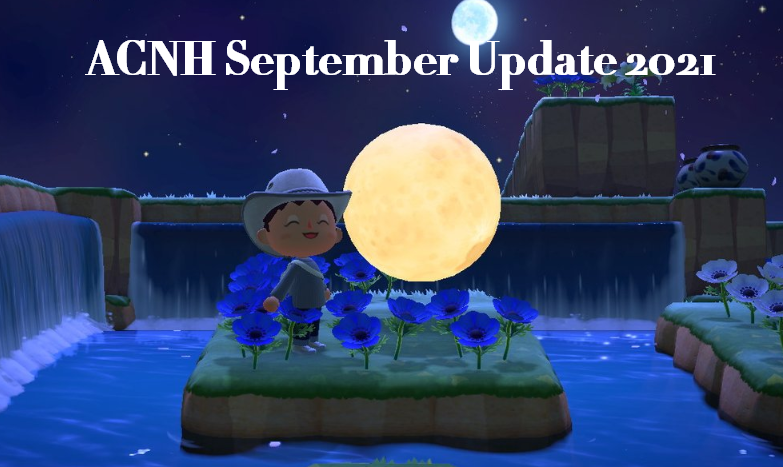 Related Read: Best ACNH Dream Codes 2021
ACNH September Fall Update 2021 - ACNH September Events & Items 2021
A new set of Animal Crossing items for summer and autumn were added in ACNH July 29 Summer update 2021, with the returning of some seasonal events, lots of items introduced last year will be on sale again during the limited time. To get these items, you should update your game to the latest Ver.1.11.0 via the Internet.
When does fall start in Animal Crossing? In all Animal Crossing games, including New Horizons, fall officially starts from September 1 and lasts until November 25 in the Northern Hemisphere.
1. ACNH Grape Harvest Festival 2021 (September 1 to 30)
Grape Harvest Festival is a returning Animal Crossing New Horizons seasonal event inspired by festivities in Spain, Italy, France, Germany, this fun festival sees participants don traditional garb for dancing and a large parade to celebrate the grape harvest. It usually takes place during the fall season, this year, Grape Harvest Festival will be held throughout the whole September, from September 1 to 30, this is also the time when you can purchase the seasonal items with AC bells in Nook Shopping. There is no limit to how many you can order, except for the daily limit of 5 item orders.
Item: Grape-Harvest Basket
When to buy: September 1 to 30, 2021
2. ACNH Moon-Viewing Day 2021 (September 12 to 21)
The Moon-Viewing Day also works in a similar way as last year, it is held to celebrating the Japanese Tsukimi holiday. From September 12 to 21, players are allowed to buy the existed and newly introduced items for the Moon-Viewing Day.
Item: Dango, Moon Cakes, Moon Rug
When to buy: September 12 to 21, 2021
3. ACNH Chuseok 2021 (September 12 to 21)
In the previous Animal Crossing game, Chuseok is a holiday hosted by Isabelle in the South Korean version. During the holiday, the player talks to Isabelle from 6 AM to midnight, they will receive a Songpyeon, which will be also available in ACNH via Nook Shopping.
Item: Songpyeon
When to buy: September 12 to 21, 2021
4. ACNH Bug Off 2021 (Northern Hemisphere) - September 25
The Flick's Bug-Off Event is set to start from 9 AM to 6 PM on the fourth Saturday of September, if you want to take part in the event again, talk with Flick who will stand in front of Resident Services.
ACNH September Fall Update 2021 - ACNH September DIY Recipes
Autumn falls in September in New Horizons, which means new seasonal crafting materials are available. From September 1 to December 10 in the Northern Hemisphere, or from March 1 to June 10 in the Southern Hemisphere, you can get acorns and pine cones by shaking trees, and use them to craft furniture items included in the Tree's Bounty Series.
When to get acorns and pine cones: September 1 - December 10 (Northern Hemisphere)
How to get acorns and pine cones: shake normal hardwood trees to get Acorns and shake tall cedar trees to find Pine Cones.
ACNH Tree's Bounty (Acorn & Pine Cone) DIY Recipes
Acorn Pochette: 6 Acorn
Leaf Campfire: 3 Pine Cone, 5 Clump of Weeds, 3 Tree Branch
Pile of Leaves: 3 Pine Cone, 5 Clump of Weeds
Pine Bonsai Tree: 8 Pine Cone, 5 Clay
Traditional Balancing Toy: 4 Acorn, 2 Hardwood
Tree's Bounty Arch: 4 Pine Cone, 5 Acorn, 5 Maple Leaf, 15 Tree Branch
Tree's Bounty Big Tree: 4 Acorn, 4 Clay, 5 Maple Leaf, 5 Pine Cone, 5 Tree Branch
Tree's Bounty Lamp: 6 Acorn, 4 Clay
Tree's Bounty Little Tree: 6 Pine Cone, 4 Acorn, 1 Hardwood
Tree's Bounty Mobile: 2 Pine Cone, 3 Acorn, 3 Tree Branch
Yellow-Leaf Pile: 3 Acorn, 5 Clump of Weeds
ACNH September Fall Update 2021 - ACNH September Critters (Fish, Bugs & Sea Creatures)
New Bugs Available in September (Northern Hemisphere)
Name - Sell Price - Time to Catch
Common Butterfly - 160 Bells - 4 AM to 7 PM
Yellow Butterfly - 160 Bells - 4 AM to 7 PM
Monarch Butterfly - 140 Bells - 4 AM to 3 PM
Cricket - 130 Bells - 5 PM to 8 AM
Bell Cricket - 430 Bells - 5 PM to 8 AM
Red Dragonfly - 180 Bells - 8 AM to 7 PM
Violin Beetle - 450 Bells - Any Time
Pill Bug - 250 Bells - 11 PM to 4 PM
Centipede - 300 Bells - 4 PM to 23 PM
New Fish Available in September (Northern Hemisphere)
Name - Shadow Size - Sell Price - Time to Catch
Pike - Large - 1800 Bells - Any Time
Cherry Salmon - Medium - 1000 Bells - 4 PM to 9AM
Char - Medium - 3800 Bells - 4 PM to 9AM
Golden Trout - Medium - 15000 Bells - 4 PM to 9AM
Mitten Crab - Small - 2000 Bells - 4 PM to 9AM
Sturgeon - Huge - 10000 Bells - Any Time
Blue Marlin - Huge - 10000 Bells - Any Time
New Sea Creatures Available in September (Northern Hemisphere)
Name - Sell Price - Time to Catch
Oyster - 1100 Bells - Any Time
Sweet Shrimp - 1400 Bells - 4 PM to 9 AM