ACNH Fall (1.12) Update 2021 - Date, Events, Seasonal Items in Animal Crossing New Horizons September Autumn Update
8/2/2021 2:17:24 PM
With the Nintendo released the ACNH 1.11.0 update recently, there are bulk of new content coming to Animal Crossing New Horizons are revealed, including the new events and items will appear in ACNH Fall Update 2021! So in this guide, let's dive into more information about the next 1.12.0 autumn patch of Animal Crossing New Horizons.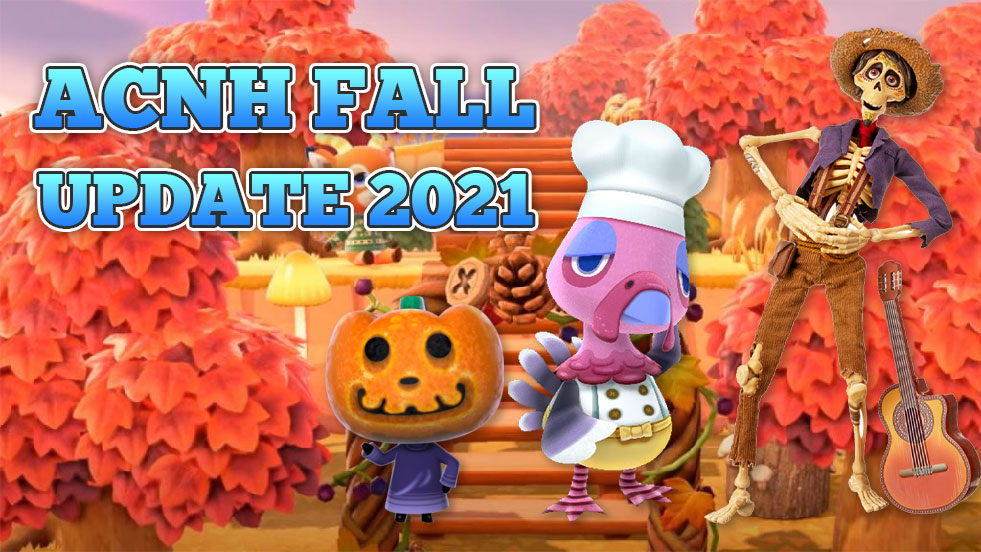 Animal Crossing New Horizons Fall Update 2021 - ACNH September 1.12.0 Update
Start from September, Fall is dropping into the northern hemisphere islands brought the cozy and warmer vibe and will continue until November, and the blooming cherry blossoms in spring also intoxicated players in the southern hemisphere. Fall marks as the harvest season with a number of holidays such as the Grape Harvest Festival and Harvest Festival. These holidays and events will give you the opportunity to collect some rare items like the Halloween themed items. And before they take place in the game, a fall update possibly mark as 1.12.0 version will surely be announced and release.
Related Read:
ACNH Fall Design Idaes 2021 - Autumn Island Designs & Dream Codes
ACNH Fall Tree Color Change Schedule - How To Get Autumn Trees In Certain Colors
ACNH Fall 1.12.0 Update Release Date
As you know, the long awaited ACNH 1.11.0 update released on July 28th have covered the seasonal events and items for August and September, while the Fall content of October's not been involved into. So we do think the Nintendo will announce and release the Animal Crossing New Horizons Fall 1.12 Update at the end of September, most likely on September 28th.
ACNH Fall Update Events & New Items (2021)
As you know, the events celebrated in the fall of last year are likely to return again in the fall of 2021 and will still bring limited-time seasonal items. And in addition to these, thanks to the 1.11.0 update, expect a bunch of seasonal celebrations and items for the first autumn month revealed, some refresh content for Halloween and unannounced seasonal events and exclusive items presumably for October and November has been discovered from 1.11 data mine. Here we will list all the confirmed and possibly events will come with Animal Crossing New Horizons Fall Update 2021 in September, October, and November.
Grape Harvest Festival
Release Date: September 1 to 30
Available Items: Grape-Harvest Basket

Grape Harvest Festival is the second celebration to return from year one of New Horizons in version 1.11.0 update, which is typically inspired by European festivities surrounding grapes and the food they used to make. This celebrations is completely unchanged from last year, it starting from September will kick off the fall harvest season on Northern Hemisphere, bringing the lovely seasonal item - Grape-Harvest Basket available in the Special Goods of Nook Shopping for sale.
Moon-Viewing Day
Release Date: September 12 to 21
Available Items: Tsukimi Dango, Moon Cakes, Moon Rug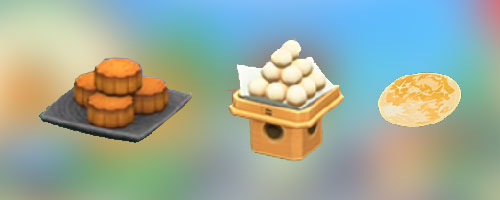 The second seasonal event introduced in September is Moon-Viewing Day - celebrating the Japanese Tsukimi holiday which celebrates our celestial neighbor and how wonderful it looks in the nighttime sky at his time of year. It although was first available last year has been significantly refreshed for 2021, it not only reintroduces the moon rug from last year but also add two brand new items including the Tsukimi Dango and the Moon Cakes, these are new food items traditionally eaten during Moon-Viewing Day in Asia and other regions of the world. What's more, unlike last year, these moon-viewing items will be available at the Nook Stop for a shorter period of time from September 12th.
Chuseok
Release Date: September 12 to 21
Available Items: Songpyeon

Chuseok is a holiday traditionally celebrated in South Korea, and is very similar to other autumn inspired real events this time of year. Chuseok is brand new to Animal Crossing New Horizons and introduces the Songpyeon, a classic food item which was also available in ACNL, in honor of Chuseok and the real world event, the exclusive item is available in ACNH alongside Moon-Viewing items from September 12th to September 21st.
Day of the Dead
Release Date: October 25 to November 3
Available Items: Marigold Decoration

The famous movie Coco made Mexican holiday Day of the Dead known globally, and in the fall of 2021, it will be added to Animal Crossing New Horizons for the first time. Day of the Dead in real world is held on November 1 and 2 to remember friends and family members who have died, while in the game, it will be celebrated during 2021 from October 25th to November 3rd, with a Marigold Decoration item able to purchase on Nook Shopping.
Halloween Event 2021
Release Date: October 31
Available Items: Candy, Lollipop, Halloween costumes, Halloween Spooky Items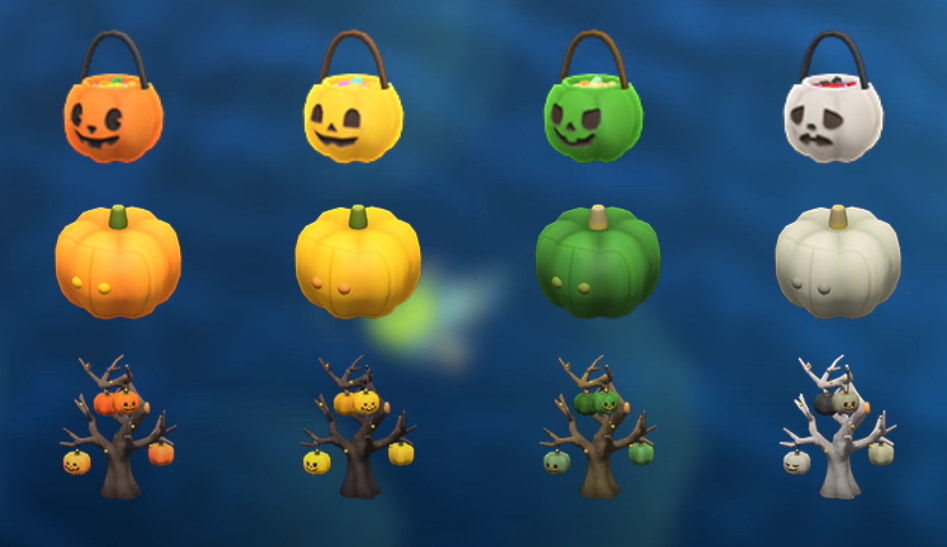 Halloween as one of the biggest event in autumn, certainly it will be celebrated again this year in ACNH, and the pumpkin headed Jack will surly host and ensure the celebrations go interesting with some refreshing content. It seems several new Halloween items have also been added to New Horizons in version 1.11 update, these include the Spooky Treat Basket, Spooky Treat Lamp, Spooky Tree will be sold for bells at the seasonal spot within Nook's Cranny during Halloween season.
Saint Martin's Day (Lantern Festival)
Release Date: November 1 to 11, 2021
Available Items: Handheld Lantern (6 different variations: Stars, Moons, Stained Glass, Suns, Geese, Leaves)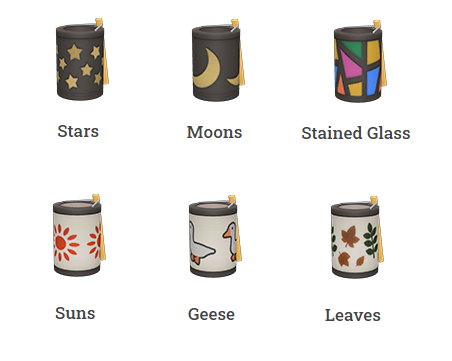 Another brand new event will be in ACNH fall update 2021 is the , which is Lantern Festival referred as Saint Martin's Day traditionally celebrated on November 11. This holiday held in remembrance of Martin of Tours, celebrates the end of the agrarian year, the main annual harvest. In Europe countries, usually on November 11, the streets are illuminated by the many lanterns carried by children in the annual Saint Martin's Day processions, so this lantern festival particularly popular with children. In Animal Crossing New Horizons, a Handheld Lantern item will be available to buy with bells for celebrating the event from November 1st to 11th.
Shichi-Go-San
Release Date: November 11 to 20, 2021
Available Items: Chitose-Ame

Shichi-Go-San is also a brand new event introduced in Animal Crossing New Horizons fall update. It is traditional rite of passage and festival day in Japan for three- and seven-year-old girls and five-year-old boys, held on every November 15th to honor the day of prayer for the healthy growth of young children. During 2021 from November 11th to 20th in Animal Crossing: New Horizons, a Chitose-Ame item comes in bag decorated with crane and turtle illustrations that implies health and longevity, will be available for purchase on Nook Shopping.
Turkey Day (Thanksgiving Day)
Release Date: November 25th, 2021
Available Items: Turkey Day Themed Furniture Items (Casserole, Chair, Decorations, Garden Stand, Hearth, Table, Table Setting, Wheat Decor)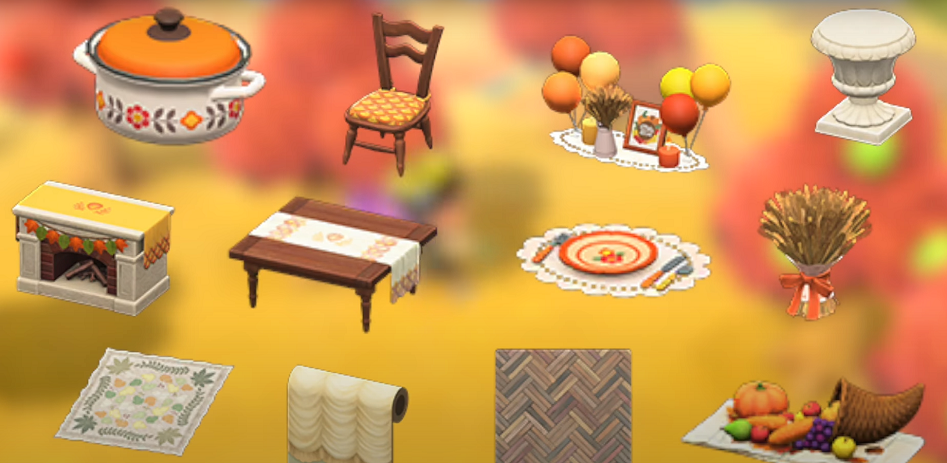 The last and one of the biggest festival will happen in fall is the Turkey Day, which is actually the event to celebrate the Thanksgiving Day (the last Thursday of November) occurs in the America. This is the regular celebration in Animal Crossing series, and according to the updates of the other big ACNH event in 2021, we can surely expect to see a refreshed Turkey Day event is coming with new special items at the end of fall.
ACNH Fall Update Prediction From 1.11 Datamine
Thanks to the hard work of data miner, again, we discover some exciting information from 1.11.0 patch of Animal Crossing New Horizons, which are possibly upcoming in the ACNH September fall update! The dataminers wasted no time and immediately set to work to compare the new version of the game with the previous one, to note down all the changes that have been made, providing us with predictions about the upcoming news. Take a close look of the Animal Crossing New Horizons 1.11 update datamine.
Brewster & Cafe
For months now there have been rumors of the arrival of Bartolo's cafeteria also on the last chapter of the saga, but we could be closer than we think. With the release of the latest version, a lot of juicy information has popped up from the game's datamine.
After more than a year of Brewster's discovery in the game code, we finally have some concrete changes at the code level. The dataminers have noticed a change in some parameters in reference to the view and structure of the Museum, with a rather explicit name: IdrMuseumCafe. It is substantially confirmed that the museum will expand further (as already announced a few months ago by the dataminers themselves) to make room for the cafeteria, which we have all been waiting for for some time.
The Roost is an café already known by the majority of the community, assuming a relaxing and nostalgic atmosphere, where you can enjoy excellent coffee (garnished with pigeon milk!) Prepared by our dear Brewster. The other parameters mentioned concern the entrance to the museum (called IdrMuseumEnt03), in which the number three refers to the number of enlargements made on the Museomuseo: the initial museum, the museum with the art gallery and the rumored museum with the cafeteria of Bartolo located on the third floor. The last parameter is called cNpcMemory: TalkProgressMuseumBuiltCafe, which would serve our inhabitants to be able to tell us about the new museum and the news inside. Even if they are still guesses!