Best ACNH Fall Island Ideas 2021 - Animal Crossing Autumn Decorating Ideas & Fall Island Dream Codes
8/20/2021 7:09:47 PM
Want to landscape or rebuild your Animal Crossing New Horizons island in this fall? If so, with the help of our amazing fall design ideas, you are easy to step into the gorgeous autumn island with impressive scenery. That's not enough, we sorted out the best 5 fall island dream codes for you to discover more creative decorating ideas from beautiful islands.
Animal Crossing New Horizons Fall (Autumn) Island Design Ideas
In Animal Crossing New Horizons, the gorgeous Fall is returning to islands, where wind will be more cozy, landscape easily associated with mushrooms, pumpkins and harvest festivals. It's great time to improve your curb appeal this autumn and grasp for the last vestiges of natural color before winter takes hold on your island. If you are wondering how to create a fabulous fall island in Animal Crossing New Horizons, follow these guidelines to create a tapestry of autumn seasonal color and texture:
Tip 1 - Decorate Areas with Pumpkins, Mushroom & Bounty Furniture
Pumpkins, mushroom, fall foliage, and pinecones are a handful of popular themes that can serve as inspiration. In the fall, you will easily use these ACNH seasonal items to celebrate the arrival of this beautiful season. Arrange pumpkins and pinecones around your yard and home. Mushroom, and use Autumn Bounty Furniture to decorate rooms and other cozy areas.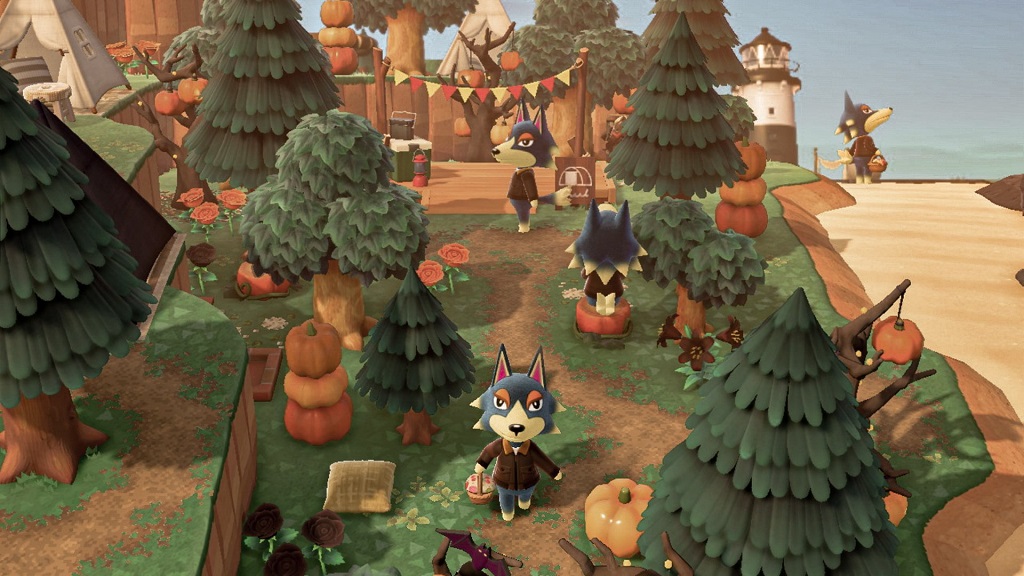 Tip 2 - Celebrate Holiday with Harvest Festival Theme Decor
Autumn is the holiday season, there are so many ways to decorate your island in a tasteful and festive way for fall, such as Fall Orchard, Turkey Day Set Up or even Halloween themed spooky island. But it is best to get the most bang for your buck and pick one look that will carry you through the Halloween and Thanksgiving seasons. There's no need to be too holiday specific.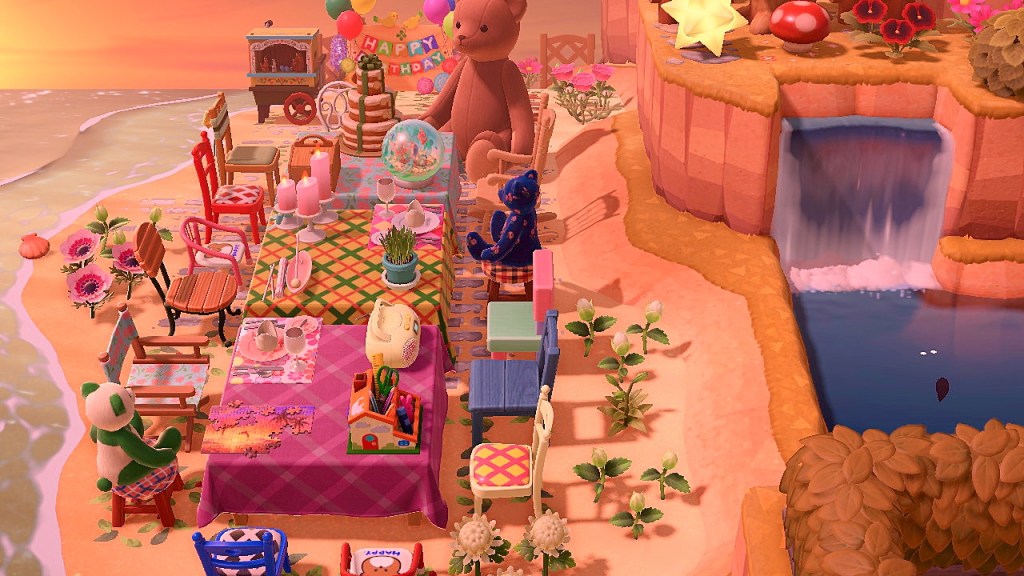 Tip 3 - Build Up a Fall Orchard, Pumpkin Patch, Picnic Area or Farmer's Market
In this harvest season, nothing can add to the beauty of autumn more than a fruitful orchard and farm. The golden fence and rustic wreaths add the charm, you really can't go wrong with such great colors and setup. Hay stacks are also a classic fall signature that actually serve a really useful purpose when stacking up pumpkins.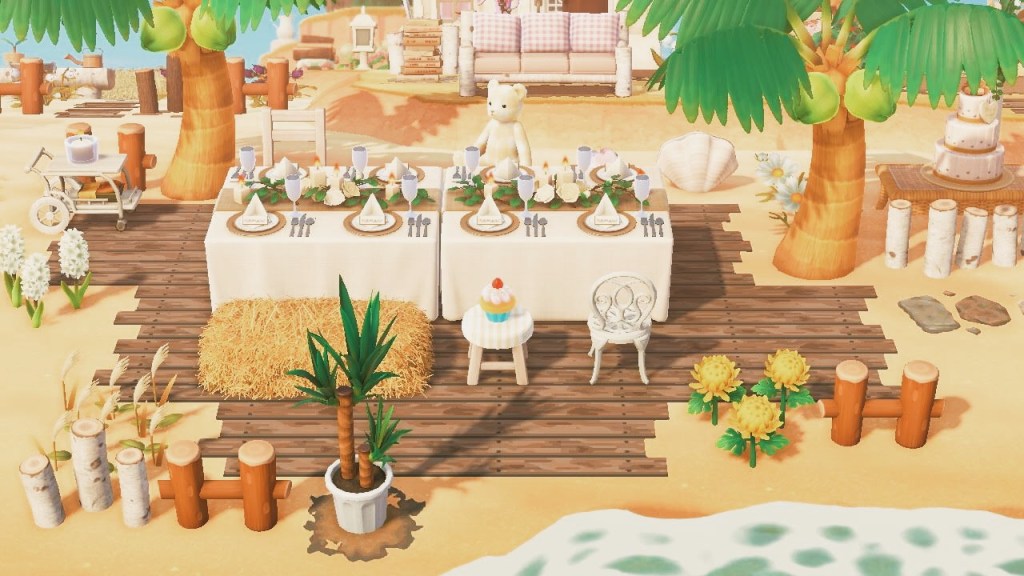 Tip 4 - Use Fall Leaves, Pinecones, Mushroom and Autumn Custom Patterns
Pinecones underneath cedar trees, pile of fallen leaves by the roadside, cute mushrooms along the ground, leafy rustic pathway along villager homes, all these brilliant details can be achieved with autumn themed custom patterns, and will truly transform your island into realistic fall landscape. You even can even use custom fall patterns (such as dress a table in plaid) on ACNH furniture adding a carefree, casual seasonal touch.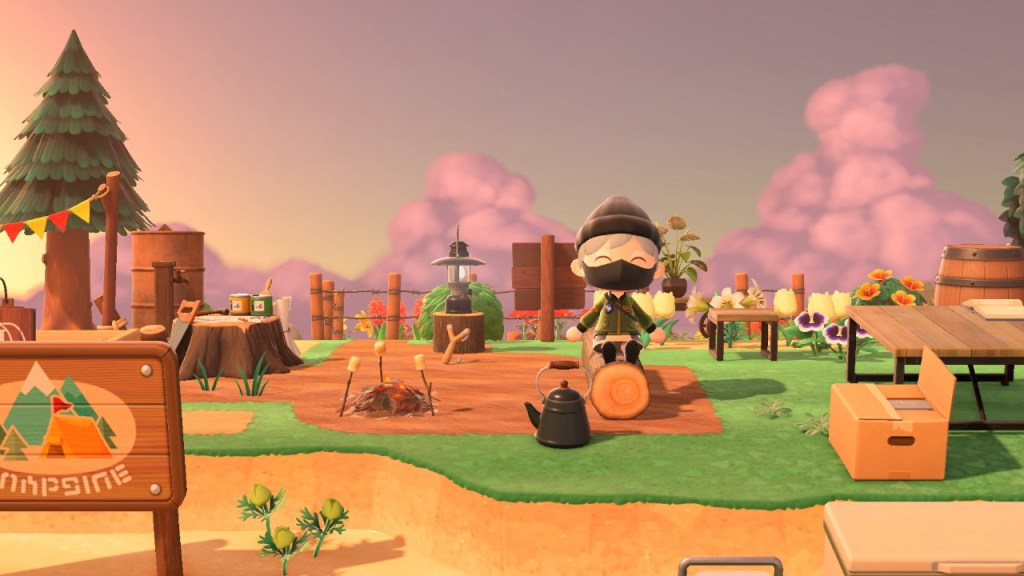 Tip 5 - Make the Outdoors Cozier
Install a fire pit, campfire or small portable fire bowl on your Picnic Area or Autumn Campsite to take the chill off cool fall evenings. Just add string mushroom lights, cute custom designed blankets, fuzzy throw pillows, and hyacinth lamp to cozy up your space. To make your relax areas more autumnal glow, building up a Thanksgiving and Halloween festival outdoor fest areas with log tables and beaches.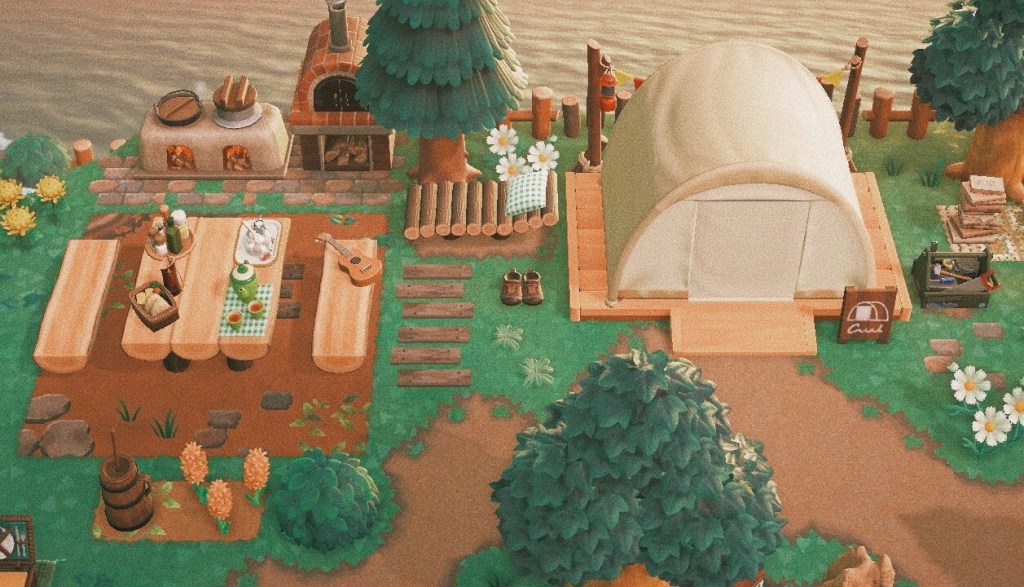 Tip 6 - Add Splashes of Color
The fall foliage is beautiful if you have plenty of trees in your yard, but the golden yellow can start to look a bit drab. To create a eye-catching look, having colorful flowers planted around your your island and add some contrasted color matching can keep your space cheerful. Use all cream for a more modern look or brightly colored orange for more Halloween-centric curb appeal.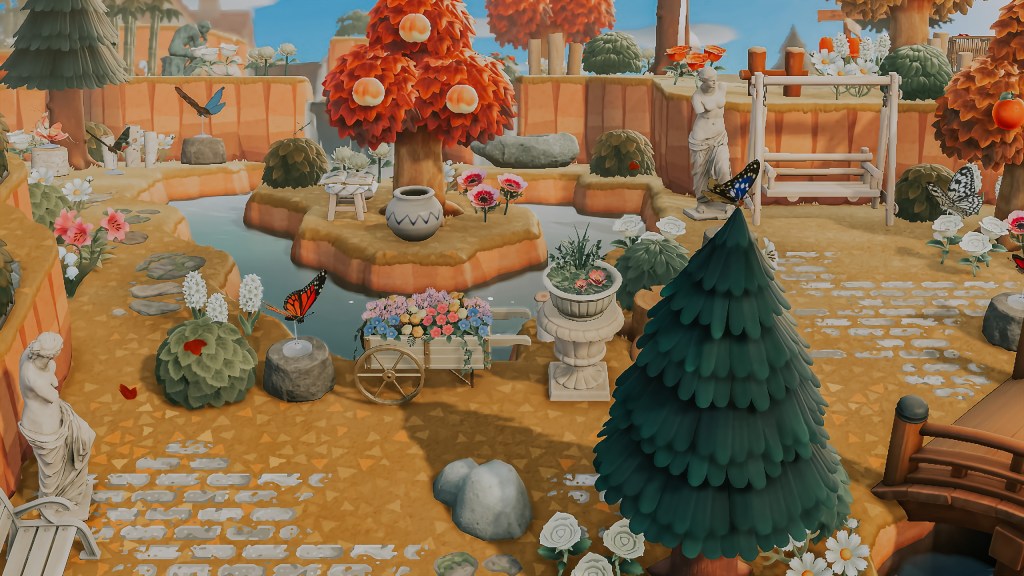 Top 5 Best ACNH Fall (Autumn) Island Dream Addresses
Fall is the great season for building up Halloween themed island, Cottagecore cozy island and overgrowth Forestcore island. If you want to take a tour to some amazing ACNH fall islands, here we sort out 5 creative island dream address for you. There are some really great ACNH fall decorating ideas out there to accentuate your island and house yard and get everyone into the spirit of autumn:
Top 1 - Moonscar Island (Dream Code: DA-6984-5523-9028)
Moonscar Island is is very interactive and very kid friendly Haunted Cottagecore island featuring Halloween, Pirate, Wonderland themes. You can walk in spooky witchy themed farmer's markets, poison apple orchard, pirate ships and treasure islands. Also you will be impressed by the misfit toy workshop, haunted pumpkin hay maze, and tattoo shop hidden away in a treehouse.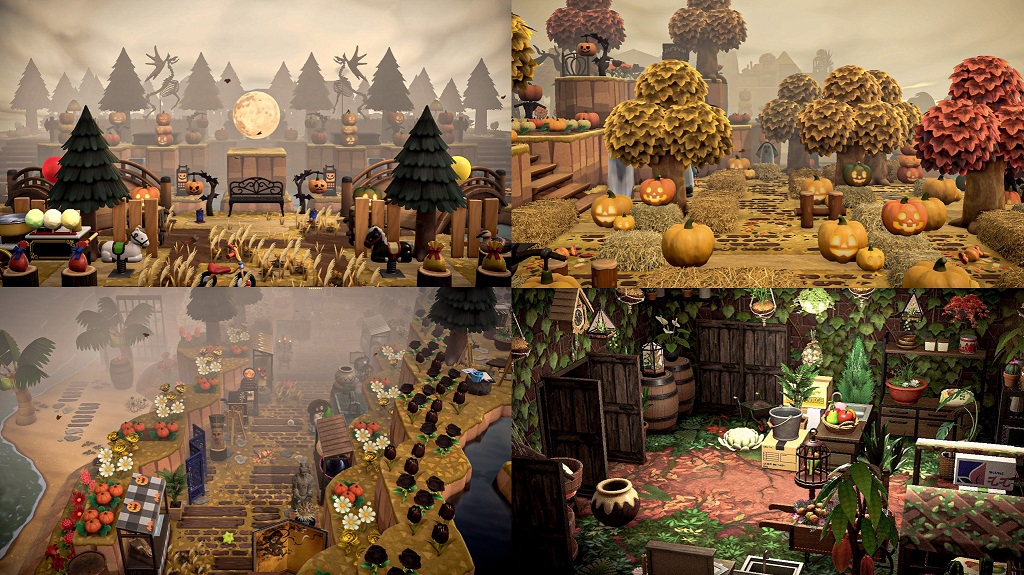 Top 2 - LunaShores (Dream Code: DA-7517-3162-8388)
LunaShores island is a Harry Potter inspired island features Fall and Halloween vibe, on which you can take adventure to Hogwarts. When you first step onto Luna shores, the time is dusk as the sun is setting across Hogwarts lake, then you put on your favorite Hogwarts uniform and go to visit Hogsmede trainstation, Hogwarts express train, Mr weasleys flying car and wimping willow, Hogwarts castle, Hagrid's cabin and pumpkin patch with unicorns and Thestrals, Grave yard scene/Voldemort and more.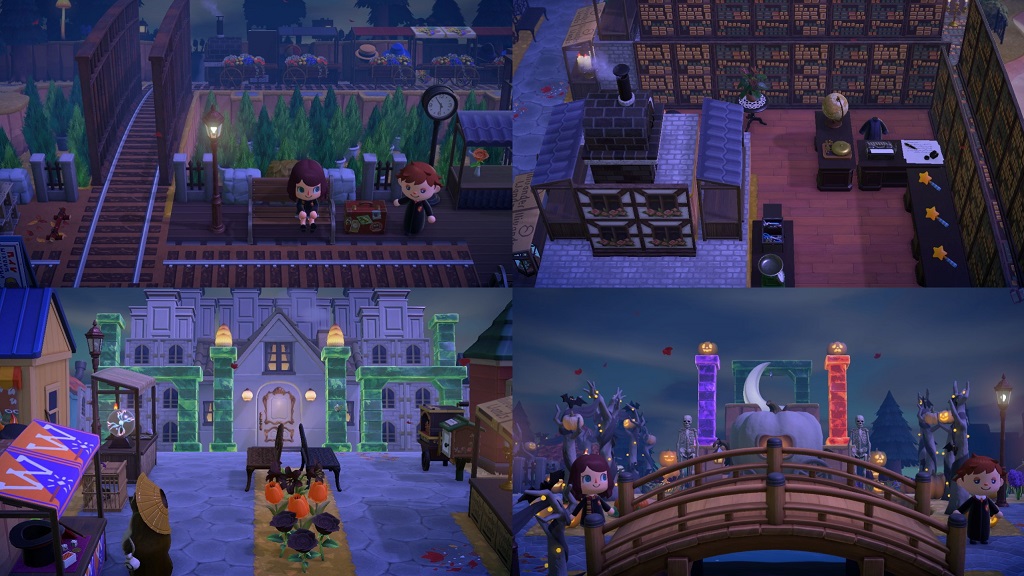 Top 3 - Kyoshi (Dream Address: DA-2695-2441 -0450)
Kyoshi island is a whimsical place heavily inspired by the element of Earth. If you are big fan of Cottagecore theme, come and dream at a place where nature is mostly untouched, enjoy a picnic with the fairies as you listen to the orchestra of the ocean. You also can walk on the abandoned train tracks or take a stroll on the smuggler's beaches, unwind in the nearby café where our barista will serve you only the finest of roasts.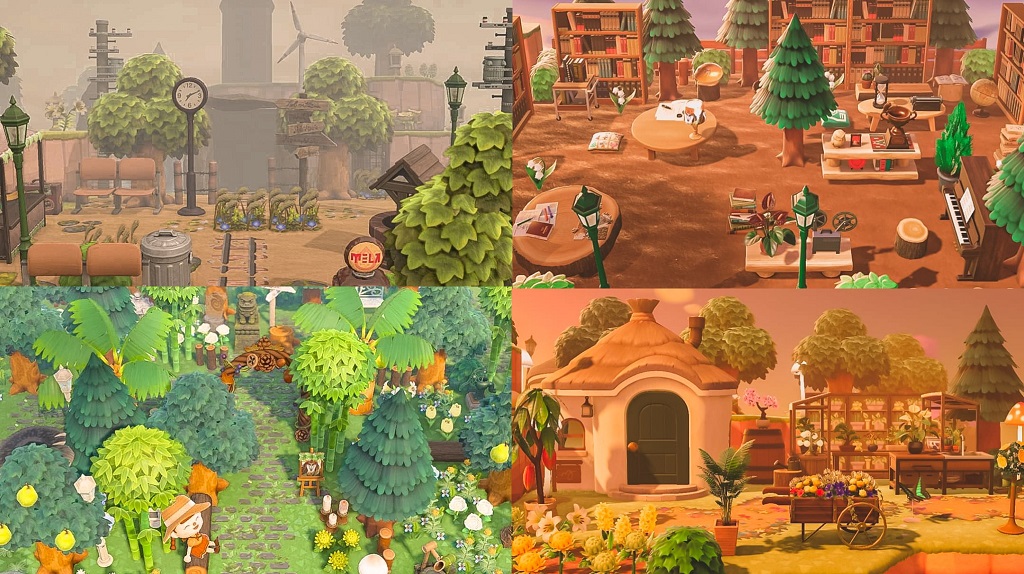 Top 4 - Danafall (Dream Address: 4437-1107-3844)
Danafall is an beautiful natural cottagecore island in the middle of the sea. This uncharted fall theme island is in overgrown froestcore theme with flowers and trees, and residents are working on preserving its pristine waterfalls and hills while making it a habitable place.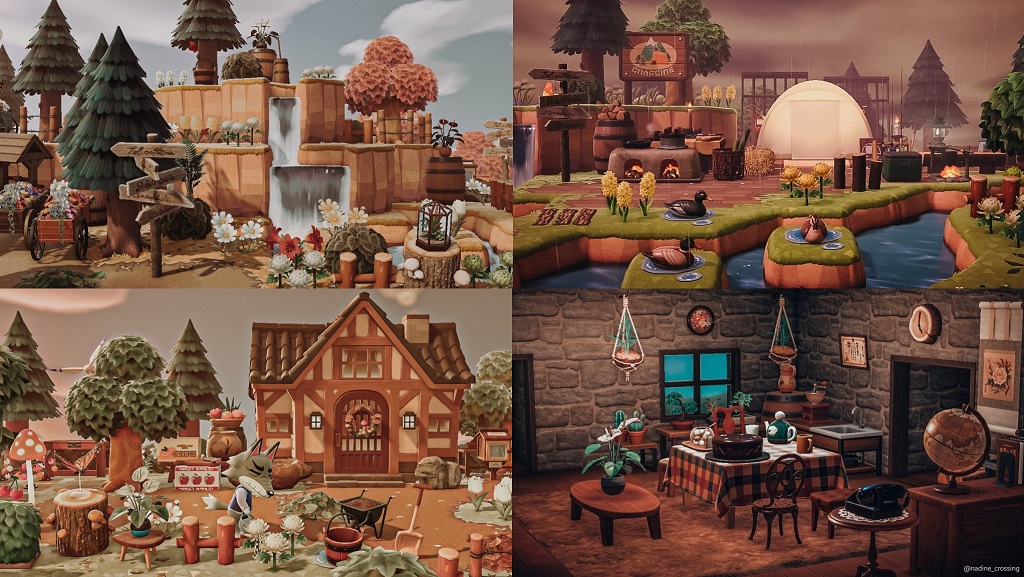 Top 5 - Gigiland (Dream Address: 0267-6325-9458)
Gigiland is a England coastal inspired island with plenty of boats and lighthouses in autumn theme. Relax by the fishing boats, walk down the bridge to the white lighthouse, and grab a drink at the winery. A nice maritime asthetic and the boats/barges on the island are such a neat idea. There are dozen of amazing areas waiting for your discover!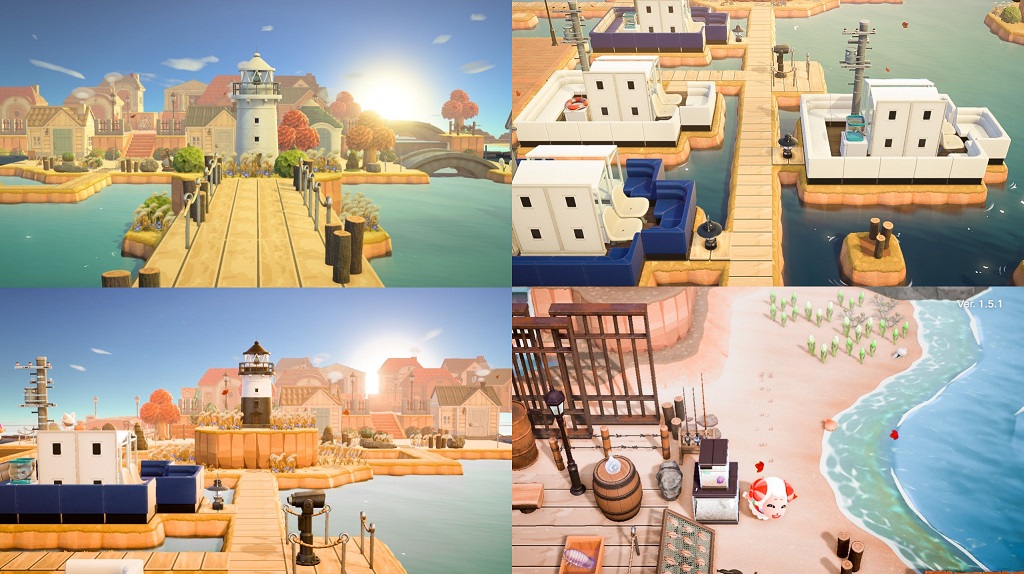 More Great Animal Crossing New Horizons Autumn Island Dream Codes
Cabot Cove (Dream Address: DA-3052-3823-6774) - Adorable little autumnal cottage town

Oboro (Dream Address: DA-7993-4355-0062) - Rural Japanese village with autumn abundant nature

Dream (Dream Address: DA-7409-1176-7464) - Fall theme town situated by an enchanted forest

Autumnwood (Dream Address: DA-6939-7489-4010) - Cozy mountain town with cider orchard

Hiraeth (Dream Address: DA-4256-3018-2518) - A spooky homage to the stories of Stephen King
Overall, fall is a really fun holiday in Animal Crossing New Horizons and whether you want to incorporate more Halloween elements into the scene, or just stick with that classic autumn look, you can easily make your island look fantastic with our great autumn island design ideas, now is the ideal time to start harvest autumn season landscaping.