ACNH November Update 2021 - New Events, Items, DIY Recipes, Critters in Animal Crossing New Horizons 2.0 Update
10/1/2021 9:18:43 AM
In November, we will usher in the last part of the season, celebrate the harvest, and remember the dead on our Animal Crossing New Horizons island. Let's dive into Animal Crossing New Horizons November Update 2021, by breaking down the events, seasonal items, critters, DIY materials & DIY recipes, and more brand new content rolling out in the last month of Fall in the Northern Hemisphere and at the end of Spring on Southern Hemisphere.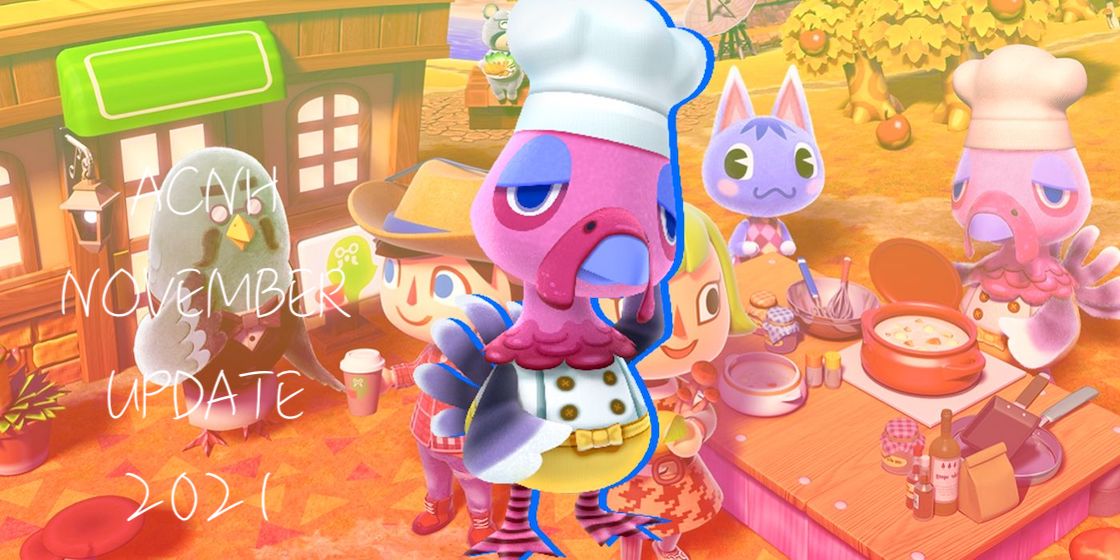 Animal Crossing New Horizons November Update 2021 - ACNH 2.0 Update
November may have become the most anticipated month for many ACNH fans in 2021 because the giant ACNH 2.0 Update will drop into Animal Crossing New Horizons and bring the long-awaited Brewster's Roost and another brand new game content. In addition, we can still look forward to the return of regular events, landscape adjustments, and seasonal DIYs, bugs, fish, and sea creatures that can be collected for a limited time.
Now follow us to check out the changes we are going to see around our Animal Crossing New Horizons island during November, covering both Northern Hemisphere and Southern Hemisphere.
Related Read:
ACNH Turkey Day Update 2021 - Animal Crossing New Horizons Thanksgiving Day Event Guide
ACNH November Scenery Changes
When we move from October to November, the spooky season is coming to the end. November is the third month of autumn in the northern hemisphere, and we start to see some changes to our islands as the autumn starts to transition into winter, one of the most significant changes you'll see around your island is to certain types of bushes and trees. If you love fall Animal Crossing, November is the perfect season for you, the light will become shorter but you can appreciate some really beautiful sunsets too around 5 pm.
Bushes - In November, yellow and orange tea olives stop flowering and the holly bushes begin to bloom for the first time.
Trees - The color of oak trees and fruit-bearing trees will turn to more yellow even red. As the southern hemisphere currently has azaleas in bloom and continues to flower until December.
Grass - Throughout November, the grass will change even more than it did throughout October, by the end of November, your grass will be a warm orange to properly bring in the fall season.
ACNH November Seasonal Events and Items (2021)
November is a season to celebrate the harvest and to miss the deceased. Of course, in the cozy autumn breeze or the warm spring day, a cup of coffee from Brewster is even more pleasant. Here we list all events that will be planned during the month of November!
Brewster & Cafe in Museum (Confirmed)
Available Date: TBC
Items: Coffee
Finally, Brewster is going to open his The Roost cafe 24/7 inside the Museum, to always allow us to go and sip a nice steaming cup of coffee or even get a part-time job. The entrance of the cafe with a prominent icon of Brewster is near the Art Gallery, you will be able to enter the roost by climbing up the stairs. Though Nintendo has officially announced Brewster will be back in November, but the confirmed return date, if he will come with a new event or any new items featured him will be added is unknown.
Day of the Dead
Release Date: October 25 to November 3
Available Items: Marigold Decoration
Saint Martin's Day (Lantern Festival)
Release Date: November 1 to 11, 2021
Available Items: Handheld Lantern (6 different variations: Stars, Moons, Stained Glass, Suns, Geese, Leaves)
Shichi-Go-San
Release Date: November 11 to 20, 2021
Available Items: Chitose-Ame
Turkey Day (Thanksgiving Day)
Release Date: November 25th, 2021
Available Items: Turkey Day Themed Furniture Items (Casserole, Chair, Decorations, Garden Stand, Hearth, Table, Table Setting, Wheat Decor)
ACNH November DIY Recipes & Crafting Items (2021)
With us coming to the end of an entire season this month, some of these changes are because of that seasonal transition with things like craft materials, whilst others are events and typical environmental changes across both hemispheres.
Mushroom DIY Recipes & Items (Northern Hemisphere)
Starting from the 1st of November in the northern hemisphere, all new mushrooms will be starting spawning all around our islands, which can be used as new crafting materials to make around 12 new mushroom-themed furniture.
Available Date: November 1st to 30th
Mushroom DIY Material To Collect:
Flat Mushroom (Sell Price: 200 Bells)
Rare Mushroom (Sell Price: 16,000 Bells)
Round Mushroom (Sell Price: 200 Bells)
Skinny Mushroom (Sell Price: 300 Bells)
Elegant Mushroom (Sell Price: 10,000 Bells)
Mushroom Themed Items:
Forest Flooring
Mush Lamp
Mush Log
Mush Low Stool
Mush Parasol
Mush Partition
Mush Table
Mush Umbrella
Mush Wall
Mushroom Wand
Mushroom Wreath
Maple Leaf Furniture & Item DIY Crafting Recipes (Northern Hemisphere)
Much like mushrooms and other seasonal crafting materials, maple leaves will start spawning around our island in the northern hemisphere in mid-November, however, they are only available for 10 days so much shorter than the average material. These maple leaves can be used to craft items from the maple set.
Available Time: November 16th to 25th
Maple Leaf DIY Material To Collect: Maple Leaves
Maple Leaf Themed Items:
Maple Leaf Furniture:
Autumn Wall
Colored-Leaves Flooring
Leaf Stool
Maple-Leaf Pochette
Maple-Leaf Pond Stone
Maple-Leaf Umbrella
Red-Leaf Pile
Tree's Bounty Arch
Tree's Bounty Big Tree
Bamboo DIY Recipes & Items (Southern Hemisphere)
In the southern hemisphere, we are still in bamboo season and can collect young spring bamboo and its DIY recipes for the remainder of November.
Available Time: August 25 to November 30
Bamboo DIY Material To Collect: Young Spring Bamboo, Bamboo Shoots
Bamboo Themed ACNH Items:
Steamer-Basket Set
Bamboo-Shoot Lamp
Bamboo Doll
Bamboo Noodle Slide
Green-Leaf Pile
Basket Pack
Pan Flute
Bamboo Wand
Bamboo-Grove Wall
Light Bamboo Rug
ACNH November Bugs, Fishes & Sea Creatures (2021)
As every month comes to an end we see a bunch of fish, bugs, and deep sea creatures leave the Animal Crossing New Horizons island before a whole bunch of new critters begin spawning, November is no different from any other month and we'll bring with it a new selection of creatures that can encounter all around our island. In the northern hemisphere we can expect to see critters like the tarantula, blowfish, and sea pig amongst others, the same goes for the southern hemisphere but given its current spring there, you can expect to catch creatures like the great purple emperor butterfly, frog, and gigas giant clam instead, so plenty of critters to hunt down no matter where you are.
New Bugs In November
Northern Hemisphere
Damselfly
Mole cricket
Tarantula
Southern Hemisphere
Great Purple Emperor
Agrias Butterfly
Rajah Brooke's Birdwing
Queen Alexandra's Birdwing
Long Locust
Banded Dragonfly
Pondskater
Diving Beetle
Violin Beetle
Rosalia Batesi Beetle
Scorpion
New Fishes In November
Northern Hemisphere
Bitterling
Blowfish
Tuna
Blue Marlin
Football Fish
Southern Hemisphere
Frog
Catfish
Nibble Fish
Angelfish
Betta
Rainbowfish
Giant Trevally
Mahi-mahi
New Sea Creatures In November
Northern Hemisphere
Sea Cucumber
Sea Pig
Dungeoness Crab
Snow Crab
Red King Crab
Southern Hemisphere
Sea Urchin
Slate Pencil Urchin
Gigas Giant Clam
Vampire Squid
Spotted Garden Eel
ACNH November 2.0 Update More Predictions (2021)
With the ACNH 2.0 Update rolling out in the game during November, we can expect more new content related to the Brewster and the new game mechanic added in Animal Crossing New Horizons, let's take a look at what we've discovered:
Celeste in Second Floor of Museum (TBC)
Now that Brewster and the Roost have been officially announced, fans are thrilled to be able to access the cafeteria that we will see added. But this may not be the only additional room in the museum. There is another room is discovered in the poster, which is doubted a space for Celeste. The owl has always been linked to the structure of its brother Brewster in the previous titles in New Horizons. We remember her iconic observatory in Animal Crossing: Wild World, where she assisted the player in observing the sky, and where thanks to her we could create constellations in the sky of our village. In New Leaf, on the other hand, Celeste was on the second floor of the Museum and here we could interact with her to set up exhibition rooms or buy the items on sale at that particular moment.
Gyroids Collection (TBC)
In the previous version of the game, Gyroids - the unusual furniture items are also closely related to Brewster. Players can collect various types of gyroids by buying coffee from coffee shops. In addition, similar to Fossils, Gyroids will also be generated in the soil. , So players can also get through mining. As the biggest Gyroids follower, Brewster is likely to return to our island in November with his favorites.