ACNH Thanksgiving Event Update 2021 - Turkey Day Items, Recipes, Secret Ingredients, Rewards & Changes
10/15/2021 3:06:58 PM
On Animal Crossing New Horizons, Thanksgiving Day as the biggest event in November will be celebrated again this year! Obviously, Turkey Day Items will be brought back again, alongside Franklin back with his Secret Ingredients and some refreshed content. Here we break down all details you should know about the ACNH Turkey Day Update in 2021!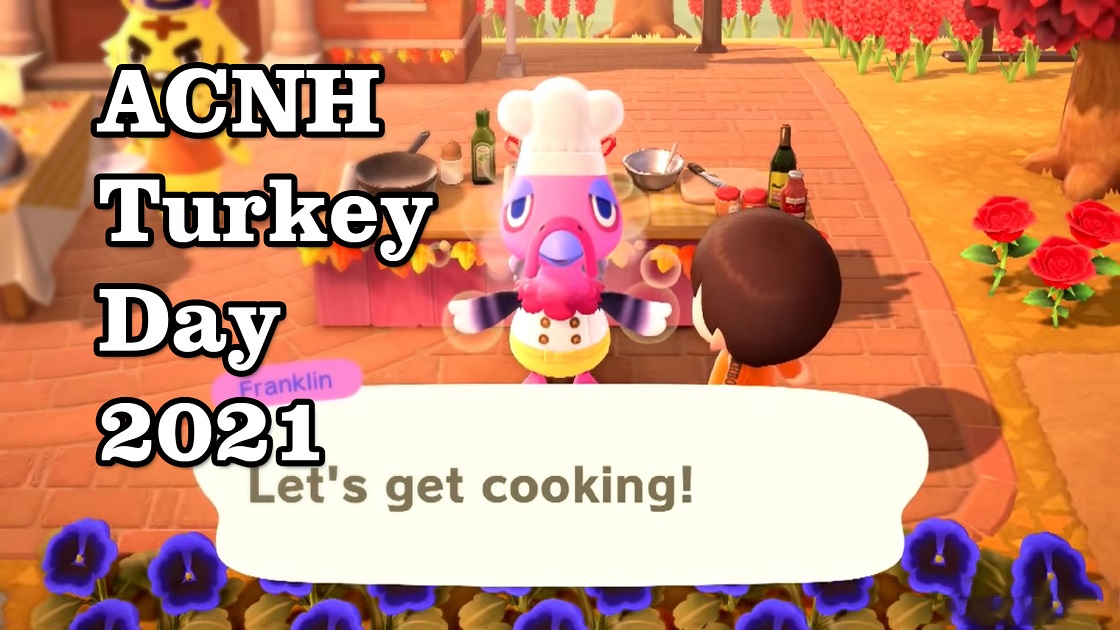 Animal Crossing New Horizons Thanksgiving Turkey Day 2021
What is the best occasion to celebrate autumn and enjoy typical dishes if not with the feast of Turkey Day? On the occasion of American Thanksgiving, this special event is organized on the island of Animal Crossing: New Horizons.
ACNH Thanksgiving Event Date: This event is repeated every year on the last Thursday of November - American Thanksgiving every year!, from 9 am until midnight, so the Turkey Day Event in 2021 will begin on November 25th at 9 AM and run until Midnight, same for islands both in the Northern Hemisphere and Southern Hemisphere.
ACNH Turkey Day Changes: Judging from Nintendo's approach to regular events released in 2021, in order to keep players excited about the event, new content including new Thanksgiving theme ACNH items for sale is likely to be added to this year's event. The main goal-help Franklin cook recipes will still be maintained, but we are not sure whether there will be new menus and ingredients added to update the game mechanics. Similarly, we also expect Franklin to bring us more surprises, such as brand new cool Turkey Day items!
Related Read:
ACNH Christmas Event 2021 - Toy Day Rewards, New Items, DIY Recipes & More
ACNH December Update 2021 - Animal Crossing New Horizons Winter Update
How is the Thanksgiving Event Carried Out in Animal Crossing New Horizons?
The great guest of the event is Franklin, the world-famous turkey chef, in charge of cooking the main dishes of the event in question: in fact, the square will be set up on a theme with tables set and a kitchen counter from which Franklin will never leave. Precisely for this reason, he will ask us for help in gathering the necessary ingredients to prepare the four dishes provided by the chef! You do this by talking to him and finding out what ingredients are needed, once you have them report back to him & repeat for rewards.
ACNH Thanksgiving Day Items (Turkey Day Rewards & DIY Recipes)
During the Thanksgiving Event, there are bulk of Turkey Day items to collect in two methods:
All non-craftable Thanksgiving Set items can only be obtained by cooking regular dish for Franklin on Turkey Day:
Turkey Day Rug (cook the first regular dish)

Turkey Day Wall (cook the second regular dish)

Turkey Day Flooring (cook the third regular dish)

Cornucopia (cook the fourth regular dish)
All craftable Thanksgiving items can be obtained by crafting with the Turkey Day DIY Crafting Recipe, or by enhancing a dish for Franklin during Turkey Day event, or purchasing from Nook's Cranny:
Turkey Day Casserole

Turkey Day Chair

Turkey Day Decorations

Turkey Day Garden Stand

Turkey Day Hearth

Turkey Day Table

Turkey Day Table Setting

Turkey Day Wheat Decor
How To Get Thanksgiving Turkey Day Set DIY Crafting Recipes?
Obtain as a reward from Franklin by enhancing all 4 dishes with secret ingredients for him.
Turkey Day Dishes & Recipes
This is the turkey day recipe list from the previous Thanksgiving Event, this year, Nintendo would make a refresh with brand new dishes, then more details will be updated here:
Dish 1 - Clam Chowder Recipe Ingredients
Regular Ingredients: 3 Manila Clams

Secret Ingredients: Scallop
Dish 2 - Pumpkin Pie Recipe
Regular Ingredients: 1 Orange Pumpkin, 1 Random Green Pumpkin/White Pumpkin/Yellow Pumpkin

Secret Ingredients: Two Pumpkins not originally requested
Dish 3 - Gratin Recipe
Northern Hemisphere Regular Ingredients: 1 Mussel, 1 Random Flat Mushroom/Round Mushroom/Skinny Mushroom/Oyster

Northern Hemisphere Secret Ingredients: Dungeness Crab

Southern Hemisphere Regular Ingredients: 1 Squid, 1 Sea Urchin

Southern Hemisphere Secret Ingredients: Dungeness Crab
Dish 4 - Fish Meunière Recipe
Northern Hemisphere Regular Ingredients: 1 Sea Bass, 1 Random Dab/Olive Flounder/Red Snapper

Northern Hemisphere Secret Ingredients: Barred Knifejaw

Southern Hemisphere Regular Ingredients: 1 Sea Bass, 1 Random Olive Flounder/Red Snapper

Southern Hemisphere Secret Ingredients: Barred Knifejaw
How To Cook & Enhance Turkey Day Dishes For Franklin For Rewards?
1. Talk to Franklin near Resident Services to get instructions for four different Thanksgiving dishes he needs to be cooked.
2. Collect the materials and initial recipe ingredients (fish, sea creatures, mushrooms, pumpkins, and more) around your island.
3. Bring ingredients back to Franklin to cook his requested dish.
4. After cooking a dish, it will be placed on display in the plaza and you will receive a reward.
How To Get.
5. Talk to Franklin again to get the ingredient details of the next recipe until you've completed all four.
6. Enhance the finished dish by giving secret ingredients to Franklin for an extra reward.
How To Get Secret Ingredients To Get Extra Rewards?
1. Discover the hints of secret ingredients by talking to your villagers in their homes.
2. Get the secret ingredient by trading the requested fish to the villager cooking at a temporarily added kitchen.
3. Or collect the secret ingredients by diving, finishing, picking around your island
These are all the details on the Thanksgiving Event - Turkey Day which will have the world-famous chef Franklin as a special guest. More new information will be updated here, stay tuned!