ACNH December Update 2021 - New Events, Seasonal Items, DIY Recipes, Critters | Animal Crossing Winter Update
11/1/2021 11:21:39 AM
In November, we ushered in the biggest update of Animal Crossing New Horizons in 2021, and were excited about those new content. And what kind of new content will appear on our island in the last month of 2021, let us explore ACNH December Update together, there is no doubt that will involve new events and seasonal items, DIY recipes, bugs, fish, Sea creatures, and new seasonal scenery.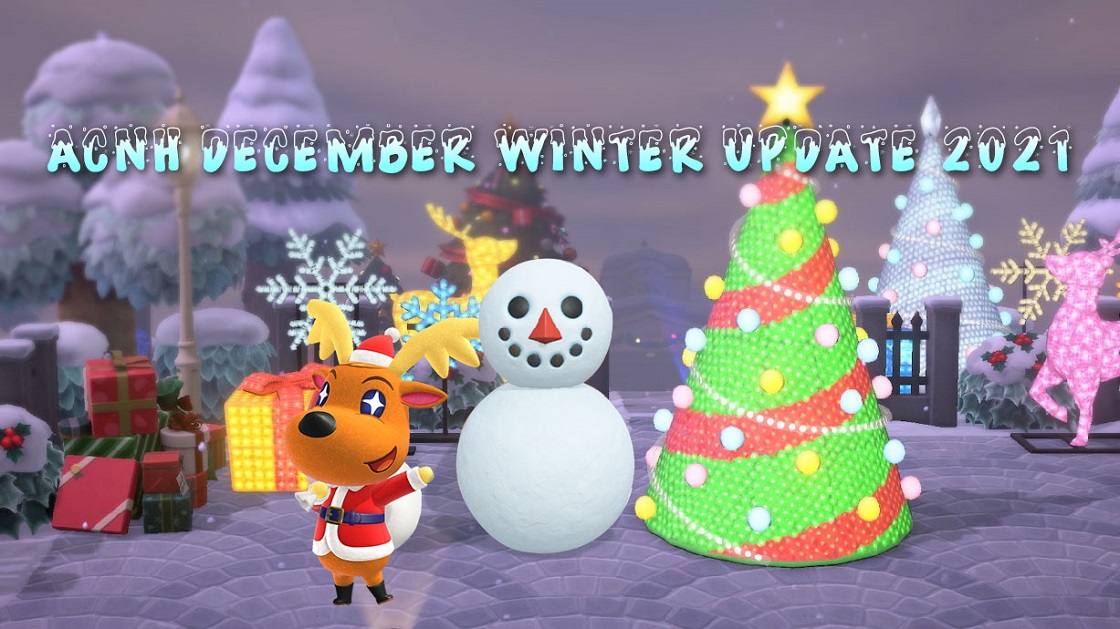 Animal Crossing New Horizons December Update 2021 - ACNH Winter Update 2021
In December, our island will enter a new season. In addition to the change of scenery, we will also celebrate new seasonal festivals such as one of the biggest events around year-Christmas Toy Day. Similarly, with the change of seasons, new materials will also be spawned on the island for players to collect to make DIY recipes and furniture. Of course, some new critters will also appear on your island at a suitable time.
ACNH December Winter Scenery Update
With entering the last month of 2021, the season on Animal Crossing New Horizons switches from golden fall to the snowy winter in the northern hemisphere, while the islanders in the southern hemisphere start experiencing colorful summer. Therefore, there will be big changes in the landscape on our island:
Northern Hemisphere: At the beginner of December, the scenery on our island is going to transit from fall to winter. On November 11th, snow will begin to stick to the ground. Starting in late November, snow will fall on your island at any time, creating a winter wonderland. To celebrate the holiday season, the snowy trees will even acquire lights which are materials for DIY recipes.
Southern Hemisphere: Summer is starting running throughout December, the trees, bushes, and grass will turn a vibrant green, and the wildlife on your island to truly bloom.
ACNH December Seasonal Events and Items (2021)
Though November 2.0 Update has brought a bulk of new content to keep you busy on Animal Crossing New Horizons, a host of new holidays and refreshed seasonal events will still return in December featuring new and old furniture and clothing:
Christmas Event - Toy Day
Prepare Start Date: December 1st
Event Release Date: December 24th for Christmas Eve
Items: Toy Day Items, Christmas Costume, Jingle's Rewards (Toy Day Sleigh, Toy Day Stocking, Gift Pile, and Jingle's Photo)
As one of the biggest annual holidays around the year, surely Christmas will be celebrated as a Toy Day event again on our island. Starting from December 1st and running all the way to Christmas Day, you are able to prepare for the holiday by purchasing Toy Day items and Christmas clothes. And on Christmas Eve (December 24th), you will still help Jingle to send out gifts to villagers for receiving Christmas-themed items as rewards.
Winter Solstice (Northern Hemisphere)
Release Date: December 1st to December 31st
Available Items: Aurora Wall, Midwinter Sweater
To celebrate the Winter Solstice, the gorgeous Aurora Borealis themed wallpaper - Aurora Wall will be available for sale in the Seasonal tab of Nook Shopping's Special Goods, and you also can purchase Midwinter Sweater from there with bells to enjoy the beautiful season in Northern Hemisphere.
Summer Solstice (Southern Hemisphere)
Release Date: December 1st to December 31st
Available Items: Sunflower Rug, Sunflower Crown
In Southern Hemisphere, players are able to purchase Sunflower Rug and Sunflower Crown from Nook Shopping throughout December to experience the celebration of Summer Solstice.
Flick's Bug-Off Event (Southern Hemisphere)
Release Date: September 26 (4th Saturday of September)
Available Items: Bronze, Silver, Gold Bug Trophies
In Southern Hemisphere, summer brings a bulk of new bugs back to your island, so Flick return to your island and hold the Bug-Off event, you can catch fishes as more as possible in the limited time to earn points for redeeming the trophies from him.
New Year's Eve Countdown Event
Release Date: December 31st
Available Items: New Year's hats, party poppers, New Year Items
On the last day of 2021, we will prepare for the New Year countdown event that will definitely take place at the midnight. Don't forget to go to the outside of Resident Services, get party items from Tom Nook, and wait for the fabulous fireworks show for New Year!
Other Winter Seasonal Items in December
Unlike other months, we seem to have more extra things to do at the end of the year, such as:
Snowboy (December 11 to February 24) - Build up a perfect snowy in your northern hemisphere island, and you will be rewarded with some neat DIY recipes.
Winter Clothing & Accessories (December 1st) - In the Northern Hemisphere, Able Sisters offer the winter costume items like Sweaters, Snow Knit Cap, Patchwork Coat, Christmas clothes, etc.
Summer Clothing & Accessories (December 1st) - In the Southern Hemisphere, summer-themed clothes will be on sale at Able Sisters.
ACNH December DIY Recipes & Crafting Items 2021
With heavy snow covering our islands, in the northern hemisphere we entered into making snow and holiday-related items such as frozen theme sets made with snowflakes and festive Christmas items for holiday decorations; while in the southern hemisphere, we can pick up shells on the beach to make shell-themed series items.
Acorn & Pine Cone DIY Recipes (Northern Hemisphere)
Available Date: September 1 to December 10
DIY Materials To Collect: Acorn, Pine Cone
Tree's Bounty Items (DIY Recipes) To Craft:
Leaf Campfire (3 Pine Cone, 5 Clump of Weeds, 3 Tree Branch)
Pile of Leaves (3 Pine Cone, 5 Clump of Weeds)
Pine Bonsai Tree (8 Pine Cone, 5 Clay)
Traditional Balancing Toy (4 Acorn, 2 Hardwood)
Tree's Bounty Arch (4 Pine Cone, 5 Acorn, 5 Maple Leaf, 15 Tree Branch)
Tree's Bounty Big Tree (4 Acorn, 4 Clay, 5 Maple Leaf, 5 Pine Cone, 5 Tree Branch)
Tree's Bounty Lamp (6 Acorn, 4 Clay)
Tree's Bounty Little Tree (6 Pine Cone, 4 Acorn, 1 Hardwood)
Tree's Bounty Mobile (2 Pine Cone, 3 Acorn, 3 Tree Branch)
Yellow-Leaf Pile (3 Acorn, 5 Clump of Weeds)
Note: You need 35 Acorns and 31 Pine Cones to craft the entire set
Snowflake DIY Recipes & Iceberg Set Items (Northern Hemisphere)
Available Date: December 11th to February 24th
DIY Material To Collect: Snowflake
Iceberg Set Items (DIY Recipes) To Craft:
Falling-Snow Wall (3 Snowflake, 10 Stone)
Iceberg Flooring (10 Snowflake)
Iceberg Wall (10 Snowflake)
Ski-Slope Flooring (8 Snowflake)
Ski-Slope Wall (8 Snowflake)
Snowflake Pochette (6 Snowflake)
Snowflake Wall (12 Snowflake)
Snowflake Wreath (4 Snowflake)
Large Snowflake DIY Recipes & Frozen Set Items (Northern Hemisphere)
Available Date: December 11th to February 24th
DIY Material To Collect: Snowflake, Large Snowflakes
Frozen & Ice Set Items (DIY Recipes) To Craft:
Frozen Arch (1 Large Snowflake, 10 Snowflake)
Frozen Bed (1 Large Snowflake, 10 Snowflake)
Frozen Chair (1 Large Snowflake, 3 Snowflake)
Frozen Counter (1 Large Snowflake, 5 Snowflake)
Frozen Partition (1 Large Snowflake, 6 Snowflake)
Frozen Pillar (1 Large Snowflake, 3 Snowflake)
Frozen Sculpture (1 Large Snowflake, 4 Snowflake)
Frozen Table (1 Large Snowflake, 8 Snowflake)
Frozen-Treat Set (1 Large Snowflake, 1 Snowflake)
Ice Flooring (1 Large Snowflake, 8 Snowflake)
Ice Wall (1 Large Snowflake, 8 Snowflake)
Ice Wand (1 Large Snowflake, 3 Star Fragment)
Snowperson Head (1 Large Snowflake, 5 Snowflake)
Three-Tiered Snowperson (1 Large Snowflake, 6 Snowflake, 3 Tree Tranch)
Note: You need total of 146 Snowflake, 15 Large Snowflake, 10 Stone, 3 Star Fragment, 2 Tree Branch to craft all Winter Snowflake Items
Ornament DIY Recipes & Festive Christmas Items (Northern Hemisphere)
Available Date: December 15th to January 6th
DIY Materials To Collect: Red, Blue, and Gold Ornaments
Festival & Illuminated Set Items (DIY Recipes) To Craft:
Big Festive Tree (6 Red Ornament, 6 Blue Ornament, 4 Gold Ornament, 5 Wood, 5 Clay)
Festive Tree (3 Red Ornament, 3 Blue Ornament, 2 Gold Ornament, 5 Wood)
Tabletop Festive Tree (5 Gold Ornament, 2 Clay, 3 Tree Branch)
Festive Rug (5 Red Ornament, 5 Blue Ornament, 5 Gold Ornament)
Festive Top Set (2 Gold Ornament, 1 Hardwood)
Holiday Candle (5 Red Ornament, 5 Clump Of Weeds)
Festive Wrapping Paper (1 Red Ornament, 1 Blue Ornament, 1 Gold Ornament)
Illuminated Present (3 Red Ornament, 4 Gold Ornament, 3 Iron Nugget)
Illuminated Reindeer (6 Gold Ornament, 5 Iron Nugget)
Illuminated Snowflakes (9 Blue Ornament, 3 Iron Nugget)
Illuminated Tree (6 Gold Ornament, 8 Red Ornament, 8 Blue Ornament, 6 Iron Nugget)
Jingle Wall (5 Red Ornament, 5 Blue Ornament, 5 Gold Ornament, 5 Clay)
Ornament Mobile (1 Red Ornament, 1 Blue Ornament, 1 Gold Ornament, 4 Tree Branch)
Ornament Wreath (6 Blue Ornament, 2 Gold Ornament)
Note: You need total of 43 Blue Ornament, 42 Gold Ornament, 36 Red Ornament, 17 Iron Nugget, 12 Clay, 10 Wood, 7 Tree Branch, 5 Clump of Weeds, 1 Hardwood to craft the all Christmas Festival Items
Summer Shell Recipes (Southern Hemisphere)
Date: June 1 to August 31st
DIY Materials To Collect: Summer Shells
Shell Set Items (DIY Recipes) To Craft:
Shell Wand (3 Summer Shell, 3 Star Fragment)
Shell Wreath (1 Summer Shell, 1 Sea Snail, 1 Sand Dollar, 1 Coral, 1 Giant Clam, 1 Cowrie)
Shellfish Pochette (6 Summer Shell, 2 Giant Clam)
Starry-Sands Flooring (3 Summer Shell, 1 Sandy-Beach Flooring)
Summer-Shell Rug (6 Summer Shell)
Tropical Vista (5 Summer Shell)
Underwater Flooring (3 Summer Shell, 3 Coral)
Underwater Wall (3 Summer Shell, 5 Coral)
Water Flooring (6 Summer Shell)
Note: You need total of 36 Summer Shell, 10 Coral, 4 Giant Clam, 3 Star Fragment, 2 Sea Snail, 2 Sand Dollar, 1 Cowrie, 1 Venus Comb to craft all summer shell set items
ACNH December Bugs, Fishes, Sea Creatures
With the change of season, new bugs, finish, sea creatures will spawn on our island in both hemispheres. But in winter when it is suitable for dormancy, there will undoubtedly be fewer creatures returning; while in summer, the sea and rivers of your island will be full of new fish for you to catch. Here we list all the new Critters you are able to catch throughout December:
New Bugs In December
Northern Hemisphere
Dung Beetle
Rajah Brooke's Birdwing
Emperor Butterfly
Southern Hemisphere
Mosquito
Rainbow Stag
Goliath Beetle
Drone Beetle
Firefly
Emperor Butterfly
New Fishes In December
Northern Hemisphere
Oarfish
Squid
Sea Butterfly
Stringfish
Pond Smelt
Southern Hemisphere
Suckerfish
Whale Shark
Great White Shark
Hammerhaead Shark
Saw Shark
Ribbon Eel
Saddled Bichir
Arapaima
Gar
Dorado
Arowana
Piranha
Tilapia
Giant Snakehead
New Sea Creatures In December
Northern Hemisphere
Lobster
Southern Hemisphere
Gazami Crab
Tiger Prawn