ACNH Christmas Event 2021 Guide - Toy Day Update Items, Jingle's Rewards, Christmas Clothes & Furniture in Animal Crossing New Horizons
11/1/2021 10:47:12 AM
This year, Christmas is also coming to Animal Crossing: New Horizons Island and celebrated as a Toy Day event with refreshed content! We will have the chance to meet the reindeer - Jingle who will ask for our help for the delivery of Christmas gifts. In this guide of ACNH Toy Day Event Update 2021, let's break down everything about the winter holiday!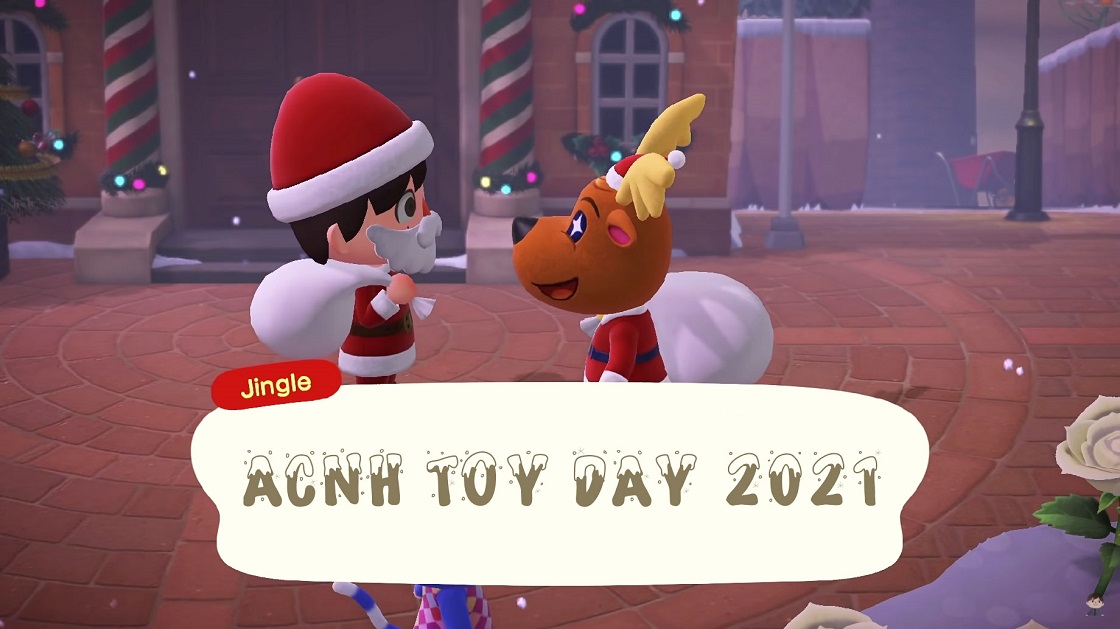 ACNH Toy Day Update 2021 - Animal Crossing New Horizons Christmas Event Guide
On the occasion of Christmas, our island of Animal Crossing: New Horizons is also preparing with celebrations and decorations, organizing for December 24th a brand new event: Toy Day. In fact, during the event, we will have the opportunity to meet Jingle who will ask us for help to deliver gifts to our dear animal friends and in return, we will be able to get different themed items, which will allow us to beautify our island and give it the Christmas touch we were looking for! Gifts will be given to us by Jingle and we will not need to collect them in advance. But, if we want, we can still exchange gifts with our villagers, the important thing is that they are wrapped!
Related Read:
ACNH December Winter Update 2021 - New Events, Seasonal Items, DIYs, Critters & More
Date of ACNH Christmas Toy Day 2021
Toy Day Event is surely set on the Christmas Eve - December 24th, but actually, we have a longer time throughout December to take part in the event of the Christmas Holiday:
Starting from December 1st, Christmas-themed clothes and items will be available for you to purchase, you will need some of them for the Toy Day event.
Starting from December 15th, Ornaments will spawn on the trees, you will need to collect some for making the items (such as the gift wrapping paper) for joining the Toy Day event.
Changes of ACNH Christmas Event 2021
ACNH Christmas Toy Day Items 2021
During the Christmas event, there are the bulk of new items including the Jingle Rewards, Toy Day Theme Items, and Festive Christmas Ornament Items to collect, below we will list all the items and tell you how to get them:
Toy Day Furniture and Items - Jingle's Rewards
Festive Wrapping Paper - Get the DIY recipe by talking to Jingle, then craft it with Ornaments
lToy Day Stockings - Make 3x Festive Wrapping Papers for Jingle
Gift Pile - Get DIY recipes by sending gifts to 50% villagers on your island, then craft it with Red 3x Wrapping Paper, 1x Wooden-block toy, 1x Cardboard Box
Toy Day Sleigh - Deliver gifts to all villagers and report to Jingle
Photo of Jingle - Put the Toy Day Stockings in your house on December 24th, and check them on December 25th
Available Time & How To Get Them:
On December 24th, by helping Jingle on Christmas Eve (Toy Day) to complete gift sending, you will be able to receive the blow Toy Day Items:
Toy Day Furniture and Items - LTD Toy Items in Nook's Cranny
Puppy Plushie
Kids' Tent
Dinosaur Toy
Pop-up Book
Dollhouse
Tin Robot
Mini Circuit
RC Helicopter
Available Time & How To Get Them:
1. You can buy them with different amounts of bells on sale every day on Nook's Cranny from Dec 1st to 25th
2. Wrap a git with wrapping paper (found at Nook's Cranny) and send it to your villagers on the 24th December, you could exchange a Toy item from your villager
Note: The color variants of toys are can not be customized and changed, you can only get a certain color according to your p[particular island.
Christmas Clothing - Santa & Reindeer Outfits
Santa Hat
Santa Coat
Santa Pants
Santa Beard
Reindeer Hat
Reindeer Costume
Holiday Sweater
Festive Dress
Reindeer Sweater
Festive-tree Dress
Available Time & How To Get Them:
You can buy the Christmas-themed items starting from December 1st and throughout the month, while the Santa and reindeer costumes are only on sale at the Able Sisters on December 24th.
Christmas Festive Furniture & Items - Ornament DIY Recipes
Festive Wreath
Ornament Wreath
Big Festive Tree
Ornament Mobile
Festive Tree
Festive Wall
Illuminated Tree
Illuminated Snow
Festive top set
Tabletop Festive Tree
Illuminated Reindeer
Illuminated Present
Festive Candle
Available Time & How To Get Them:
1. From December 15th to December 24th, one of the villagers on your island will visit you and send you a Festive Wreath as a gift
2. Dec 15th to Jan 6th, you are able to collect Ornaments by shaking the decorated Cedar trees on our island and get related Christmas DIY recipes from Pop balloons or villagers
How Many Ornaments Will We Need For Christmas Set Items?
In order to manufacture all the items of the event, you will need 38 units of Blue ornament, 37 units of Red ornament, and 37 Units of Gold ornament. If we were to be in a hurry, or in any case in case of difficulty, you can safely exchange them with your friends or ask to send us a little by letter and vice versa in case your friends need them.
How Doe The Toy Day Event Goes On in Animal Crossing New Horizons?
1. Help Jingle with Gift Delivery
During the day when the event dedicated to the Day of Toys will take place, we will be able to observe a great ferment on our island: in fact, almost everything will be ready for the delivery of gifts.
To do so, however, we will have to wait for the start time of the event: in fact, if we go to the square we will have the opportunity to meet Jingle, the reindeer helper of Santa Claus, who will ask for our help for the duration of the event.
2. Craft Festive Wrapping Papers For Jingle
Jingle needs our help: we need to make more gift wrapping paper! Unfortunately, Jingle has run out of wrapping paper to pack the gifts to be delivered and clearly can't do without it. In case we agree to help him, he will give us a DIY recipe to make the Festive wrapping paper and he will ask us to bring him 3 pieces.
Being in the period of the Christmas holidays we can get the Ornament by shaking the cedar trees decorated with lights, alternatively, we can go to the service center of our island and ask FuffiFuffi if by chance there are extra Ornaments left.
After completing this first mission, Jingle will reward us with the Toy Day stockings.
3. Dress Up as Santa Claus To Send Gifts
For the delivery of gifts, we will be able to dress themed up and there is no better outfit than the Santa Claus suit, which was possible to recover during the month of December. Obviously, this is not a requirement and therefore it is possible to deliver gifts even without being dressed as Santa Claus.
To complete the outfit, we will need a Santa Hat, Santa Coat, Santa Pants, Santa Beard, and a pair of legend boots (Black), a pair of Antique boots, which will be on sale in both the Able Sisters and at Kicks. With this extremely Christmas look, even the locals will mistake us for Santa Claus himself!
4. Deliver Gifts To The Villagers
But our task does not end here: in Jingle it is very important that others can also feel like Santa Claus at least for a day and in this regard, he will ask us if we would like to help him also with the delivery of gifts to our villagers! Precisely for this reason, he will give us a lot of gifts that will contain the gifts to be delivered and at this point, it will be up to us to deliver the packages to our animal friends!
We will have time until 5:00 in the morning the next day, otherwise, our mission will fail and the sack will disappear. If, while delivering the gifts, the villagers have already gone to sleep, the mission will be completed by Jingle.
5. Receive Rewards From Jingle
If we have delivered more than half of the gifts, we will be rewarded with DIY Recipes to make a Gift pile, while once the delivery of the gifts is finished, if we return to Jingle, he will thank us and reward us with a Toy Day sleigh.