ACNH 2.0 Winter Christmas Design Ideas & 5-Star Festive Island Dream Codes (2021) in Animal Crossing New Horizons
12/6/2021 6:16:35 PM
Snowy winter and joyful Christmas holiday arrive Animal Crossing New Horizons again, everyone loves this season and festival decorating. Here we share new ACNH 2.0 Winter Christmas Island decorating ideas, as well as the dream address for the best Christmas islands, which will surely fill you with Christmas cheer and get you into the holiday spirit in unique manners.
Animal Crossing New Horizons 2.0 Winter Christmas Island Design Ideas (2021)
To help you build the winter wonderland you've always dreamed of, we sort out this ultimate guide to the best Christmas decorating ideas. However lavish or simple your Christmas decorating style, these eye-catching ideas will help you bring the beauty of the holiday to every corner of your home.
1. Use of Christmas festive items and 2.0 new items
With the brand new Christmas festive items, frozen furniture, and 9000+ cosmetics added into Animal Crossing New Horizons with the 2.0 update, this year's winter and Christmas holiday decorations will let your creativity shine.
Christmas Ornament Festive Items
Whether you're looking for cheery island entrance or house yard decoration, full-on festive area display, or table settings fit for a holiday feast, Christmas theme Ornament set items, festive and illuminated furniture is essential.
2.0 New Items
Items such as Giant Ornament, Ornament Garland, and Ornament Tree newly added in the 2.0 update are absolutely perfect decorations for any Xmas theme area. Also don't forget to use these new items such as Festival-lantern set, Frozen fence, Plaza merry-go-round and so on. In addition, new food items can also be great items for you to decorate a festive feast.
2. Build Winter Special Area With Festive Themes
Want to make your island merry and bright all winter season long? Not only add some festive decorations to every place, but also build up these special areas. You'll find all the inspiration you need to add cheer to each and every corner of your island - both indoors and out.
Christmas Tree Farm
Build up a Christmas tree farm with festive vibes for winter islands. Build up your tree farm by placing cedar trees, festive trees, and bushes in interval sequence, and use wood style fences such Log-wall fence and Bamboo-slats fences to segregate this area. Then set ups small lumberjack area in your tree farm in case you need some firewood for your fireplace or a little coffee stall with a freshly cut tree sign in case you want to grab a cup of joe in the cold weather. Additionally, you can add more details to the farm tree to make it more wintery and holiday.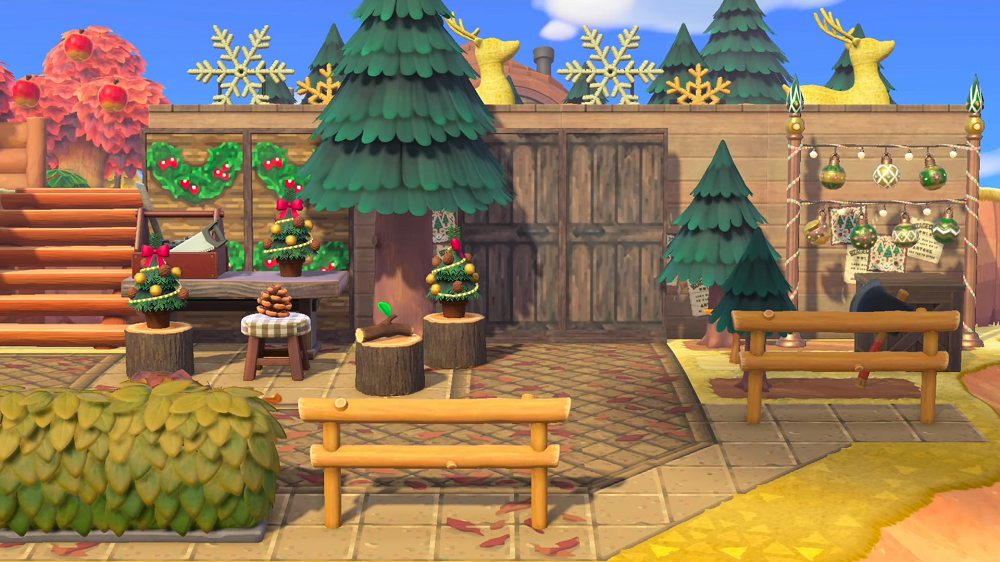 Holiday Bakery
A holiday baked good store built with lots of custom designs such as Virtual shelves made with custom patterns and snow-covered ground. Don't forget to pair up with a stall, coffee maker, kettle, and clay furnace. And around the bakery, put a couple of Christmas trees, some fences, and bushes. You also can spice it up by adding tables, chairs, mugs.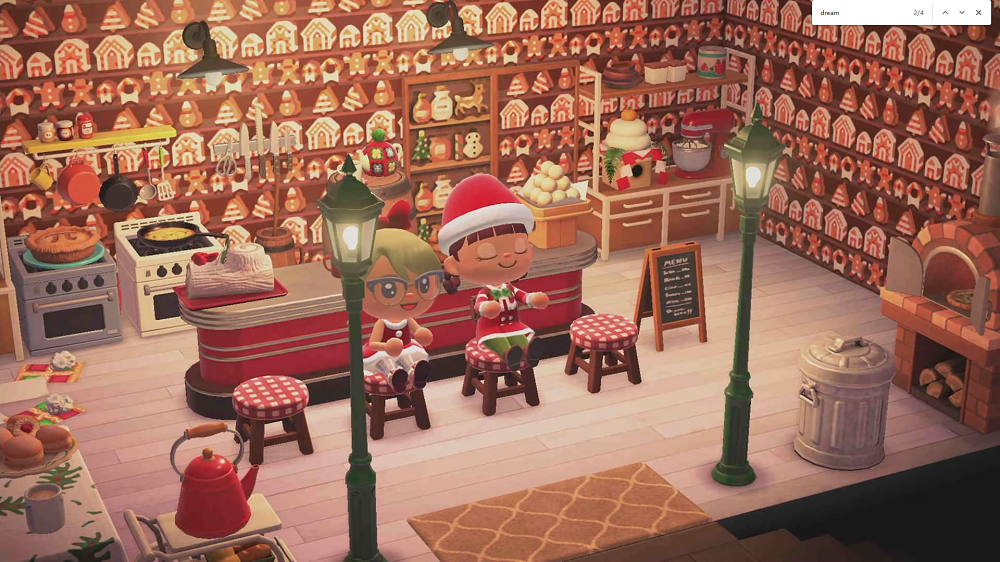 Winter Ice Rink
Winter is of course the season of skating and skiing. Creating an Ice Rink is undoubtedly not a good winter island design plan. Also use custom design patterns to design a shelf for displaying skates, and put a cash register in front of it to receive customers. Use a Frozen fence to enclose the Ice Rink and place a large festive tree in it and add some frozen set items.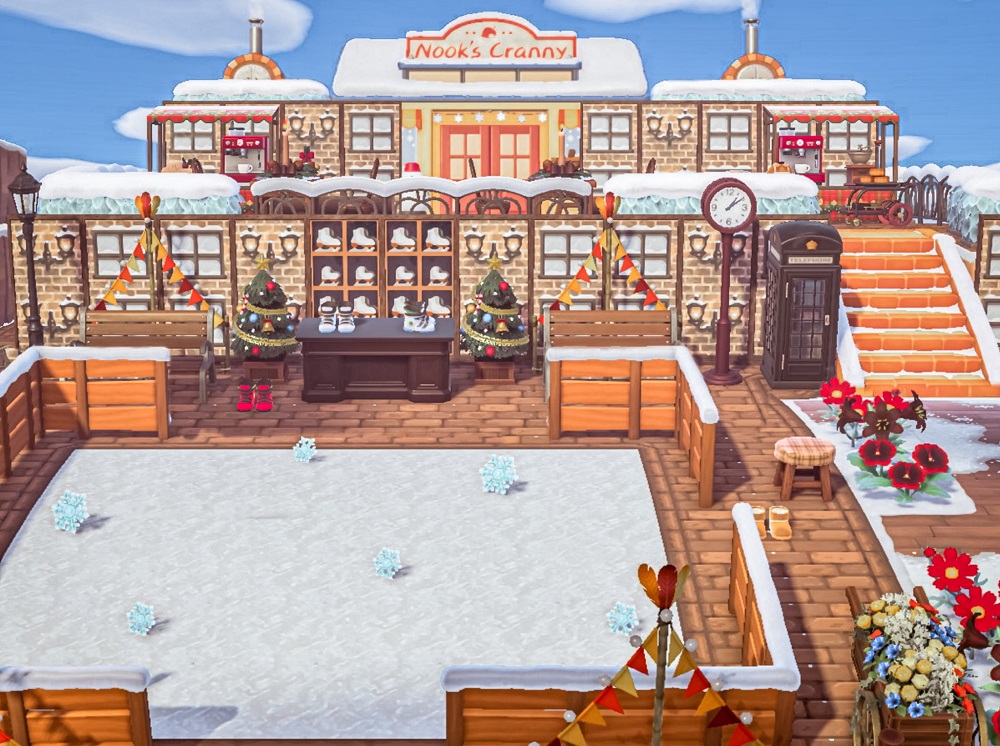 Santa's Toy Workshop & Gift Wrapping Station
Whether it is indoors or outdoors, it is feasible to arrange a Santa Claus toy workshop to increase the festive atmosphere. Arrange for some dwarves to carry out the production of toys. Of course, don't forget to use those toys that are loved by children. Add more stuff like Christmas trees or any other decorations to fill up the area.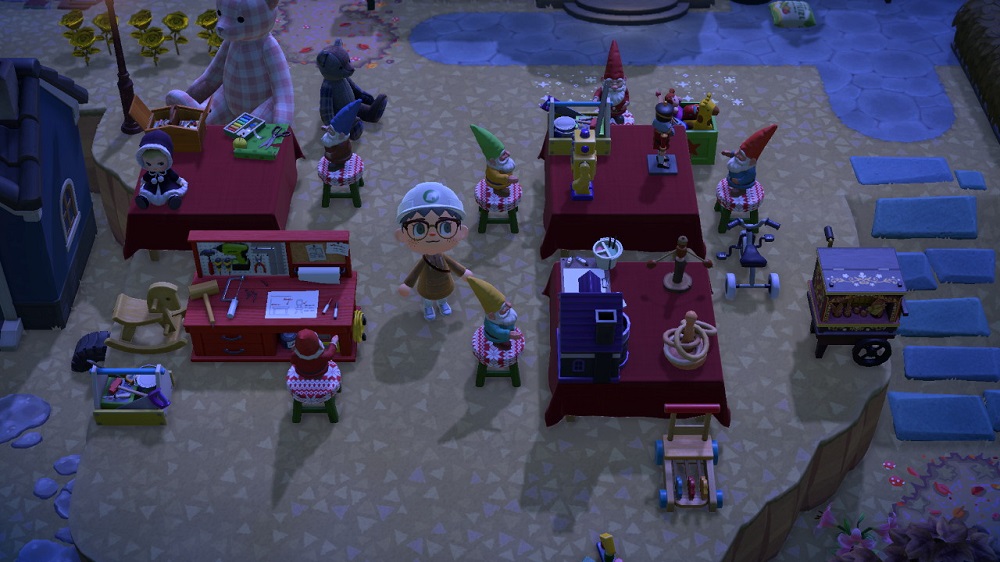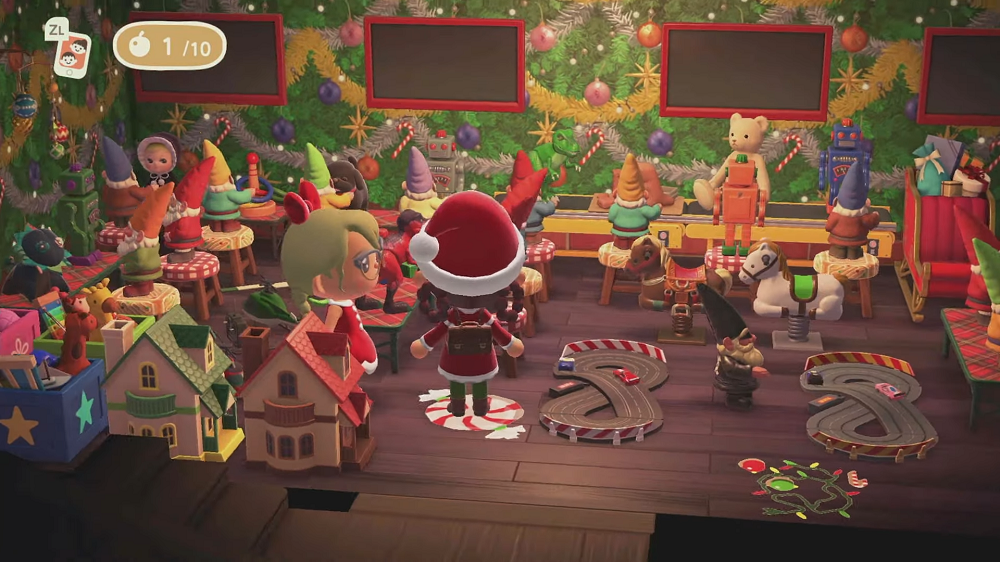 Holiday Marketplace
Create a holiday marketplace with stalls decorated in holiday style. There is no doubt that you will use custom design patterns (such as the lights are hanging down the stars) to transform the stalls into a festive style, and display the unique products of this season on the stall.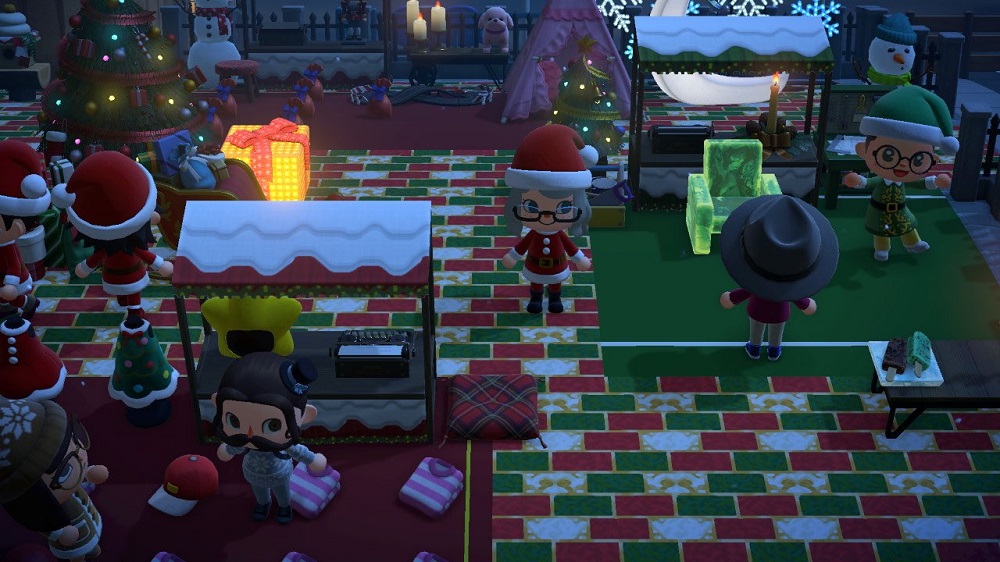 Winter Carnival (Holiday Plaza)
The playground in winter can make people feel the romantic holiday atmosphere, and the plaza set items added in the 2.0 update can let you have this dreamy place on the island. Plaza items such as Plaza merry-go-round, Plaza game stand, Plaza ferris wheel, etc. with holiday colors do not require too much decoration and allow you to easily integrate a Winter Carnival into your Christmas island.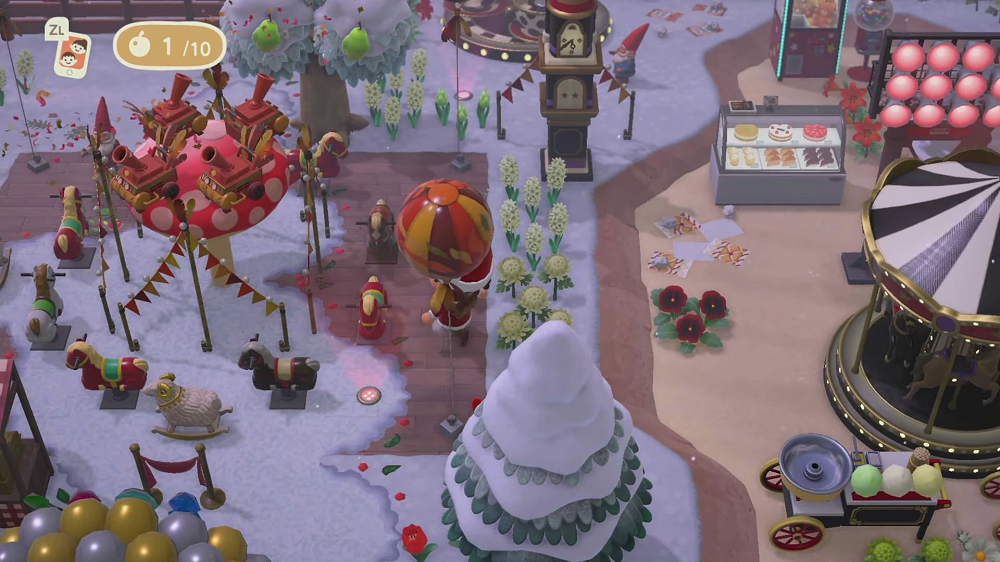 Holiday Feast Table
There is nothing better to celebrate the holiday than a luxurious feast, so there is no reason why you shouldn't set up an eye-catching table for Christmas and New Year's family dinners. Offset all of the red and green with some classic gold and white touches to give your table a whimsical yet cohesive style that's perfect for a holiday celebration. Adding natural elements like branches and pine cones alongside shiny white ornaments brings an elegant winter forest touch to Christmas dinner.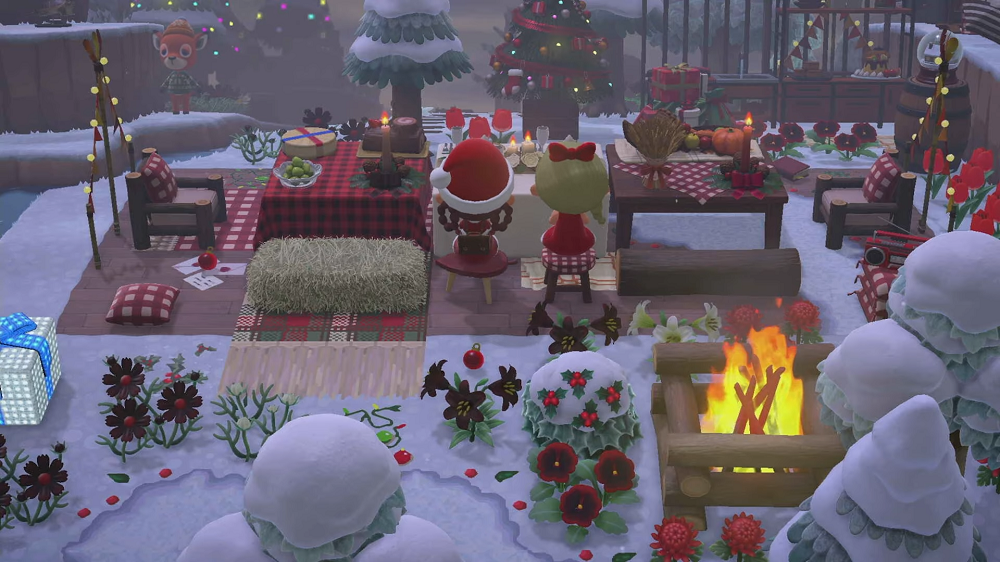 3. Winter & Christmas Theme Custom Designs
To complete an impressive winter festival design in Animal Crossing New Horizons, in addition to using various related themed furniture and decorations, the customization of colors and patterns is also very important.
Bring Reindeer & Santa to Your Designs
Make some friendly-faced reindeer and Santa fit for the occasion by covering your furniture with winter style and Xmas-themed patterns, giving Santa a warm welcome. What's more, don't forget to incorporate pops of gingham to finish the look.
Opt for Red Accents or Go for a Bold Palette
Red is a sign of the season, so go all-out with festive pillows, berry wreaths and plaid throws in the cheery hue. Or you can give the traditional Christmas palette a break and opt for a combination of white and bright green.
Top 10 Best ACNH Winter Christmas Island Dream Address
Our tips and ideas will have you spreading cheer all the way through the holidays. But you would want to discover more amazing winter Christmas design ideas with 2.0 items, so here we sort out 10 5-star Winter & Xmas Island Dream Codes 2021:
1 - Alola (Dream Address: DA-7287-1018-9959)
2 - Whoville (Dream Address: DA-5578-5068-5341)
3 - Stravaig (Dream Address: DA-2294-4379-9303)
4 - lemonhaze (Dream Address: DA-9892-5950-8445)
5 - Campbells (Dream Address: DA-4680-9781-9660)
6 - Palago (Dream Address: DA-1254-6421-1623)
7 - Wynterbell (Dream Address: DA-5926-7886-1816)