ACNH 2.0 Jolly Redd Guide - How To Unlock Redd, Treasure Trawler Items & Raffle Prizes 2.0 Update
12/6/2021 10:40:50 AM
The fact the Animal Crossing New Horizons 2.0 update was released two days early in some regions. December 26 marks the official one-month anniversary of the ACNH 2.0 update and the happy home paradise expansion. Furniture and art have been brought back to Animal Crossing New Horizons by Jolly Redd. We also saw a few adjustments and changes as part of the most recent Animal Crossing 2.0 update. This is an ACNH Jolly Redd 2.0 guide 2021, which details how to unlock Jolly Redd, Redd's Treasure Trawler items, Redd's Raffle, and Redd Raffle Prizes.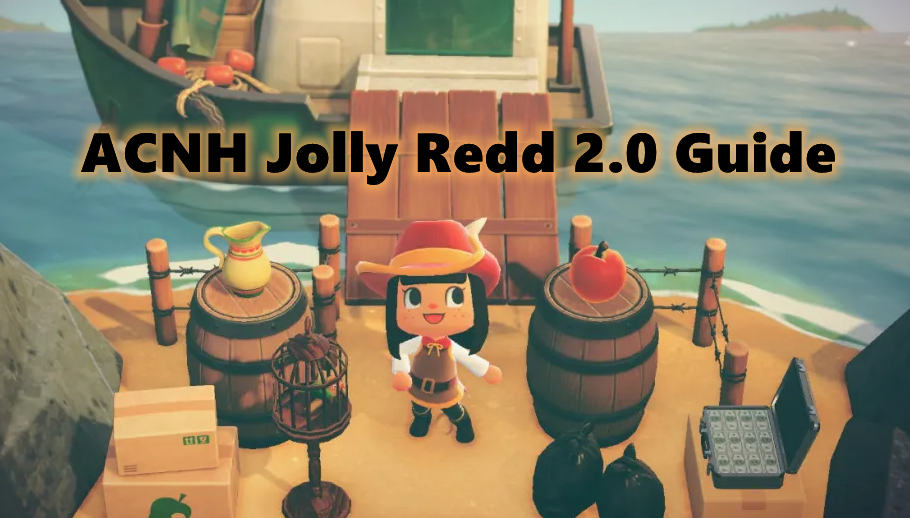 Animal Crossing New Horizons 2.0 Jolly Redd Guide
Redd is also known as Crazy Redd or Jolly Redd, the most malicious character in the Animal Crossing series is Redd's nickname. Onboard his "Treasure Trawler" in New Horizons, Redd is running a shady artwork and furniture store. He's well-known for overcharging naive villagers for bogus artwork and being generally caustic and devious in his attempts to defraud and make a tidy profit. In the 2.0 update, you can permanently have him accessible on Harvey's island. Besides selling some less than authentic art pieces, he also has a raffle that gives pretty sweet Animal Crossing items that you can walk around with and eat. Below is how he's triggered in the first place for new players, the inventory settings for his shop, and everything you should know about Animal Crossing 2.0 Redd.
How To Unlock Jolly Redd's First Visit In ACNH 2.0 Update
Triggering Jolly Redd's first-ever visit, you'd have to upgrade from Blather's adorable tent to the museum and then donate over 60 fossils or critters to Blathers in order to upgrade again to open the art gallery upstairs. It seems the 2.0 update has adjusted this slightly to avoid players having to upgrade the museum a million times. So you can now upgrade from the tent directly to the museum with the art gallery. It's now much faster to trigger Redd as a traveling character than it was, prior to the Animal Crossing New Horizons 2.0 update for Redd. However, this will only affect new players or anyone with Bladders tent before the update. Unfortunately, if you do have the museum upgrade without the art gallery, you'll still need to donate 60 Animal Crossing items to trigger the next upgrade and encounter Redd.
Jolly Redd's Shop In ACNH 2.0 Update
Jolly Redd can now open up a shop on Harvey's island which doesn't affect his mechanics as a traveling character. He will still visit the main New Horizons island by docking his ship at the secret beach. Even with the ACNH Redd 2.0 nothing has changed regarding the probability of finding fakes for sale on his ship. There is still a 10% chance of finding one fake and 3 real pieces of art. There is still a 30% chance of finding 2 fakes and 2 real pieces. There is still a 50% chance of finding 3 fakes and 1 real piece. Finally, there's still a 10 chance of finding all 4 pieces being fake. Most of the time you'll probably find 3 fakes and 1 real piece of artwork.
How To Unlock Shop In ACNH 2.0 Update
First, to get Redd to Harv's island, you'll need to pay 100, 000 Animal Crossing bells to one of the Lloid, and the next day Redd will have a permanent spot in Harv's outdoor marketplace. You can now buy art from him anytime you want his inventory rotates out weekly but if you buy a piece of art from him he'll add another one the next day. The limit for buying from him is one painting per day per character.
Jolly Redd's Treasure Trawler In ACNH 2.0 Update
Redd's Furniture Shop, Treasure Trawler offers some furniture for sale on the other side of his ship. This has been adjusted slightly to incorporate new items and items of different sizes in the ACNH 2.0 version update for Jolly Redd's Furniture Shop. There were 7 variations of 1 by 1 and 2 by 1.5 and things like that. For example, a 1 by 1 would be a garden gnome or a small item. A 2 by 1.5 would be something like the imperial decorative shelves. However, the 2.0 update added 6 new eligible sizes to the pool of items that can be selected allowing for thinner items as well as larger items to be displayed. This includes items that can hang on walls, essentially increasing the number of items that can be found on Redd's treasure trawler. Similarly, the pool of items has also been increased and now includes items that were added in the 2.0 update, however does exclude any ceiling items. These can only be found for sale at Nooks.
ACNH 2.0 Jolly Redd Updates & Changes
With the Jolly Redd ACNH 2.0 update, the only other thing that's changed for Jolly Redd at least as a traveling character is during the first encounter for those who upgraded directly to the art gallery from Blather's tent. In this instance, when you first meet Redd every single piece of artwork will be real and he won't sell any fakes. This is the only time this happens and is pretty lucky for new players. However, after the first encounter, the probability of fakes reversed to as below:
10% chance of 1 fake, 3 real

30% chance of 2 fake, 2 real

50% chance of 3 fake, 1 real

10% chance of 4 fake, 0 real
ACNH Redd's Raffle 2.0 - How Does Redd's Raffle Works
Redd doesn't only specialize in "legitimate" art at Harv's island; he also organizes a raffle. How does his raffle work it's very simple, you just need to bring some bells and a lot of luck? Speak to him, or interact with the tiny box he's standing next to, and notify you about his raffle. You'll buy a raffle ticket from Redd for 500 bells and the number on the ticket will determine what ACNH Redd raffle items you get.
ACNH Raffle Prizes & items 2.0
Here's a list of all the prizes you can win at Animal Crossing Redd's Raffle
Numbers - Prizes
1 - Peachy-pink Folding Fan
2 - Sky-blue Folding Fan
3 - Grass-green Folding Fan
4 - Bitter-orange Folding Fan
5 - Vanilla Cone
6 - Chocolate Cone
7 - Strawberry Cone
8 - Ramune-soda-lemon Cone
9 - Melon-cheesecake Cone
10 - Orange-mint Cone
11 - Vanilla Soft Serve
12 - Chocolate Softserve
13 - Matcha-vanilla Soft Serve
14 - Berry-vanilla Soft Serve
15 - Rainbow Soft Serve
16 - Canned Orange Juice
17 - Canned Grape Juice
18 - Canned Apple Juice
19 - Canned Green Tea
20 - Canned Tea
21 - Canned Coffee
22 - Canned Sports Drink
23 - Canned Soda
24 - Chocolate Donut
25 - Matcha Donut
26 - Strawberry Donut
27 - White-chocolate Donut
28 - Pocketbook
29 - Pocket Magazine
30 - Colorful Lightstick
Though there's nothing too groundbreaking during this Animal Crossing 2.0 Crazy Redd, but definitely some nice quality of life adjustments for new players and a larger pool of items for everyone. We should stop by his treasure trawler to find something new!