ACNH Cooking & Farming Update 2021: Crops, Vegetables, DIY Recipes & Food Items in November 2.0 Update
10/16/2021 10:42:13 AM
The announcement of the huge ACNH 2.0 free update is finally landed, bringing a ton of long-expected characters, features, items, and functions, as well as a bunch of improvements for the island. The farming and cooking mechanism has been a rumor since last year due to the data mining, now New Horizons fans are eventually able to grow crops and cook food for the first time in the game. In this ACNH cooking & farming update 2021, we'll focus on the available farming vegetables, cooking recipes, and food items after the Animal Crossing New Horizons November 5 update.
Related Read: How to Unlock Brewster & The Roost in ACNH
ACNH Farming Update 2021 - Animal Crossing New Horizons Farm Items (Crops & Vegetables)
With the next update in November, players will be able to grow and harvest their own crops and vegetables to make different food items. As the data mining showed, there are totally six types of crops you can grow at your farm. One of these farming items - pumpkins has been added to the game, as a crafting material for Halloween spooky items, you can grow four colors of pumpkins including orange, yellow, green, and white, which also affect the color of crafted furniture. At this moment, we are not sure if there will be other farm items in the game.
ACNH Vegetables & Crops 2021
Tomatoes
Wheat
Sugarcane
Potatoes
Carrots
Pumpkins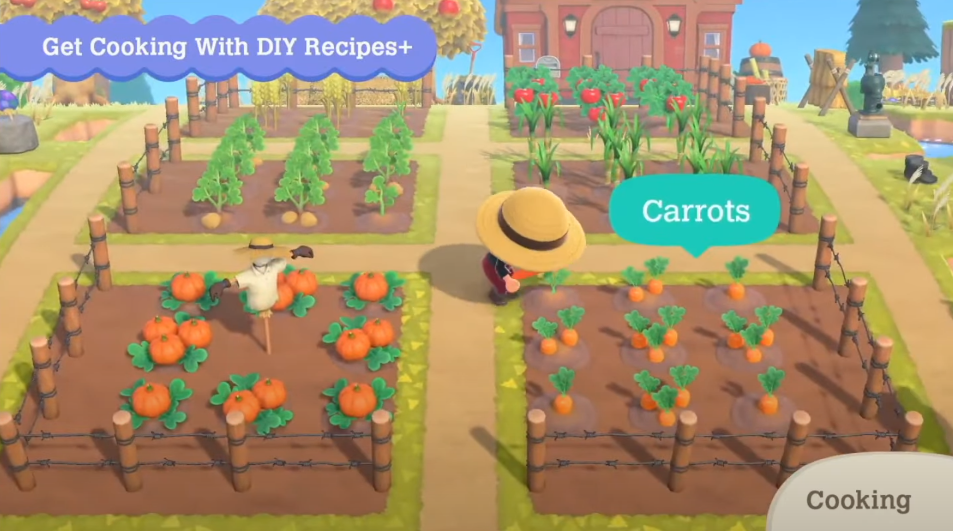 Updated:
ACNH Cooking Update 2021 - Animal Crossing New Horizons Food Items & Cooking Recipes
When your vegetables and crops are ripe, you can harvest them to ready for cooking some food. However, one food may require more than one type of material, you'll need to gather other types of Animal Crossing items around the island, and cook the food based on the recipes. In the latest New Horizons 2.0 update trailer, we can take a glimpse at some DIY recipes for cooking and a number of food items, you can make all kinds of dishes to lay across your dining table, then your kitchen and appliances in it can now become a practical part of your house. Below is the ACNH cooking recipes for food items and furniture.
ACNH Cooking Items & Recipes 2021
Flour: 5 wheat
Mushroom salad: 1 round mushroom, 1 flat mushroom, 1 skinny mushroom
Veggie sandwich: 2 flour, 1 tomato, 1 carrot
Minestrone soup: 2 tomatoes, 1 potato, 1 carrot
Pancakes: 2 flour, 2 sugar
Orange smoothie: 2 orange
Sugar: 5 sugarcane
Carrot potage: 1 flour, 2 carrot
Pumpkin bagel sandwich: 2 flour, 3 orange pumpkin
Tomato curry: 3 flour, 3 tomato
Tomato puree: 3 tomato
Grilled sea bass with herbs: 1 sea bass, 5 clumps of weeds
Tomato puree: 3 tomato
Whole-wheat flour: 5 wheat
Brown sugar: 5 sugarcane
Seaweed soup: 2 seaweed
Orange bread: 3 whole-wheat flour
Gnocchi di patate: 2 flour, 3 potato
Carrot cake: 1 flour, 1 sugar, 1 carrot
Brown-sugar cupcakes: 1 whole-wheat flour, 1 brown sugar
Sea-bass pie: 3 flour, 1 sea bass
Stonework kitchen: 30 stone, 15 clay, 10 iron nugget
Aji fry:1 horse mackerel, 1 flour
Karei no nitsuke: 1 dab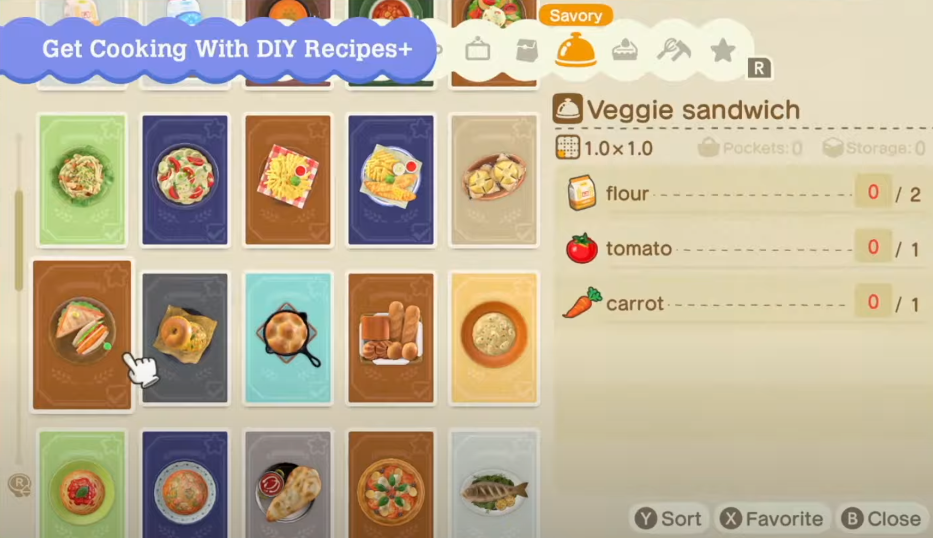 There is a total of 176 food items that can be found in the latest 2.0 update now, check out the full list with images at our ACNH 2.0 items page. Click "Food" to filter what you want.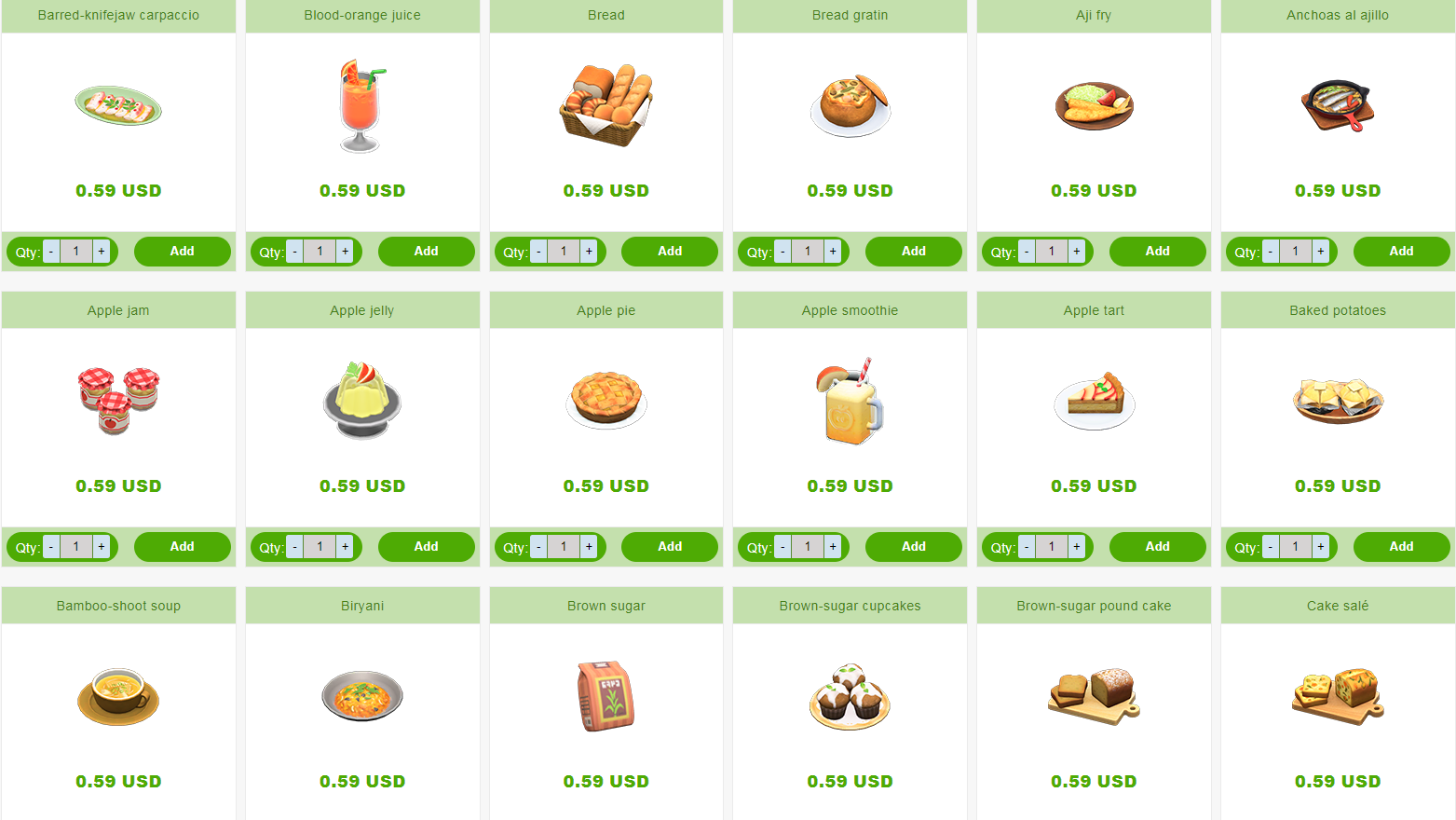 How to Get ACNH Cooking Recipes?
The Animal Crossing New Horizons 2.0 update arrived earlier a little bit than the original date, to access the cooking recipes and food items, you can find a lot of new options at the Nook Stop and buy the DIY Recipes+ with nook miles. There is also a Basic Cooking Recipes for sale at Nook's Cranny, covering the food and drink recipes.
In addition, similar to the fruits you pick on the tree, you can eat the food you make or give it to others. When you eat one of these recipes, it grants you the ability to dig up multiple trees or break multiple rocks.