How to Unlock Brewster & The Roost in Animal Crossing New Horizons - ACNH 2.0 Brewster Guide
11/4/2021 3:55:20 PM
What a surprise today! Animal Crossing New Horizons 2.0 update drops earlier than its schedule. One of the most exciting features we are going to see is The Roost cafe located in the museum with the shopkeeper Brewster. Then how to unlock Brewster and get The Roost in ACNH? Let's get into the ACNH 2.0 Brewster & Cafe guide, which goes over everything you can do for unlocking the museum cafe.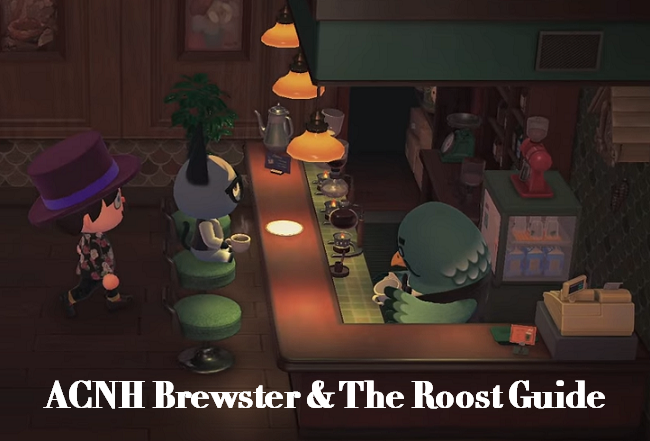 How to Unlock Brewster & The Roost in Animal Crossing New Horizons - ACNH 2.0 Brewster Guide
TagBackTV has explained how to find Brewster for unlocking The Roost cafe in the ACNH museum, check out what you need to do after the New Horizons 2.0 version launches.
1. Fully upgrade your museum
Firstly, make sure you have fully upgraded your museum, which means you need to have unlocked the art section of the museum. To unlock the art section, you're going to need to have donated 60 different Animal Crossing New Horizons items to the museum, including bugs, fossils, fish and sea creatures, a total of 60, as long as at least one of each of those types, and then you'll need to unlock this by donating at least one piece of artwork, you'll get the quest from Blathers. Start collecting art from Redd for the museum and then you'll be able to unlock this new section and the dialogue for Brewster.
2. Talk with Blathers to get Brewster's photo
Once you have your museum fully upgraded, then all you need to do is actually just walk out, and then when you walk back in, you'll have a thought bubble over Blathers which will unlock the quest line to find Brewster. Once you've done all that and you get the dialogue from Blathers, he'll give you a photo of a Brewster and ask you to go find him on the new islands that you can go to by going to a captain.
3. Take a boat trip to go to the new island
Just checking out your map and finding out where your dock is, all we need to do is go down there, it's a thousand nook miles per trip and you could only go to one trip per day. So if you are trying to get Brewster the first day and you're not time traveling, make sure to save your trip with the captain for after you unlock that new dialogue. When you are on the boat, you can actually clap along with the music, you can do different emotes with Y, X, and A, which is super adorable, or if you're just super in a rush, you can smash the B button, which will make you get seasick and it'll take you back to land.
4. Find Brewster and collect new items
Make sure when you come to these islands that you bring shovels and tools with you to pick up all of the new items, which is absolutely amazing. On your first island when you go there, you'll be able to find Brewster, make sure you're sure to actually pick up any gyroids you can get from here as well and new DIYs. Once you're done collecting things on your first island, just make sure to find Brewster, he's definitely going to be on this island when you go, as long as you have talked to Blathers, Brewster should be getting excited about gyroids, and then when you're talking with them, they'll give you gyroid fragments to plant for yourself.
5. Go back to the museum and talk with Blathers again
Once you are back on your island, you need to go back to the museum to talk to Blathers and inform him that you have indeed found Brewster on one of the islands, Blathers will tell you he'll need to close the museum for construction, then it's going to take two days for you to be able to upgrade the museum in preparation for Brewster's arrival, after two days, we'll have the museum reopened with cafe service. You'll see lots of NPCs and villagers in the game come here over a certain amount of time, all the villagers have new dialogue from this update as well. If you have Animal Crossing amiibo cards, then you can scan the amiibos to be able to bring villagers to The Roost.