Best ACNH Autumn Small Space Design Ideas - Fall Themed Mushroom & Furniture, Path Patterns Codes 2021
8/20/2021 10:55:40 AM
With autumn just around the corner, Animal Crossing New Horizons players can now design an island almost entirely based on endless autumn. Here are some best Fall island design inspirations 2021 if you are planning to decorate your island for the season. We show 7 ACNH 2021 autumn small spaces from a rustic florist to a mushroom farm, using mushroom & autumn bounty furniture items to recreate harvest season year-round (Thanks to the Youtuber Fleurs Crossing, who brings the following creative ACNH fall small space designs& codes).
2021 ACNH Autumnal Small Space Design Ideas - Best Fall Tiny Spaces Inspiration
1. Autumnal Rustic Florist & Fall Small Space Idea
It's very rustic and it's not your normal flowers and things everywhere, because the creator wanted to use autumn bounty trees, it would be a great way to incorporate them in a florist because it's kind of a decor piece, so it fitted quite nicely.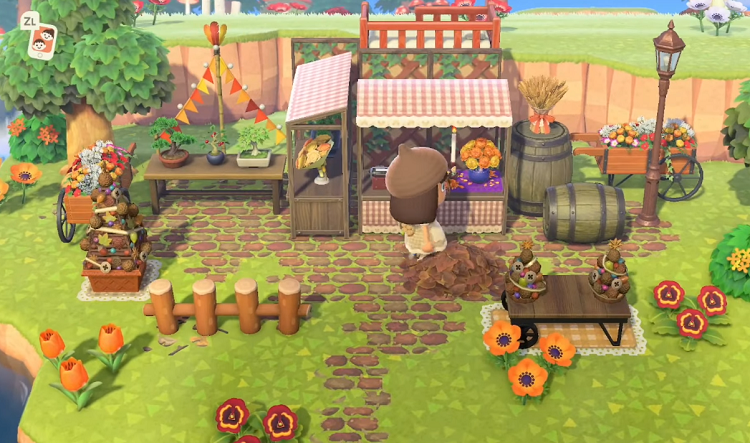 So here are garden wagons, some barrels because you've got to have the barrels and this is the new marigold decoration. That fitted really nicely with the yellows and the oranges. There is a typewriter as the till and there are some more displays, choose the yellow heart bouquet because it's got the yellows and the oranges in there which are just autumnal colors for sure and the festival. A garland at the back and just some pine cones, pancakes, some pine trees as well and the bonsai shelf. This was a really really nice way if you want to do a florist on your island for autumn. Why not incorporate these pieces and make it a bit more rustic and keep those warm tones, it feels very cozy and the brick path kind of helps achieve that look as well.
2. Cozy Seating Area For Fall Island Design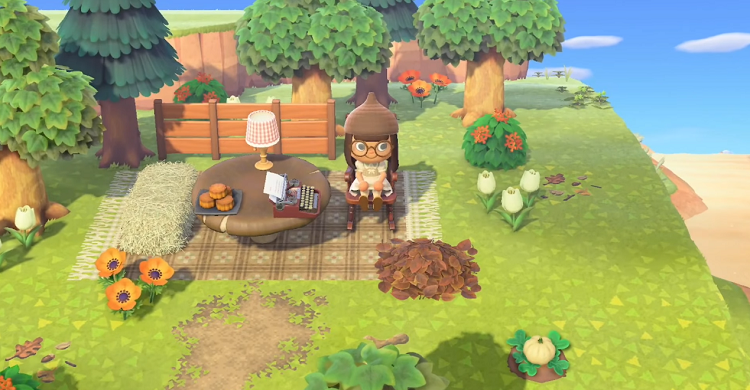 It's very kind of brown and that fits nicely with the idea of the leaves turning, different colors and whole autumnal look definitely helps, and it's a good excuse to make rustic-looking builds. But this was a nice little cozy area that you could fill a space with using the mushroom table in this lovely color, it's a great size and a great height as well and a whole bunch of different chairs and seating arrangements go perfectly with it. Choose the rocking chair and the hay bed just to fit with that cozy look, and then pop some Animal Crossing items on here as well and just around the outside, put a natural area. But it's really important to remember pumpkins look great, just place down randomly as well particularly if you've got a foresty area and the different colors really do complement one another, we've got this orange one as well and the fallen leaf piles.
3. Autumn-inspired Design Ideas For Tiny Space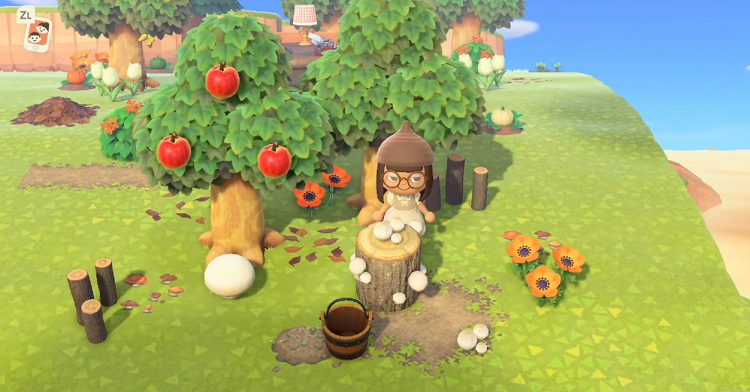 Using the mush log to make it look like the mushrooms are spreading onto the ground from the mushroom itself, so all you need to do is pop down your mushlog, put it on some dirt path and make a circle out of it and then drop the round mushroom on top of it, and drop one on the floor as well. The bucket is a nice addition to give the idea that it's someone's come along, they're picking up the mushrooms and so that's why we can go with that there and just added some custom designs around. But this is like a perfect area, if you've got a forest or maybe you're not sure what to put on your cliffs for autumn, then this would look really cute, as well as you could use a smaller log stool to put some on or drop some acorns or pine cones.
4. Forest Area With Red & White Mushroom For Fall 2021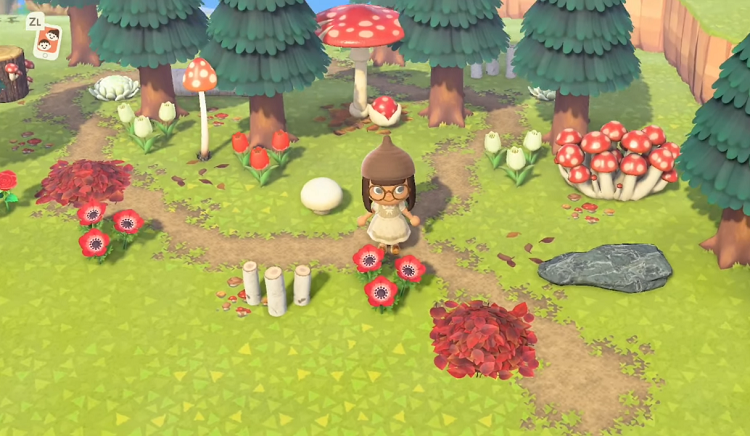 Go in with the red and white mushroom customization to create a forest area. These items look amongst the pine trees, it's really cool and as you can see there are red leaf piles here to complement it and also the white log stakes and back there is a white wild log as well, so just mixed up between the partitions, the parasols, the lamps and some mum cushions as well. The white and the red would look really nice, adding in some little details like the custom designs on the floor help you achieve this foresty look and using the red and white flowers as well really helps bring a pop more of color. So even more bright red and white colors can fit in here and just the natural dirt path to give the idea that it's kind of a trail running throughout the forest. Obviously, you could expand this, make it huge or make it a small little area, maybe you've got a hiking trail on your island either way.
5. Seating Area In The Woods & Lovely Tiny Space For Fall 2021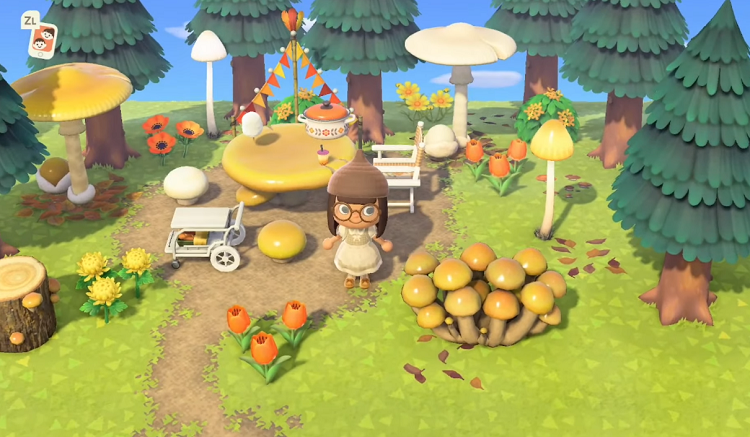 Do you miss the season of harvest? Have you ever consider creating a rustic fall/autumn ACNH town that features ACNH mushrooms and more autumn furniture items all over your island. This lovely fall-themed and mushroom ACNH tiny space design is exactly what you've been looking for!! Using the yellow and the oranges. Tie in a bit of white as well just to break it up. Here is the mushroom table in that yellow color and use the mushroom stools and the director's chair, then on the table, put in the turkey casserole set, some cotton candy and some boba tea as well. Then we've got the mushroom parasols and two of the mushroom lamps, mixed up between the white and the yellow, and then the yellow mushroom partition all on top of this lovely dirt path and those custom designs are floating around on the ground.
6. Mushroom Farm Best Tiny Space For Autumn 2021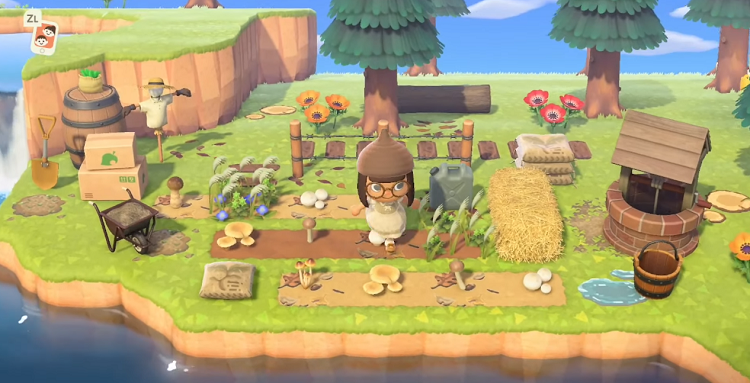 For this best autumn design for small spaces on your islands in Animal Crossing New Horizons, we use the dropped mushrooms, put in some wands down as well with some custom designs underneath them. Go in with some farmy items, we've got the barbed wire fence, some barrels, the brick well, the handcart and some soil bags as well. The mushroom farms are really cute, if you wanted to you could mix them up with the bigger mushroom furniture, but the drop mushrooms look more dainty and cute.
7. Best Autumnal Small Space 2021 ACNH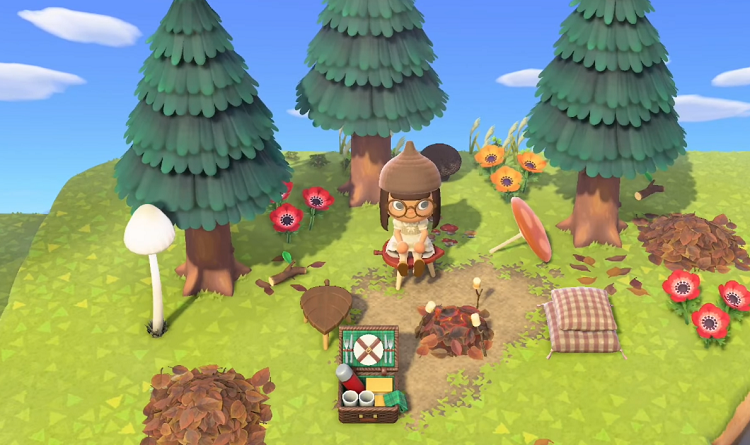 This is a cozy little autumnal small space where you can toast your marshmallows, sit around in the trees and relax. So go in with the campfire on the dirt, add some really cute leaf stools (with the three little legs) which are definitely the most popular ACNH items from the autumn. Also use the mushroom umbrella, the color on this is a great thing to pop down, this is a great alternative for the autumn time. And then we've just got some pillows and a picnic blanket, obviously you can change this up maybe you want to add the camp stove or whatnot but it's a great area to have in a foresty area maybe on your rocks.
2021 ACNH Fall Patterns & Custom Design Codes For Path, Signs & More
To fast build a fall themed island in Animal Crossing New Horizons, these fall themed items are essential. Here are all the stunning ACNH autumn patters & custom design codes used in the above Fall Small Spaces.
Acorns & Leaves: MA-5698-5260-1603
Egg Nest: MA-8619-4697-8901
Mushrooms: MA-9688-1111-8982 by @Mintdesignsacnh
Brown Circle Rug: MA-1564-1466-0179
Pawprints: MA-1474-4447-2355
Brown Floral Pattern: MA-1474-4447-2355
Brown check pattern: MA-1474-4447-2355
Brown dot pattern: MA-1474-4447-2355
Brown leaves: MA-8785-4396-1982
Rabbit: MA-9629-0801-8170
Yellow doormat: MA-9629-0801-8170
Yellow check pattern with flower: MA-9629-0801-8170
Mud puddle: MA-3405-0978-0777
Vegetable crate umbrellas: MA-5500-2820-3576
Log stump: MA-6150-8369-4422
Blanket tassel: MA-8182-6071-2523
Red check ruffle stall: MA-7977-2928-1247
Plank designs: MA-6576-4664-1515
Lace layered blanket: MA-5898-6084-4984
Twigs: MA-4100-8960-7447
Check pattern: MA-3778-4638-8301
Flower crate: MA-1832-9992-9667
Dirt Path: MA-9488-1972-2446
Brick Path: MA-2240-7136-3607
Grape Umbrella: MA-1132-7624-0477 by @lico_acnh
Fruit signs: MA-0525-2530-9328 by @sawakey06kay on Twitter
Puddle: MA-4635-9196-4241
Wine Crate Umbrella: MA-0687-4578-5842
If you want your Animal Crossing New Horizons island to be full of autumn flavor and beauty, use these unique 2021 ACNH Fall custom design codes to decorate your island small space now!