New ACNH Simple Panel Buildings For Autumn (Fall) - Top 7 Creative Design Ideas For Simple Panel Buildings
9/6/2021 3:42:31 PM
There are a plethora of different items that can be purchased with Animal Crossing Bells or ACNH NMT and crafted with DIY recipes to achieve amazing custom island design, but one of the most versatile items in the game is the Simple Panel. Players can use them in a ton of different areas around their island and create unique simple panel buildings. Since fall is getting closer, lots of players begin to decorate their islands to usher in the most romantic autumn. So today we're going to be going through 7 new best ACNH simple panel buildings for autumn & fall. If you're someone with free pattern slots and looking for inspiration, look no further than this guide.
Top 7 ACNH Ideas For Simple Panel Buildings - New Design Codes For Autumn Simple Panel Buildings
1. Creative Simple Panel Building Design Code - DA-8974-0096-0696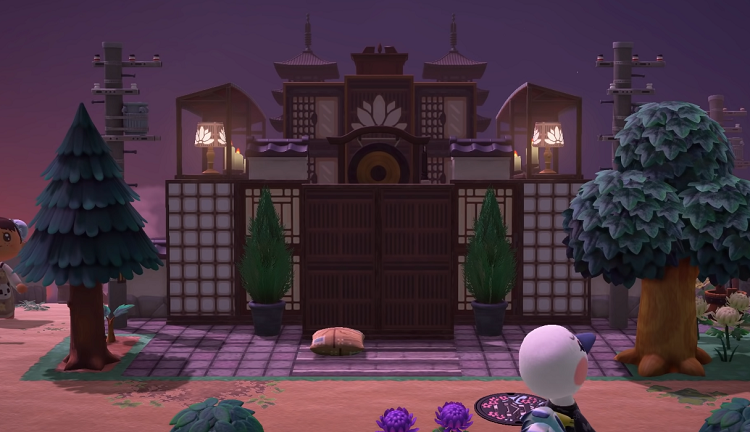 This build has amazing coloring. There are dark wooden details and there are some really unique items used here to create this view. So obviously in the back we have two of the pagodas that look amazing. There's also an antique clock there in the middle, that's what's creating that fancy uppermost part of the build. The mix of fencing here we have imperial fencing in, the second level just creating roofing and we also have a gong which is like such a cool item to add as part of the building. It looks really good.

2. Museum Entrance - DA-7178-0814-0850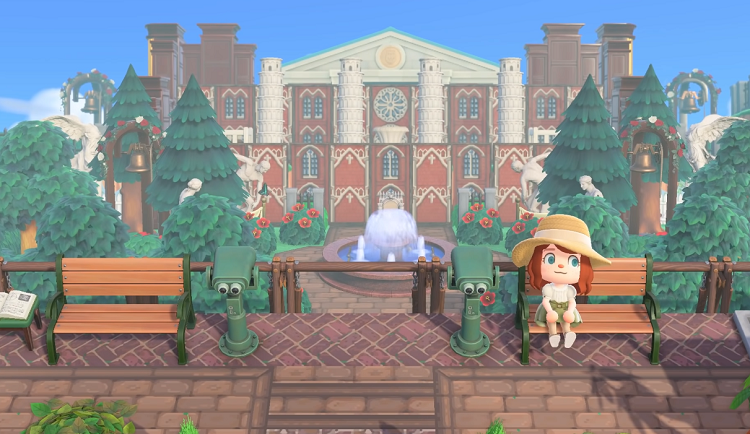 This next new simple panel build is situated around the museum which is really cool when we use simple panel builds but create them around basegame buildings. This is mind-blowing, all of the colors, the red really enhances the museum. It looks so cool. There's also wedding pipe organs and nuptial bells involved and this little statue garden is beautiful, it's like courtyard in front of the museum. Also that mirror looked like a door amazing up.
3. Plant Shop - DA-0726-6653-7647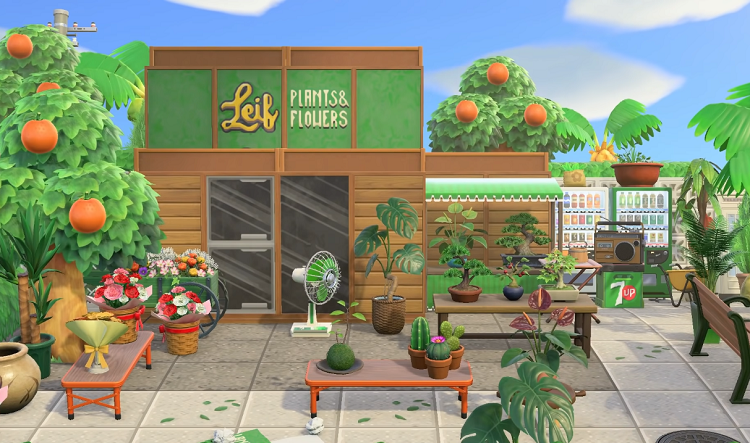 There are so many simple panel builds on this island. There is an adorable plant shop for leith, you may like the use of the fan to create movement. It's like visual interest in the shot very well done up. Next we have a twals little just amazing donut shop, isn't this so precious?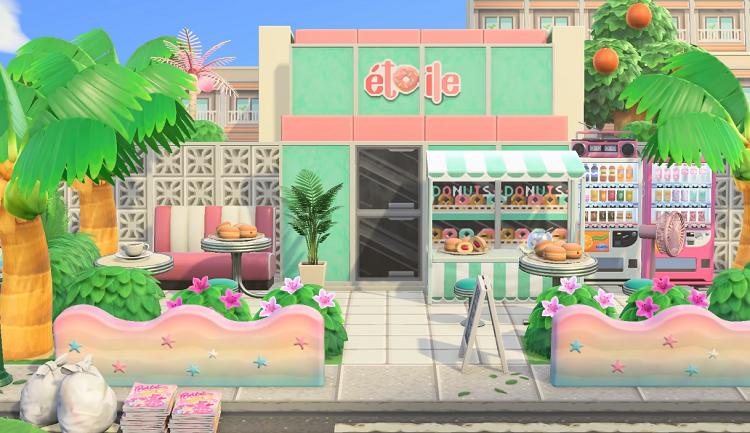 This is the same island, this is still tropical. This doesn't even feel like Animal Crossing and last up for this island, there's pascal's seafood, look at the use of the shell lamps and the shell bed on top to create the roofing alongside the diner counters.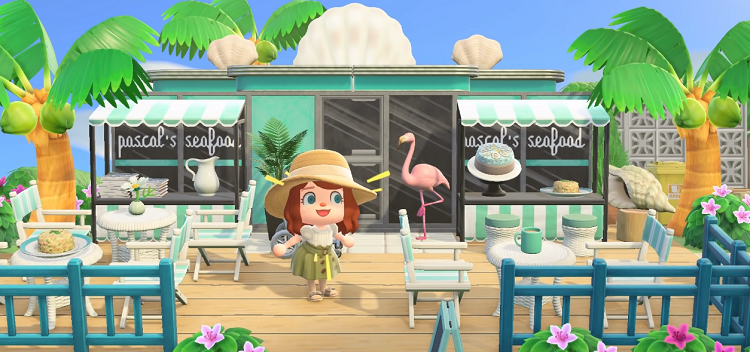 4. Temple - DA-5110-3656-0975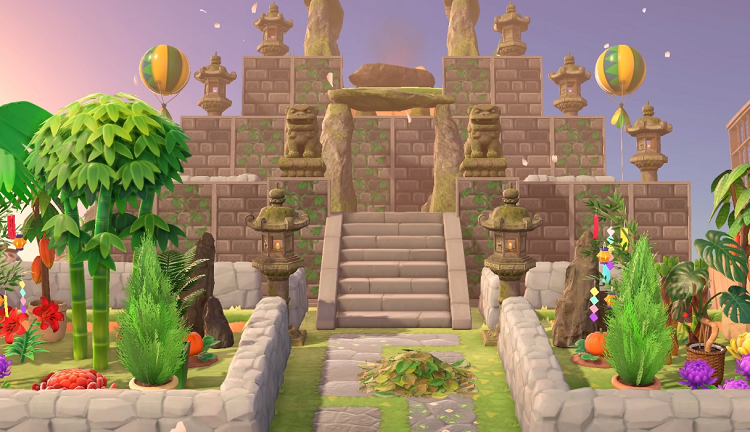 We have a temple sort of build, these are like ancient ruins that contrast with the rest of the modernized island, that was so well done. These mossy stone simple panels with all of the stone furniture that's used are really convincing as a temple. It's like one of the ancient like aztec pyramid, it looked so cool especially with this pathing. All of the surroundings just really enhanced that ancient sort of vibe.
5. Candy Shop For Fall 2021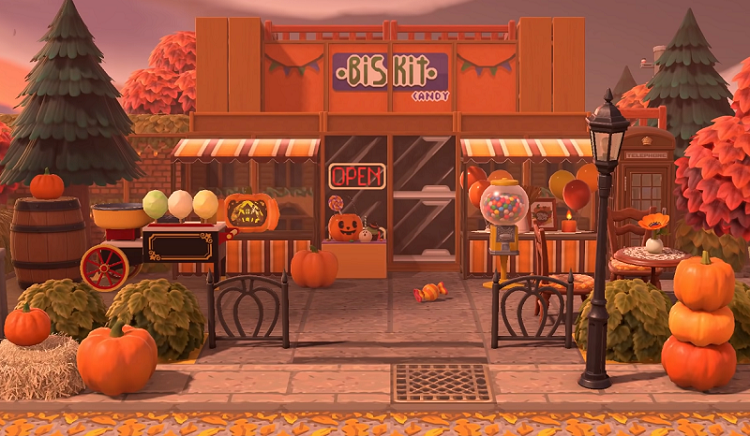 This new best simple panel build ACNH is a biskit candy shop. It was such a nice build since we are getting closer and closer to that wonderful season fall. It was so appropriate by the time Halloween comes about. The little candy that's dropped on the ground is such a beautiful touch to the island. The items that were on the road itself are so realistic like a small town.
6. ACNH New Best Simple Panel Building For Fall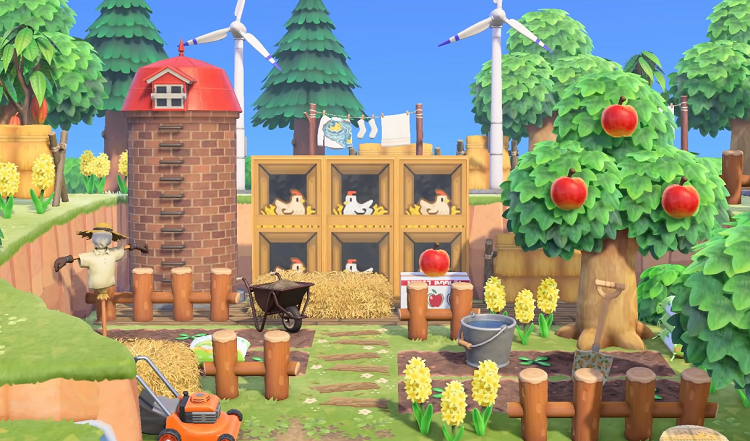 This was a wonderful build because it was so unique. We've got column like houses, it's like an alley between little town houses. The path was unique, the furniture used around it to add to that alley-like feel a little clock and the candles were so cute. There was also another really cute simple panel build on this island. This is just a little chicken coop, the silo right beside is cool.
7. Palace For Autumn 2021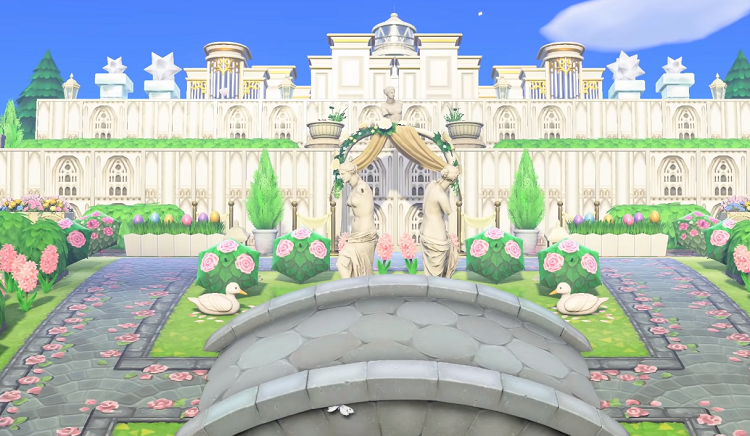 A lot of you were probably expecting some palace build to be included. So this one was a brilliant example. Look how huge this is and look at all the items that really create the illusion. We've got the nova lights on frozen pillars, wedding pipe organs, even a lighthouse in the middle. It was really well done, also the Turkey Day garden stands in the middle like around the arch with little floating biotope planners on top of them. Also the custom design with the roses are so cute, everything about this was just adorable and so well done and it's such a massive build.

8. Shopping District - DA-2838-3866-5196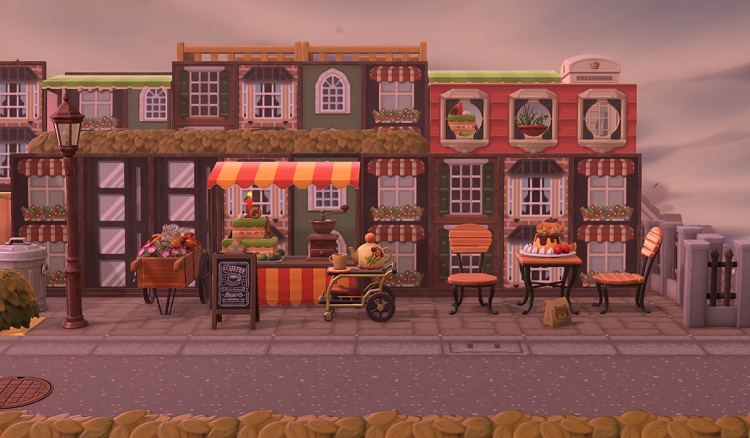 This next island was chock full of simple panel builds. This shopping district is mixed in with some standees and stall, the portion is so cute. It's like a mix of Nooks Cranny and Able Sister coloring. There's a little stall with the one-year anniversary cake. Everything worked together really well this was a good example of how you can mix different design elements from stalls to standees, simple panels, the bunk beds that are so popular, everything just looked top notch.