ACNH Halloween Island Ideas 2021 - Spooky Pirate, Cottagecore, Haunted Island Design Tips & Dream Codes
9/22/2021 5:33:22 PM
Autumn with Halloween holiday and Dead of Death party is bringing new ideas to Animal Crossing New Horizons islands, it's time to take the spooky and creepy vibe to your town. Here we will break down some great Halloween and themed island design tips, as well as share 5-star haunted island dream codes with which you can discover more creative ideas from other players.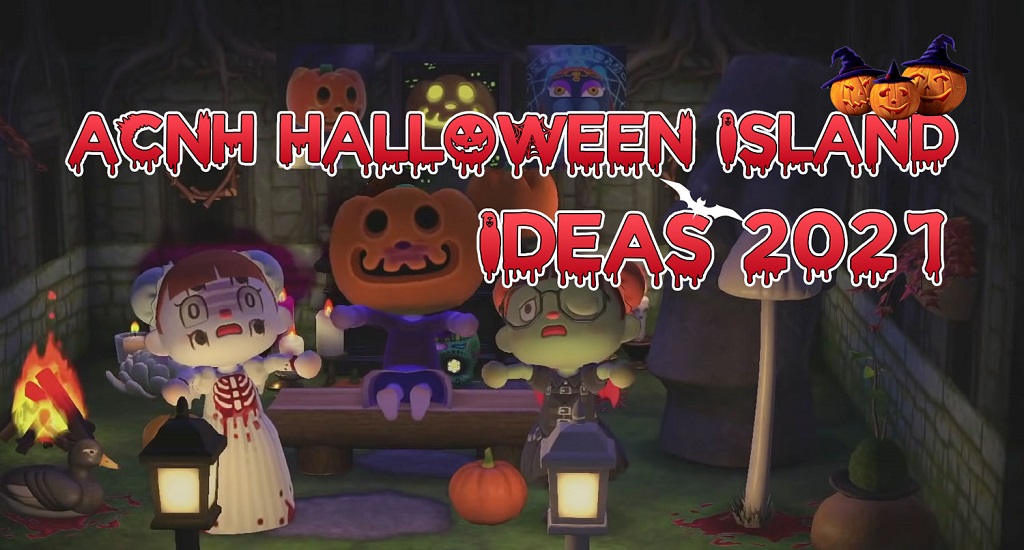 Related Read:
ACNH 2.0 Update - Animal Crossing New Horizons October & November Update 2021
ACNH Fall Tree Color Change Schedule - How To Get Autumn Trees in Certain Color
ACNH Halloween Spooky Island Design Ideas & Tips (2021)
Diversified items and unlimited custom designs make ACNH island building of any theme can be successfully realized on Animal Crossing New Horizons: sometimes they are original and authentic creations, other times they have given the green light to their creativity while remaining anchored to an inspiration. And if you like the dark style, whether you want to enjoy the Halloween Spooky style landscape in autumn, or are inspired by horror movies, you can use the following techniques to show your unconstrained design:
1. Halloween Theme Items
To decorate your island for the autumn celebration, several interesting Halloween materials will be used, such as spooky furniture sets: personalized clothing models have been created, candy hats for trick or treating and personalized lanterns with ghostly outlines to spread in your cities.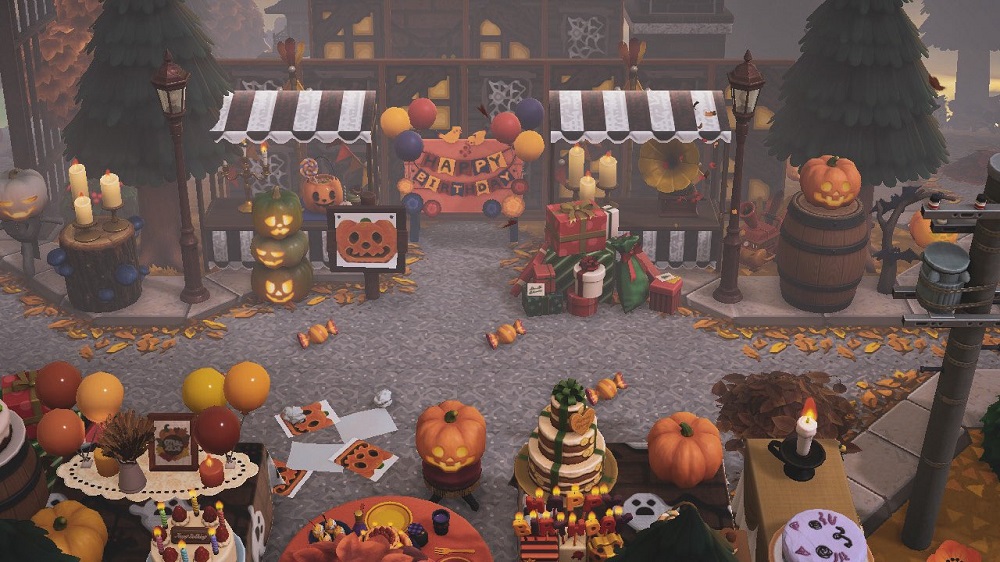 2. Spooky-like Items
In any case, in the meantime, you can collect other spooky-like items like the Spider Web, ancient mossy style Western-style stone, Wedding Organ (Dark Brown) from the event of the June wedding season, Skeleton from Nook's Cranny for 3,900 Bells, Pirate themed furniture from Gulliver, they have become popular for Halloween themed decorations.
3. Dark & Horror Tone Custom Designs
Through the wide possibility of customization, we will be able to strategically organize the ideal spooky scenes right away though without suitable items to decorate. Wallpaper covered with skull patterns, blood-stained floors, bloodshot eyeballs, horror portraits hung on the wall, and even the torso simulated with pillows, etc. can be perfectly replicated and present real effects.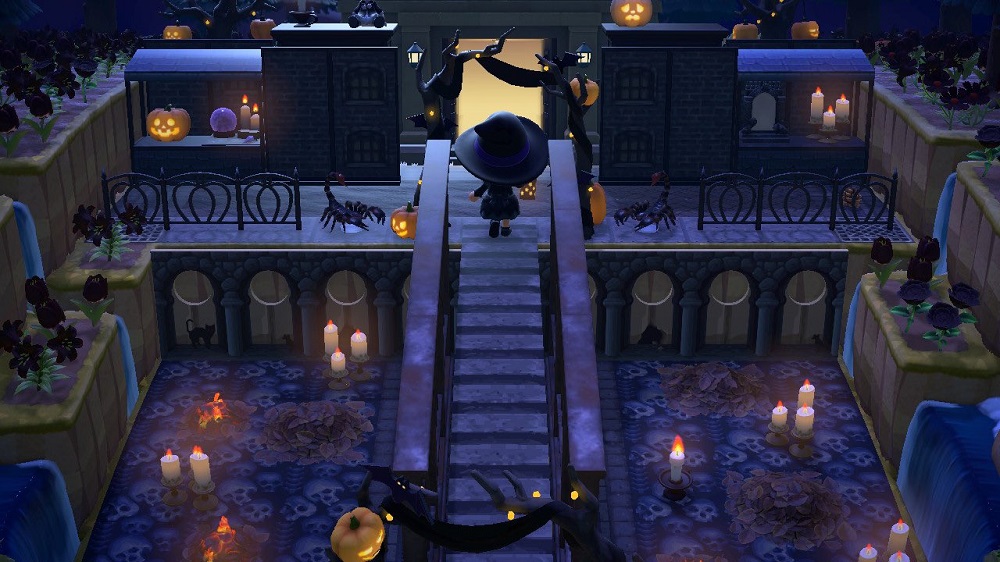 4. Inspired By Haunted Movies
Whether it is a book, a TV series, a manga, a music video, a film or an anime, there are many wonderful reproductions that can be created with the items that we have available so far. So if you want to build up your Halloween spooky or haunted theme island, get some inspirations from popular movies such as Shrek, Silent Hill, Stranger Things etc.
5. Creative Dark Themed Buildings
Setting up various environments to turn them into scary haunted houses, pirate ships and more creepy scenes:
1) Dark World of Pirate
An dark horror island with areas inspired by the world of pirates, with areas where boats and storage will be located and some hidden corners where you can hide the various treasures. Pagodas, cannons, a telephone booth, a lighthouse and street lamps have also been added to the galleon we are about to see.
2) Creepy Cemetery
Haunted graveyard is an indispensable scene in the spooky theme, any items usable in a episode of Scooby-Doo or a horror flick could fit right into it. Use ancient mossy style Western-style stones to set up a line of tombs, and place iron -and-stone fences to line the graveyard in the Gothic style. Then apply anatomical skeleton models, creepy dolls and other paranormal items.
3) Haunted House
A haunted house full of blood and ghosts will definitely allow everyone who visits your island to enjoy the excitement of Halloween party. Abandoned classrooms, ogres' kitchens, undead halls, creepy laboratories, and weird monitoring rooms can all be added.
4) Floating Island
Use the floating effect to simulate the scary island hanging in the sky or on the edge of a volcano. This creative dark style design is becoming popular among players. Enter a mysterious ghost world through a blood-stained bridge.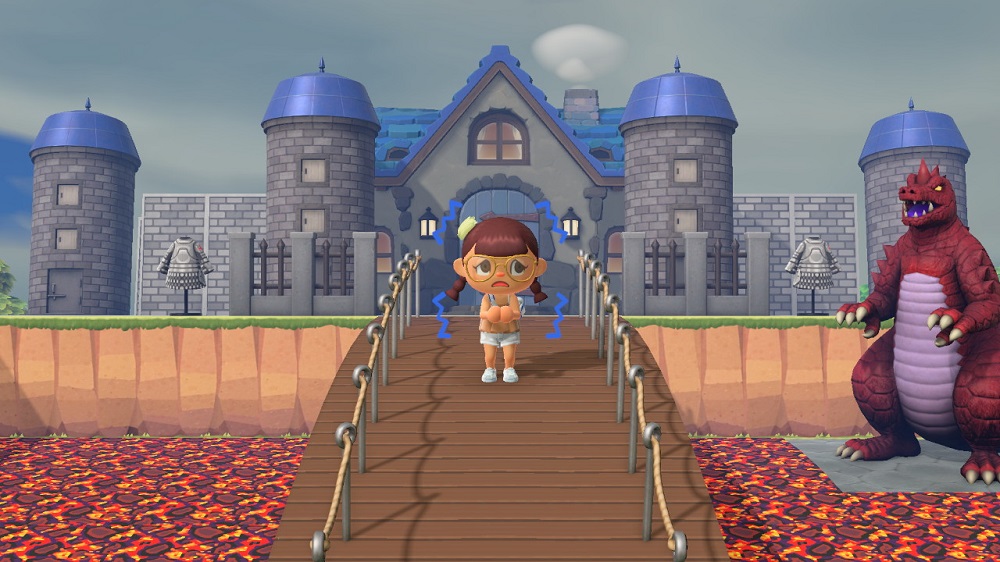 5) Dungeons
To recreate areas shrouded in terror inspired by horror stories we will need to set up areas where our prisoners can be jailed or simply spaces where they can carry out daily activities. We can set the confinement cannibal island as a dungeon, which is a dangerous place full of pitfalls, where the watchwords are exploration and combat.
6. Spooky Kidcore, Cottagecore and Other Mixed Halloween Theme
Halloween is not just a horror theme, you can also create a unique creative Halloween theme by mixing spooky with other style such as kidcore, cottagecore, forestcore, cuttercore etc. To do this, you would not need to rebuild you whole island for celebrating the holiday, instead of blending the spooky vibe into your kidcore or cottagecore designs.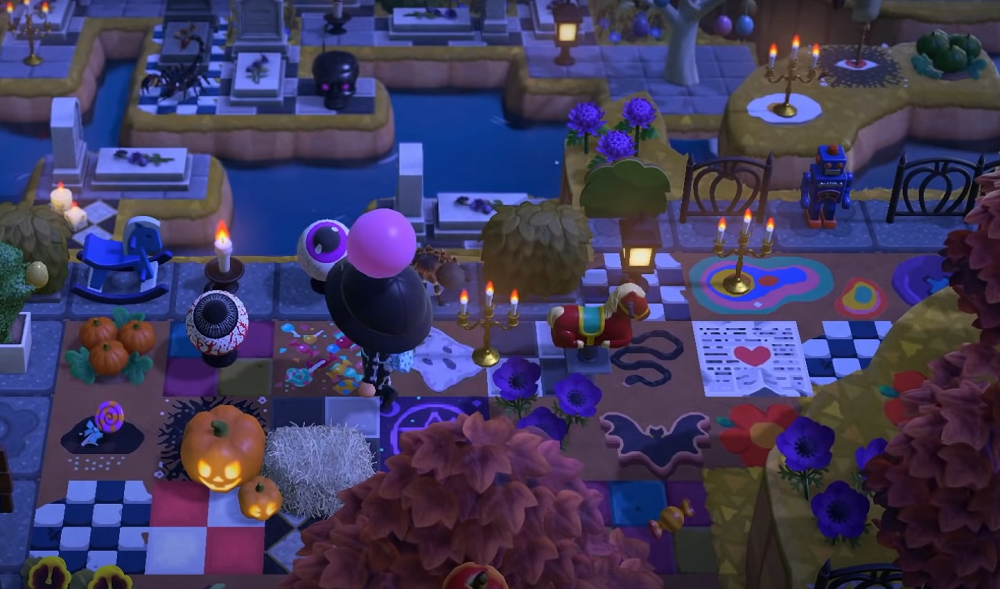 Best ACNH Halloween & Spooky Island Dream Address (2021)
In Fall, surely fans of the Animal Crossing New Horizons are getting excited about renovating their entire islands into cute haunted houses and pirate ships, if you want to discover more great inspo to start decorating your island for Halloween, take a tour with the below top 5-star ACNH spooky island dream codes:
1. Neverland (Dark Pirate Themed Island) - DA-0490-0062-4115

2. Salem (Halloween Spooky Island) - DA-1116-3585-4129

3. Hazelfalls (Halloween Haunted Island) - DA-0436-9988-8351

4. Wonderland (Jail-themed Island) - DA-6264-1454-8857

5. Pinewood (Scary Halloween Cottagecore Island) - DA-7248-2306-8807

6. Scizzurs (Spooky Kidcore Island) - DA-0921-6264-6822

7. Gillyweed (Halloween Harry Potter Island) - DA-5695-0325-4825

8. Moonscar (Haunted Pirate Island) - DA-6984-5523-9028

9. Kalima (Halloween Horror Island) - DA-2721-5079-3387

10. Artemis (Spookiest Town Island) - DA-4190-1897-7236