ACNH 2.0 Update 2021 - Release Date, Brewster, Gyroids, Events, Amiibo Cards | Animal Crossing New Horizons November Update
9/24/2021 10:12:19 AM
UTDATED! Finally, the Brewster is backing and the boost is ready in Animal Crossing New Horizons 2.0 Update! Follow us to break down all details about the exciting big fall patch which will drop into ACNH in November!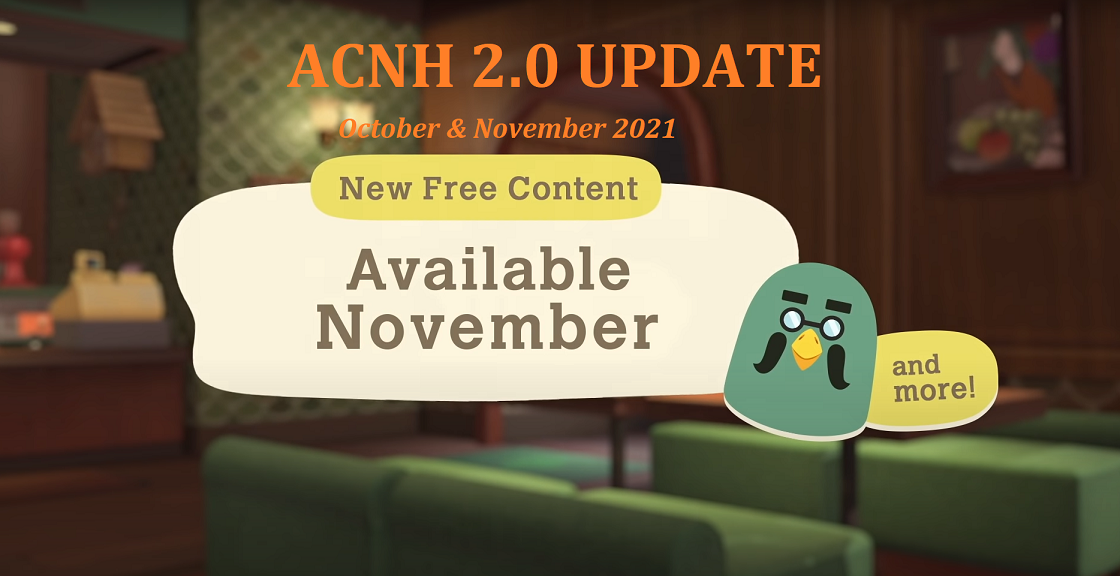 Animal Crossing New Horizons 2.0 Update (ACNH October & November Update 2021)
After a long wait, we finally ushered in the exciting good news. Brewster, who has been discovered countless times in datamine and long-awaited by many players, is determined to return to Animal Crossing New Horizons this fall, along with the boost in the museum. What's more, brand new Amiibo Cards Series 5 will also meet us. Now let's dive into the ACNH October 2.0.0 Update now!
UPDATE! ACNH 2.0.0 Update Release Date: During the Nintendo Direct on October 15th, Nintendo announced the arrival of the Animal Crossing New Horizons 2.0 update scheduled on November 5th.
Related Read:
ACNH Thanksgiving Update 2021 - Turkey Day Items, Dishes, Ingredients, Rewards & More Changes
Animal Crossing New Horizons 2.0 All New Villagers & Shops
ACNH October & November 2.0 Update Content (New Villagers, Events, Items)
This update could be a giant expansion with the returning of Brewster, the addition of the new events, the celebration of the Halloween holiday, as well as new Amiibo cards with crossover villager and content. What's more, we even could expect the upgrade of Nook's Granny and museum.
Brewster's Cafe in Expanded Museum
After months and months of waiting, Brewster makes his official return to the saga. As always, he will manage his cafeteria which we can find inside the expanded museum, in a new room that will be unlocked on the left of the second floor, next to the art gallery. In the previous Animal Crossing series, you can get a coffee from Brewster's boost and hang out or chill with the music, you could actually work a shift and make orders for your villagers, and we think the Animal Crossing New Horizons version of Brewster will be fleshed out even more - may be new DIY recipes or the process of making coffee.
No further details were leaked during Nintendo Direct, as all the content that will be introduced in the November update will be covered in October in a Nintendo Direct dedicated exclusively to Animal Crossing: New Horizons!
Kapp'n's Boat Tours
Captain Kapp'n will take you to a remote island in a boastful boat. You can also enjoy a barcarolle on the way back and forth from the tour. The destination seems to be a bit different from the remote island tour of Dodo Airlines. You may find plants you have never seen before.
Harv's Island Expanded
Harv's Island will become a vibrant open space. There seems to be a plan to turn space at the back of the island into a plaza where various shops gather. There are not only animal shops that occasionally visit the island, but also shops such as "fortune-telling shops" owned by Katrina that have never existed before. Please cooperate with fundraising and attract investment.
New Vegetables & Cooking with Recipes
You can now also prepare dishes using new DIY recipes that you can get from your islanders, for example. Of course, they need ingredients such as potatoes, tomatoes, or carrots, which you have to grow in advance in order to make delicious food out of them on your stove.
Storage shed and ATM
These two new items can be placed almost anywhere on your island. The storage shed is connected to the storage room in your house and allows you to access your stored items. The ATM meanwhile lets you withdraw the bells that are in your account.
New Amiibo Cards Series 5
New Series of Amiibo cards with brand new crossover villagers and special items for us to hunt are also confirmed coming soon in the ACNH 2.0 update. In addition, we can surely expect more new content will roll out with the new Amiibo cards, as Nintendo is not bringing out these cards to make a trip to target.
Gyroids
Gyroids and Brewster are very synonymous and went together in Previous AC games, so when the boost is backing to the game, this collectible that you can get hidden in the ground after a rainstorm is definitely going to come to this game. You can now find the little males as fragments in the earth and dig them up. If you then replant them and water them, a real gyroid grows out of it overnight, which makes different noises depending on the type and even harmonizes with music. The colors of the little creatures can also be adjusted.
Halloween Event & Items
We have already known there are 3 brand new Halloween items will be added into the game, but Nintendo still hasn't acknowledged these items, so it's pretty safe to assume that we will see the Halloween items in this ACNH 2.0 update.
Day of the Dead Event & Items
As this new event is scheduled at the end of October and the beginning of November, so we think the famous Mexican holiday would be covered in the giant fall update, new items such as the Marigold Decoration item will also drop into the game.
Paid DLC "Happy Home Paradise"
Go to work in Happy Home Paradise, the first paid DLC for Animal Crossing: New Horizons. Well, that might not sound so exciting at first, but it makes a resort manager even more so. In your new job, you can design the perfect vacation homes for the characters.
What Else ACNH Update 2.0 Brings
More storage space: The maximum expandable storage capacity for your house now rises to 5000 items.
New house adaptations: With Tom Nook you now get new possibilities to adapt your house from the outside.
New fences: New types of fences such as concrete or bamboo are being added. Many of them should be colorable.
Group gymnastics: You can now do stretching exercises with your islanders in the village square. You can do this either with the motion control or the buttons on your motion controller.
Island regulations: Melinda can tell you when your islanders should get up.
New interior design: You can now not only attach lamps and decorations to the ceiling of your room, but also apply new wallpaper to individual walls (instead of the entire room).
More bridges and ramps: The maximum number of bridges and ramps increases from 8 to 10.
Improved Camera PRO: The camera is now at eye level. Thanks to the fixed tripod mode, you can also put yourself in the picture.
New functions for patterns: You can now wear patterns that you have created for objects directly on your clothes or use them as carpets or wallpaper.
New role customization: 11 hairstyles & 11 new emotions
Island Life 101: The new Nook Phone app gives you tips for your island life.
More new furniture: You can buy more furniture with your Nook Miles and at Nooks Cranny.
KK Slider songs and music box: A total of 12 new KK Slider songs will be added. On the music box, a new piece of furniture, you can also play all the KK songs you have.
Permanent ladders: With the new tool for setting up ladders, you can now build permanent ladders on slopes.
Push through narrow passages: Your character can now push his way sideways through narrow areas.
Visit islanders: Islanders now invite you to their house or visit you.